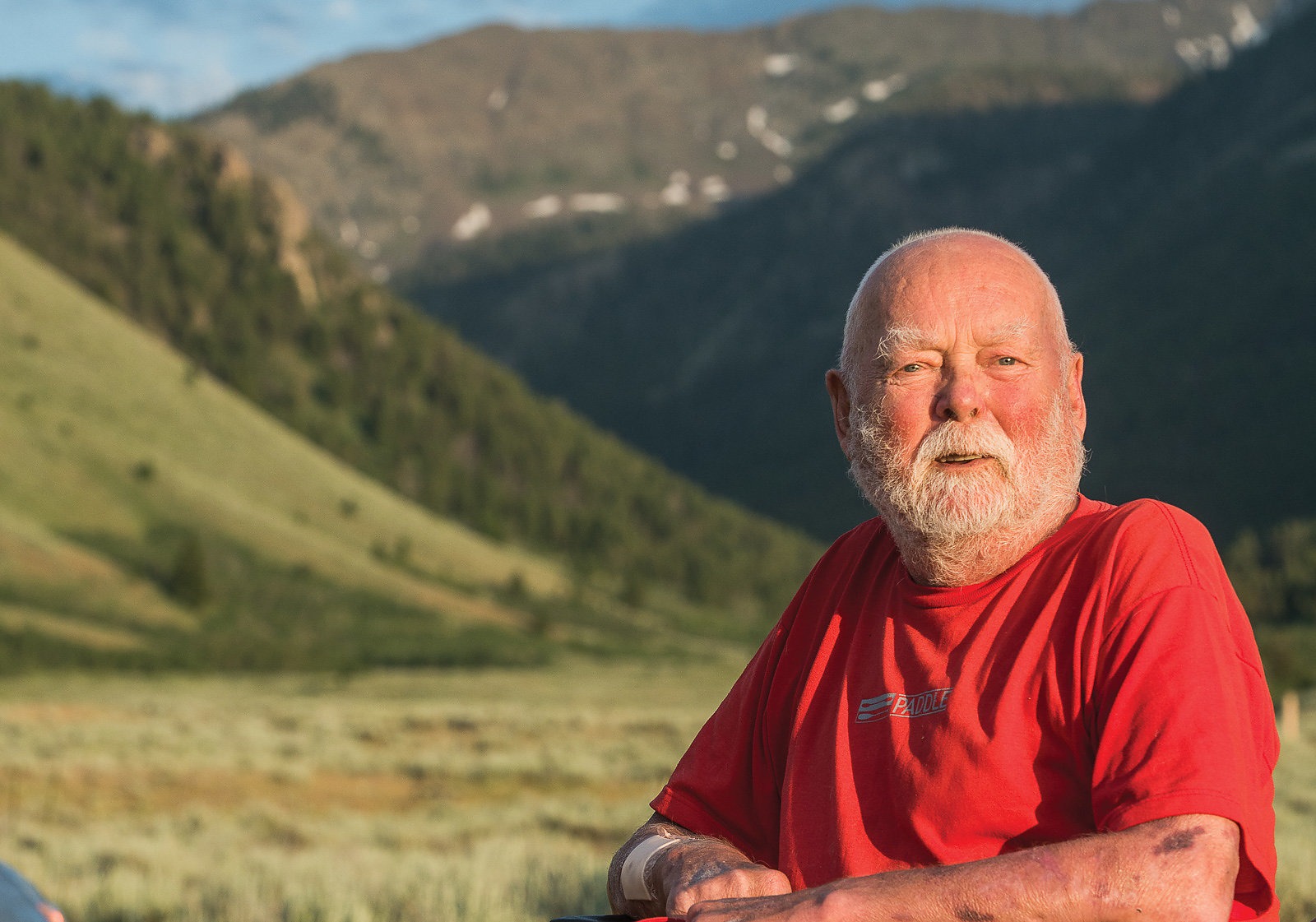 Unintentionally Perfect Dogs and Dynamite with Terry Johnosn
Terry Johnson is a timber beast.
Not because he has a trigger-happy finger on a chainsaw, but because of his tenacity and efficiency while stewarding a big, wild slice of America's public pie. It's a title earned by 50 years spent in the mountains of southwest Montana, doing timber surveys, managing forest resources, solving user conflicts and—above all—building trails. And while he's not a biker himself, those masterpieces of dirt and stone have achieved near cult-like status among Montana's riding community. But that's just one chapter of the 78-year-old Johnson's long story.
Having grown up in Lacrosse, WI, just a short distance from the Mississippi River, Johnson was a water junkie from an early age. The islands and bayous provided an outlet for teenage angst and an escape from daily life; it also provided a training ground for the future woodsman. The banks of the Mississippi near Lacrosse rise 600 feet above the waters—barely a foothill for Montana, but the coulees were filled with trails, caves and forests. For the young Midwesterner, it seemed a near wilderness.
Those backwoods made an impression on Johnson, and after high school he spent the late 1950s earning a degree in Forest Resource Management at the University of Minnesota. The major was known to channel graduates immediately into Forest Service careers. Johnson was fine with that.
During his first spring break, the 18-year-old put his outdoor passion and chainsaw expertise to use. He headed to Montana, where he pestered the Forest Service Gardiner District office until they gave him a summer internship. By 1958, the two-week internship had turned into two summers of work, building and maintaining trails in the Absaroka and Beartooth mountains just north of Yellowstone National Park.
By his graduation in 1962, armed with a solid resume and his fresh degree, Johnson snagged a job at the Storm Castle Ranger Station in Montana's Gallatin National Forest. Soon he, his wife Frieda, and their young family were moving into a singlewide trailer, a stone's throw from the Gallatin River.
They'd spend the next four years in the trailer, and it was here Johnson earned his reputation as a "timber beast"—USFS slang for a forester who manages timber sales efficiently enough to be profitable. It was an accomplishment he attributes to "knowing every tree and every nuance" in the forest, he says.
Leaving their bucolic spot along the Gallatin, the Johnson family's path would wind through different roles with the USFS. For the next four years, Johnson took a job managing wilderness, recreation and timber sales at the Madison District out of Ennis, MT. Then it was on to Idaho, where he worked as a wild and scenic evaluator and refereed a standoff between local logging companies and environmentalists, centered on the St. Joe River, a 140-mile tributary of Lake Coeur d'Alene. In 1975, that success earned him a promotion and a trip back to Bozeman, where he became the forest planner for the GNF district office. 
Johnson would work with the USFS for another 10 years. By 1985 he was ready to move on, and left the agency to start Sunburst Adventure Guiding and Trail Building, where he took clients on multi-day hunting and river treks, as well as government trail-building contracts. After a decade with Sunburst, he sold the company and started another: Land-Tech Montana, an outfit focused specifically on trail building.
It was at Land-Tech that Johnson began to unknowingly develop his mountain bike reputation. Taking backbreaking jobs in some of Montana's wildest regions, Johnson's crew used pry bars, chainsaws, drills, jackhammers, dynamite and raw human labor to carve routes into the high country. In 1993, Johnson began using a mini-excavator, at which he soon became an expert. 
The Henry Mountains became Johnson's showcase zone. Through 1995 and '96, he and his crew cut in 15 miles of the then-new CDT trail, including 85 switchbacks over 3,300 feet elevation gain. The sheer scale of such a project is impressive, but it was the details that would make it so endearing to mountain bikers. With hand-fitted rock retaining walls, armored switchbacks and functional grade reversals, Johnson was building a flow trail years before "flow" was a thing.
While he'd regularly attended national conferences for the Professional Trail Building Association over the years, his official involvement with mountain biking began in 2003, when he attended a weeklong IMBA sponsored, bike-specific trail building course. It was useful, but the biggest takeaway was someting any biker could tell him: His building style was unintentionally perfect for mountain bikes. 
The next 14 years was a veritable checklist of classic Montana rides: Bangtail Divide, Stone Creek, Shafthouse, Chestnut and Leverich. He built numerous additional sections of the CDT, including Homestake Pass and Rogers Pass. All had the attention to detail and sustainability that has become known as signature Johnson style.
Johnson is now retired. If you ask him about his favorite trails, he says "the ones we measured by holes drilled and cases of dynamite detonated, per mile." After a half-century of sweat, blood, grit and the judicious use of explosives, the Montana timber beast is still proud of his legacy and all that went into it. "I loved my work," he says. "Nothing is better than working alone, just me and my dog, among the flowers and rock formations."
---
Freehub Magazine Issue 8.3, the Montana Photo Book, is a visual guide to the trails of the Treasure State. We selected four local photographers, Reid Morth, Jason O'Neil, Tom Robertson and Nick VanHorn, to document their respective hometowns of Big Sky, Helena, Missoula and Whitefish and capture the experience and vibe that fill the mountains of the Montana high country. Be sure to check out all the other articles!