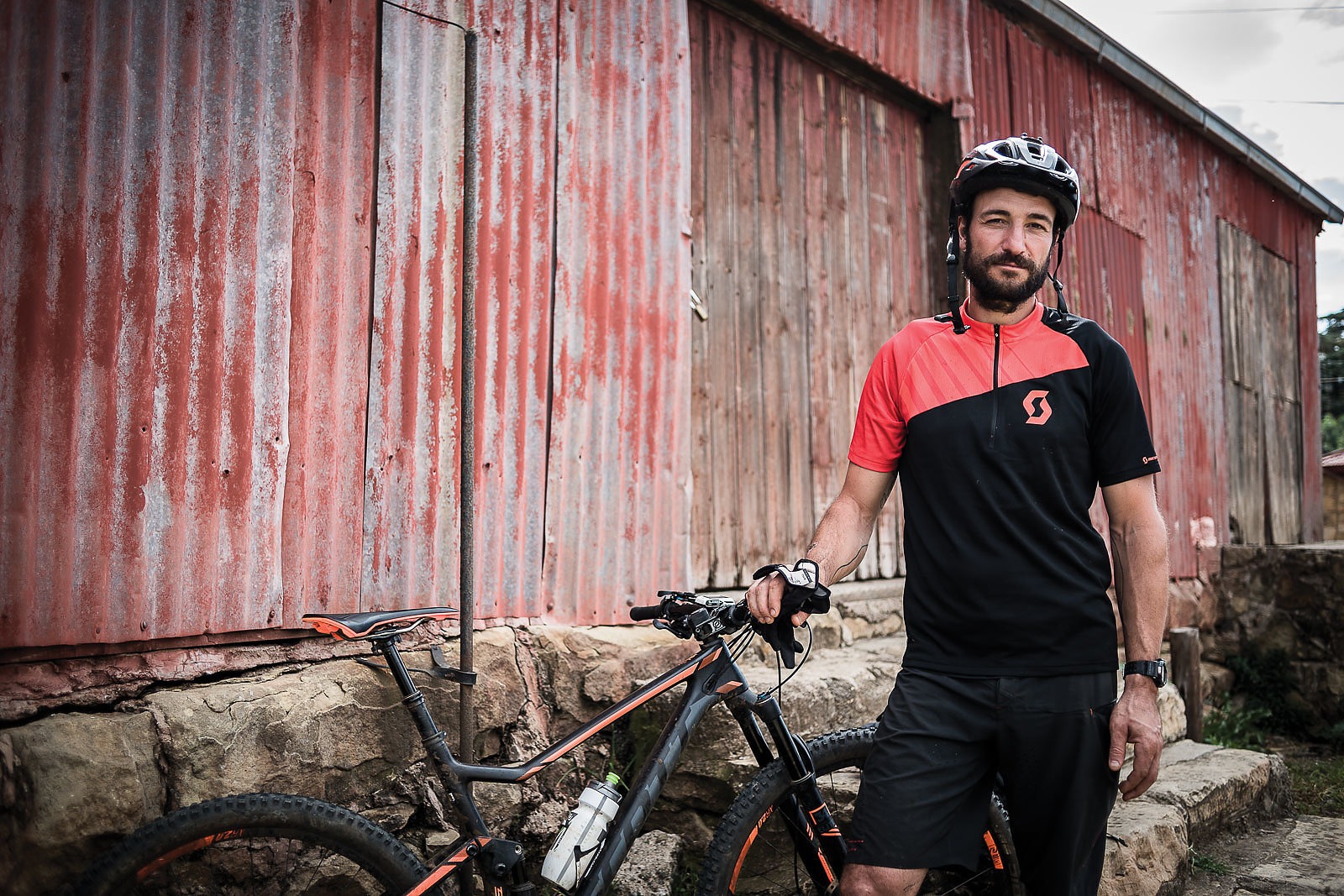 Planet Home From POV to Pump Tracks with Claudio Caluori
Claudio Caluori doesn't want to get cow shit on his tires because he's worried about his friends thinking he doesn't brush his teeth.
It may sound like a strange statement, but it's just a snippet from one of his five-and-a-half-minute-long GoPro edits, this one following Will Longden down the UCI World Cup course in Leogang, Austria. For most people, this type of banter would garner odd looks. For Caluori, it's made him semi-famous.
Most people know Claudio Caluori by his laugh—his course previews, and the accompanying commentary, have gone viral in the mountain bike world. Throughout the jarring rides, Calouri narrates in his Swiss-German accent, screaming, shouting and occasionally cursing above the whistle of the wind. The combination of explaining his line choice, screaming phrases like "Pedal, pedal, pedal!" before a 30-foot gap or "I'm going waaaay too fast!" before dropping into a chundery rock garden, all while keeping focused on the trail ahead is one of the more impressive things on the internet. And it can be pretty damn hilarious.
Despite some occasional self-doubt, Caluori is more than qualified to ride these trails, and his comical GoPro commentary is low on his list of achievements. Few people in mountain biking have accomplished the variety of things, stretching as far around the globe, as Caluori. The 39-year-old is a seven-time Swiss National Champion, former World Cup racer, founder and manager of multiple World Cup race teams, and owner of the world's most prestigious pump track company, Velosolutions. He's an ice-cross downhiller and has raced in the notorious Red Bull Crashed Ice event, for which he's since become a media expert. And, most recently, he's become a champion of renewable energy.
But his is a path that's never been easy. He's struggled through unemployment and failed business ventures. At one point, he even had to work in the sewers under Zurich. Yet through it all, Caluori maintained his sense of humor and a vision that extends far beyond action sports. Just like his POV edits, Caluori continues to do what he does best: try for the best line, hope it works, and then show it to the world.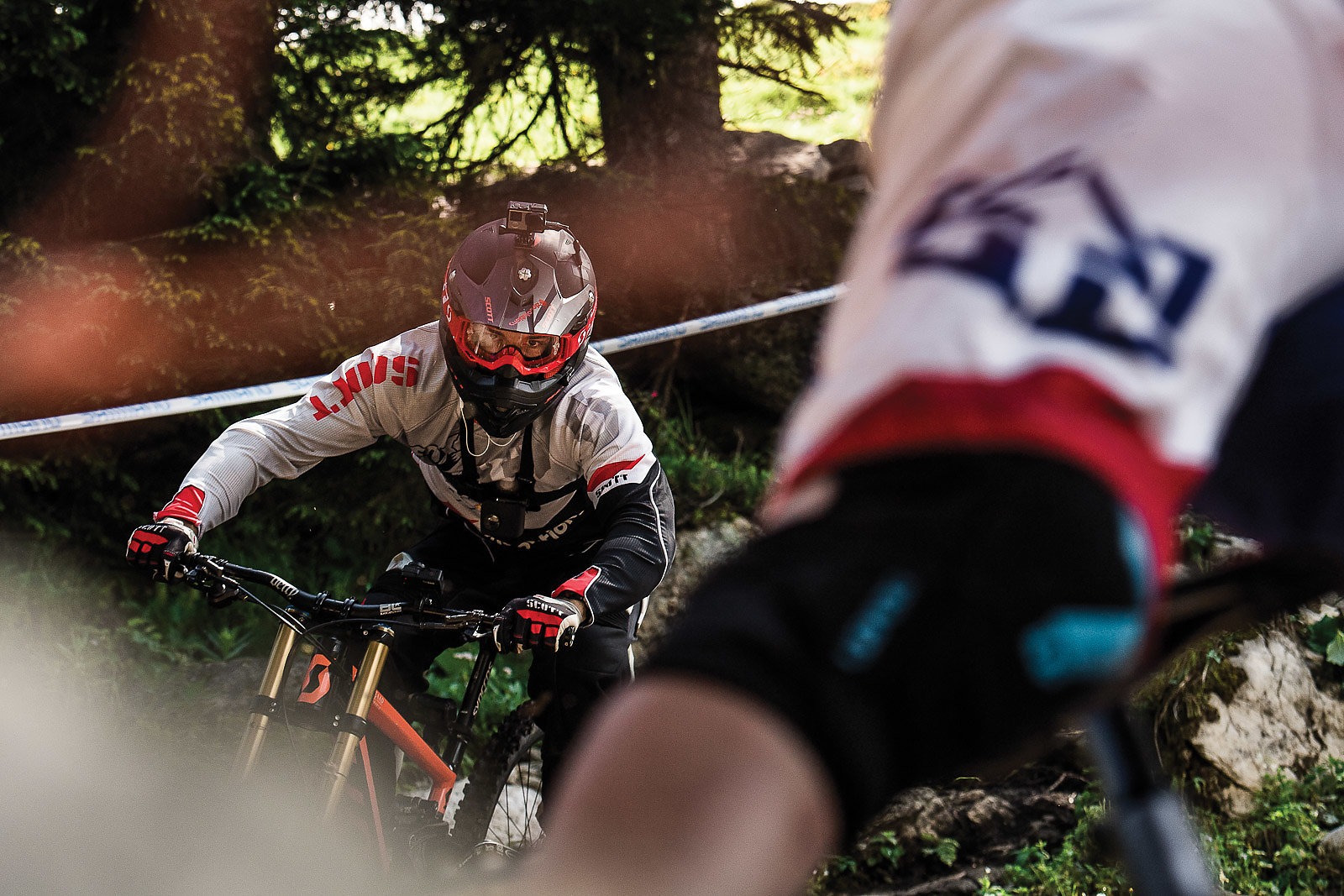 Born in Zurich in 1977, Caluori's athletic career didn't start with mountain biking; it started with hockey. The tall Swiss rider was on skates from a young age, and, thanks to his speed and fitness, he stood out among his fellow players. But it was getting to and from practice that would have the greatest impact on his future career.
"My parents were tired of driving me to the hockey arena five times a week, so they asked me if I'd be OK biking there instead," he says. "I was 15, and that's when they bought me my first mountain bike."
What began as a way to placate his parents quickly turned into a passion and unintentional training—which eventually led him to enter the competitive XC circuit when he was 16. He loved it, and was soon competing in road and track events as well. But, after four years of XC, that would change abruptly
"One day on an XC ride, I found a BMX track," he says. "That pretty much turned my life around. I spent the following winter training on the track rather than on a road bike."
The training paid off on the downhill sections while he was on the XC scene, but his uphill speed still didn't quite match. Then, at 19, he got his first downhill bike, the catalyst of his future career. At this discipline, he was much better than average. Over the next two years, he would win the Swiss National Championship for both dual slalom and downhill, and five more Swiss championships followed. Having cemented his status as a champion in his own country, he proved himself on the world stage in 2002, when he took fourth in the UCI World Cup in Mont Sainte Anne.
But downhill racing is a brutal sport, and Caluori realized age was inexorably catching up with him. He had two kids, a boy named Chandro and a girl named Sanoe. Despite his herculean efforts, he found himself stalled. After a decade, it was time for a change.
"There's a point when you find yourself training harder and harder, maxing everything out to the last detail, and yet your results only get worse," he says. "It gets really tough to justify that kind of a lifestyle when you've got a wife and young kids. I started looking for other things, and that led to me getting out of racing."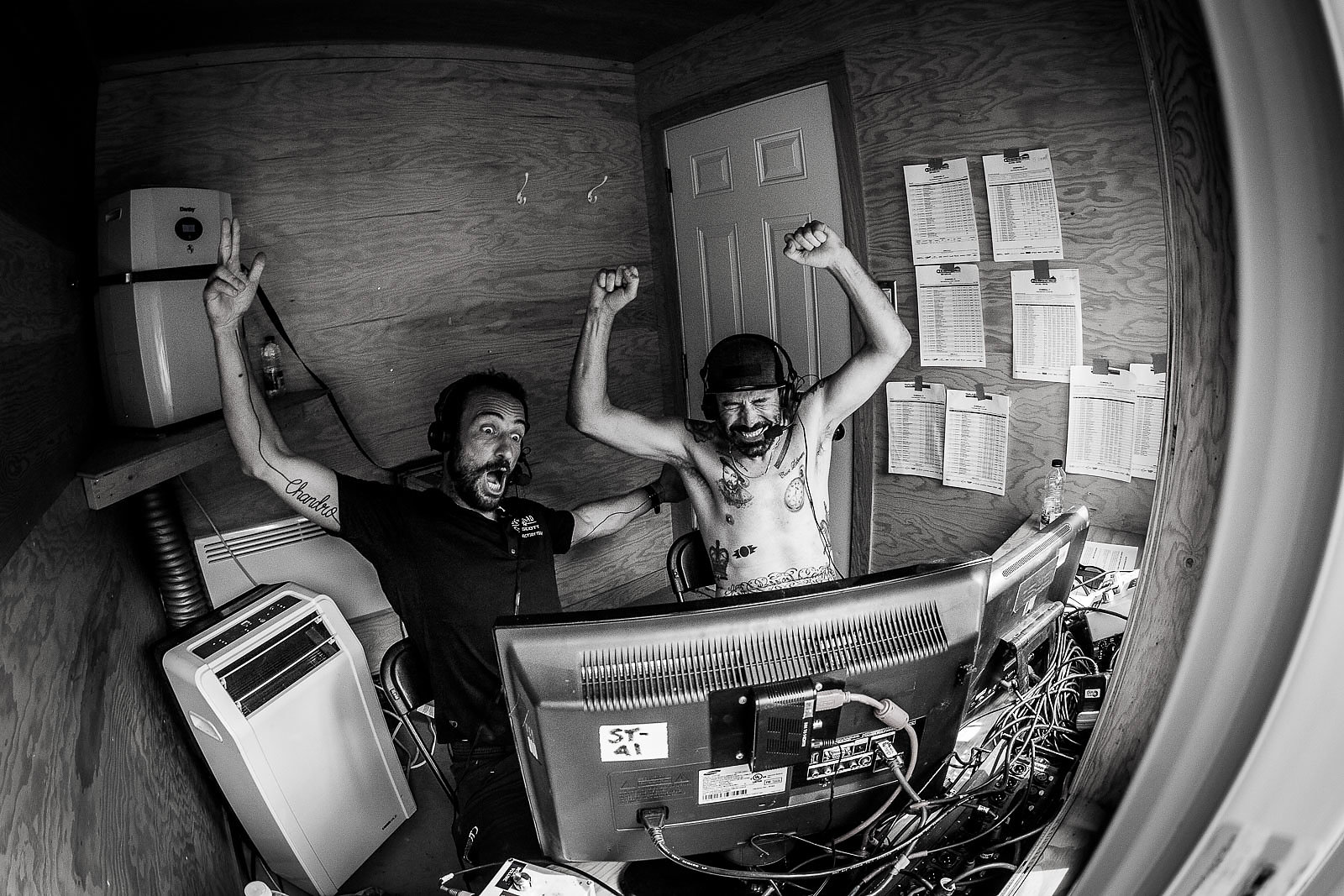 Not surprisingly, his new path forward remained firmly rooted in the mountain bike world. Caluori raced for Tomac bikes from 1999 through 2001, and in 2007 he saw an opportunity to resurrect the company's Factory Team. By the spring of 2008, he had assembled an impressive crew of riders (including himself). Yet, after a year of hustling, he was still short on the necessary funds.
"By the time I realized there would be no money to get through the season, it was too late," he says. "I had a family and a team with five riders, but no money and no job. It's a combination that didn't really work."
For the next few months he made ends meet by cleaning sewage pipes in Zurich. Yet, despite obvious difficulties, Caluori didn't complain. In fact, in some ways he regards it as being a positive experience.
"The smell was awful, but you got used to it," he says. "I was just really grateful to have the job at the time. It was exactly what I needed. It showed me what real life is all about, far away from the world of computers."
"I was just really grateful to have the job at the time. It was exactly what I needed. It showed me what real life is all about, far away from the world of computers." —Claudio Caluori
Caluori never stopped riding, nor did he step away from the race world, and in 2009 Scott came on as a sponsor of his team. Eight years later, they continue to work with Caluori as a major sponsor of his Scott-Velosolutions World Cup team.
A few years later, Caluori was shown a video of Red Bull's Crashed Ice, the premier event of a new sport called "ice-cross downhill." Ice cross consists of four skaters racing down a steep, twisting, obstacle-filled ice canal, usually between 1,500 and 2,000 feet long, reaching speeds upward of 50 miles per hour. Caluori wanted in, and he asked Red Bull if he could give it a try.
"I borrowed some skates to see if I could still do it," he says, "and I was on the ice every day for the next three months to get ready for my first race."
After two years competing in the Crashed Ice event, Red Bull asked him if he'd be interested in becoming their media expert. It was a highly creative job, and one of his responsibilities was to bring viewers as close to the sport as possible.
"That's where I started doing POV course previews on the ice tracks," he says. As the videos gained momentum, Caluori soon realized the potential beyond ice cross. "About three years later, I showed the people at the UCI World Cup what we'd been doing at Crashed Ice, and in 2012 we tried a similar preview at Fort William. We've been doing it ever since."
These days, the majority of the world may know Caluori for these edits and his accompanying commentary. But for trail builders, city planners and pump-track junkies, he's known for something much different: Velosolutions, a company he started in 2004 that has become the world's premier builder of pump tracks and bike parks.
Pump tracks are nothing new—originating with BMX, they've been around for decades, and were the inspiration for training courses and dirt jumps built by downhill racers and freeriders in the early 2000s. After seeing a few videos from California, Caluori began building his own jumps and tracks during winter training sessions in San Diego.
"Building pump tracks just came hand in hand with riding," he says. Working alongside Ironhorse's Sean Heimdal and downhill legend Sam Hill, the group's creations were soon in high demand and other teams were looking to train. This popularity wasn't lost on Caluori, who saw an opportunity. "That's how the trail-building story started, and then a few friends and I decided to take the idea to the next level in Zurich. From there it just took off, and kept getting bigger and bigger."
Velosolutions' ideas continued to grow as well, and in 2009 they embarked on the project that would set them apart in the trail-building world: They built their first concrete pump track. For their next project, they moved to asphalt, and found it to ride so well that they made it their signature medium.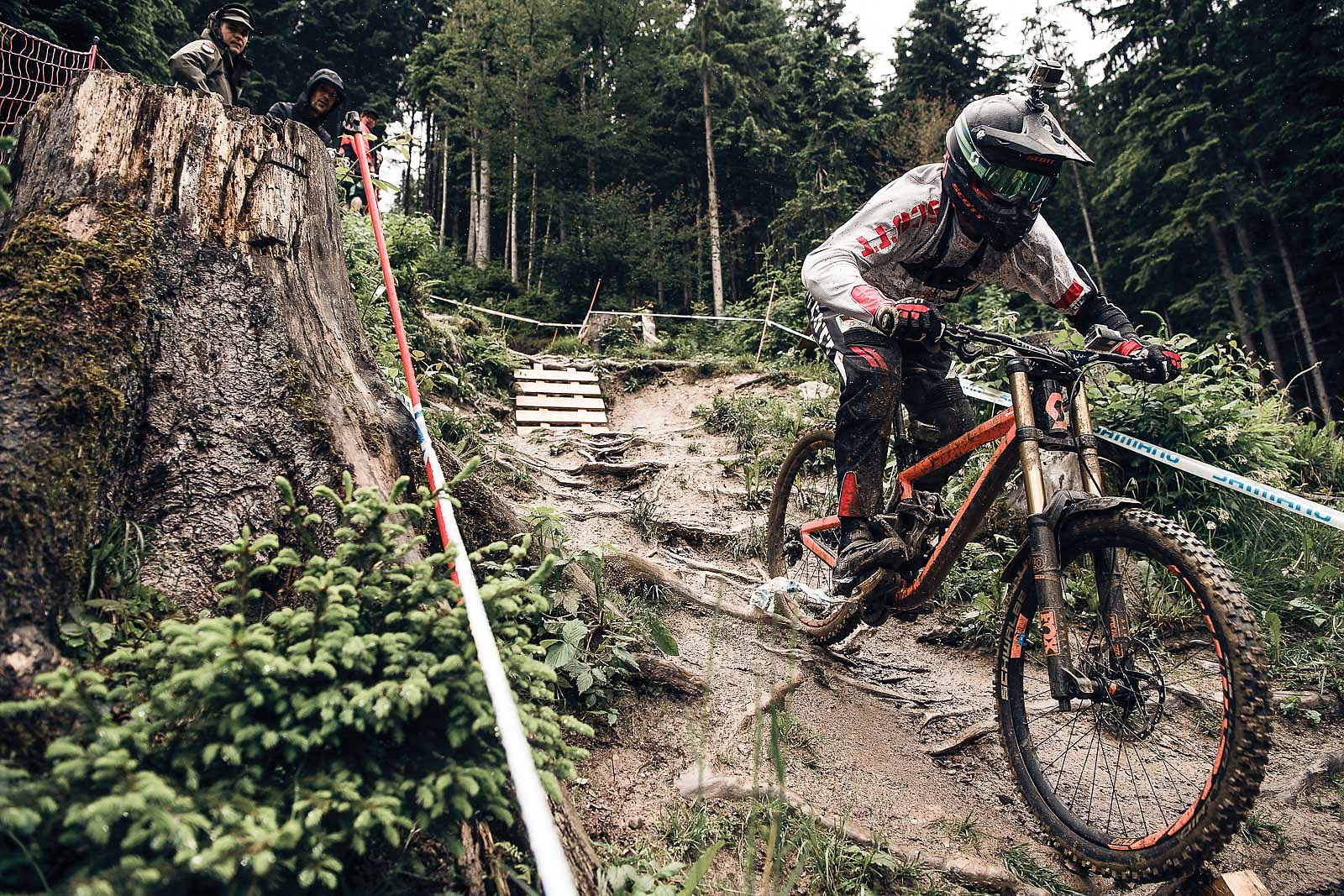 Besides ride quality, the asphalt-covered circuits are incredibly practical. They include jumps, rollers and banked turns, and thanks to their smooth surface they can accommodate bikes, skateboards and pretty much anything else with wheels. They can be ridden in the rain, and are compact enough to fit into almost any urban area—far more compact than baseball or soccer fields.
Communities around the world have taken notice. Since that first concrete creation, Velosolutions has built hundreds of pump tracks, trails and bike parks in locales including Thailand, India, Bali, New York City, Lesotho, South Africa, Chile, Philippines and Washington state. The company now employs 15 employees in Switzerland, with satellite offices around the world in England, France, the United States, South Africa, Germany, Canada, the Baltics and numerous Benelux countries.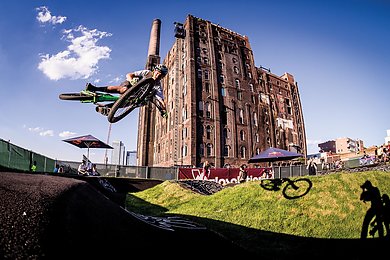 Part of Velosolutions' success is due to the hours of careful, precise work the team puts into each individually designed track. The most important factor, however, is the passion they bring to each project. Despite his packed schedule with the World Cup and ice cross, Caluori still spends two to three weeks at each job site, personally overseeing everything Vesolutions builds. Such care leads to outstanding results—and memories.
"Both the Thailand track and the New York track were projects that I'll never, ever forget," Caluori says. "They were the best times of my life. Nothing beats seeing the kids in Thailand having a great time on something you've just created, or working in New York City while looking over the water at the Statue of Liberty."
The popularity of the tracks has grown every year and Caluori readily admits the company struggles to keep up with demand. On average, Velosolutions starts a new project every other week, and they're regularly booked out.
"The one I'm really looking forward to is the Stevie Smith Community Bike Park in Nanaimo, British Columbia, which is coming up soon," he says. "I also really want to build one in San Francisco."
While each is unique to its community, a common thread runs through every Velosolutions project, and that's the ability to bring riders of all ages and skill levels to a single, shared place. For Caluori, pump tracks teach an urgent lesson he feels the world desperately needs: how to get along with others.
"Whether they're youngsters or older people, beginners or pros and whatever their socioeconomic background may be, just about everyone has a great time," he says. "They have to learn tolerance and how to respect others. I think that's what makes these things so special. They create a great community spirit, and the impact goes far beyond just getting kids off the streets."
As with most nice things, Velosolutions pump tracks aren't cheap compared to their dirt counterparts. But Caluori dismisses the idea that they are luxuries outside the range of cash-strapped communities. Just as they take up less space than traditional sport fields, they are less expensive to build and more intensively used.
"If you look at soccer fields or baseball fields in most places, there will be no one on them most of the day," he says. "But you almost never see a Velosolutions pump track without anyone riding it."
Most of Caluori's time may be spent at World Cup races, building pump tracks or barrelling down ice-covered descents, but there's much more to the quiet, towering figure. He is fluent in four languages (German, French, English and Italian), and is capable in both Spanish and Rhaeto-Romanic, a Latin-like language spoken in parts of Switzerland. He goes biking, cross-country skiing and snowboarding with Chandro and Sanoe, now 9 and 10, respectively, as much as possible. The reality of his jobs—and the resulting travel time—means he doesn't have much time for hobbies, but there is one that fits his schedule. Caluori loves playing guitar, an interest he picked up a year ago while building the pump track in New York.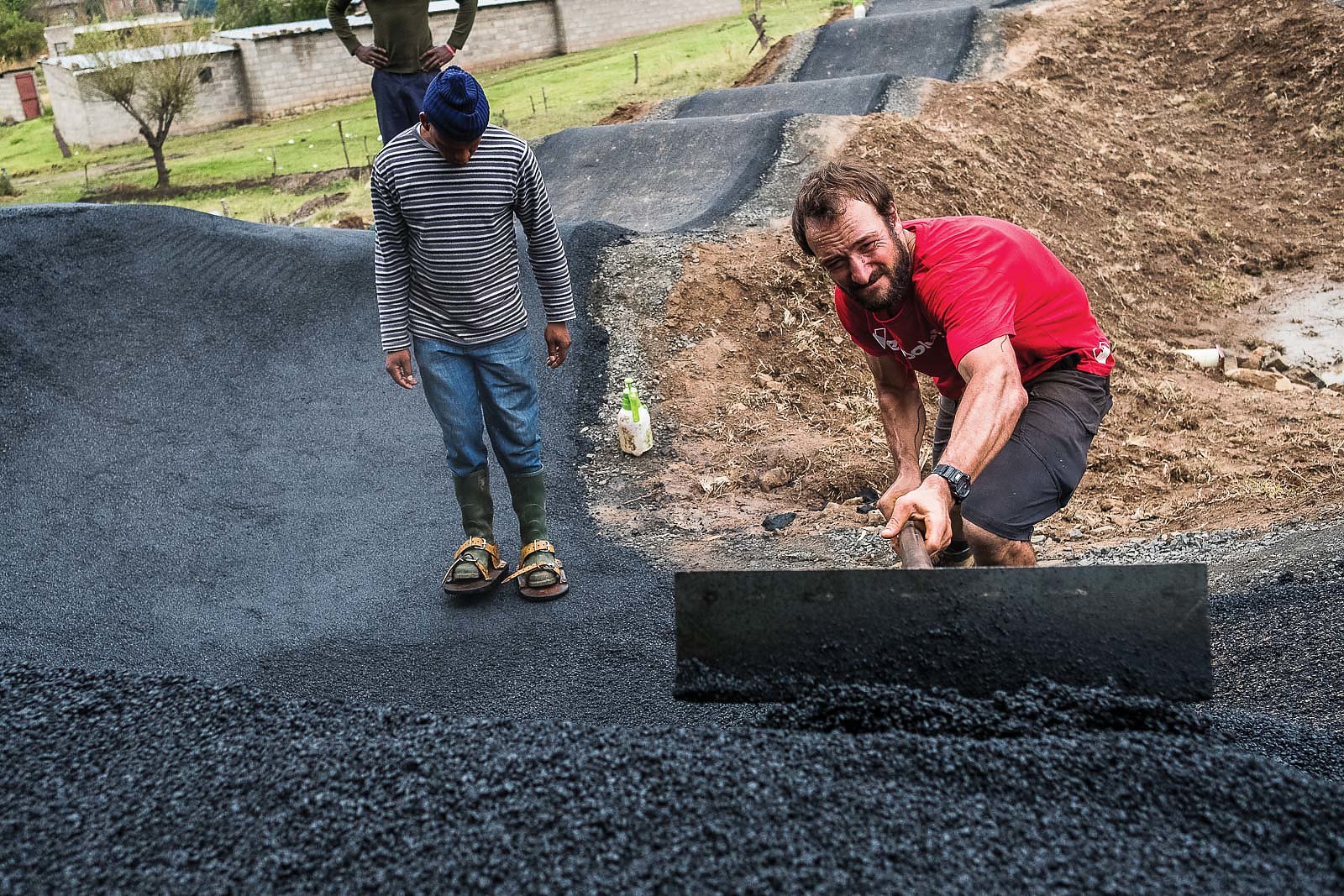 "A guy on the street just asked me one day if I wanted a quick lesson, and that's how I started playing," he says. "I take it everywhere. Even if I only have a few minutes to play before falling asleep, I still pull it out. I suck at it, but I love it."
As someone who regularly travels the globe, it's no surprise he has other passions as well, ones that encompass more than action sports. Caluori has long been interested in renewable energy, and has visions of one day building power plants, large solar projects and sustainable construction robots, among other possibilities. He's been a vegetarian for 21 years, and having watched his home country's glaciers melt and seen the effects of climate change around the world, he's frustrated so many voices still reject basic science and refuse to take action. But that's just motivated him to work harder and dream bigger.
"If I didn't believe in a greater cause, I would probably simply step back and become a shepherd high up in the Swiss Alps," he says. "That's the thing that drives me on, the idea that I could be part of something larger. I'd like to be part of the solution, and not only the problem."
"If I didn't believe in a greater cause, I would probably simply step back and become a shepherd high up in the Swiss Alps." —Claudio Caluori
Yet he isn't one to throw blame outward. Caluori is fully aware of his own impact.
"I realize with all the traveling I'm doing, I'm not a very good example for a sustainable lifestyle," he says. "So, I probably shouldn't be preaching what I don't yet practice myself. But I'm currently looking for engineers and scientists to help me develop an energy-producing pavement for our pump tracks, as well as the first self-sufficient ski resort. It's hard to say how they will pan out, but it's good to have ideas."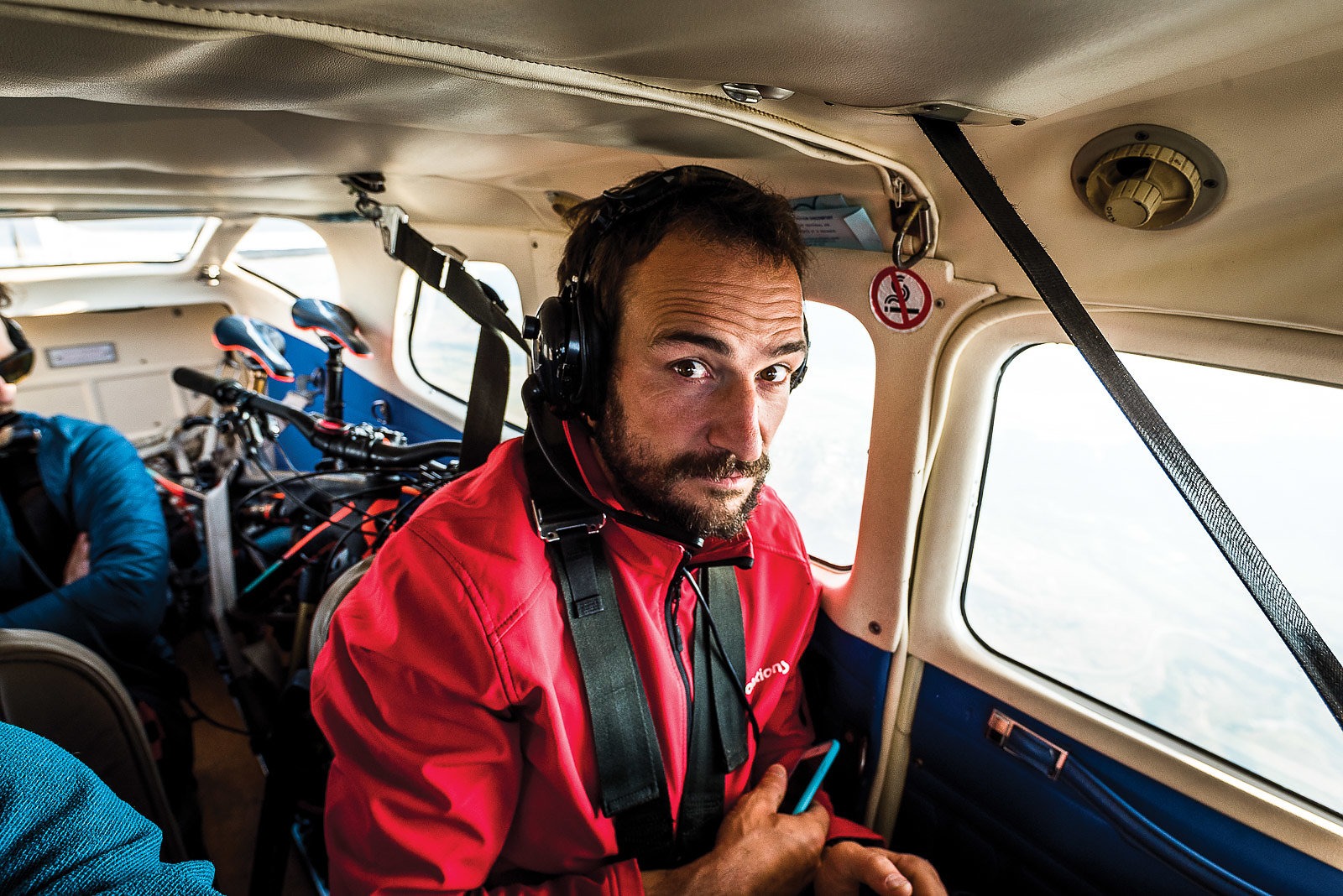 While traveling for mountain biking, ice-cross downhill and building pump tracks, Caluori admits he sometimes wakes up in the middle of the night in a hotel room without the foggiest clue where he is. His kitchen in his home in the small town of Rhäzüns, about 90 minutes southeast of Zurich, is a perpetual mess. And above all he misses his two children, but is proud of their accomplishments, such as his 10-year-old son winning his first pump-track race. And through the miracle of the internet, he can stay in touch with them from anywhere. "I'm starting to feel like the planet is my home," he says.
While he doesn't know from where his next POV preview will come ("whatever World Cup comes up next," he says), nor where he'll be a month from now, he's content. He remains mostly hobby-less, at times too busy to even play his guitar. But for Caluori, it's all part of creating something bigger, and that's worth every cow-shit-covered tire and bad line choice along the way.
"Seeing kids taking their first laps on our pump tracks, with smiles on their faces, is the greatest thing you can imagine," Caluori says. "It literally brings tears to my eyes when I see them having such a great time. These are the happiest moments of my life. In those moments, I just think, 'Lucky me. What a great job this is.'"