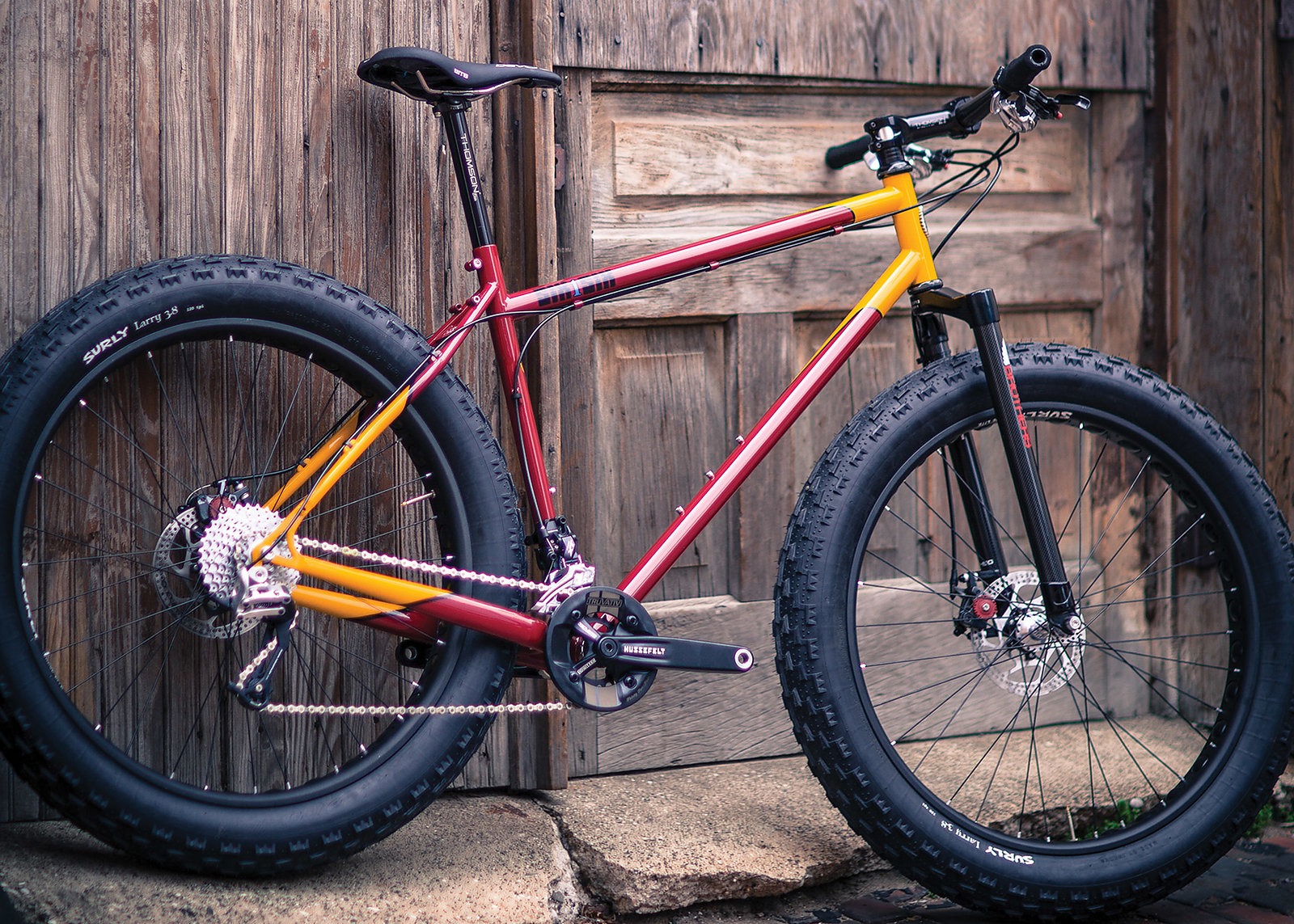 616 Fabrication
The Local Craftsmanship of 616 Bicycle Fabrications
On a cold December night in Grand Rapids, Mich., in 2010, Aaron Joppe headed into a grocery store with $40 worth of empty microbrew bottles to recycle. Joppe, then-owner of Grand Rapids-based Slingshot Bicycles, had spent the past few weeks in an exhausting and unsuccessful search for a local welder to share his vision of bringing Slingshot's manufacturing back to the United States.
The quest had contributed significantly to those hefty bags of brown glass. As the bottles clinked and tumbled into the return machine, Joppe glanced up at a nearby message board displaying a flyer: Welder for Hire. Nearly out of hope, he decided to give the nameless welder's local 616 area code number a call.
Behind the anonymity of the flyer, as Joppe found out, was a frame- and hub-building legend: John Muenzenmeyer, founder of Nukeproof mountain bikes, another retro Grand Rapids cycle company. When they met up, Muenzenmeyer brought in, in place of a resume, an eight-page profile that featured him in Bike Magazine. He also brought decades of experience building high-quality, "Made-in-Michigan" bicycles.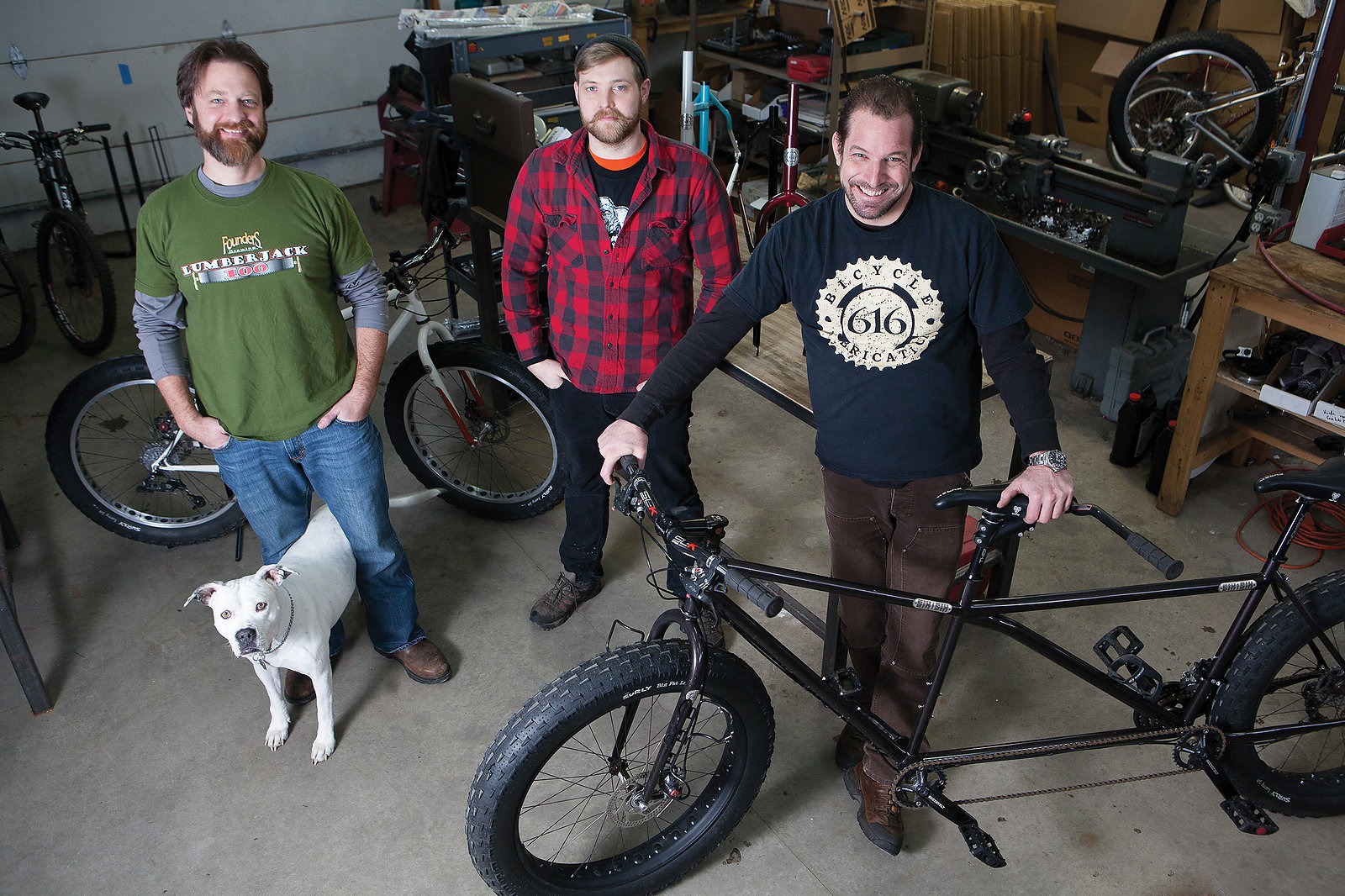 A few dozen empty beer bottles later, and 616 Fabrications was set in motion. It would soon come to employ of much of the state's mighty American-manufacturing workforce, proving they could build some of the world's most beautifully crafted bicycles and components.
When the Great Recession hit in 2008, one of the heaviest blows fell on the Detroit-based automotive industry. Already the fastest-depopulating city in the U.S., within months Detroit saw the federal government bailout both General Motors and Chrysler, and offer Ford—only slightly better off—a line of credit to keep it afloat. Unemployment hit 14 percent, one of the highest in the country.
Grand Rapid's economy has historically relied less on the auto industry. It's home to five of the world's leading office furniture companies, earning it the nickname "Furniture City." It also hosts numerous healthcare companies and a strong agriculture industry, so it took the hit better than much of the state. Yet, the town still found itself with a large force of talented, latent labor.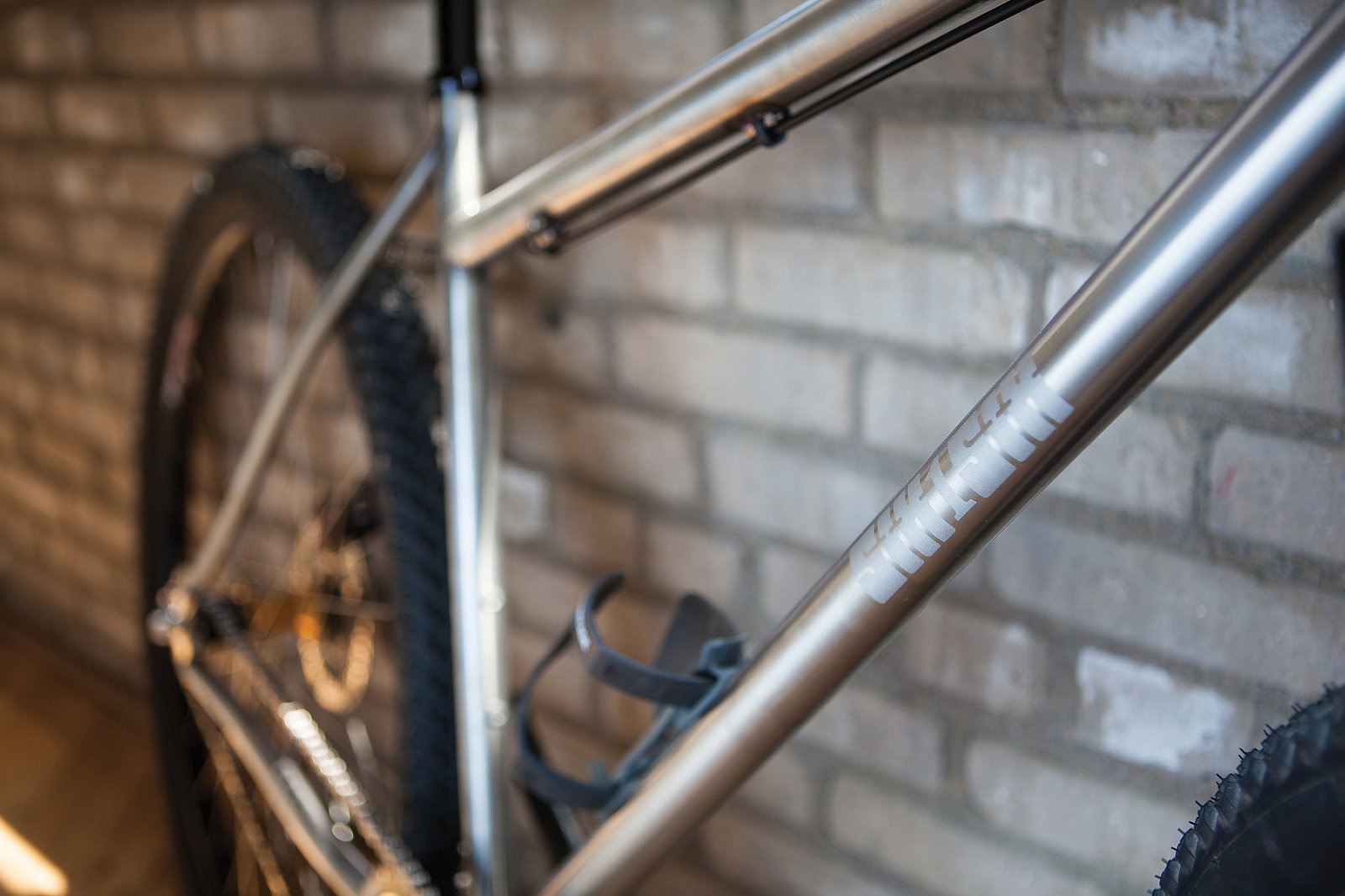 Meanwhile at Slingshot Bicycles, Joppe's predecessor, the previous owner, had transferred his manufacturing overseas following a trend set by the larger bike companies. Joppe had hoped to change this when he purchased the company in 2007, but that vision crashed with the reality of costs and his investors' conflicting ideas.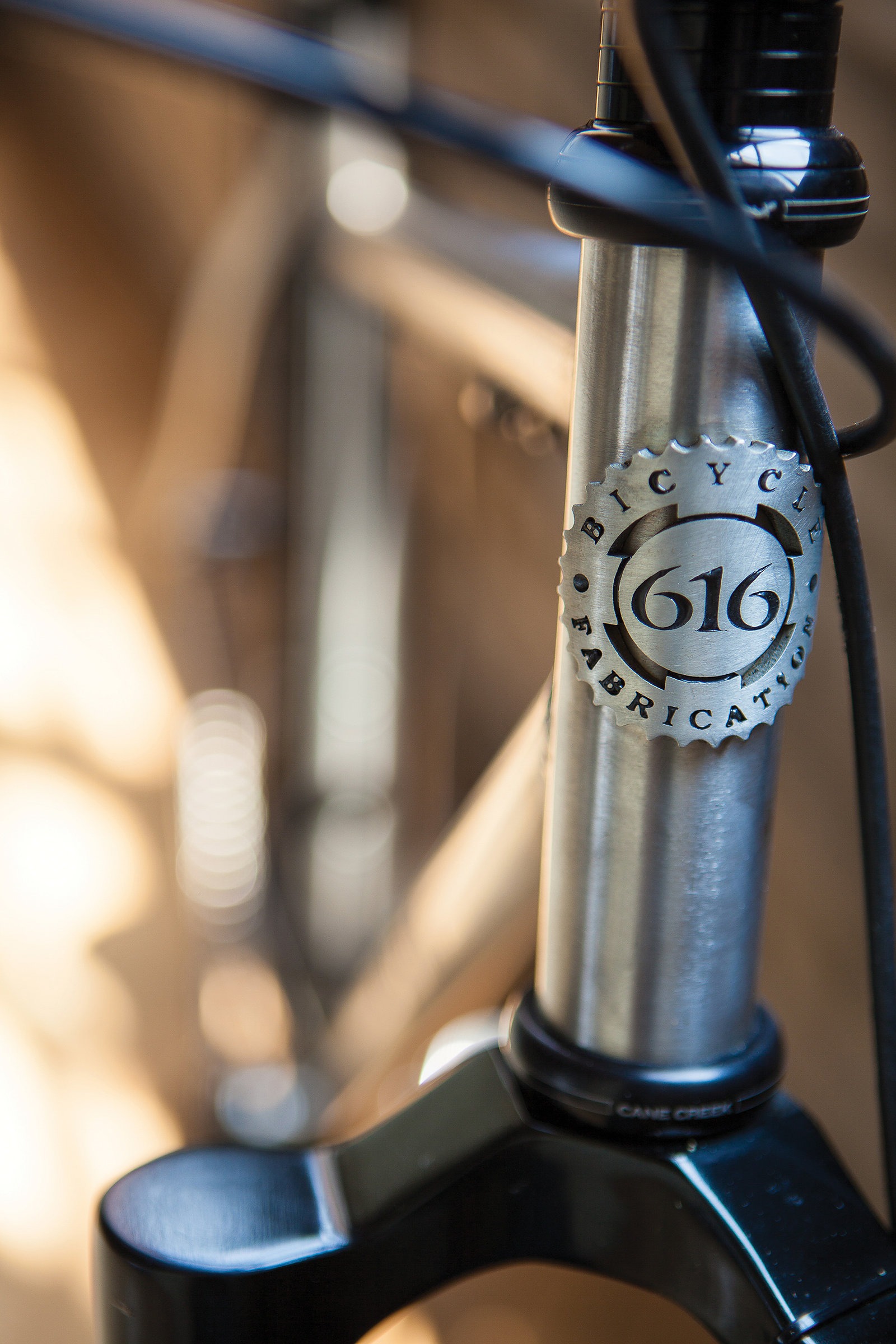 It was around that time that Joppe called the anonymous number on the flyer and reached Muenzenmeyer. The two men realized a shared vision—one that was forever going to be in conflict with Joppe's partners'. Acknowledging this, Joppe agreed to take a buyout of his ownership stake in the company, and he and Muenzenmeyer set out to launch something brand new.
"I have always been the buy-local, Made-in-America type of guy, so my first initiative [after buying Slingshot] was to try to bring everything back to the states," says Joppe. "But I soon discovered that buying all of the necessary tooling would cost a small fortune, and John and I quickly realized quickly that our vision was not the same as the partners I was with. I started making plans to remove myself entirely while he and I were coming up with a plan for our own locally produced company."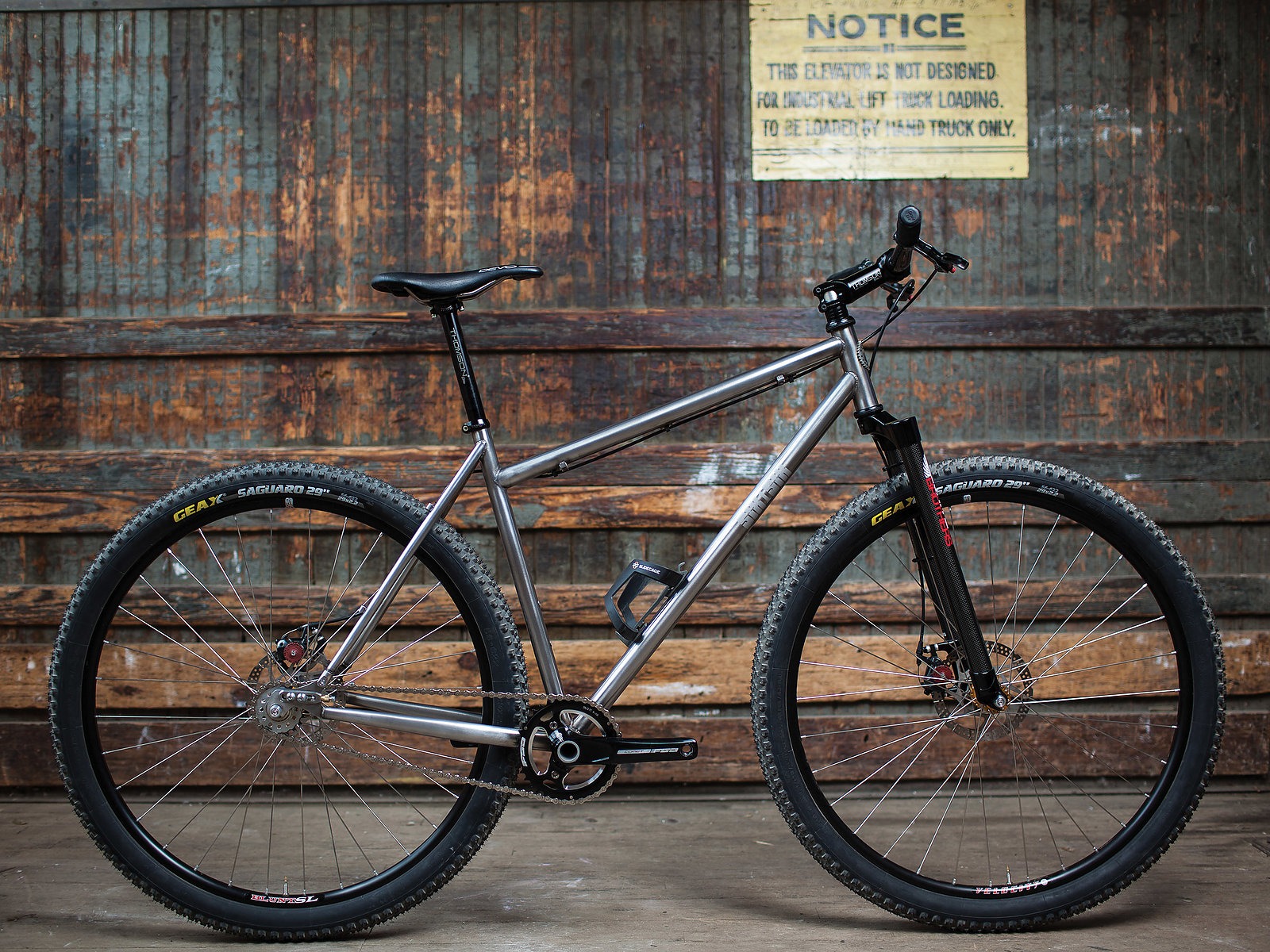 As Joppe and Muenzenmeyer's dream of Michigan-made components and frames developed, they decided to recruit local bike junkie and entrepreneur Robert Gaddis, whom Joppe had met while looking for investors in Slingshot. After persuading Gaddis to step away from Slingshot, Joppe and Muenzenmeyer hired the final member of their core team, finish-welder Daniel Koert, a former bike shop owner and Grand Rapids bike-scene guru.
With the help of Koert and Gaddis, on July 1, 2011, 616 Fabrications—named for the area code—officially opened for business. Yet, they wouldn't have product to sell until 2012.
When those products came, they emphasized 616's "local" ethos—they were hubs. More specifically, they were hubs for a fast-growing and particularly Midwest bike demographic: fat bikes.
The hubs quickly developed a reputation as the lightest and burliest on the market. And soon, requests came pouring in for matching frames. Bike junkies that they were, the 616 crew obliged—and not just with fat frames, but also mountain and cyclocross bikes. The mountain frames were either a 29"er or 650b. All products were built with the same exhausting attention to detail.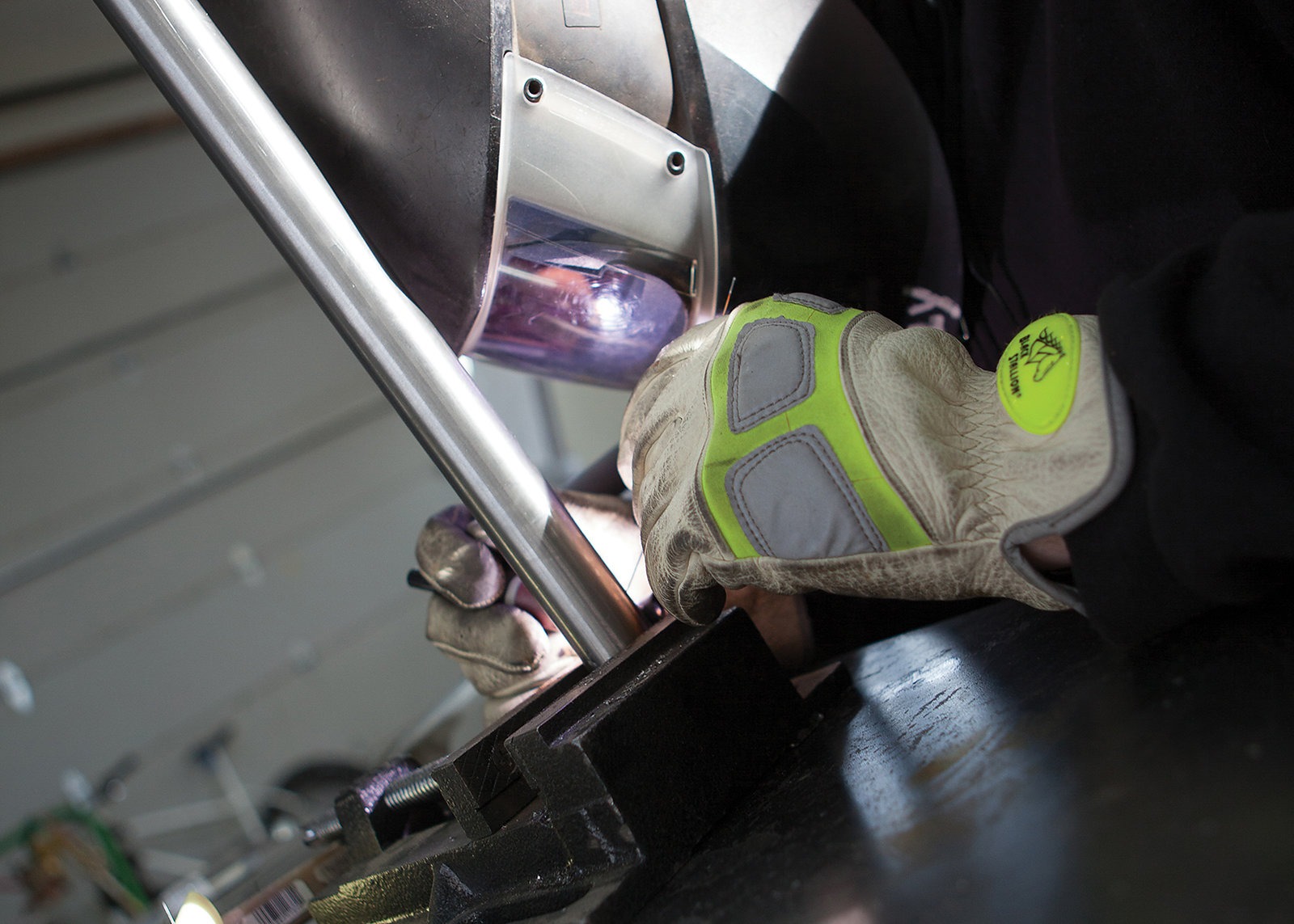 Regardless of type, everything at 616 is built by hand and to customer specifications. The company forsakes decals for custom paint jobs; laser-cuts its logo into each frame's stay bridge; adorns each head tube with "jewelry piece" badges; and labels each frame with a customer ID badge containing: serial number, customer name, type of tubing used, year manufactured and bike style. All these tasks are completed by craftsmen who lie within 30 miles of Grand Rapids. While it may seem a small and limiting production zone to draw from, Joppe says the quality of labor couldn't be higher. One look at a freshly painted fat frame provides the instant proof.
"We realized we had all of these people in the towns around us. And especially with the recession, a lot of talented people were not working. So we started to look locally and found everything we needed within 30 minutes of the shop."
"We realized we had all of these people in the towns around us. And especially with the recession, a lot of talented people were not working. So we started to look locally and found everything we needed within 30 minutes of the shop," says Joppe. "Our head badges are made 20 minutes away at a place called General Motivation. Our hub shelves are made by a Dutton, Michigan-based company called Micro Manufacturing. I think we have sourced the best. For example, our painter is nationally ranked. He actually painted a car for [professional skateboarder] Rob Dyrdek. We just tapped into all of these incredible resources; it's really helped our cause."
Thanks to a steadfast decision to never be static, and taking full advantage of the flexibility and creativity that in-house development provides, 616 has been able to add its own twist to its fat-bike specialty. Instead of building only traditional, long-wheel-based fat frames focused on traveling in deep snow, they decided to create an all-season fat bike. As Joppe says, the fat bike craze is already here, and isn't going anywhere soon.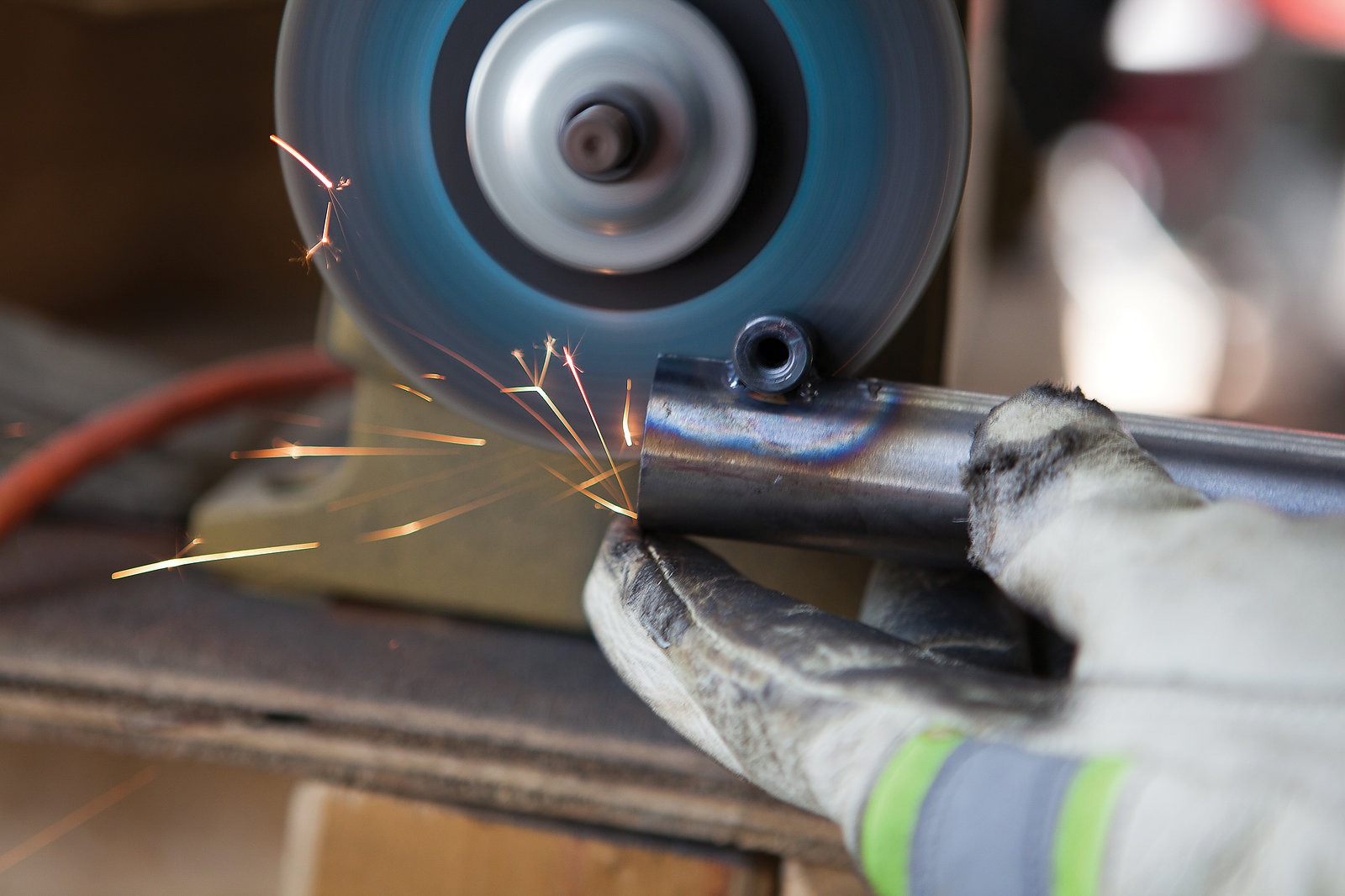 "It's really grabbing hold. If you were to travel to this state you'd see them all over the place," Joppe says. "We started off calling them 'snow bikes,' but we realized after we gave frames to racers to ride and test, [the bikes] needed to stick around beyond the snowy season. We started off just doing what the other guys were doing at that time, but soon thought, 'Let's take in that wheel base a bit, cut a sharper angle on that head tube, tuck that rear wheel in … give it more of a mountain bike feel.' And that's exactly what we did. Now we have two different styles: one with a little longer wheel base, for the guys that ride real heavy powder; and one with a more tucked-in feel for the guys who ride year-round. They both feel like a mountain bike, but are two different styles of riding."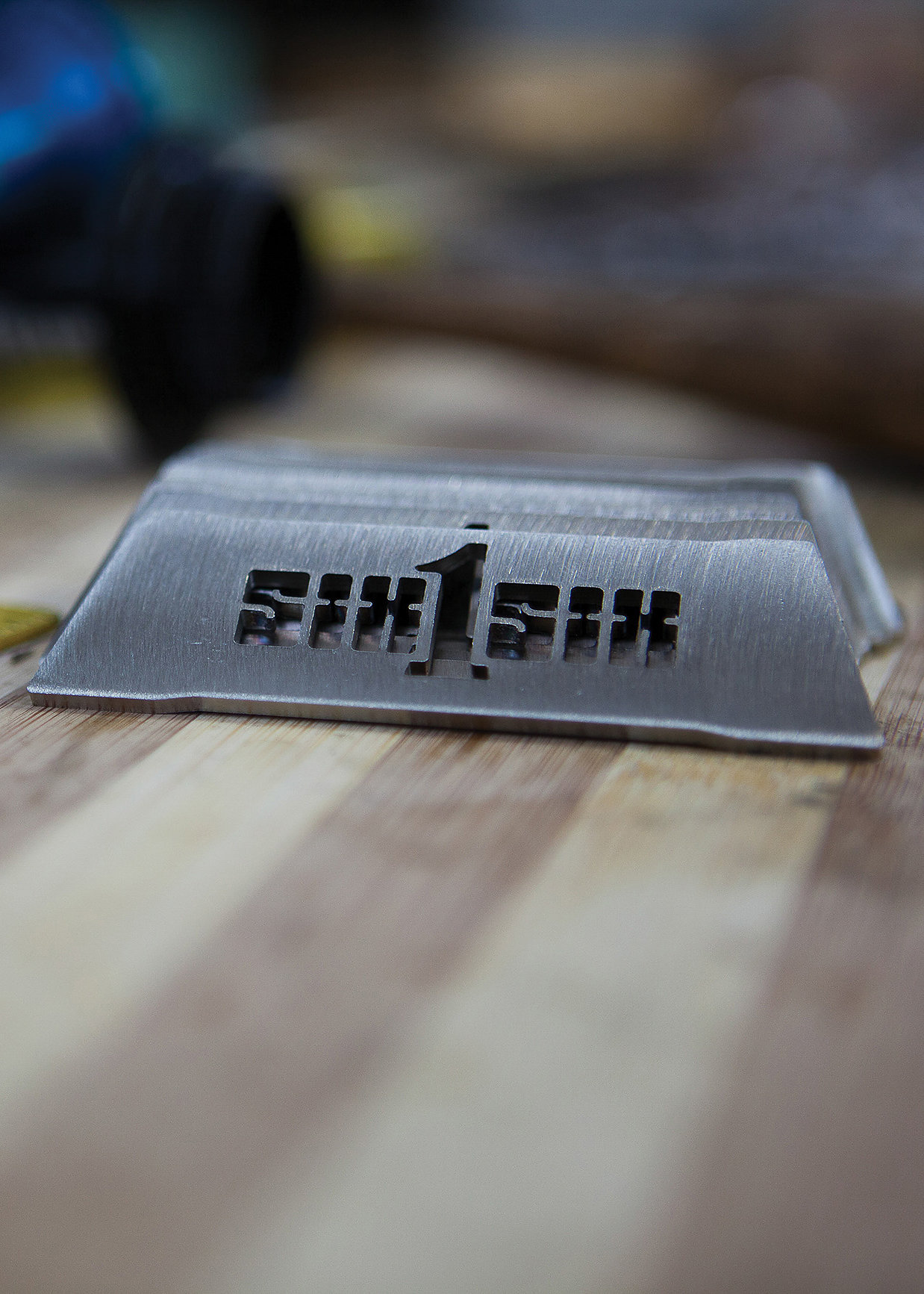 As much as anything, static 616 is not. The company has already designed their own all-season fat wheel in conjunction with Alaska-based All Weather Sports, which reduced the tire size to make their bike even more versatile. A possible road bike is on the drawing table, a fat 29er and 650b are already in the pipe, and an unprecedented four-bearing, thru-axle-friendly, quick-release fat hub is currently in the testing stage, which will be one of—if not the—lightest hub on the market. The only limiting factor for 616's imagination is the available components—a problem that Joppe sees dwindling as bigger companies enter the fat bike market.
"Tires are always the sticklers with fat bikes," he says. "I know that Kona and Specialized are coming out with models, and I think after these big companies get involved it's just going to make the craze even greater. You are really at the mercy of the manufacturer, and there is really only one or two that make the majority of the stock. But these companies jumping on could create a lot of different components that this market really needs."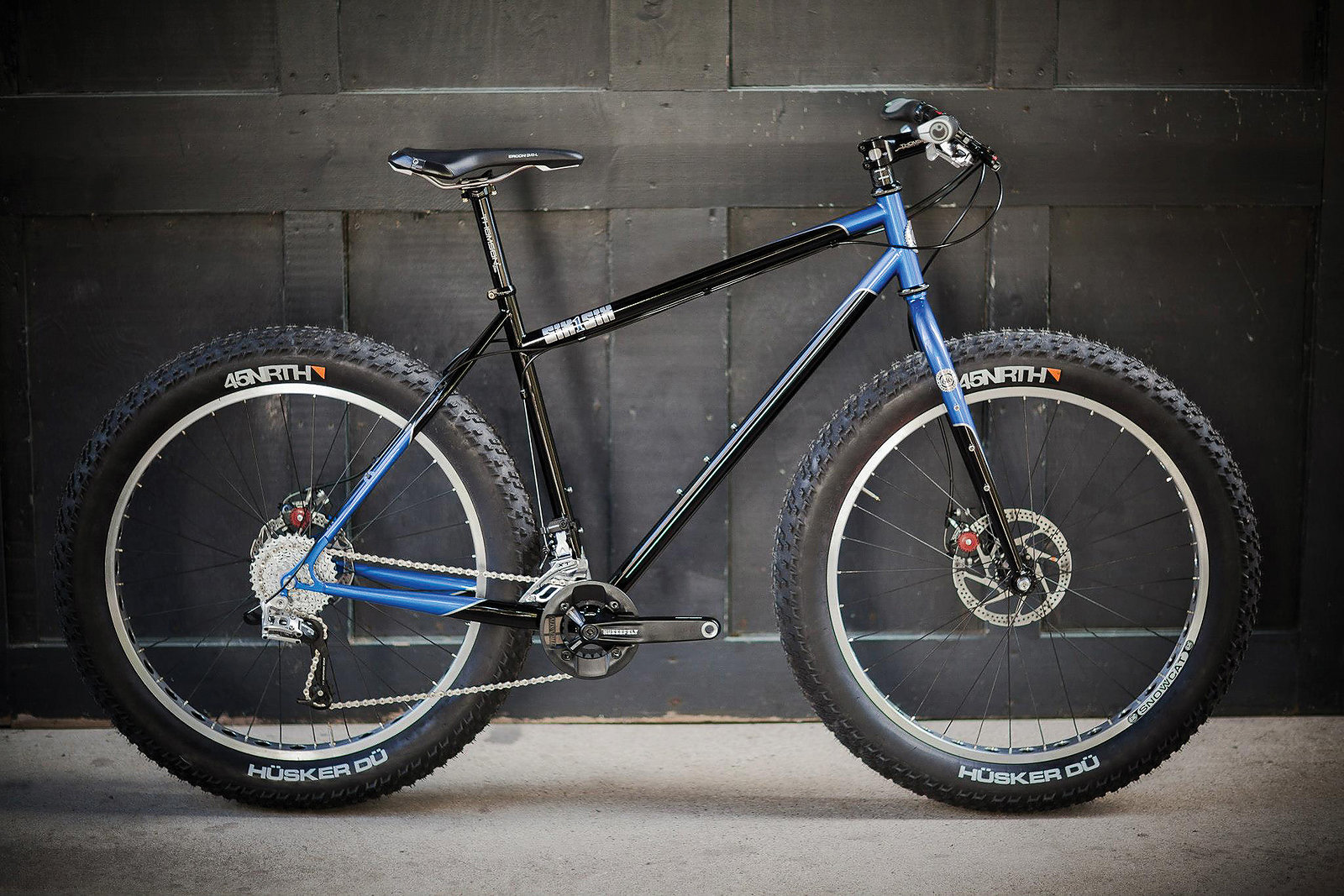 Despite the challenges, and 616's small size and young enterprise—four guys and only two years along—the company is an active member of the Grand Rapids bike community, helping during Mountain Bike Association Trail Days when they have time, and donating pizza and beer when they don't. They've built bikes for a number of charitable organizations, and only see their contributions growing as the company does.
The company's local-driven model is working on a larger scale as well—they're already backlogged with frame requests from all over the country, a limit determined mainly by how quickly Muenzenmeyer and Koert can put frames together. Currently the process, from raw materials to shipping takes about 30 hours. They are hoping to put out 1,000 frames by the end of 2013.
But the 616 crew has no plans to make any huge expansions to pump out more bikes or turn record profits; they're fine with where they are—at home in Grand Rapids, working and riding with some of the world's most passionate and talented neighbors.
"Our goal has never been to be the biggest bike company out there, but definitely one of the best." Joppe says. "If we continue to meet and exceed the demand of producing high quality, custom bikes and hubs, we are successful. That is kind of where our mantra is: We aren't here to dominate the biking world. We are here to create some very unique and fun riding products."