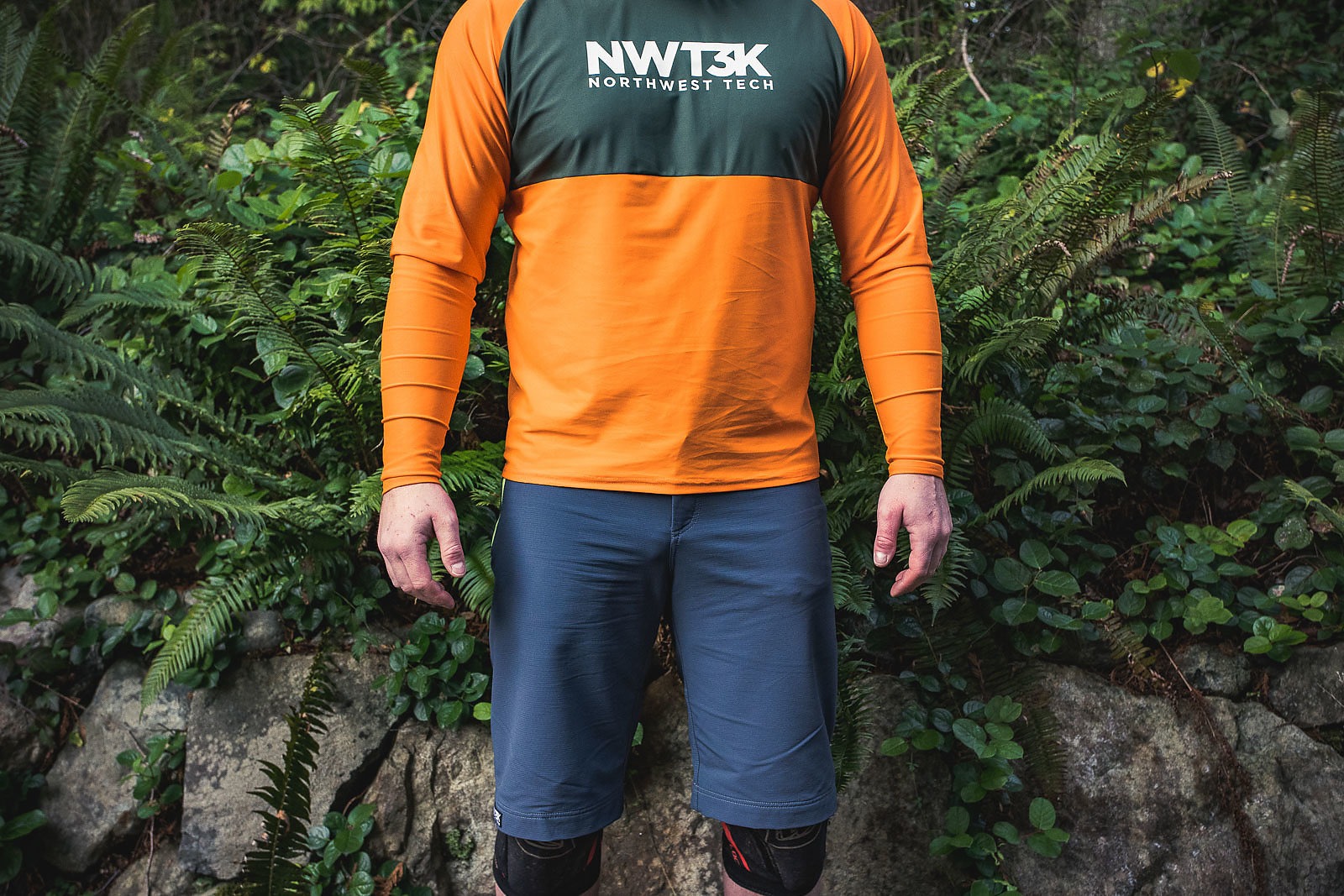 Northwest Tech Apparel Jersey & Shorts
Northwest Tech (NWT3K) was founded in the basement of a college house in Bellingham, WA.
The small company wanted to create better ski outerwear, the kind of stuff that could hold up on the exceptionally wet days at nearby Mt. Baker. Since their inception in 2012, they've been doing just that, but in a unique way: all their gear is made to order and completely customizable by the buyer.  
Now based out of Seattle, their recent expansion into mountain bike gear was inevitable. With the trails at Tiger Mountain, Duthie Hill, Raging River and Tokul all out their backdoor, they figured it was a no-brainer to bring their same customization options to the mountain bike world. There's no shortage of diversity in mountain bike outerwear, but to get something completely unique is tough. NWT3K offers just that.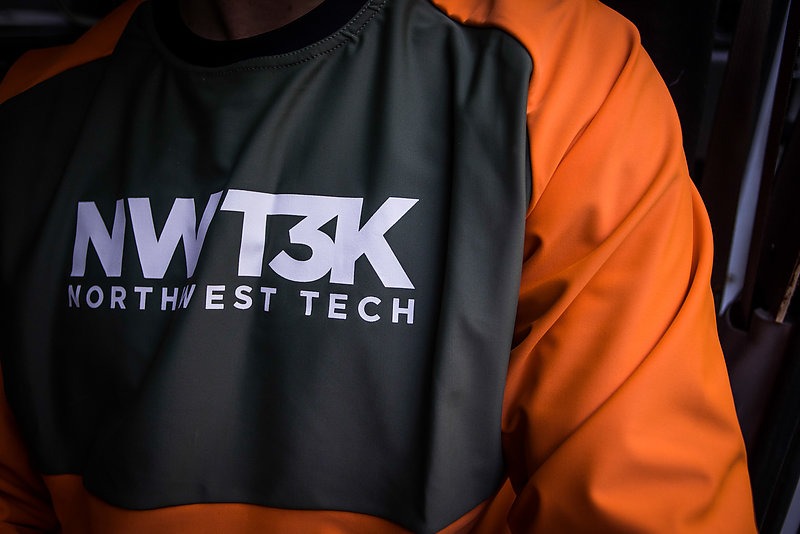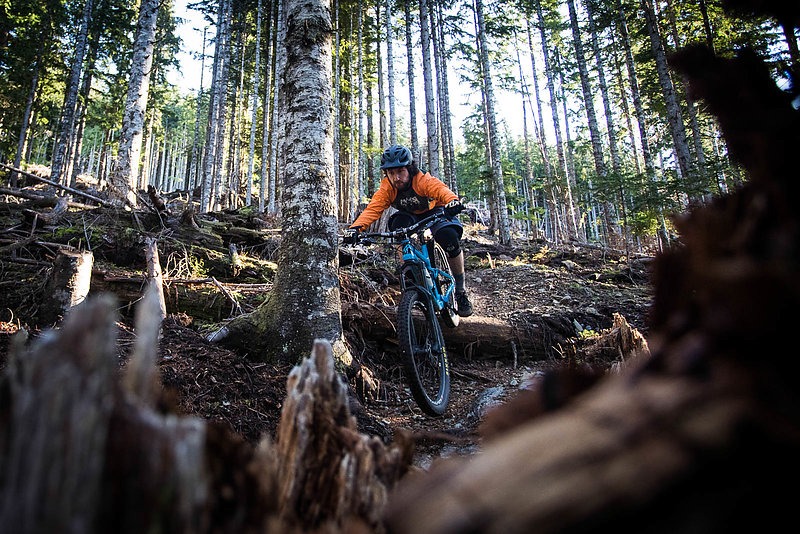 Jersey
There are a lot of things that really irk me as a rider when purchasing mountain bike clothing, like cheap-feeling materials, poor design and awful color choices. On top of having none of these attributes, the Northwest Tech mountain bike jersey also happens to be the comfiest bike jersey I've worn yet, and my new go-to jersey choice for all types of different riding conditions.
They offer four different sections on the jersey (arms, torso and shoulder sections) to allow you to make something as simple and elegant as all-black, or get wild with color selection. NWT3K also offers three different sleeve length options, short, long or 3/4 sleeve lengths. Wherever you might be riding in this jersey, you can tailor it to your needs.
I choose to go with both a 3/4 sleeve length jersey for variable riding conditions of hot and cold, and a long sleeve jersey for colder riding conditions. Short sleeve jerseys start at $69.00 while the long sleeve version starts at $89.00. While just slightly more expensive than your typical mountain bike jersey the premium materials, customization aspect and USA-made quality easily make up for the added costs.
The people behind Northwest Tech are avid mountain bikers themselves, and this clearly shows in the design. The back side of the jersey features a drop-tail, which simply extends the length in the rear. This helps keep your back and butt covered further when in the attack riding position and is a life saver in our sloppy conditions here in the Pacific Northwest.
The jersey features quick-drying four-way stretch fabric and a silky smooth texture which keeps me in my happy place both during and after any ride. So much so I often find myself wearing the jersey long after the ride is over, as it's more comfortable than most cotton t-shirts out there. Testing the jersey in all temperatures, their 4-way stretch fabric performs best when temperatures are above freezing.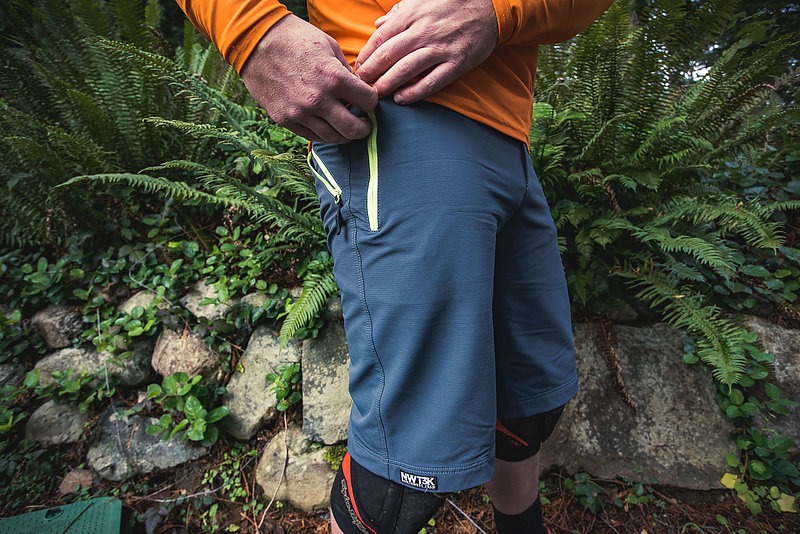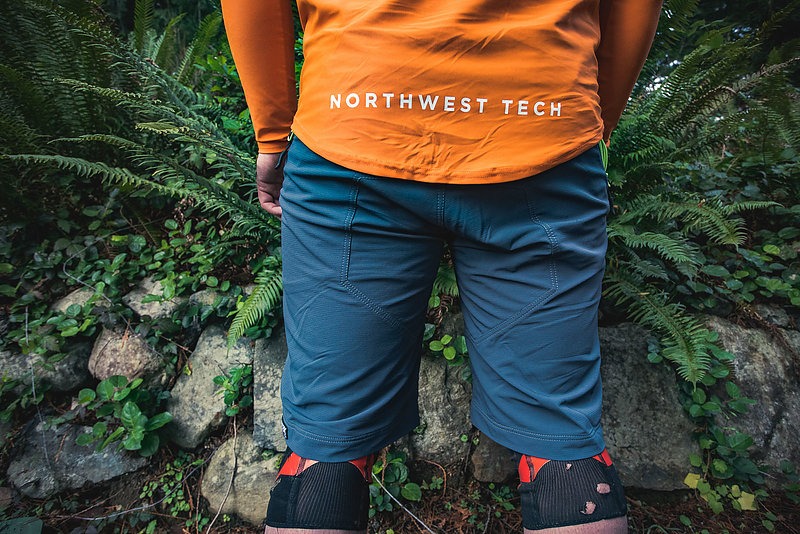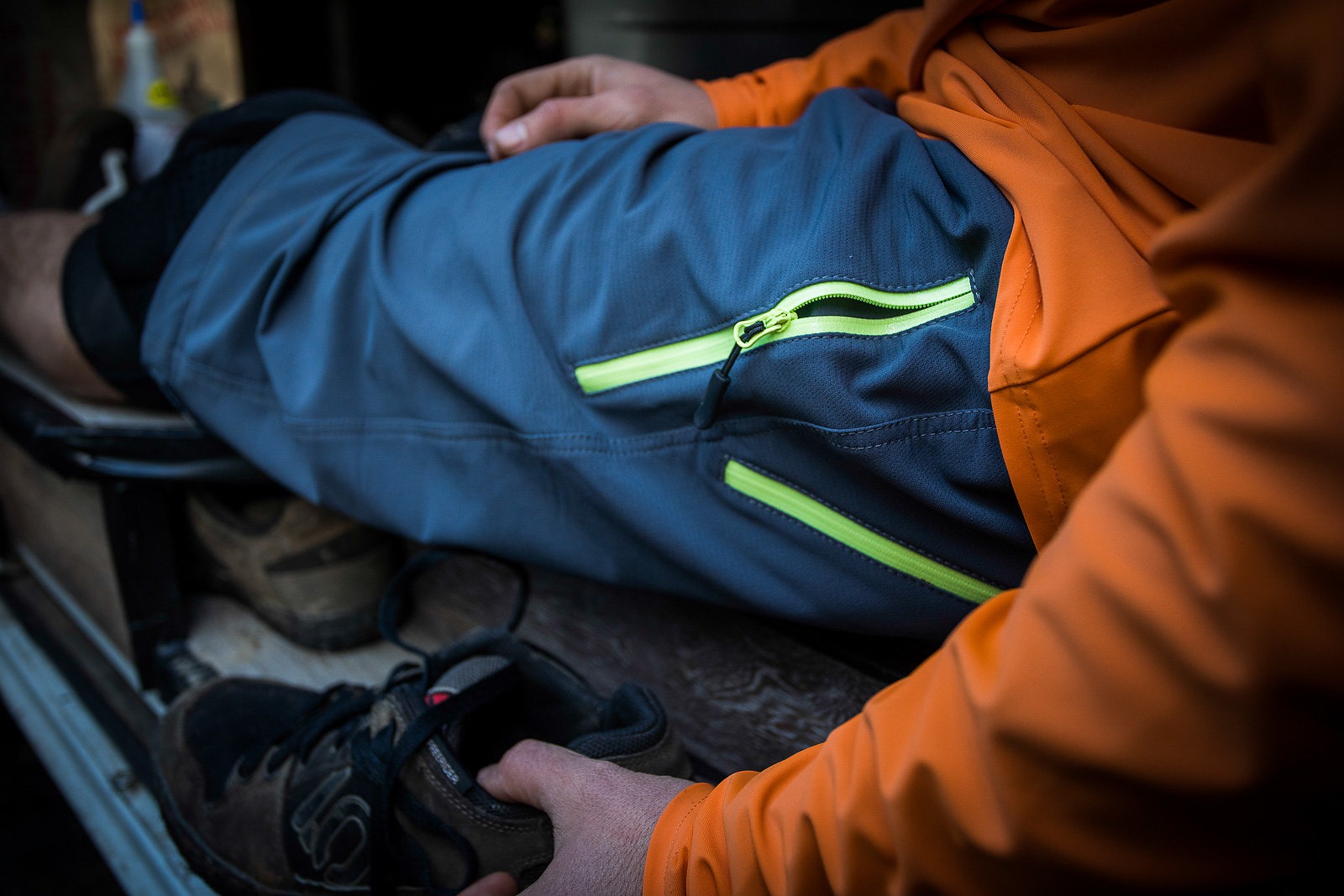 Shorts
With a durable ripstop finish on the outside, soft finish on the inside and 4-way stretch breathable fabric throughout these mountain bike shorts have hands down become my go-to riding shorts. Regarding the fit, I find that most bike companies skew one way or another - either long and baggy or fitted and short. My first impressions on the fit of the shorts were that they landed right in the middle. Not too baggy, yet not too fitted. Great for long days pedaling, downhill shuttle laps, or jump sessions with the crew.
Just like the jersey, the shorts again are customizable on the website allowing riders to select their base short color, yoke color, zipper color and—most importantly—inseam lengths. You can even use the website to mock up your gear and get a first-hand feel for what your shorts (or full kit) will look like in person.
Each pair of shorts comes standard with five zippered pockets (two in the front, three in the rear) which I'm finding to be more valuable than I would have thought and plenty of room for anything I'm trying to carry. The rear pockets, located behind the left and right hip areas, were strategically placed for easy access to a cell phone while pedaling in the saddle. The rear yolk pocket is perfect for a Clifbar or trail tool, and all are sealed up and secured nicely by their sleek, polyurethane waterproof zippers. Did I mentioned you get to choose your zipper colors, too?
The most notable feature—and perhaps the most asked about—is the option to select from three different inseam length options: short, normal or long. This is by far one of the coolest and most valuable features I've seen any bike gear manufacturer implement. Everyone and their mom wants a different inseam length, and this is as close to true custom as you can get. Their normal inseam length option fits the bill for 90% of riders and falls right at the top of the knee, generally where most riders want their shorts to fall. Selecting long adds two inches of length, great if you're a taller rider or want to cover your knee pads. While selecting the short inseam length option subtracts two inches of length. Of course, the fit is ultimately determined based on rider height. Either way though, the process and design is very well executed and I imagine a lot of folks will find real value in Northwest Tech's multiple inseam length offering.
As with ordering nearly anything online—especially custom—there will always be some uncertainty, but Northwest Tech has you covered. Their approach is simple and refreshing—love your order or your money back, guaranteed. Put simply, if you're not totally stoked on your custom order or your gear isn't fitting as expected, Northwest Tech will either A. remake your order in a new size or B. issue you a refund.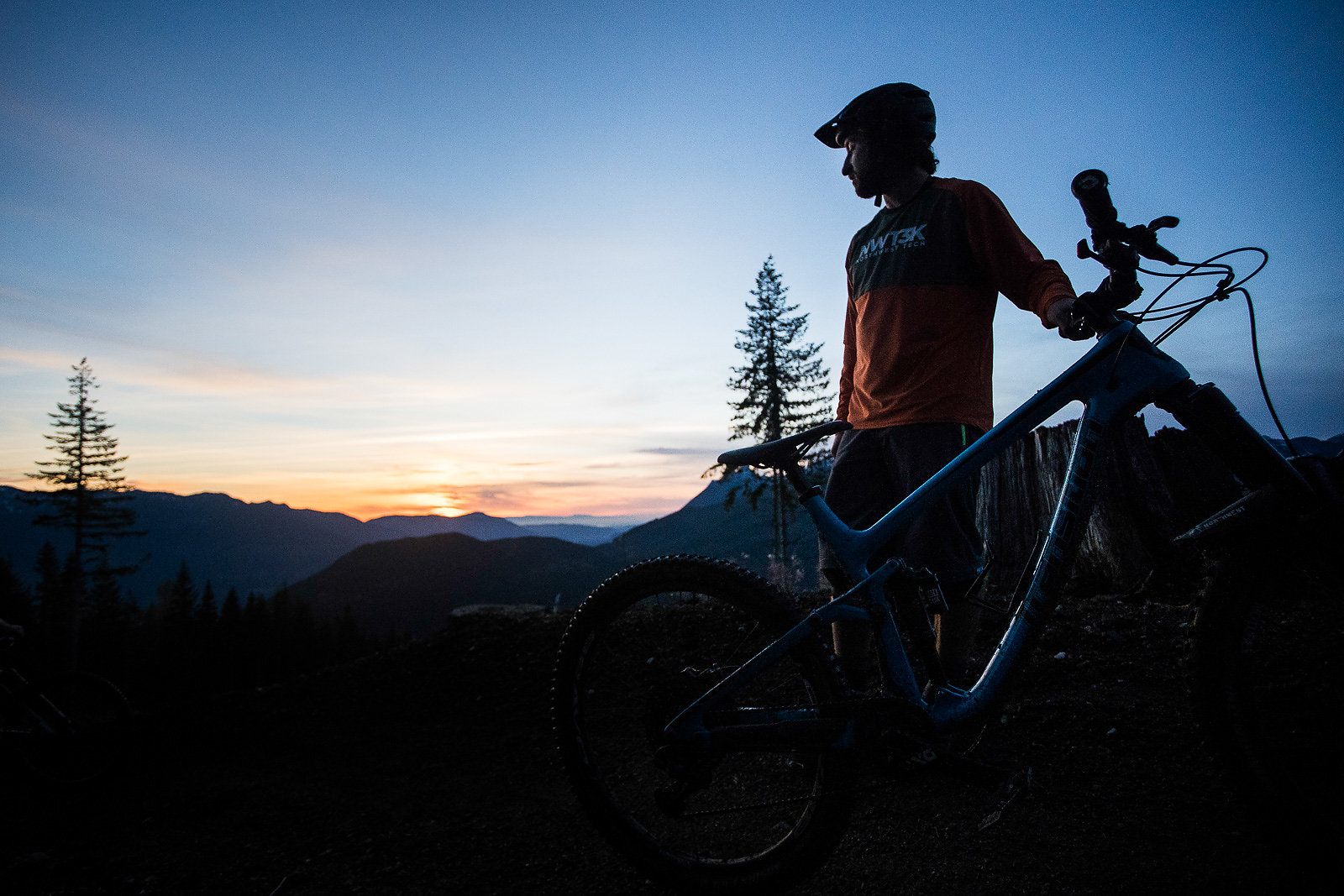 Overall Thoughts:
Northwest Tech's new bike gear is by far my favorite mountain bike gear to ride in now. The attention to detail, premium materials, dialed fits and handmade USA quality is unbeatable. While their custom jerseys and shorts are slightly more expensive than your traditionally priced bike gear, the thoughtful product features, materials and ability to customize a one-of-a-kind bike kit easily makes up for any added costs. You pay for what you get, and in Northwest Tech's case you're getting a whole lot. This will be my go-to riding gear for years to come.
NWT3K Jersey
MSRP: $69 and up
NWT3K Shorts
MSRP: $139
See more at www.nwt3k.com