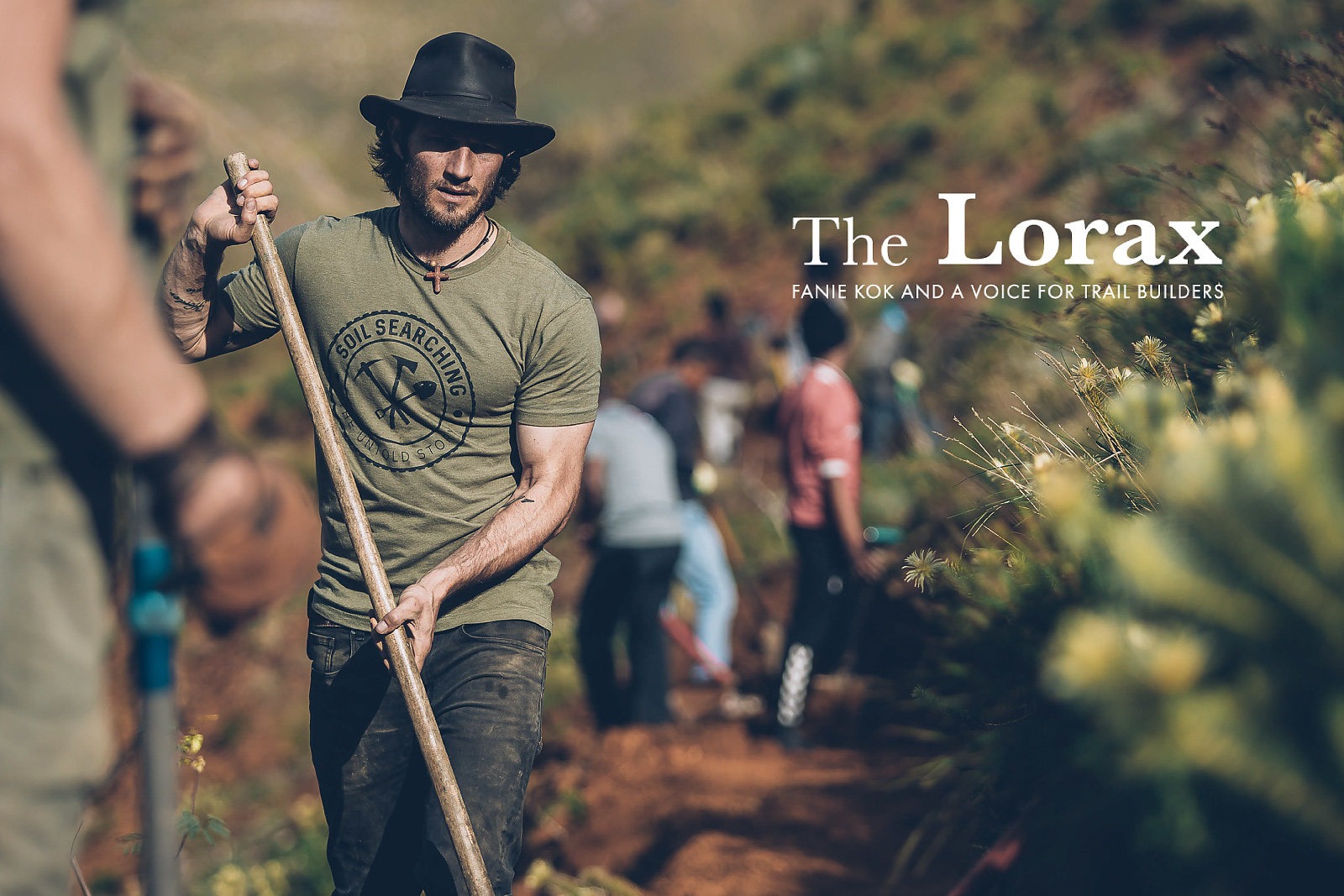 Fanie Kok hasn't had a physical address in three years.
Even if someone did try to ship him something, he'd probably be in their neighborhood before it got to his hometown in South Africa.
As the head of Specialized Bike's Soil Searching program, Fanie's job takes him around the world, from British Columbia to Singapore to Ireland to Utah, and his title of Global Trail Advocate could not be more spot on. Every stamp inside his unrecognizably tattered passport represents not only a place, but also a community of mountain bikers he's come to consider his friends.
Fanie's path wasn't necessarily an intentional one. As a young cross-country racer with a short-lived downhill calling, he spent his early years aiming for podiums. "I just wanted to ride my bike," he says, "but that concept didn't exist in South Africa. You had to race."
Instead, Fanie's road to professional advocacy began while driving demo gear for Specialized South Africa. When the company approached him about a market research position they were creating to better connect with riders and communities, the initial pitch seemed a dream job: travel the globe, ride bikes and talk to people. Fanie, however, saw deeper opportunities.
Words by Jann Eberharter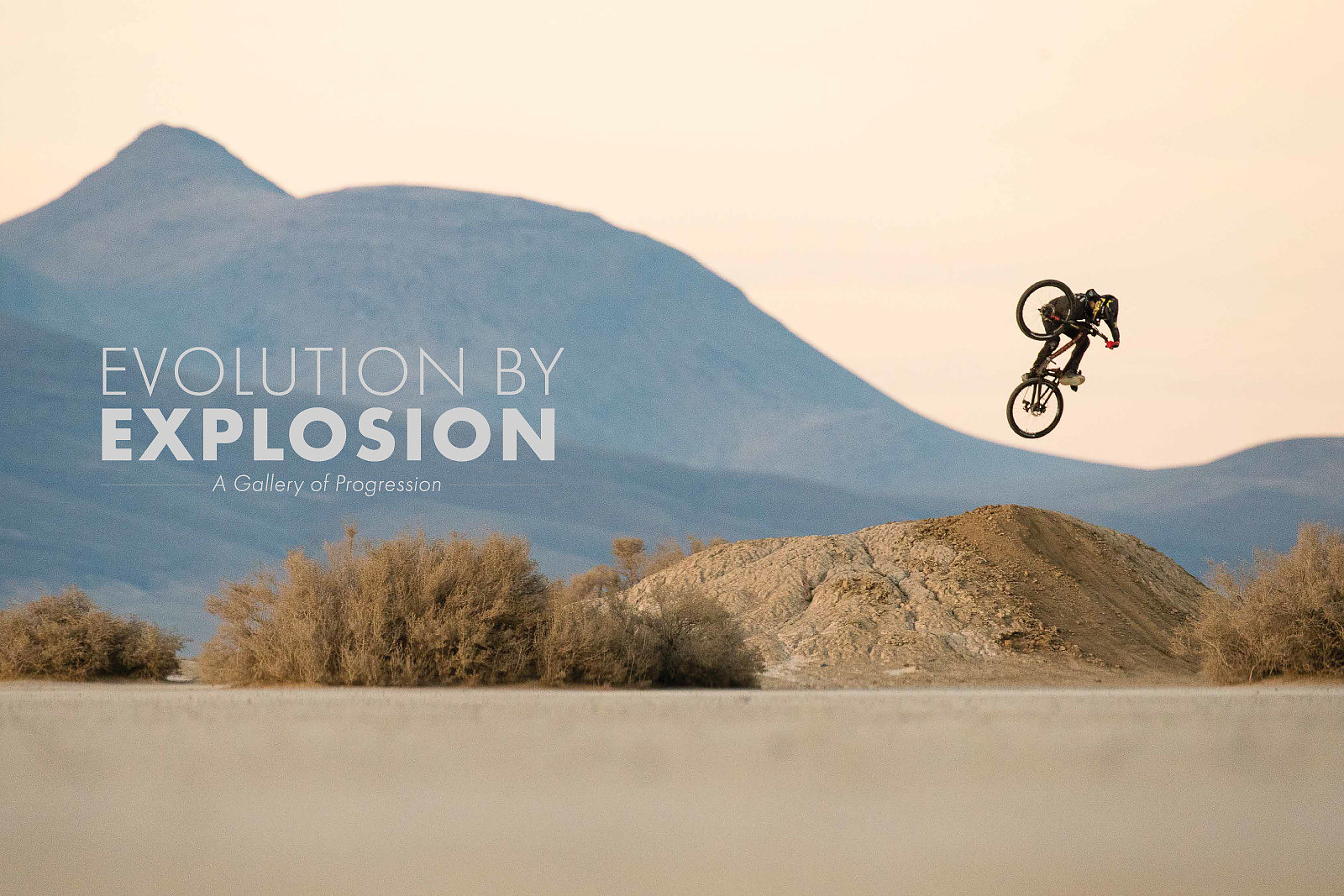 In both geology and evolution, there is a theory called "catastrophism."
Don't stop reading yet. I know such esoterica may sound boring, but this theory includes supervolcanoes, the fiery death of the dinosaurs, mob violence, the invention of beer and a few unconventional photographs.
Do I have your attention now?
Basically, it goes like this: While small changes do occur slowly over time, the truly fundamental ones don't happen gradually. They require a specific event, on a scale so massive and so sudden it has the potential to reshape any aspect of life on Earth—geological, biological, cultural or technological—in a moment.
Though initially introduced with a religious link (think the Garden of Eden and Noah's flood) the concept found legitimate scientific support some two centuries ago as a way to explain surges of new species in the fossil record and the significance of large, disruptive events like floods or volcanic eruptions.
Since then, catastrophism has been applied to a spectrum of other subjects, including progressions in human culture like the invention of writing, the first alcoholic beverages and mountain biking. The concept remains the same; the catastrophe is just different...
Words by Sakeus Bankson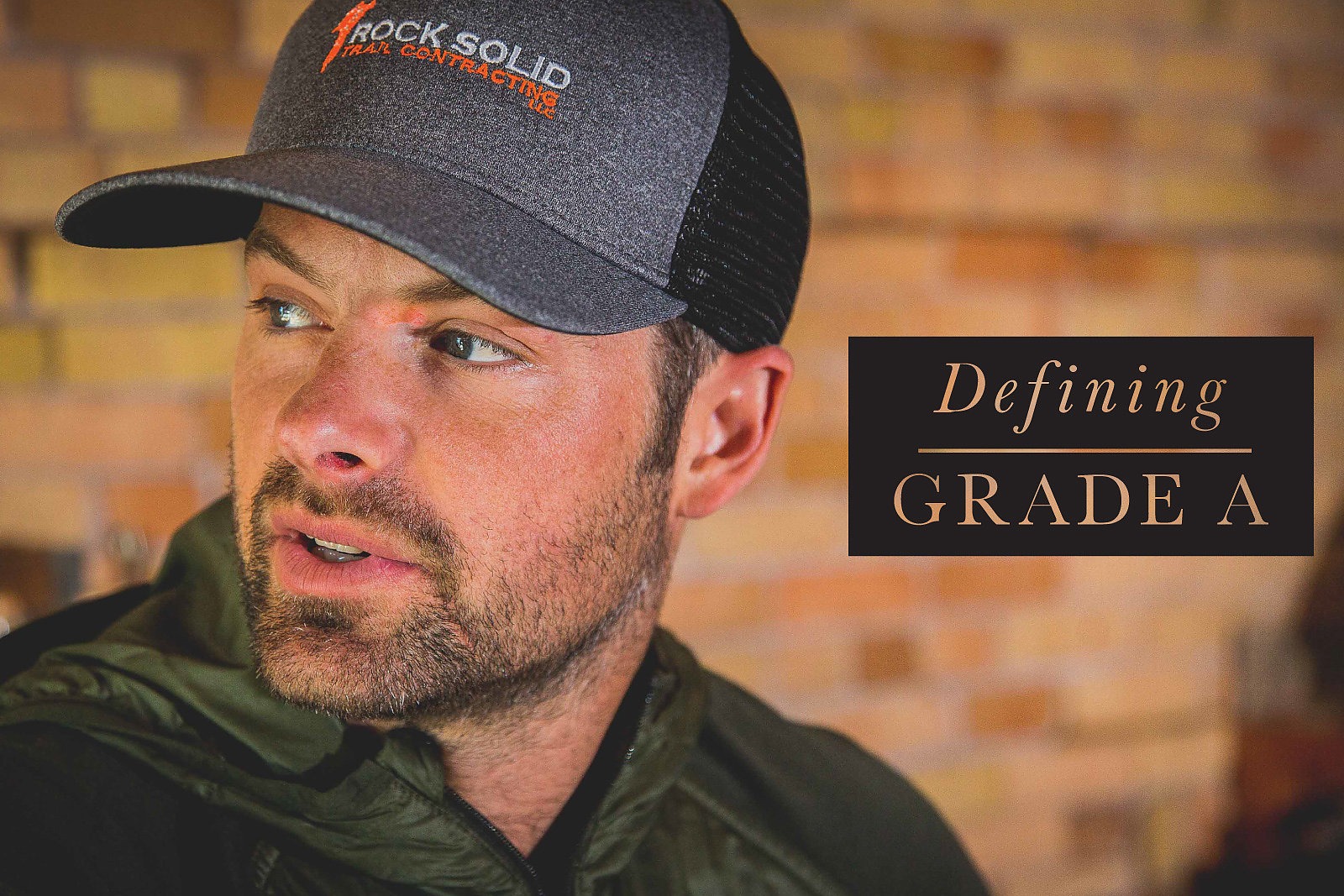 In the far reaches of the Upper Midwest trail-building scene, one name is repeated over and over.
That name is Aaron Rogers, and you'll find him at the end of the road.
More specifically, the end of Michigan's State Highway 41. Driving north through the Keweenaw Peninsula, on the south shore of Lake Superior, you'll reach the highway's first stop sign about an hour past Calumet, in the small town of Copper Harbor. You'll reach the end a few hundred yards past that.
A decade ago, "the Harbor" (population 88) was mainly a stop for tourists on driving tours of Lake Superior or loading canoes onto the ferry for Isle Royal National Park, but by the early 2000s that flow had become a trickle. The community needed to find a new way to survive, a difficult task for a place essentially located at the edge of nowhere.
Aaron, however, had an idea—or, more accurately, a vision. Aaron moved to the area in 2005, and while working as a bike mechanic he realized Copper Harbor had the potential to be a world-class mountain biking hotspot that would attract riders from around the country to this little corner of the Upper Midwest. There was just one problem. Those world-class trails didn't exist, at least not in the necessary quality or quantity...
Words & Photos by Hansi Johnson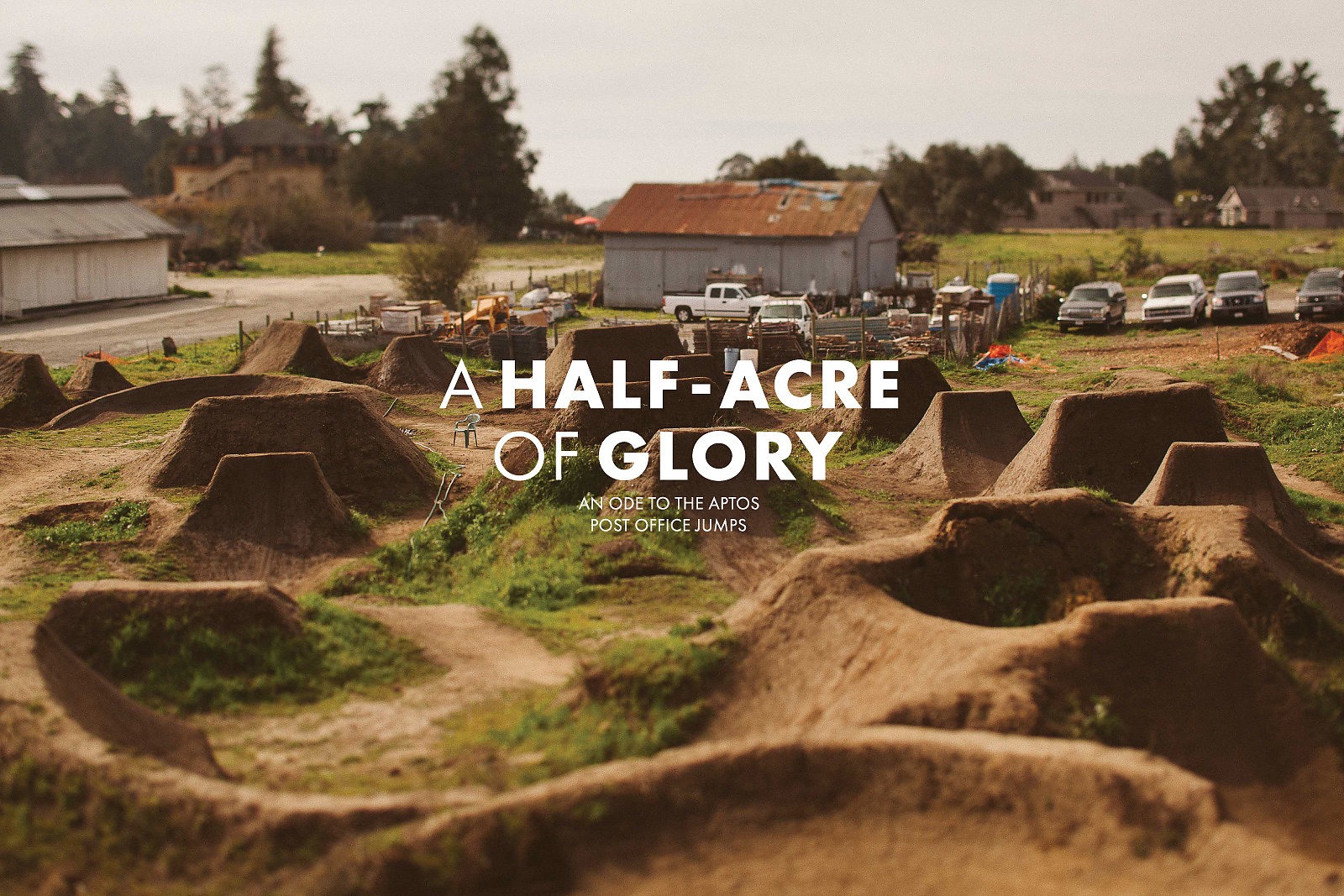 When I go to the Aptos Post Office to mail something nowadays, I look across the street at a Los Angeles-inspired condo development and a nondescript strip mall, still under construction.
Underneath the future Starbucks and New Leaf Market lies some of the best dirt in the world. Dirt that's filled with the blood, sweat and tears of hundreds of bike riders from all over the globe.
I remember when it was just an empty grass field. It was the late 1990s, and my mom would drag my brother and I along whenever she visited the post office. Soon we noticed what looked like bike jumps, right off the road. They had been long abandoned, but we talked about trying to fix them up. Then one day, when I was 9 years old and my brother was 12, we pedaled from home to the post office on our own. We could have never imagined the thousands of times we'd repeat that trip.
Along with some friends, we were able to make a few features rideable, albeit janky. We'd use pallets, plywood, old car tires and anything else we'd find (aka steal) from around the area to use as bases for the lips and landings because we thought that was how you build jumps. In reality, the place looked like a dump, something that didn't initially endear us to the neighbors, and it's a miracle no one was ever killed pedaling across the busy street to get speed. The cops were called on us pretty regularly, but we knew if we reached the train tracks quickly enough they couldn't catch us. We'd run, hide, take a candy break at the now-defunct Mr. E's Cyclery, and then head back to dig and ride some more...
Words by Tyler McCaul | Photos by Sterling Lorence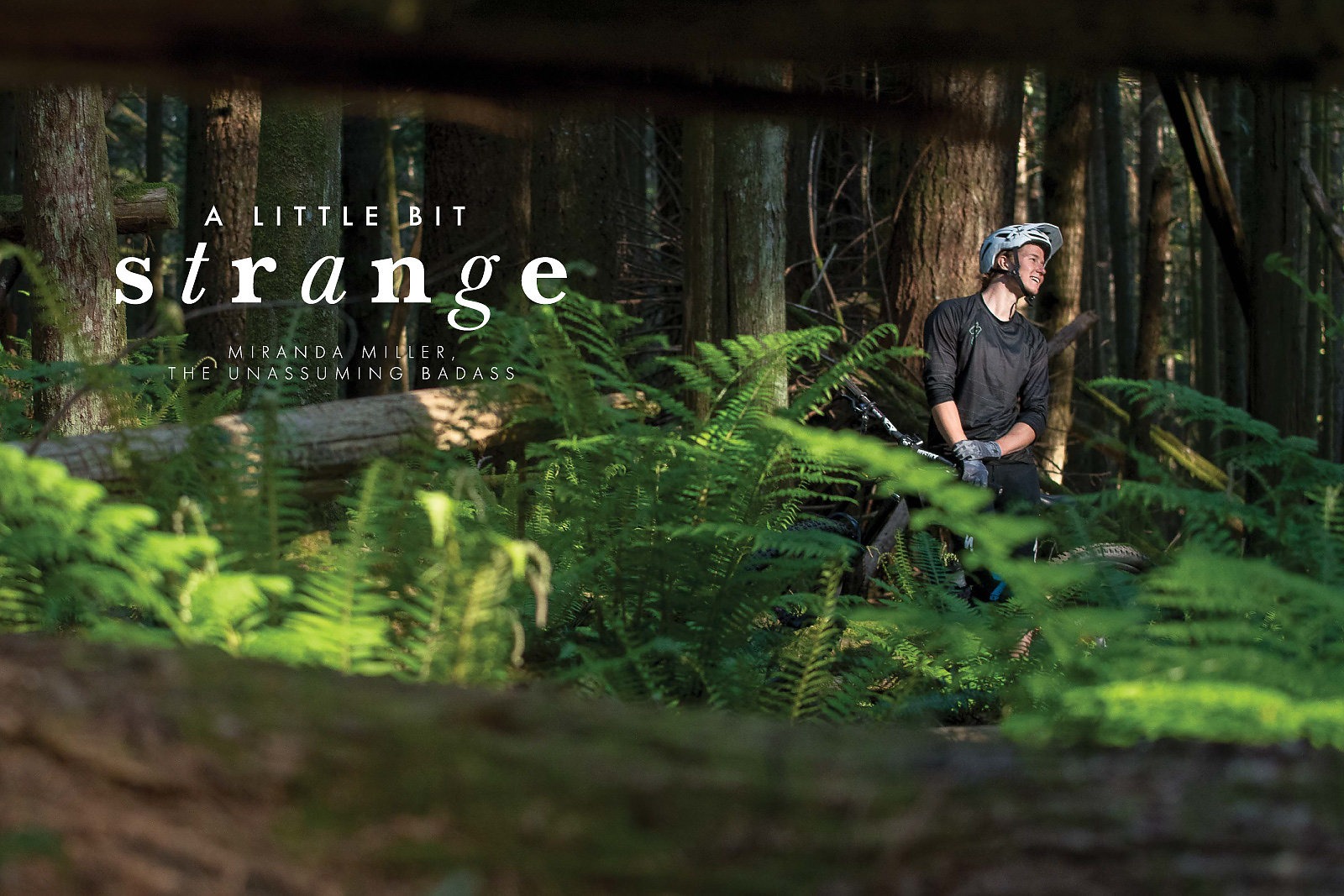 There's something to be said for being weird.
It's a matter of perspective, and perhaps it's a matter of the type of "weird," but if you ask Miranda Miller to describe herself, that's one of the first words that pops into her mind.
I understand her brand of weird. It's more of a quirk. She is different, and it's unequivocally charming. She isn't one to give much weight to what others think, nor has she ever been. "When I was 12, my brother told me it would be cool to have a shaved head," she says, laughing. "I found it very convenient, so I just ran with it."
We're sitting in Miller's townhouse, on the west side of Squamish, BC, which I found by driving around the neighborhood until I saw a pile of Maxxis tires sitting next to a front stoop, dripping used sealant. The inside of the condo is tidy, with muted colors and clean surfaces. On one side of the kitchen sits a shiny espresso machine, perched like a trophy or shrine to caffeine. "Apparently it's the nicest coffee machine in Squamish," Miller tells me...
Words by Lacy Kemp | Photos by Sven Martin and Reuben Krabbe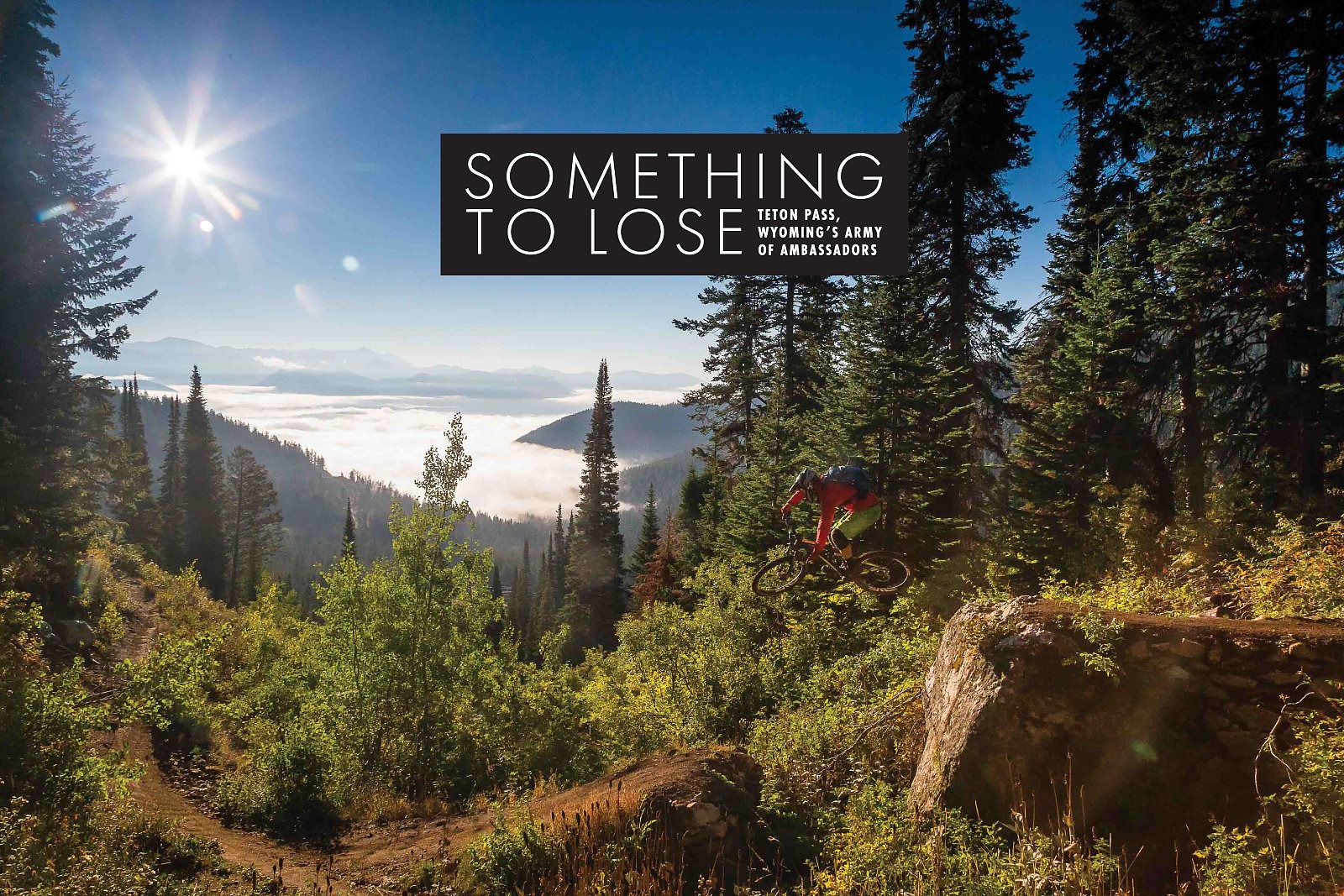 The entrance was just there, somewhere, in the forest of pine, aspen and thick deadfall left of the main trail.
It was definitely there. Though I looked, I couldn't find it. That was the summer of 2006, and I rode past the rumored entrance almost daily, searching, but not too hard, secretly afraid to find it, because then I'd have to ride it.
The trail, dropping off the top of Teton Pass in western Wyoming and 2,500 feet nearly to the valley floor, had existed in some form for six or seven years. It was called Lithium, and in the early 2000s was reserved for a small, hushed group of locals with downhill rigs who labored illegally in the forest so they'd have somewhere to ride their new bikes. Those in the know took care to use different access points, to avoid wearing giveaway entry or exit paths.
By the time I was creaking by in 2006, Lithium was the only survivor of a trio of short-lived, illegal downhill trails in the Bridger-Teton National Forest [BTNF]. In late 2004, a first-ofits- kind deal saw bikers promise not to ride the other two ever again, Lithium had become a legal, United States Forest Service-sanctioned public bike trail. For a novice like me, it was already the absolute shining pinnacle of biking achievement. I waited another season before I followed some friends in, and exploded in short order, falling down its rocky tech sections. I thought it was fantastic. I came back again and again. I gave no thought as to how this marvel had come to be here in the woods...
Words by Brigid Mander | Photos by Jay Goodrich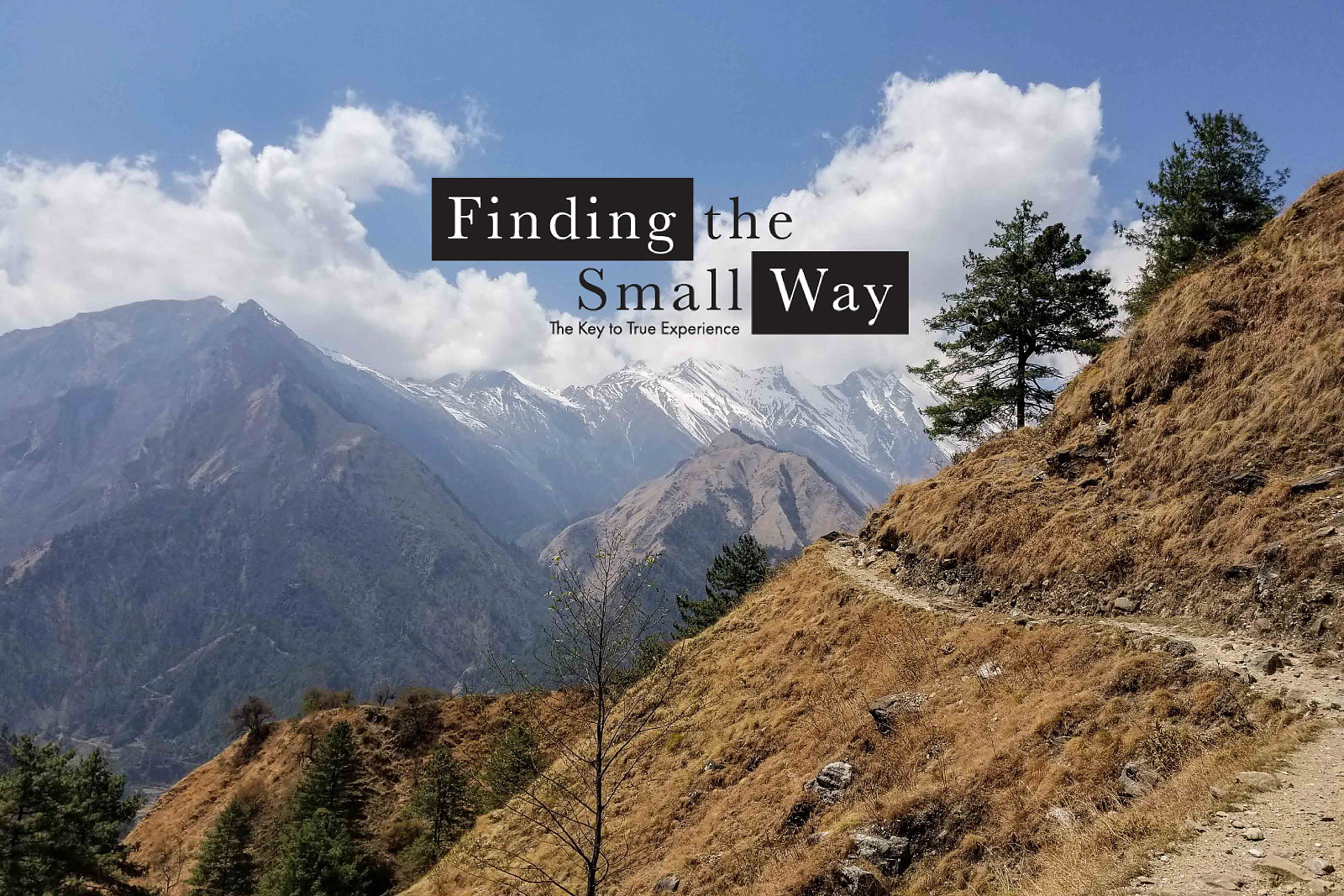 Monkeys are assholes.
Over the years, I have grown to hate the jungle for many reasons: the suffocating heat, humidity, and all the critters and bugs can make you miserable in no time. Like the leeches I keep having to pull off my legs, or the water buffalo that occasionally block my way. But it's the monkeys, with their opposable thumbs and bad attitudes, that really piss me off.
My pilgrimage to the Himalaya began when I pedaled out of Kathmandu, Nepal on my fully loaded trail bike. I didn't have any real plan, but I had a month to figure one out. The only problem was the three days of jungle riding standing between me and the high peaks of my dreams. Sure, I could have hopped a truck straight to the mountains. But I feel like every great pilgrimage needs a bit of suffering.
It's easy to be negative and miserable while slogging up rutted, muddy doubletrack in a tunnel of dark green trees I don't recognize, while sounds of cicadas and birds echo all around me. Which I am. I keep hoping for some glimpse of the alpine, but it is early fall and a haze is still left over from the summer monsoon season.
Then it happens. I look up valley and catch a glimpse of strange-looking clouds, which I realize on second glance are the tops of the biggest mountains I have ever seen in my life. The sight invigorates me like a bump of cocaine, and the past three days of misery disappear. I break out maps and start looking for villages with no nearby roads. People have to get home somehow, and I bet it's by trail. Singletrack jackpot...
Words by Chris Reichel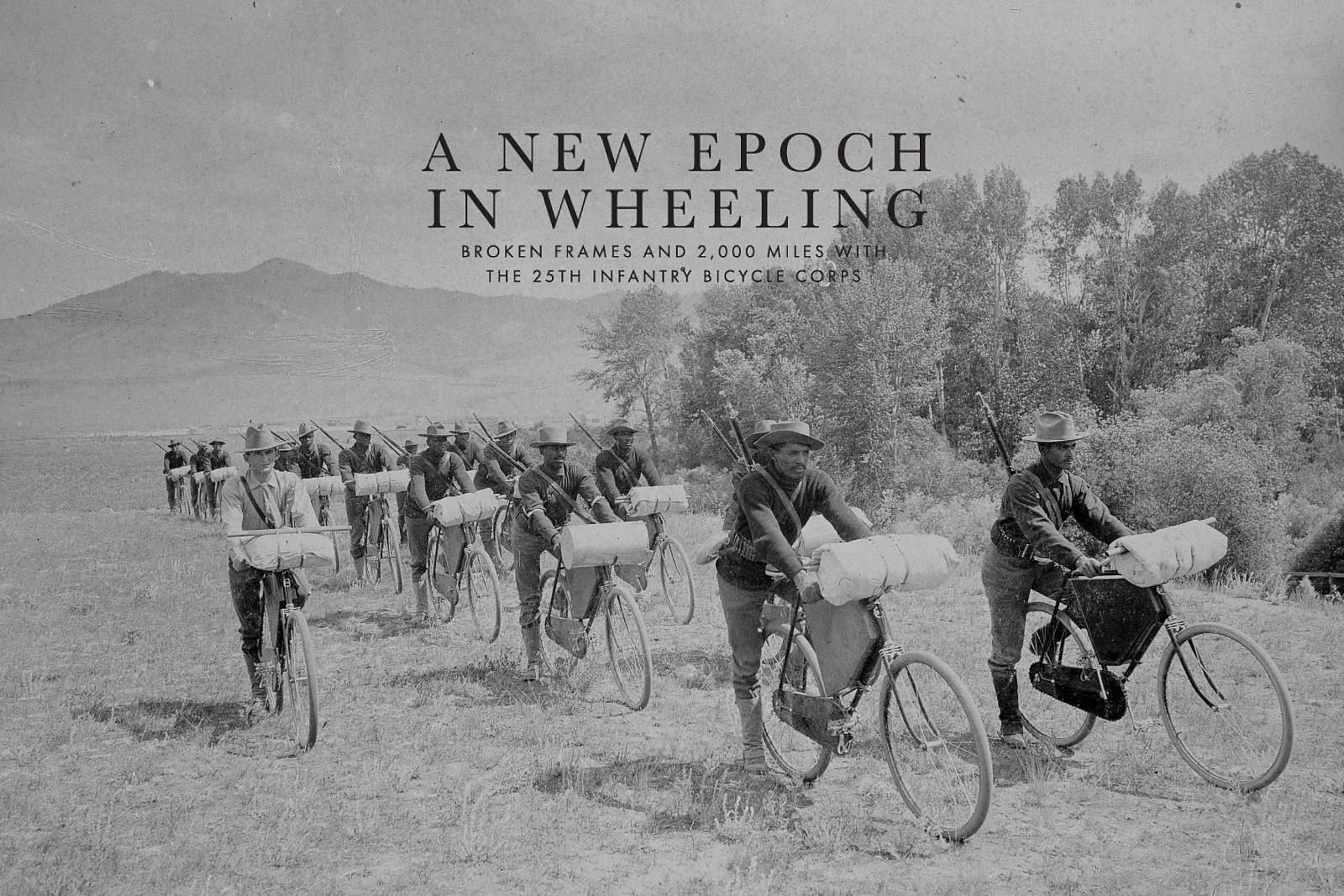 The group looked exhausted as it entered the tiny frontier town of Billings, MT, their formerly crisp, bright-blue uniforms turned nearly black by the rain.
Mud spattered their legs, and their bulky packs looked as soaked as their jackets. But it wasn't the color of their clothing or condition of their equipment that drew curious citizens to watch them pass. The visitors were on bicycles, and they were black. Even in cities, this would be an unusual combination. In 1897 Montana, it was downright bizarre.
The train of soldiers was the 25th Infantry Bicycle Corps, and they were on their way to St. Louis, MI. Known as the "Buffalo Soldiers," the 25th Infantry was an entirely African-American regiment created shortly after the Civil War. By the early 1900s, the 25th would have gone on to become somewhat of a legend; in 1888, however, they'd been stationed at the Fort Missoula to keep them out of the way. So had their leader, Lieutenant James A. Moss. The Louisiana native had finished bottom of his class at West Point a few years earlier, and considering the town's "backwoods" status, the Missoula post was not a prestigious one.
Fortuitously, these two misfit entities would be united by the newest fad in leisure to accomplish something amazing: complete one of the greatest journey's in U.S. history, and show the world that the bicycle was a machine capable of amazing things...
Words by Sakeus Bankson