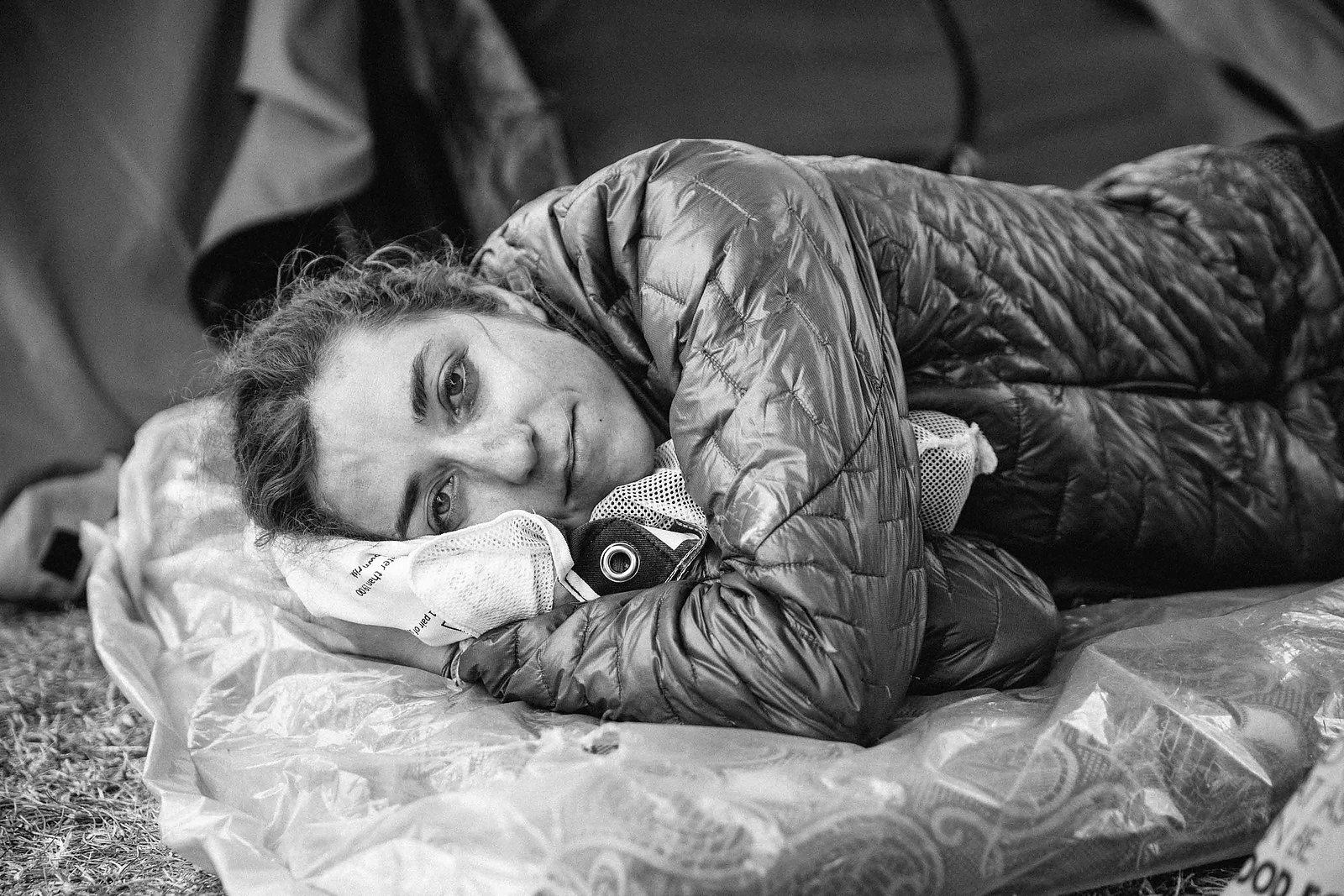 We Can Do This Exuberance and Exhaustion at the Cape Epic
At the sound of predawn bagpipes on the final morning of the 2018 Cape Epic, I awoke, and sat up slowly.
I was empty and weak, but I was OK. I rolled over and nudged my riding partner, Kaysee Armstrong. "We can do this," I said. "We can pedal our bikes. We don't have to pedal fast, but we can pedal. We can finish this thing."
The look in Kaysee's eyes broke my already-broken heart. She nodded. "We can do this."
Called the Tour de France of mountain biking, the Cape Epic is an eight-day team mountain bike stage race that takes place each March outside Cape Town, South Africa. "Team" is one of the key points of the Cape Epic. Over those eight days, two-person teams cover 400 miles and climb 44,000 feet, and they must never be separated by more than two minutes for the entirety of the race. I met Kaysee the day we arrived in South Africa, and besides racing together for the first time, we would also be mentoring six amateur female riders in one of the sport's most grueling events.
When we lined up at the starting line, the reality of the undertaking hadn't yet sunk in. A bad case of norovirus, however, definitely had. We just didn't know it.
For Kaysee and me, this adventure began six months ago when we started training. For the women we were mentoring, it began when they submitted a video entry for an international contest put on by Liv Cycling, explaining why they should be chosen to participate in an "epic adventure." They had no idea that adventure would be the Cape Epic, but the six winners became the "Trail Squad"—Lisa Land from the United States, Olivia Smedley from the United Kingdom, Madeleine Gérard from France, Anna Barea Garcia from Spain, Kate Ross from Australia, and Sandra Reyes Coronilla from Mexico.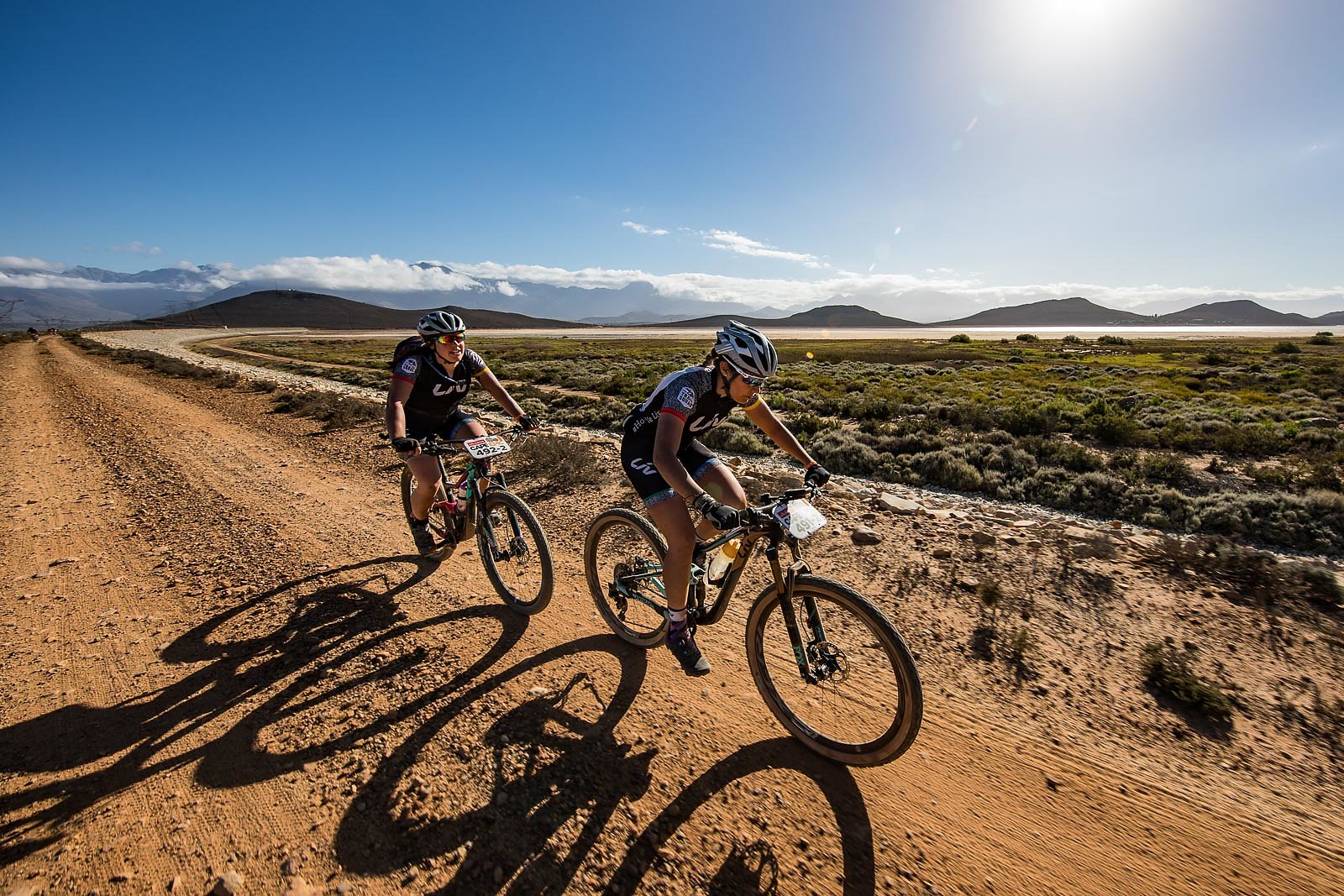 Thirteen-hundred racers were slated to race in the 2018 Cape Epic and only 9 percent of them were women. Of that 9 percent, fewer than half were competing as female-only teams. The Trail Squad was to be among that number, and what they lacked in experience, they made up for in resolve. Each had hired a coach and, like Kaysee and I, had spent the winter preparing.
We soon learned nothing can prepare you for the Cape Epic.
The Trail Squad's inaugural meeting happened just four days before the race, at the Cape Town airport. For a few, this would be their first competitive mountain bike experience. For all, it would be an epic journey.
The Cape Epic is a grueling race when you are firing on all cylinders; add illness and it becomes exponentially more difficult. At the outset, our riders were sick. Olivia arrived with a cold. Kaysee spent the night before the prologue ill and unable to sleep. A stomach bug hit Lisa during stage one. By stage two, a few more of us were sick.
Control the controllable. Deal with the curve balls. Keep pushing one pedal stroke at a time.
When Kaysee and I got sick, the humility that rushed over us was raw and inescapable. We'd worked all winter and were the fittest we'd ever been, yet no matter how hard we pushed, our bodies refused to cooperate. Knowing we were capable of more made it worse, but we also knew we must keep moving forward— if not for ourselves, then for the six women who'd worked so hard to be here. They too were battling illness, and they too were pressing on.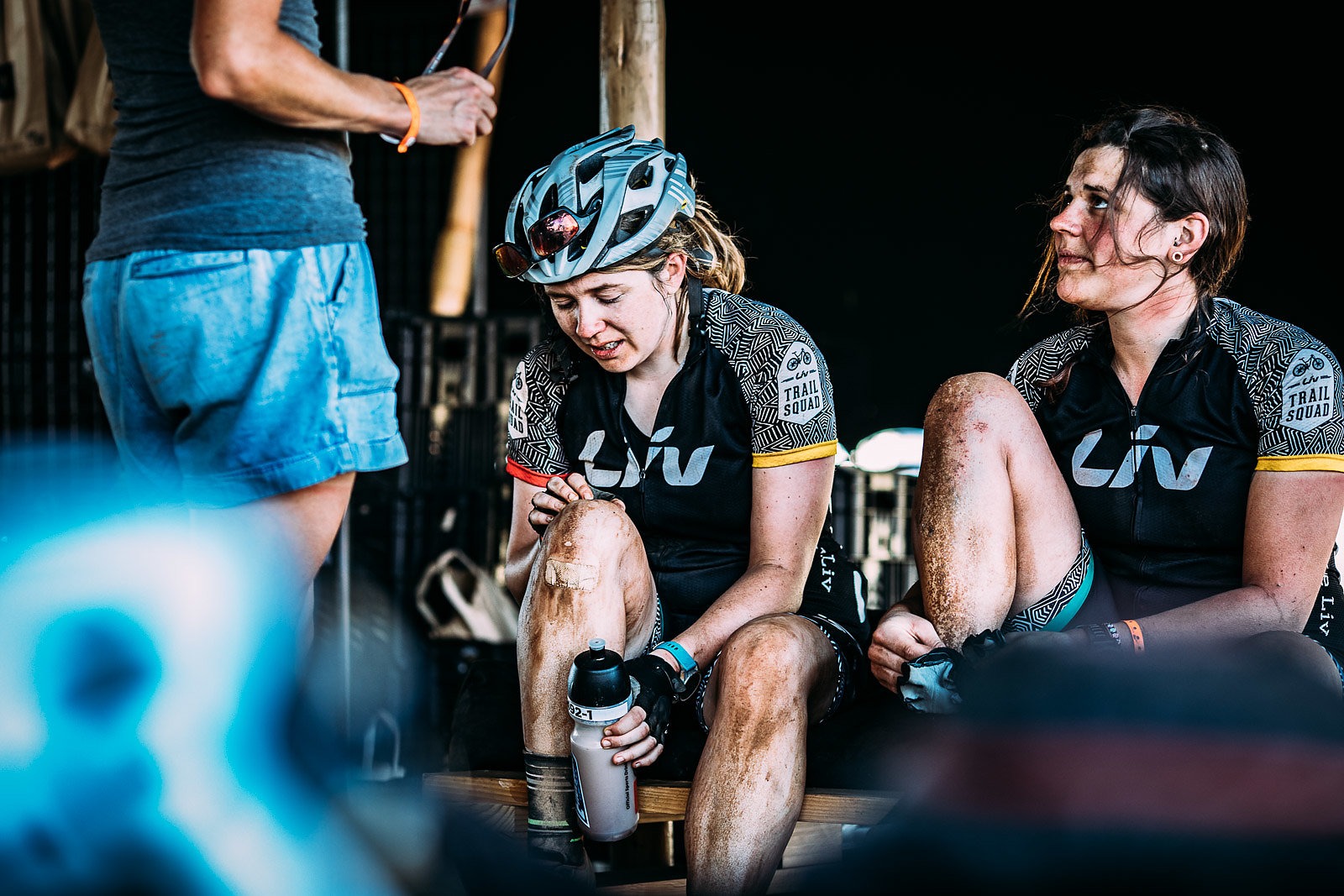 Things only became more difficult. At times I held onto Kaysee's jersey pocket, asking her to pull me uphill. At other times, I pulled her. We cried on the shoulders of strangers and collapsed on the ground of the post-stage recovery tent. But we were mentors, and setting an example had become as important as our results. At the end of each day, we got up, showered and returned to the finish so we could cheer for our Trail Squad riders.
Our days were long, the Trail Squad's days were longer. A stage that took Kaysee and I four and a half hours to complete had some members of the Trail Squad in the saddle for close to 10.
Our days were long, the Trail Squad's days were longer. A stage that took Kaysee and I four and a half hours to complete had some members of the Trail Squad in the saddle for close to 10. They barely had time to shower before the dinner bell, but made it to the dining tent in time to share stories from the day and find the hilarity in this awesome challenge—and motivation when things didn't turn out as planned.
That same day, I'd looked into Lisa's eyes as she crossed the finish line and saw both the pain she'd struggled through and the immense accomplishment she felt—pure exhaustion became pure elation, if for only for a few brief moments.
Olivia and Madeleine barely made it to dinner that night. They arrived at the dining tent with faces still covered in dirt and totally exhausted. Olivia was sick and getting weaker, yet they happily (albeit with a few tears) told us how they went off-course and had to climb back up to the track.

As the miles ground away, we found ourselves pushing harder as mentors as well. The evening before the last stage, Kaysee and I were at our sickest, and I was severely dehydrated. After being guided to the medical tent, I had to decide whether to receive fluid via IV— doing so would disqualify us due to the UCI's no-needle policy. No one would have faulted me if I had—no one but myself. I consulted with the on-site physician; my kidneys were functioning "well enough." I declined the IV fluids, and Kaysee and I went to sleep not knowing what the next day would hold.
The next morning, the bagpipes played as two very sick teammates willed each other out of bed and back to the starting line. Our perspectives had changed, as had our goals. We crossed the finish line of the final stage of the Cape Epic without having achieved the top-five overall spot we'd been aiming for. And it didn't matter. We'd done what had 24 hours earlier, sitting in the med tent sick with norovirus, seemed impossible.
The last day ended at the Val de Vie winery, in Paarl Valley. It was a scene of exuberance and exhaustion. Lisa and Kate glowed as they received their finisher's medals, having supported each other for more than 400 miles and achieved something monumental. Madeleine's medal was bittersweet; she had completed the race, but sickness and exhaustion had forced out Olivia after stage four. Olivia stood along the course every day, cheering her teammates through the pain. Anna crossed the finish line, but had failed to complete one of the stages. Rather than quit, she'd started the next morning and succeeded in finishing all of the remaining stages.
Covered in dust but wearing smiles, we—along with our Liv Cycling support crew, husbands, children and photography team —stood among the grapes, eating ice cream and drinking soda. I think that is when the immensity of our accomplishment fully sunk in. Medals or not, we had achieved something wonderful together, one pedal stroke at a time.