Transition Carbon Patrol Bike Review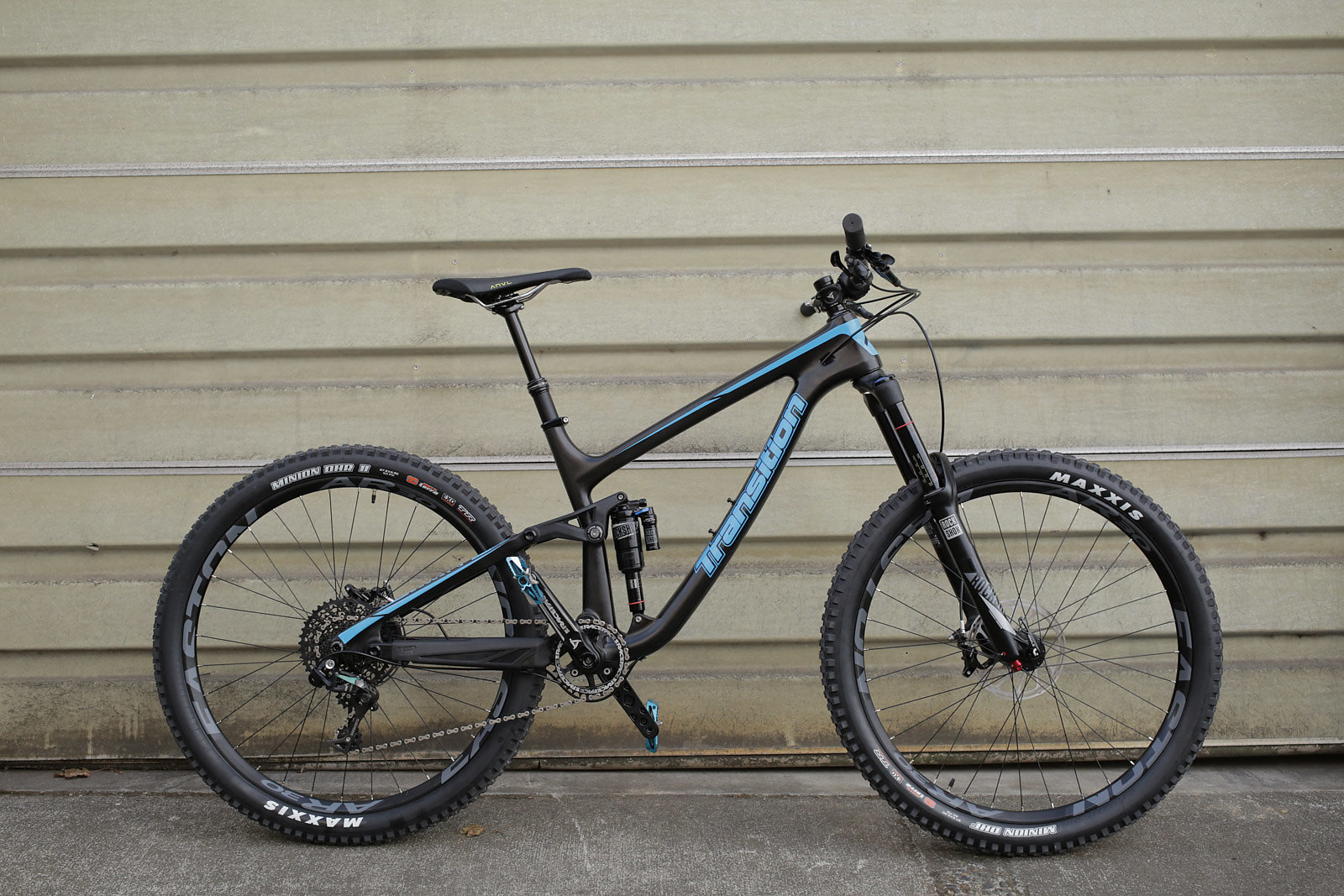 Transition Carbon Patrol Review
In the early months of the summer, rumors of prototype Carbon Patrol sightings were starting to float through Bellingham, Washington—home of Transition Bikes.
It was like a mythical unicorn jumping a double rainbow and sent much of the local mountain bike community into a flutter about the possibilities of what their next bike might be. While Transition had previously released a carbon Covert, these new prototypes would utilize their new Giddy Up suspension, a design that has been widely praised for exceptional pedaling and riding qualities on the aluminum steeds.
As soon as we got our hands on one of the new Patrols, we were giddy (pun intended) to throw a leg over it. Our initial impression—before we even took it out for a pedal—was that this bike is stunning. Clean lines, great cable routing, burly components… this bike looks mean! It also happened to be an immediate conversation starter and I had quiet a few inquiries about the bike as I was pulling it off my truck or riding out on the trail. The mythical unicorn lives!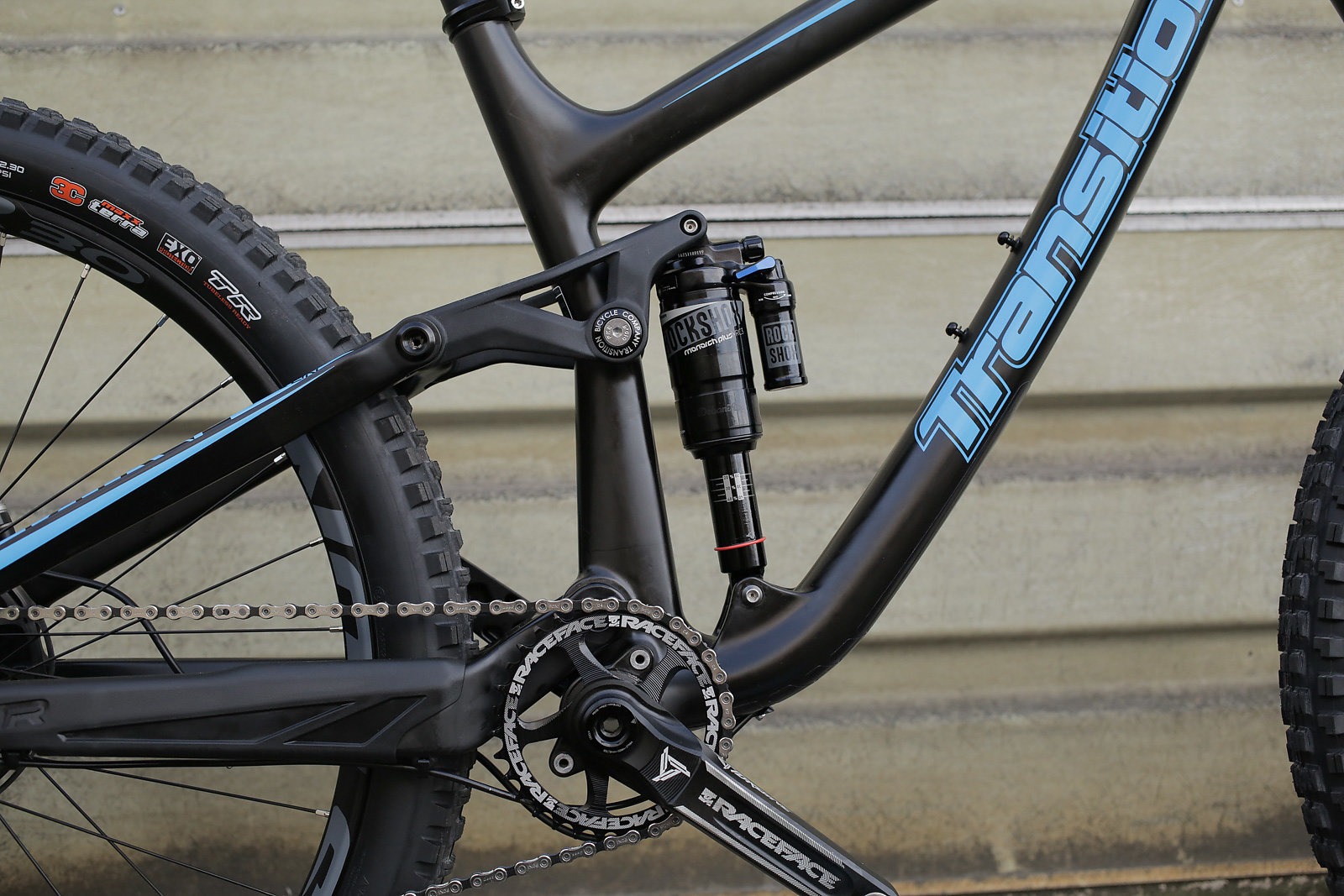 The Build:
Building the carbon Patrol with Transition's mid-level "Patrol 2" kit showed us that every component was handpicked with shredding in mind. Unless you're looking to reduce some weight, we believe that the Patrol 2 spec is more than capable of charging and won't hold riders back. Some may want to cut the 800mm RaceFace Atlas bars down, but it's a nice touch to give larger riders the option. As someone who had switched back to Shimano brakes, the SRAM Guide RSC brakes on the patrol were a good surprise for me and provide great modulation and power… a huge upgrade from my last pair of Avid brakes.
The threaded BB was another detail that helped reduce the amount of creaking that plagues many carbon bikes and the internal cable routing is refined by the internal tubes to help guide cables and hoses without making you want to throw wrenches in frustration. From a geometry and numbers standpoint, Transition's Designer, Darrin Seeds, confirmed that the carbon and aluminum Patrol are identical, other than the carbon weighing 600 grams less. Our Patrol build, including Mallet Enduro pedals, weighed in at a very respectable 29 pounds.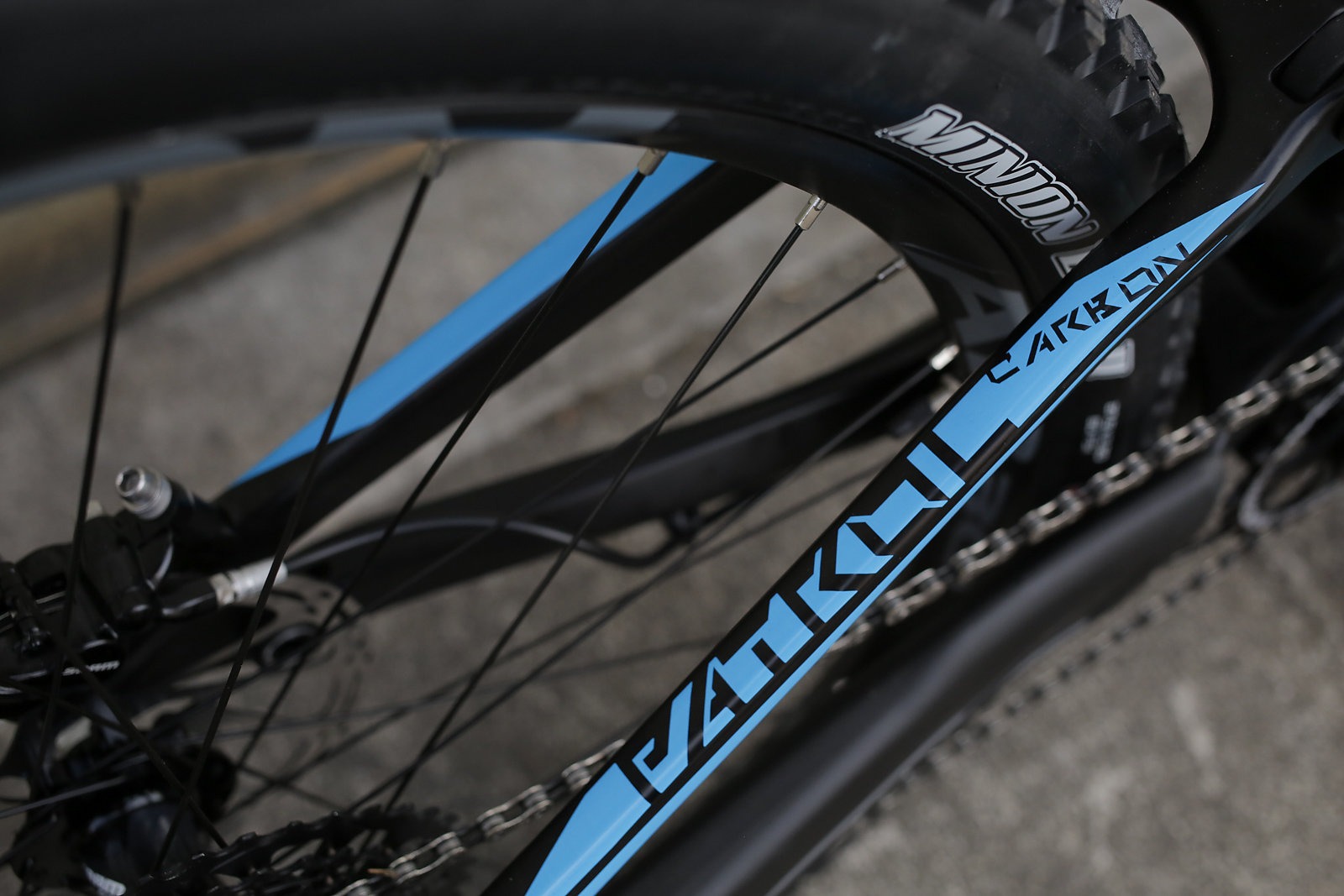 The Ride:
This has been my do-everything bike for three months and it's handled everything from long XC rides to shuttling downhill trails. Initially, it took me a few rides to get used to the longer front-center that most trailbikes are designed around these days, but I love how the design with the short stem allows you to charge everything and sets you in a better pedaling position. On climbs, I've opted to leave the Debonair shock in the "open" mode (unless on a fireroad) because the bike's rear end grips the ground so well. On more technical climbs, this bike excels, but due to the low 13.3" BB height and recommended 35% sag, riders will want to pay extra attention to avoid pedal strikes. Again, the 170mm cranks show that Transition has given a lot of thought to assure that this bike goes up as well as it goes down.
On that note, the trails and terrain in Bellingham have given plenty of opportunity to ride technical and steep terrain and this is where the Patrol's 155mm of travel and 65-degree headtube angle shine through. While it's not downhill season in the Pacific Northwest, I've taken the Patrol to one of our shuttle spots on several occasions and actually preferred the Patrol over my DH bike on those trails. The confidence-inspiring geometry combined with the bottomless feel of the Giddy Up suspension has allowed me to charge the Patrol like I'm riding my big bike. While I do go through all of my travel on most rides, I've only felt it bottom out on a badly cased landing—which is to be expected. It's might be a cliché, but the Patrol truly is a downhiller's trail bike. I think those less-inclined to catch air and ride steeps may prefer one of Transition's other offerings, but this is the perfect bike for people who charge up and down every trail.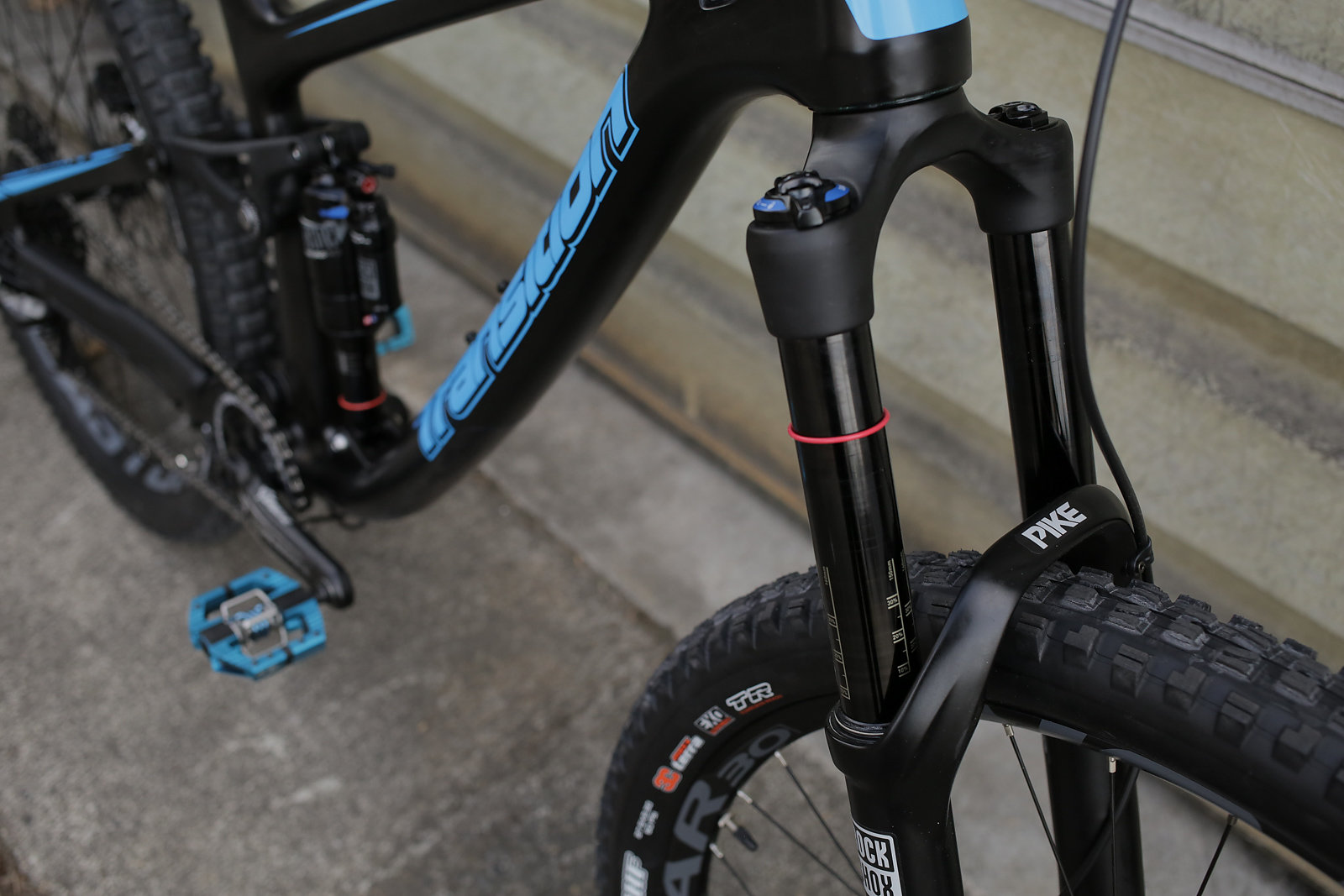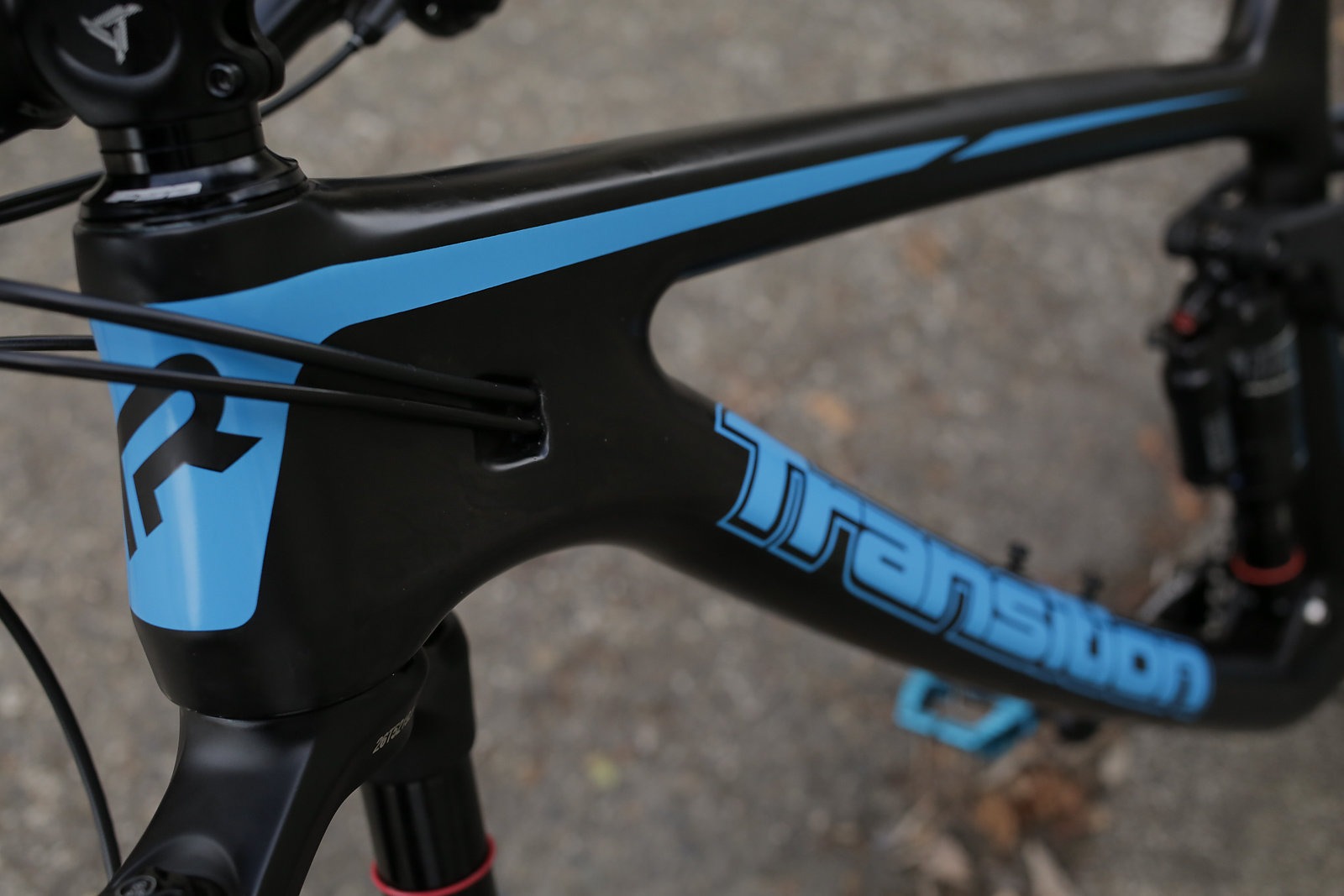 With three months of riding aboard the Carbon Patrol, it's shown no signs of slowing down and has been trouble/creak free as our exceptionally wet winter has set in. Rumor has it that the Patrol won't be the only carbon model from Transition and we're already looking forward to seeing what's next from this rider owned company. If the thought and humor that Transition put into the Carbon Patrol (check out the P.A.B.S.T. and T.I.T.S. technologies) are any indication that the company is all about having fun, actually riding the bike is concrete proof.
See more of the bike and full specs at www.transitionbikes.com
Tester profile
Bike size: Medium
Height: 5'8"
Inseam: 30"
Carbon Patrol 2 Build:
Rear Shock: RockShox Monarch Plus RC3 Debonair Rear Shock
Fork: RockShox Pike RCT3 Solo Air 27.5 160mm Fork
Stem: RaceFace Turbine Basic 35 50mm
Handlebars: RaceFace Atlas 35 (800mm x 20mm)
Headset: FSA No.57E
Seat: ANVL Forge CroMo Saddle
Seatpost: KS Lev Integra w/ Southpaw Remote (150mm or 125mm)
Brakes: SRAM Guide RSC
Rotors: SRAM Centerline (180mm)
Shifter: SRAM X1
Derailleur: SRAM XO1 Type 2.1 Rear
Cassette: SRAM XG1175 (10-42)
Chain: SRAM X1 Chain
Crank: RaceFace Turbine Cinch (DM32t, 170mm)
Wheels: Easton AR 30mm 27.5 32h Rims
Hubs: SRAM MTH 716/746
Tires: Maxxis Minion DHF 27.5x2.3 EXO 3C Front Tire, Maxxis Minion DHR II 27.5x2.3 EXO 3C Rear Tire
Price: $6199 USD