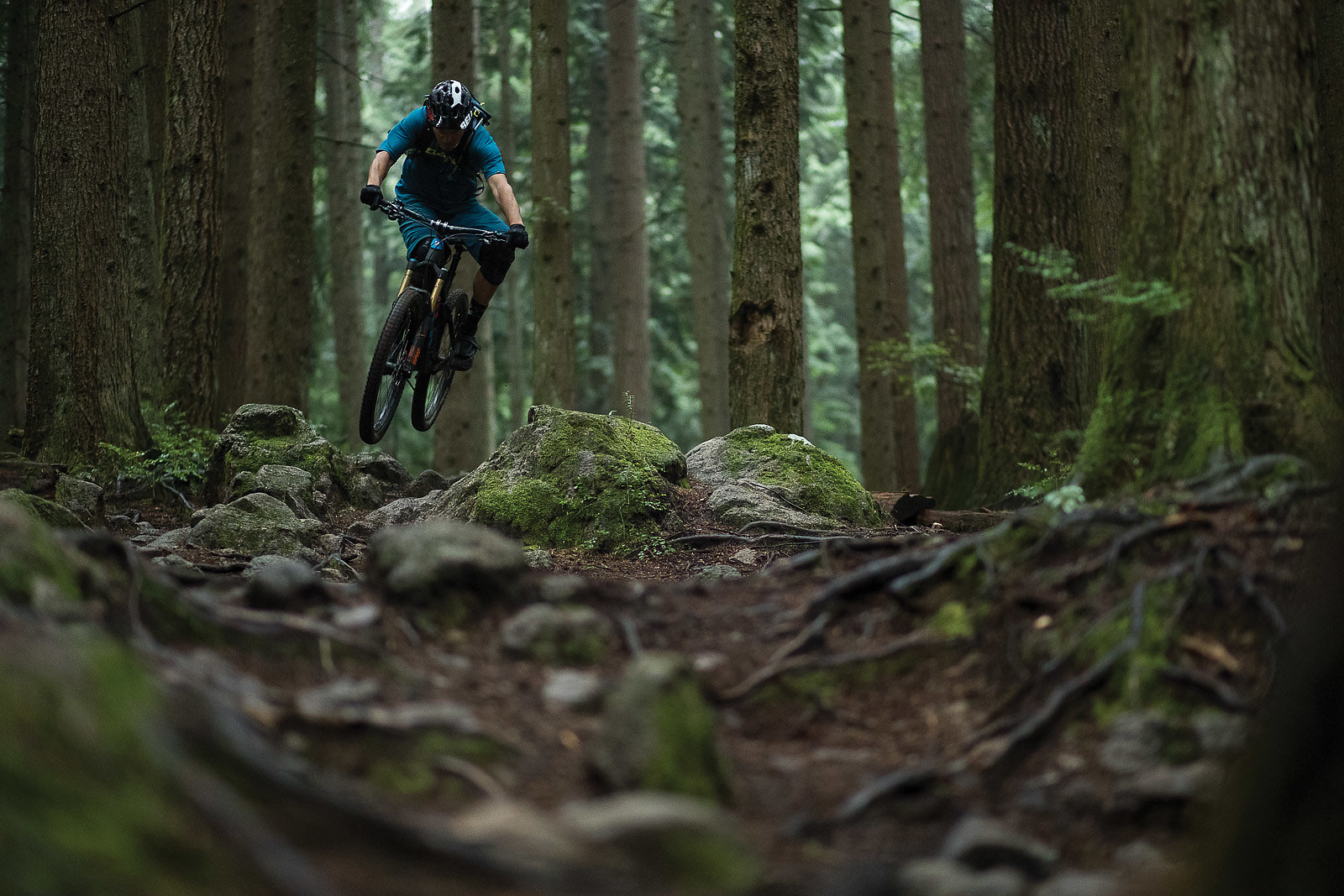 Sterling Lorence // North Vancouver, BC Living Legends on Vancouver's North Shore
If you are in the city of Vancouver and look north across the Burrard Inlet, you are staring at the three mountains of the North Shore: Cypress to the west, Fromme in the middle and Seymour to the east. Over the past 35 years, the trio has become one of mountain biking's most significant cultural hubs.
I spent my childhood in these steep coastal mountains and their towering, fog-shrouded trees, first playing and then riding bikes. Mountain biking here in the 1980s meant climbing up some gravel access road, finding a random hiking trail or skidder path, and then trying to bomb straight down. As bike technology bloomed in the 1990s, so did the way trails were built and ridden. Hiking paths were replaced by steep, technical lines, and there couldn't be enough cliff drops, rock rolls, log rides and skinnies. Many refer to this as the beginning of "freeriding." Locals at the time just called it "riding." Builders like "Dangerous" Dan Cowan and "the Digger" Todd Fiander were evolving their trails almost as fast as riders like Wade Simmons and Andrew Shandro were redefining what was possible on a mountain bike.
When you have a large metropolis butted directly against an outdoor hotspot like the Shore, roots grow fast and deep. Over the past 15 years, there have been no less than 12-15 bike stores on the Shore alone, and a thriving network of trails has evolved on each of the three mountains. And they cover everything, from root-infested rock fests, to hand-sculpted flow lines, to fern-saturated singletrack, to the iconic ladder bridges and skinnies. The North Shore Mountain Bike Association, which formed early in the area's evolution, has spent the past decade and a half working with the local governments to keep these trails legal, mapped, marked, maintained and sometimes even funded.
The best way to showcase such hallowed ground is to bring in some of the legends it created. Andrew Shandro, Thomas Vanderham and Geoff Gulevich are Shore locals, and each has his own zones of choice. It's hard to say that one of the three mountains is "easier" to ride than others, but when it comes to a more traditional XC ride, Seymour does have some mellower slopes, meaning easier gradients and longer routes. Vanderham has lived most of his life at the mountain's base, and knows how to link the hill's variety of trails into epic loops—while less steep, Seymour has also benefitted most from the work of the NSMBA, and so has plenty of options for anyone.
Unlike Seymour and Fromme, Cypress' trails are mostly on private property and so don't see as much official trail maintenance. This, combined with steep, raw terrain and general ease of shuttling, has made Cypress a favorite training ground for many local downhill racers. Gulevich is a regular on Cypress' rowdy lines, and he took us on a run designed around a full DH bike, making the most of our vertical and accessing trails that favor longer-travel rigs—or that require a little more focus for people on shorter-travel ones.
If Cypress is a place to lose elevation, then thanks to a new climbing trail, Fromme is the place to earn it back. Shandro lives near Fromme, and we followed him up the amazing new route to the top of the trail network. Fromme is also the favorite of another Shore icon of Shandro's era: Fiander, who works as a full-time trailbuilder for NSMBA, and has built many of the trails that have been benchmarks on the Shore for 15 years.
Fiander's work is proof that, when built properly and maintained correctly, even the most popular trails can handle thousands of rides over decades of use—and that, after 35 years, one of mountain biking's most hallowed places still lives up to the legends.
---