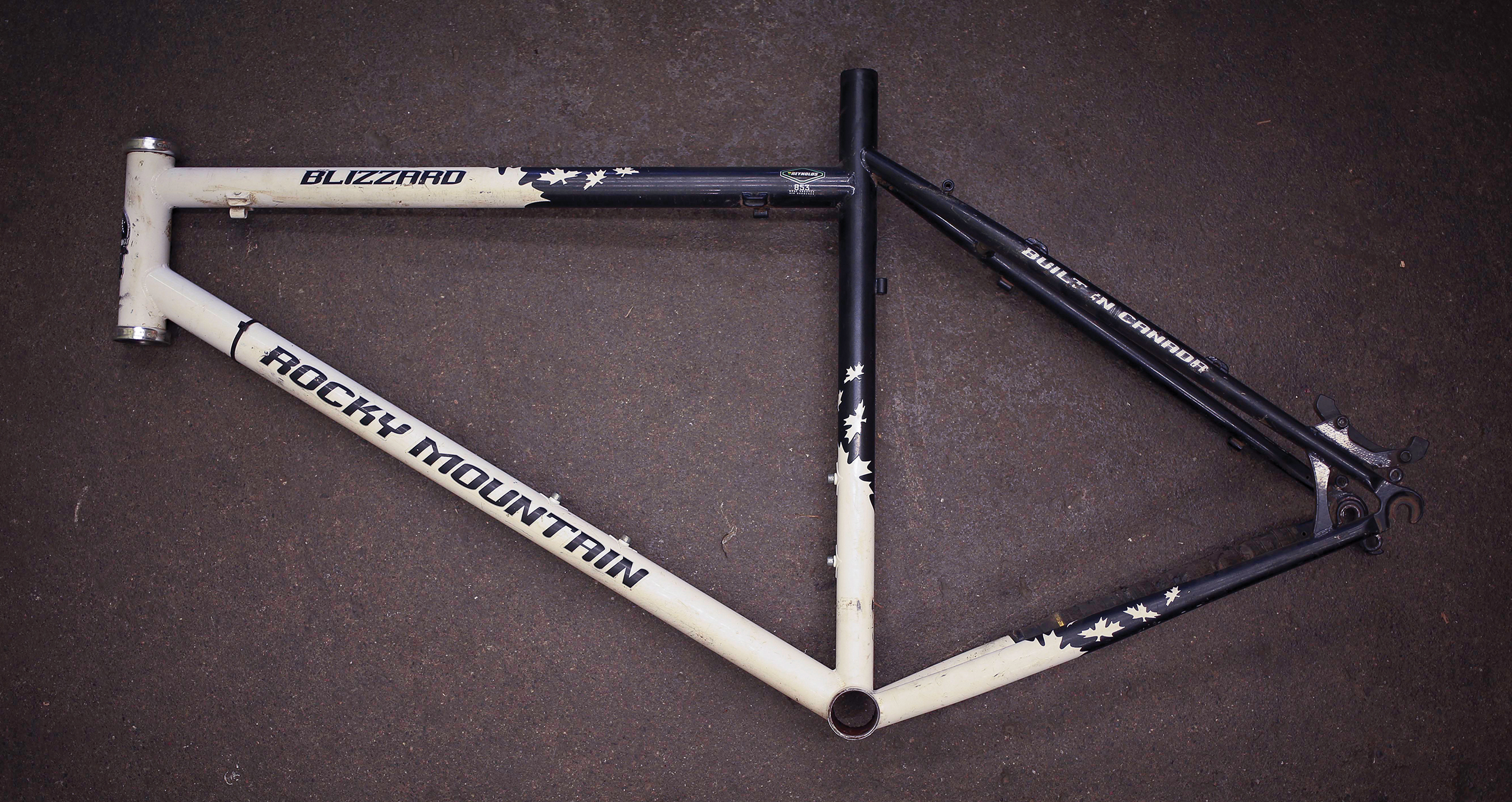 Steel Beauty
It all started with a 20th Anniversary Rocky Mountain Blizzard hardtail.
I built the Blizzard from the ground up while managing a bike shop in Chicago. I had spent my youth riding BMX and XC racing, but after moving to the city for college I took a short hiatus from bikes to pursue my love of skateboarding. When I reconnected with mountain biking a few years later, I needed a whip for the new era upon me, and so I built one that could handle everything from urban assaults through Chicago's skatepark-esque streets to smashing technical 40-mile rides in North Carolina's Pisgah National Forest: beefy wheels, 115mm of plush REBA travel, and reinforced Reynolds 853 steel.
Step ahead to 2007, when a two-week westward road trip moving from Chicago to Seattle ended with a two-year pause in Bozeman, MT. The mountains were expansive, and the singletrack endless—a perfect mix for the Blizzard, one that took two years to explore. It also was in Bozeman where I found my love for publishing while interning with hometown-homie Todd Heath at Bomb Snow Magazine. It was an epiphany for me: through the medium of print, I could combine my passion for design, the outdoors and, above all, mountain biking. In 2009, I filed for a business license and Freehub was officially born as a Montana Limited Liability Company. That was the first step—although the concept was now alive, it was still just a piece of paper and dream. Much like my Blizzard, I had to build up the framework bit by bit and test its limits trail by trail.
Seattle was still the end destination, and that same year I packed up my life in Bozeman to pursue Freehub from a new trailhead. On my way I visited Bellingham, where, like Bozeman, what I had anticipated being a few days of couch surfing turned into a real mattress and rental agreement. It only took a few beers with the locals and even fewer rides on the area's trails to know this was home for Freehub, the Blizzard and me.
The years whizzed by like passing trees, as did the different styles and genres of bikes. My steel beauty would meet her match here, on the roots and hucks-to-flat of the Northwest, and I would end up spending most my time on my "bigger" bikes. I still hammered the Blizzard on bi-weekly all-mountain rides, and it soon became a 140mm-travel single speed to combat the nasty, rainy PNW winters. Then came the carbon trail bike, and as the years went by I pulled all the components off the Blizzard to build bikes to get my friends riding. The naked frame was eventually hung on the wall, next to a rotating cast of spare wheels.
Sometimes, however, during the midst of deadlines or when I get particularly nostalgic, I'll take the Blizzard down and relive that wandering path. Because while I may find myself more often than not in the cockpit of some flashy carbon rig, a 29" or 27.5" or fat bike or whatever the newest trend might be, I know the Blizzard is just waiting on a few components to mash the hell out of the nearest trail. It's biking in its most timeless form, just like the timeless content we constantly strive for at Freehub. Simply put, that 20th Anniversary Rocky Mountain is the embodiment of my love for mountain biking, and why I started down this crazy road in the first place.
It has been a decade since I first built the Blizzard, and now it hangs in our office waiting for another chance to be built up and ridden. As we come into our fifth year in print, we pay homage to the bike that re-kindled my love of two wheels and inspired the inception of Freehub Magazine, the soul of which now flows through the pages of every issue.
Cheers to my steel beauty, and may there be many more adventures to come.
Purchase This Issue: This article is from Issue 6.1, the Community Issue, available on newsstands April 21st, 2015 and at FreehubMag.com today. Subscribe here to have this issue plus three more delivered directly to your door.