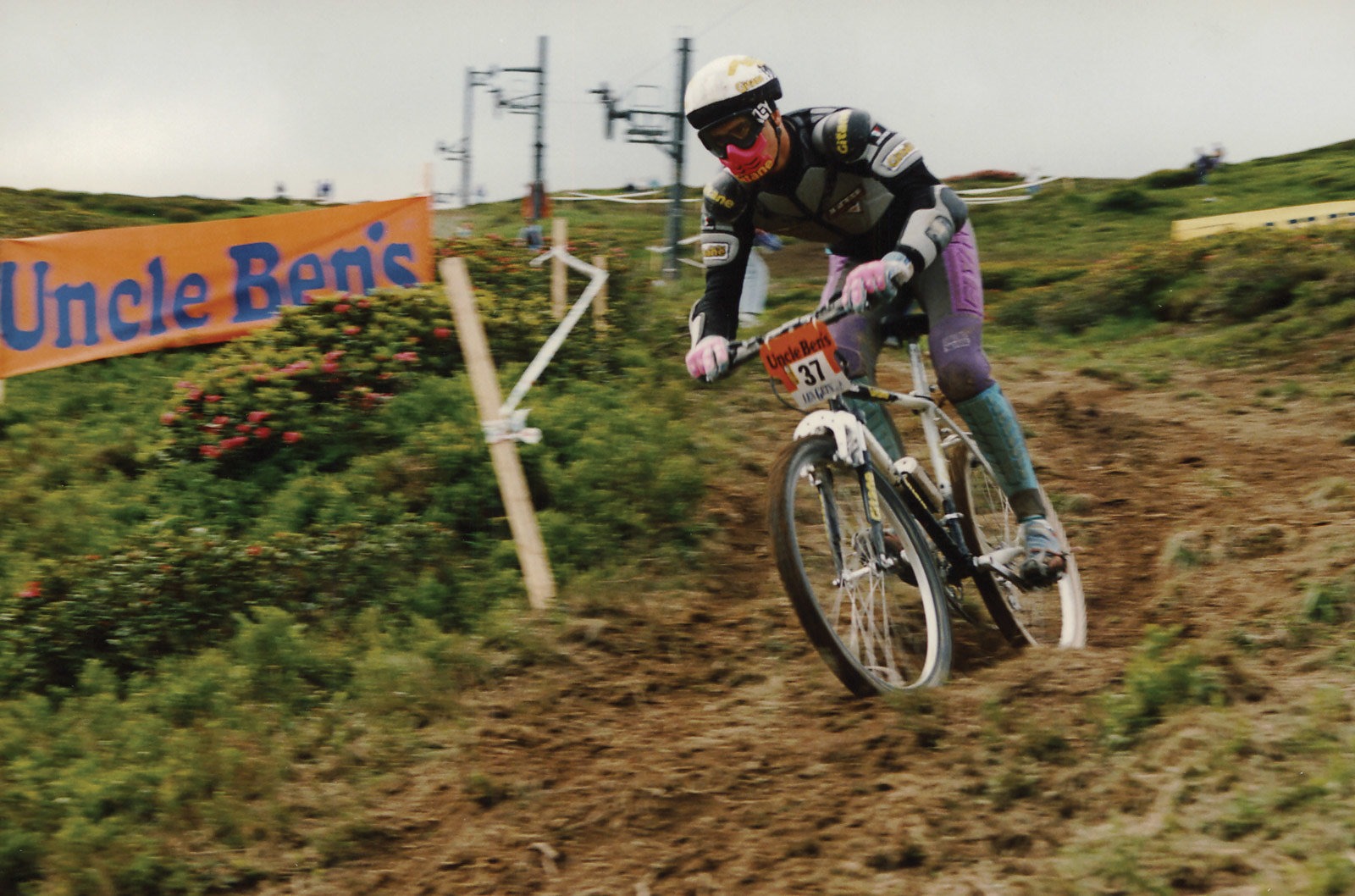 Mind the Roots - Two Decads of Legacy at Les Gets
Steve Peat was in first place by more than a second, and the finish line was in view just a few hundred yards away. A few steep corners separated him from the final wide-open section of trail, and he ripped through each to what looked like a comfortable victory.
And then came the root.
It was 2004, in Les Gets, France, and Peat—the sport's second most successful downhill racer ever—was speeding toward his first UCI World Championships victory, something that had eluded him for six years. As he rounded the final corner, a root caught his front tire, sending him over the bars and into a tumble of dust and aluminum. Fabien Barel would take the win, and that race, Peat's crash and Les Gets would be cemented into the halls of mountain bike history.
It was not the first nor last time Les Gets has been a star on the European mountain bike scene. One of the first strongholds of gravity-assisted mountain biking in France, in June 2016 the small resort will host the European Crankworx stop, where the best riders in the world will descend on the quaint alpine village. Les Gets is ready—with morethan two decades of mountain biking on its lift-accessed slopes, it's a chance to add another international trophy to its already impressive legacy.
In terms of mountain biking, Les Gets' reputation came early and at high, bone-rattling speeds. By the late '80s, mountain biking had already taken hold in France, and, in 1991, the first French national downhill race took place at La Colmiane ski resort in the southern French Alps. Les Gets wanted to check out the event, and so they sent a member of their own mountain bike development program, Christophe Munier.
You may have heard of Munier. Now a well-known and respected course designer and event coordinator, he's the man behind the 2014 Meribel World Cup. But in 1991 he was just beginning to get a glimpse of what the mountain bike scene had to offer.
"For us at the time, the development of the mountain biking had to be done through competitions," he says. "As a resort, we were naturally interested in downhill racing, and after seeing that race in 1991, we organized one of our own the next year. It was in the summer, and it snowed the night before and made running things a bit sketchy."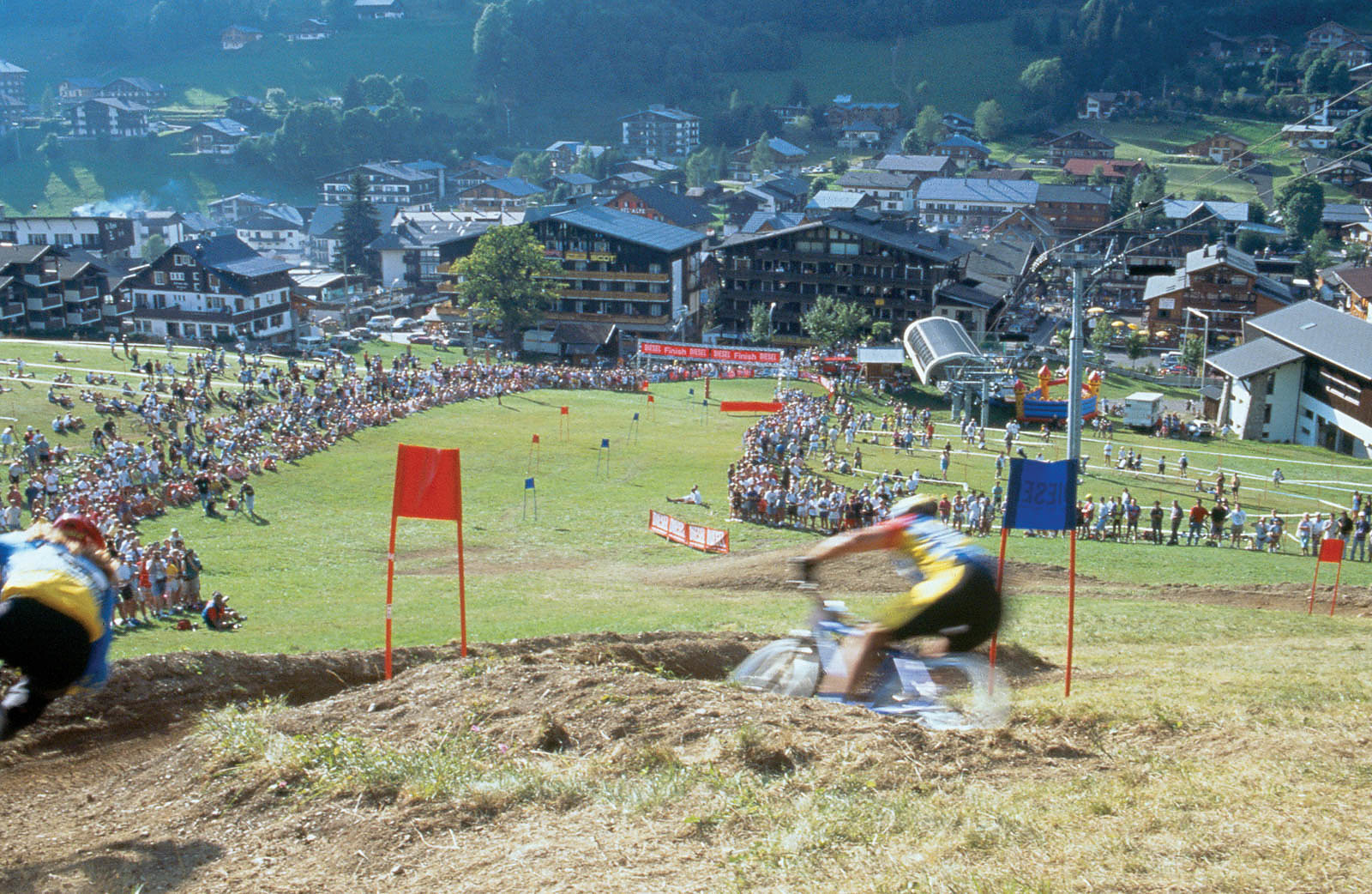 It was a rowdy event, and by no means Les Gets' last. The resort was home to the French downhill nationals and the French championships until 1996, when it finally hosted a UCI World Cup. Nico Vouilloz won the men's race, followed by notorious bad-boy Shaun Palmer, and Anne Caroline Chausson took the women's competition. It was an iconic lineup that propelled Les Gets onto the world stage.
But while racing was booming, the courses were extremely difficult, and thus were off limits to the public. For mountain biking to fully integrate into the ski hill's culture, it needed to include more than just world-class athletes and offer more than podium finishes. "Les Gets had what they called an 'MTB Area' in 1995," Munier says. "The DH courses were specifically for races, and after holding the French XC Championships in 1994, we had some 10-plus-mile XC loops. That's what was available to the public at the time."
The big change came a few years later and one valley away, at the nearby Morzine ski resort. Roger Mandin is a biker, skier and owner of Morzine's renowned Chez Roger bar, and in 1997 he created France's first permanent DH trail built specifically for leisure—no racers, no crowds, just riders looking for a good time.
"Dirt Magazine published an article about the trail and soon British riders began to come to Morzine," Mandin says. "These guys normally rode in Chamonix or St. Gervais, but now we were seeing them come here with their families. It was definitely a new type of rider for the area at that time. Mountain biking already existed in Les Gets, but that track was a game changer."
Good ideas tend to spread, and the next year Les Gets opened its own DH track, a beautiful trail that wound its way under one of the resort's chairlifts. Now Les Gets had something to offer besides races; it just needed a way to tell the world. Mandin had the answer, as well as a new idea of his own.
"In 1999 Les Gets had the DH World Cup, and I used the publicity to promote my new project, the Freeraid Classic/Mondial du VTT," he says. "It was the first big mountain bike event dedicated to the masses: a trade show with mountain bike brands, combined with bike tours that allowed riders to discover the beauties of Les Portes du Soleil [a string of 12 resorts along the Swiss/French border including both Morzine and Les Gets]."
Mandin organized the first iteration in Morzine, and more than 1,000 riders attended; the second, which took place in Les Gets, drew 2,000. By its final year in 2003, more than 5,000 riders showed up for the Freeraid Classic/Mondial du VTT, and Les Gets was determined not to waste the thousands of visiting riders. Using a similar concept, the resort created the Pass'Portes du Soleil, a three-day, 50-mile circuit that takes riders across the length of the Portes du Soleil. Now in its 12th year, the course climbs 3,300 feet and descends 23,000, using 15 chairlifts at nine resorts.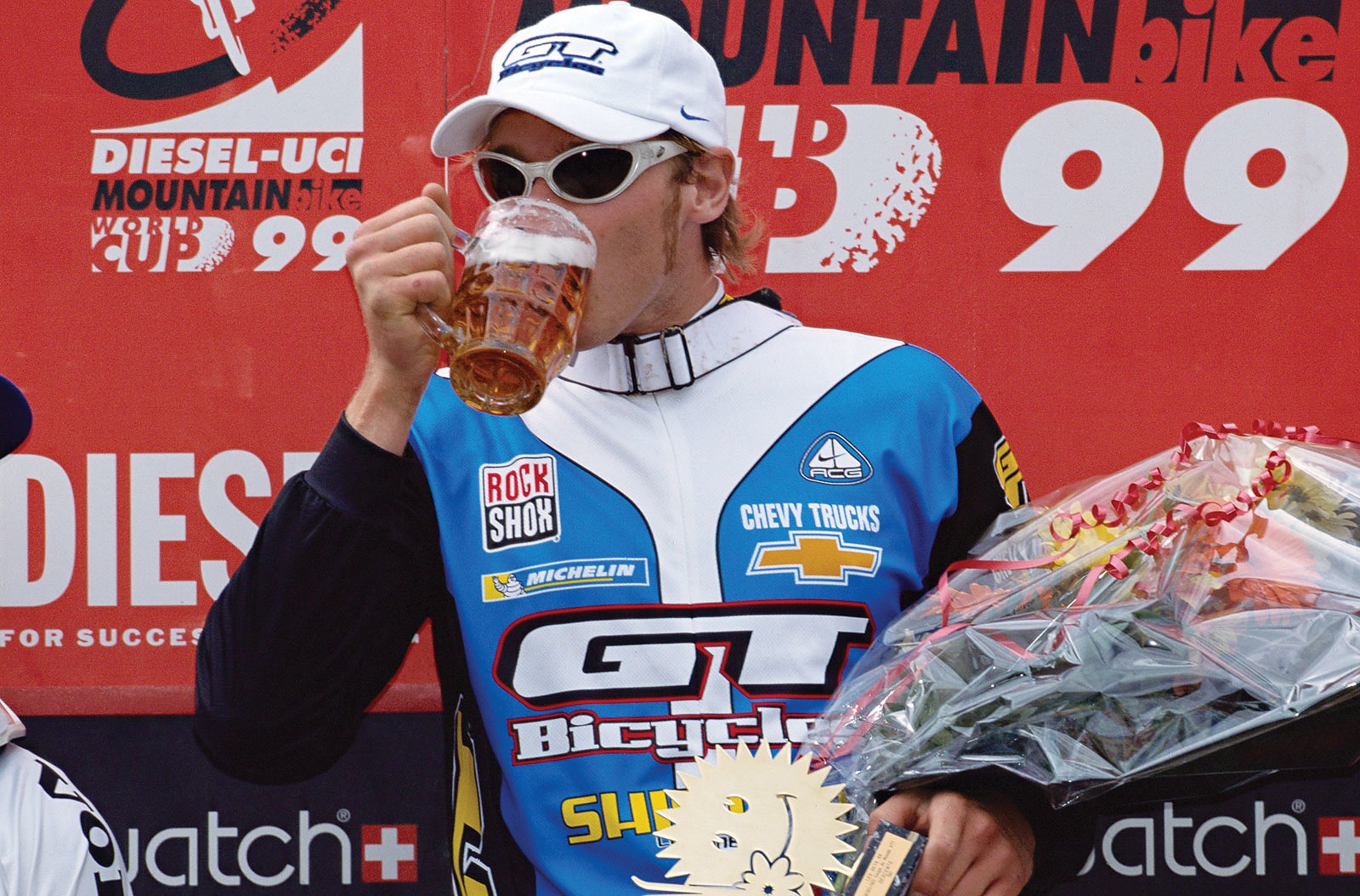 Still, despite the resorts popularity in the mountain bike world, at heart Les Gets is a ski area. Due to the doubts of area residents—from politicians to hotel and shop owners—mountain biking lulled for several years. The sport was seen as being financially unviable and unproductive, and, after 2004, development of mountain bike infrastructure trailed off—the resort wouldn't host another national race until 2011.
Just as Les Gets' mountain bike roots began with racing, its rebirth would also spring from finish lines and podium times. In 2011, the French Enduro Championships took place at the resort, drawing top French riders. Luckily, despite its previous quiet stretch, Les Gets had brought in an entirely new trail crew in 2009, and they'd maintained the DH classics along with building some of their own. The event was a success, and with that mountain biking returned to Les Gets.
Five years later, the work of that small trail crew has turned Les Gets into a world-renowned bike destination and one of the most visited bike parks in France. With everything from classic steeps to flow trails to XC loops and jump parks, it's a venue that has matured fully—they've even enlisted the help of Sebastien Giraldi, the trail builder responsible for Europe's biggest freeride event in Europe, the Châtel Mountain Style. Their latest challenge, Crankworx, is set to be an even bigger undertaking, and the team is already prepping an event to match Whistler, BC and Rotorua, New Zealand.
"The Crankworx downhill course will use some sections of the 2004 UCI World Championships track," says event organizer Benjamin Munier, "mixed with all the features we can expect from a modern downhill trail."
It's a fitting setup for Les Gets, combining one of the most influential courses in mountain bike history with an entirely fresh take. Like that legendary 2004 race, the best riders in the world will line up at the start line, legends and up-and-comers alike. They'll pin it through some of the same sections Peat and Babel did in 2004, all hoping for their own piece of the legacy.
And, as Steve Peat would probably caution them, make sure to mind the roots.
Mind the Roots, as seen in Freehub Magazine Issue 7.1