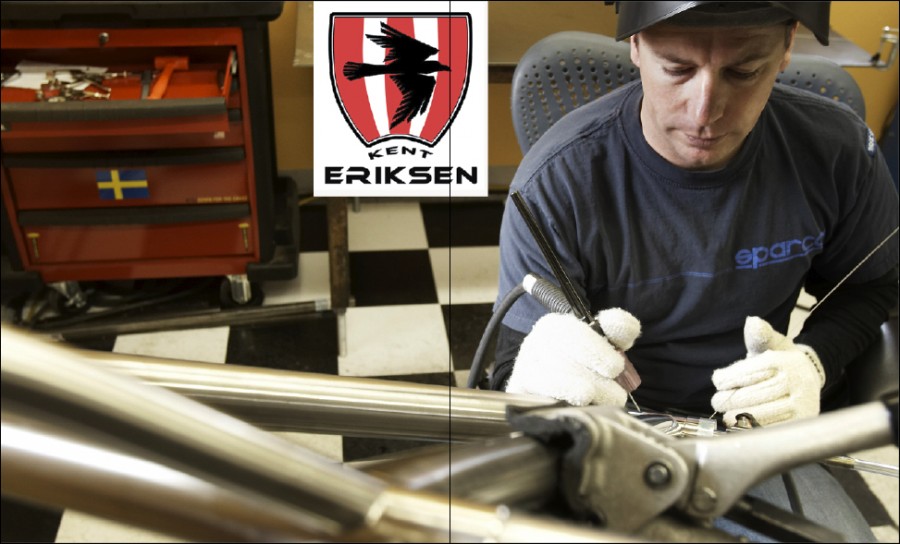 Article of the Week:
0
Taxonomy upgrade extras
Words and Photos by Katie Lindquist
Pioneering frame builder Kent Eriksen moved to Steamboat Springs, Colorado in 1974. At age nineteen, he started a bike repair and retail shop known as Sore Saddle Cyclery. Five years later, Eriksen built a new shop utilizing a lumber mill bark burner, and moved it to its current location. It was inside this cone shaped, three story building where Eriksen began fabricating bicycle frames under the name Moots. The name Moots came from a pre-Mr. Bill, Gumby-like 2-inch rubber alligator that Eriksen had kept since the 3rd grade. The first bike out of Eriksen's shop in 1981 was one of the first mountain bikes ever built!  Kent designed his own off-road bike, simply to navigate the trails around his home—a tree house located miles from town, surrounded by National Forest land.
Moots cycles developed into one of the finest frame manufacturers around. It has a worldwide reputation for attention to detail, function and design, and is known for its meticulous welds. Under new ownership, Moots moved to its current location, increasing production with a much larger staff. After 25 years, Eriksen decided it was time to go back to the roots of his passion, designing frames one customer at a time. And so Eriksen Cycles was born. It is a signature frame building shop where customers work directly with Kent, co-designing the bike of their dreams.
Eriksen moved the original Moots location to downtown Steamboat Springs. Dedicated machines, building jigs and new hand-made tools came next; this enabled Eriksen to fabricate his new line of titanium bikes. The company started with Eriksen's wife and partner, Katie, who together brought on extraordinary frame welder Chris Moore and Bo Randolph.  Today, Randolph and Moore remain on staff as key employees. Over the next two years, they hired two more employees who were walking encyclopedias of everything bike-related, Chad Eskins and former Moots employee and right hand man, Paul Campbell. This original team remains on staff at the shop, producing bikes of all styles.
The business model is simple: Kent is the product for sale. The company encourages customers to call and talk with Kent directly. In a time of outsourced answering services, Eriksen's customer service philosophy is equally as simple: answer the phone (often on the first ring).  The staff is tuned in to the customer; they know what turns them on in a buying experience and they employ that awareness in their service. It's a formula that's proven to work for them thus far.
Simplicity flows through the entire process of making an Eriksen's purchase. Most people typically start by talking with Kent himself, or Chad and Katie, if he is busy. Together, they collect the information needed to get a BikeCAD drawing designed for your frame ideas as well as a precise fit. Normally, a conversation with Kent paired with a tape measure and the customer's current bike will yield a drawing. Kent may seem clairvoyant, however, it is his 35+ years of experience working with avid cyclists merged with his own riding experience that make him a master designer.
Eriksen's riding pedigree goes back to his teens. Originally he rode for fun, then for transportation, and eventually traveling North America by bike after high school. Eriksen is not only a riding legend in Steamboat Springs but he has ridden and competed on an international level as well. Even Eriksen's wife Katie boasts an enviable resume. She is a former 24-hour solo World Champion and currently races at an elite level today. The two met when Kent sponsored her for the 2000 and 2001 Race Across America (RAAM) events.
In 1983, Steve Tilford rode one of Kent's bikes to victory in the first ever NORBA National race, which eventually landed him in the Mountain Bike Hall of Fame. Eriksen surprised everyone at the 1984 NORBA Nationals by competing with the best, finishing 4th in the elite field. Fourth place did not land him in the Mountain Bike Hall of Fame; he did that with his frame building
Eriksen Cycles fabricates its frames with titanium. Ti is their signature material because it welds, shapes and bends beautifully, lasts forever, and needs no paint. It's light, strong and resilient making it the ultimate material for frames. All frames are finished cleanly with a simple bead blast which is both beneficial to harden the titanium, and environmentally friendly compared to paint booth toxins and employee exposure. All a customer needs to do is pick a decal color and their frame is finished!
Eriksen hopes to make the experience of getting a custom frame fun, easy and exciting. His company strives to deliver a product that customers are proud to call their own. In fact, most customers have their named etched onto the frame. Eriksen plans to make 150 frames maximum per year, as well as building up to half of these frames into complete bikes. In-house bike guru Chad coordinates the builds for customers; Eriksen offers an unlimited choice (within reason) of components to choose from. Customers are not limited to a pre-set group of components; rather, they select what they want and it is ordered up direct from suppliers.
Frames are available for all styles of riding including road, cross, mountain, commuter, touring, tandems, randonee and more. Eriksen is a pioneer in the Mt. bike big wheel movement from way back, designing a 29'er for Don Cook, curator of the Mt. Bike Hall of Fame.  Today, Eriksen is proud to promote not only 29" wheels but also the 650B (27.5 inch) wheel size as well. Full suspension bikes in his line-up utilize existing suspension technology from Yeti and Ventana. "Why re-invent the wheel?" he asks. "These companies are already doing a great job with rear end suspension designs and both Yeti and Ventana are gracious enough to let me utilize their technology, so I can work on being creative."
He may not have wanted to reinvent suspension technology or the wheel, but Eriksen did design a seat post so divine that it is nicknamed the "sweet post" around the shop.  Since its introduction, this seat post has reached cult status and is a big seller. Simple, elegant and easy to use it is available in layback or straight designs, and in 27.2 or 30.9 diameters (add a shim to fit other sizes) and it comes in eight great colors!
Eriksen plans to keep the business small and manageable. Hopefully, he can take some time to enjoy life, and maybe ride his own bike a bit more. "I do not plan to out-source my own job; rather I plan to be the frame builder here," Eriksen says. "That's why it's called Kent Eriksen Cycles".
About our logo and head badge…
The Eriksen head badge design is in honor of Kent's dad, Leif. Leif passed away as his son started his new venture. Wanting to memorialize his dad, Eriksen used his surname for the company. He was able to symbolically represent Leif's heritage in the head badge design. Researching the history of the explorer Leif Eriksen, he found many interesting leads on potential designs, eventually deciding on a conglomerate of the various sail designs found on Viking ships.
These ships were used to sail into battle over heavy seas. Their sails were colored with red stripes to symbolize blood, intimidating the enemy upon approach. The bird in their design is a rendition of the bird also found on many of the Viking sails. Eriksen modernized this bird to give it life, flight, and movement. The bird species depicted on the badge is yet to be classified, but apparently around the shop, it is called a "crow-magpie."
For general pricing and info check out the website at www.kenteriksen.com