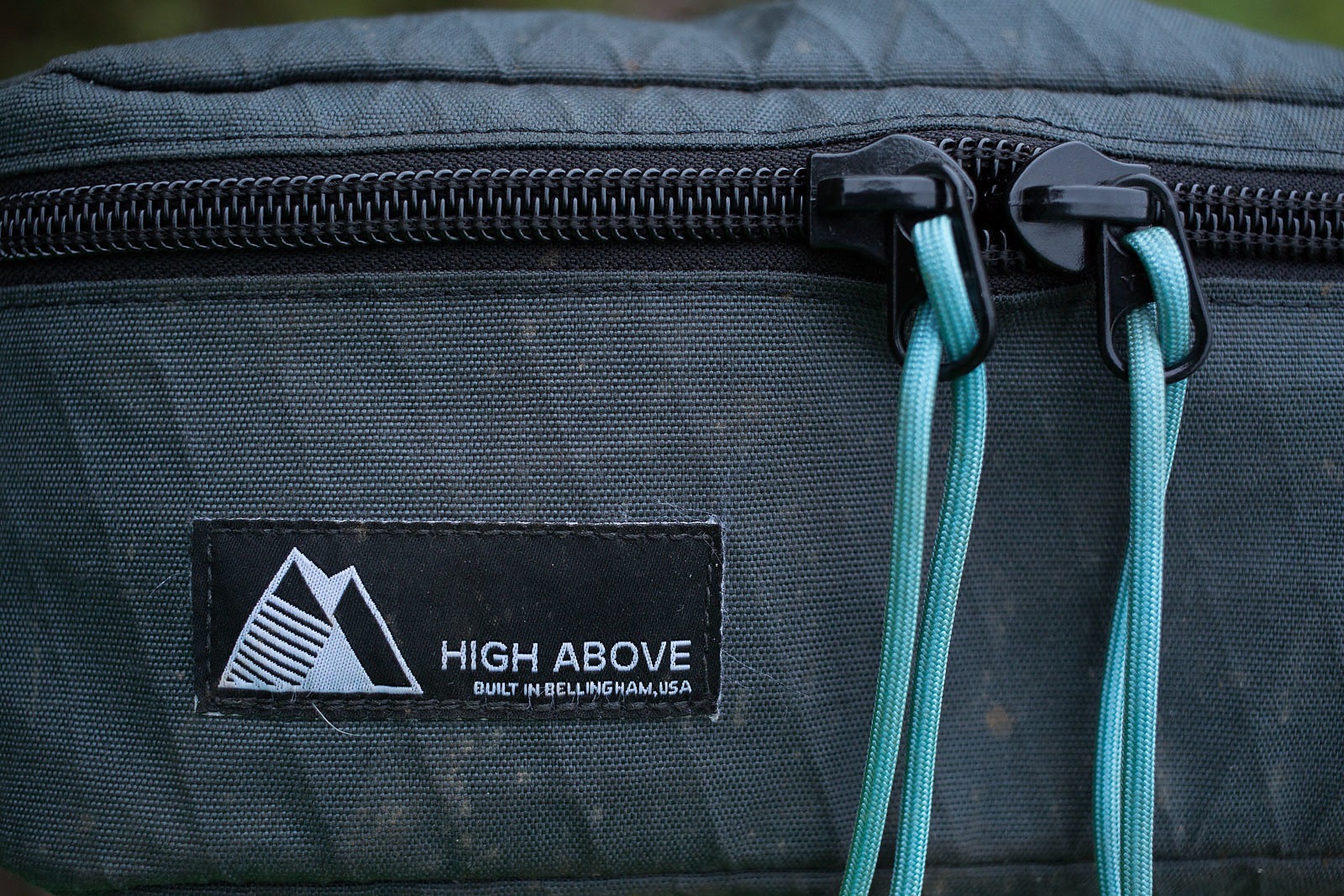 High Above Hip Pack Review
The fashion industry has a cyclical nature.
Whatever trends might have been at their height in the 70s or 80s have surely died in the eyes of the mainstream. However every so often, we see the resurrection of something that has both a function and style that was beyond its years. Camo had a purely utilitarian origin, but it has slowly crept into mainstream fashion trends. Another recent surge has been the fanny pack, or the "Hip Pack," as the industry is starting to call this once-written off item. It's original design as an all-access pouch for tourists has now become an incredibly convenient—and minimal—accessory for mountain bikers. Whether you like it or not, it looks like the fanny pack might be here to stay.
Features
Throughout the fall, we've been testing High Above's two models, the Das Rad Pack and the Cascadia. Both hip packs utilize waterproof VX41 material from Dimension Polyant to make up the body of the pack. This results in a hip pack that is both weather resistant and extremely durable. The pack also features oversized YKK #10 zippers with extra-long para-cord zipper pulls to make it easy to open and close the pack. Rounding out the pack is a simple, but heavy-duty piece of webbing for the belt.
The inside of both packs is pretty simple as well. The Das Rad Pack has a single nylon divider that separates the pack into two spaces, while the Cascadia has two nylon pockets inside of the main body. It is simple, but it's enough to keep a phone separated from car keys or any other items that might not get along in tight spaces.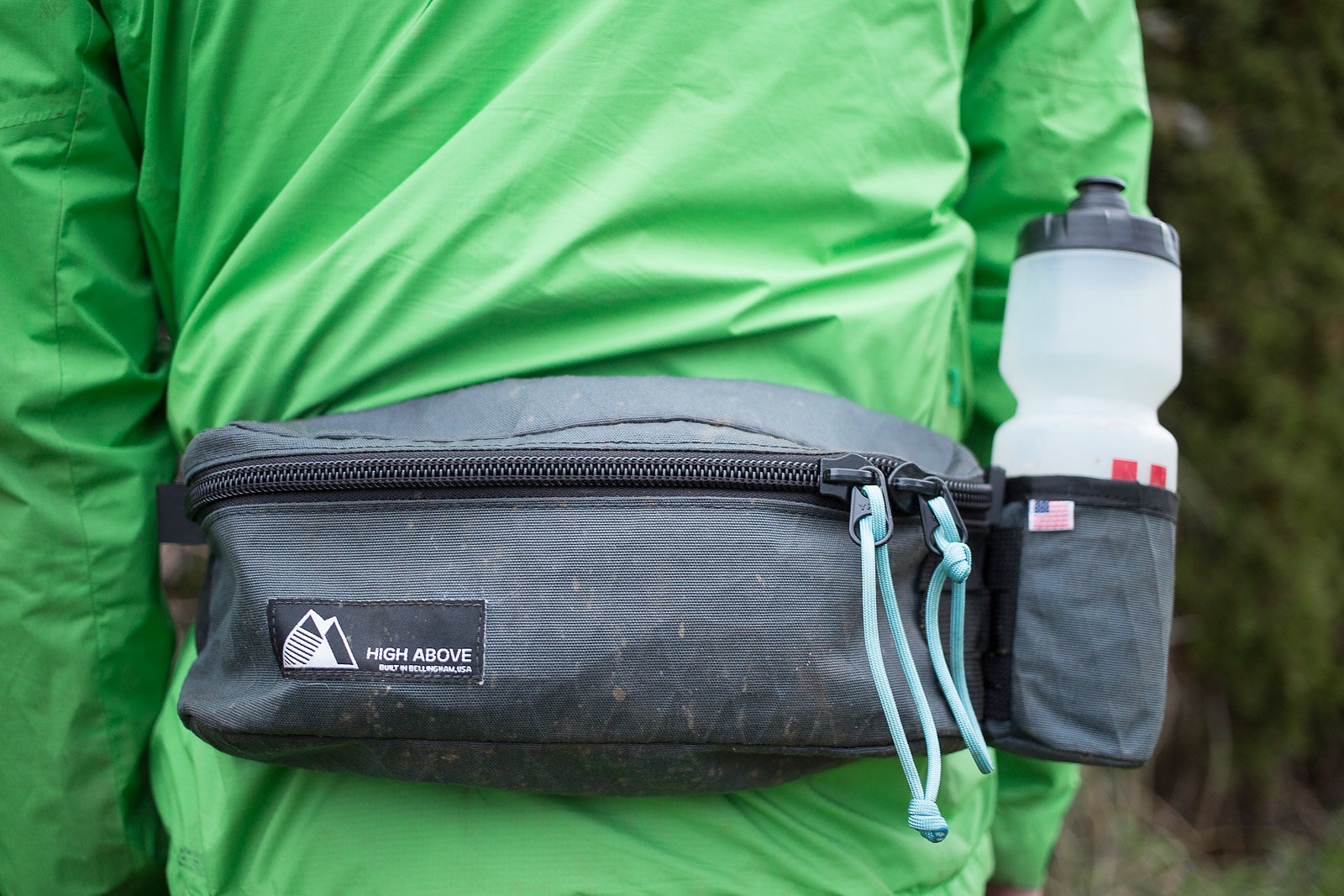 The Cascadia Hip Pack also features a breathable mesh back panel to enhance both ventilation and comfort on longer riders. The Das Rad Pack doesn't utilize mesh on the back, but we didn't find it to be uncomfortable, even when our quick rides unexpectedly turned into longer ones.
One of our favorite features of High Above's hip packs is their ability to be customized. You can select from a variety of colors for the body itself, as well as the zipper pulls and belt tabs. We found this comes in handy especially when you show up to the trail and everyone's rocking some dark-colored, tech-fabric pack. You can easily locate any High Above model in the twister-esque gear pile in the back of a pick-up.
Build Quality
The simple design and build quality are largely what makes this pack so great. The pack itself doesn't boast a plethora of proprietary technologies or special pockets for your iPhone, but what it lacks in fancy gizmos it more than makes up for with its quality and durability. This is a pack that will do its job every day for a long time. No fiddling, no one season and done, just a dependable place to put your essentials when you're on a bike.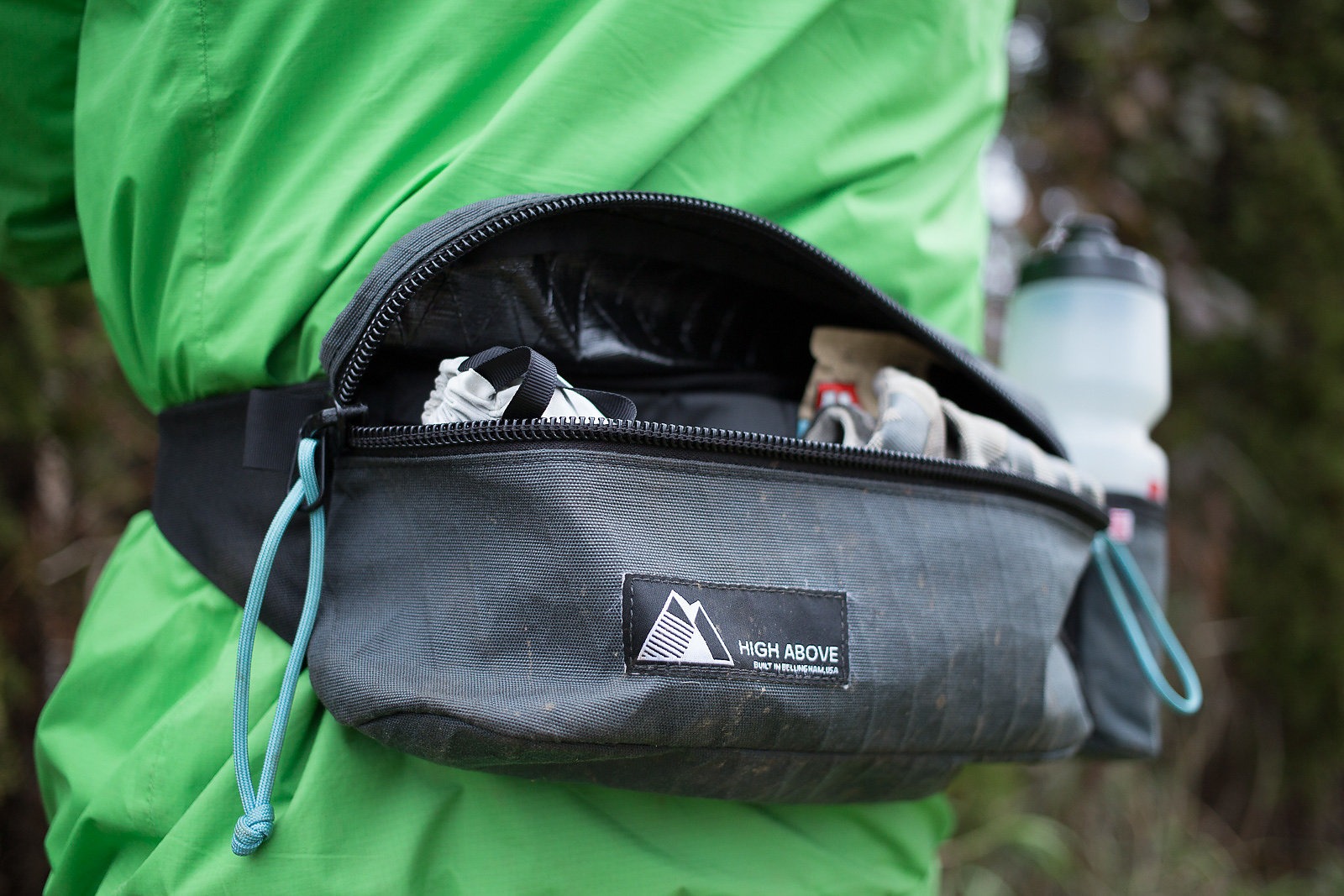 Ease of Use
The High Above hip packs performed well on the trail. We used our Das Rad Pack for the shorter days when we didn't need extra water or layers, just a tube, CO2 cartridge, a little food and a phone. For the longer outings, we grabbed the Cascadia, which features a removable water bottle holder and enough space for food, a thin layer, and some smaller extras.
When we first received the two hip packs, we thought the simple belt design may leave us wishing we had something a little more ergonomic, but it held the pack comfortably in place and did a good job of keeping it from bouncing around when descending. The oversized zippers and pulls also made it easy to access everything inside at a moments notice, even when wearing bulky bike gloves during cold weather riding.
Final Thoughts
The High Above hip packs are simple, high quality designs that checked off all the boxes we could ask for in a small and durable package. Sure you can find others with more bells and whistles, and some that will carry more stuff, but then why not just go for the whole proper backpack? The point of a hip pack—OK, fanny pack if your mind is in that rut—is that it blurs the line between a carry-it-all backpack and the minimal capacity of pockets. The High Above hip packs are a comfortable way to carry what you need, and also have a quality bag that can last a lifetime. And at a price of $60 for the Rad Pack and $75 for the Cascadia, they're a good deal to ensure you always have room for the essentials when you need them—whether it's a beer or a patch kit.