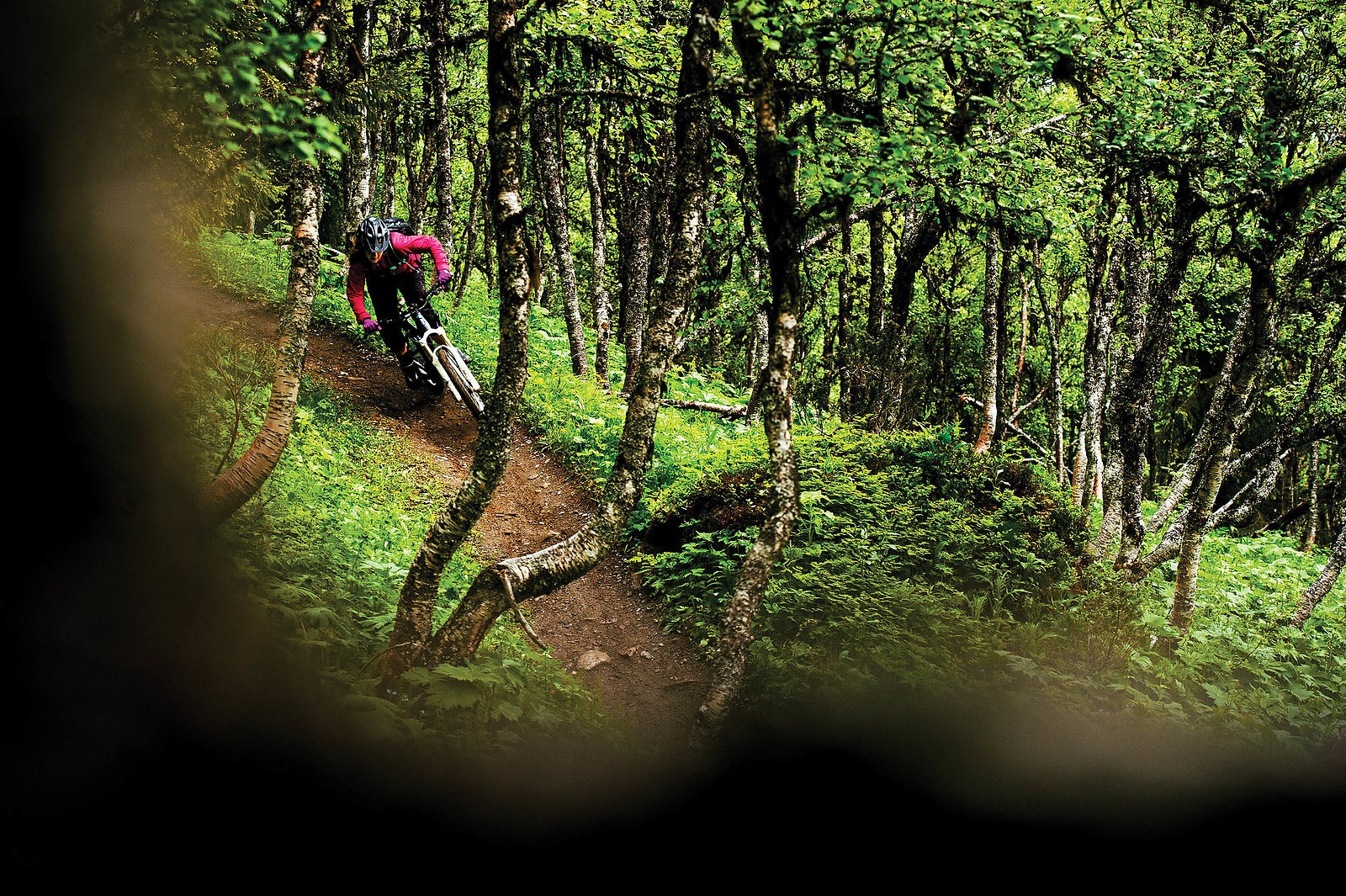 Finding Balance with Darcy Turenne
"I'm not a feminist at all," Darcy Turenne says. She is wandering North Vancouver's Park Royal Mall, getting her "city in," as she puts it, before going off the grid for another week in the mountains.
She's just returned from a stint filming skiing with Sweetgrass Productions near Golden, B.C., and will be returning with a snowboard crew—Whistler-based snowboard pro Marie France-Roy has asked her to direct a two-year environmental documentary. This is just one project of many in which Turenne plays a major role. From her thesis-based documentary on action sports athletes in Indonesia, which has screened at festivals worldwide, to commercial clients ranging from MTV to the Province of British Columbia, Oakley, Smartwater, Atomic Skis and beyond, Turenne's film resume speaks for itself. Not to mention the fact that she's a pro mountain biker—and one of the first females to build a career on freeriding rather than racing.
Now 28 years old, Turenne has a Bachelor's Degree in Environmental Studies from the University of Victoria and a Master's in Cultural and International Communications from Victoria's Royal Roads University. As an athlete, the Comox, B.C. native has graced the pages of dozens of magazines internationally, including the cover of Bike Magazine in the U.S. and Sweden's PEDAL, while riding for Norco Bicycles, Oakley, Shimano and Dakine. Both achievements have taken her around the globe—riding in China, filming in Georgia, riding in Bolivia, filming in Rwanda… the list goes on. Yet through it all, Darcy remains humble and appreciative of her place in the world—just as happy making a trip to Vancouver Island to hang with her grandmother as going for a pedal near her Squamish, B.C. home, or filming music videos in the Eastern Bloc.
Feminist or not, Turenne is breaking ground for women in action sports on both sides of the lens.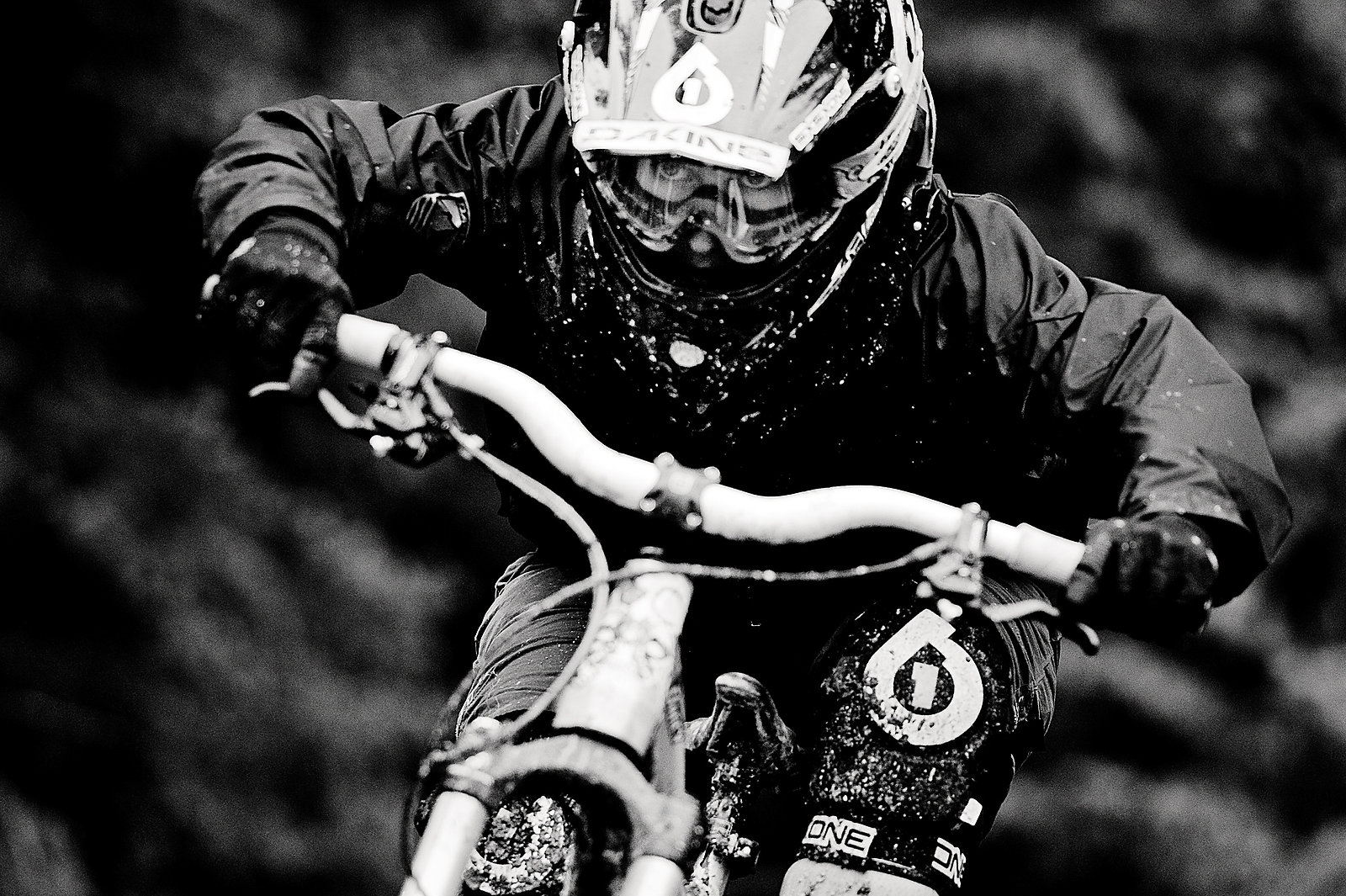 How was it growing up in Comox?
Comox was the perfect breeding ground for mountain bikers and skiers, for outdoors people in general. I lived in suburbia like every other kid, but with Mt. Washington there and endless bike trails all around the valley it was hard not to become a mountain biker.
When did you see riding as a potential career?
From the first time I went, which was in grade eight with my librarian, I knew I was going to be a pro mountain biker. I just knew that's what I wanted to do. I was racing and riding all through my undergrad degree—my degree was more of a peripheral thing. Some of my professors would even write on my papers, "Your mind is not here, is it?"
It never really crossed my mind that I wouldn't be a mountain biker. Then when I was 23 it became a financial reality. That was shocking—that I could actually make a living at it took my breath away.
Were you racing then?
I quit racing before I started making any money. I was doing trips, learning tricks, pitching ideas to magazines and spearheading a lot of media initiatives with myself as the subject. I'd team up with photographers—Harookz and I worked together a lot in the beginning. I was marketing myself as a freerider because all the guys were doing it. No girls were doing it and I thought that was kind of silly. I hated racing.
You had a TED Talk about women and femininity in sports. Can you tell me about that?
My TED Talk was a product of my master's thesis project where I went to Indonesia and made a documentary about female action sport athletes there; how they negotiated around gender stereotypes as an athlete in a male-dominated society.
Some guy saw me speak at Pecha Kucha Night and he was from TED and asked me to do it. I sent my application over and they said, "Great, you're in." Which was super scary; I didn't think I'd actually be accepted. It spearheaded from my own career and everything is so intertwined, but I'm definitely not a feminist at all. It was more about observations of how women handle themselves and prove themselves and negotiate through this male-dominated action sports world.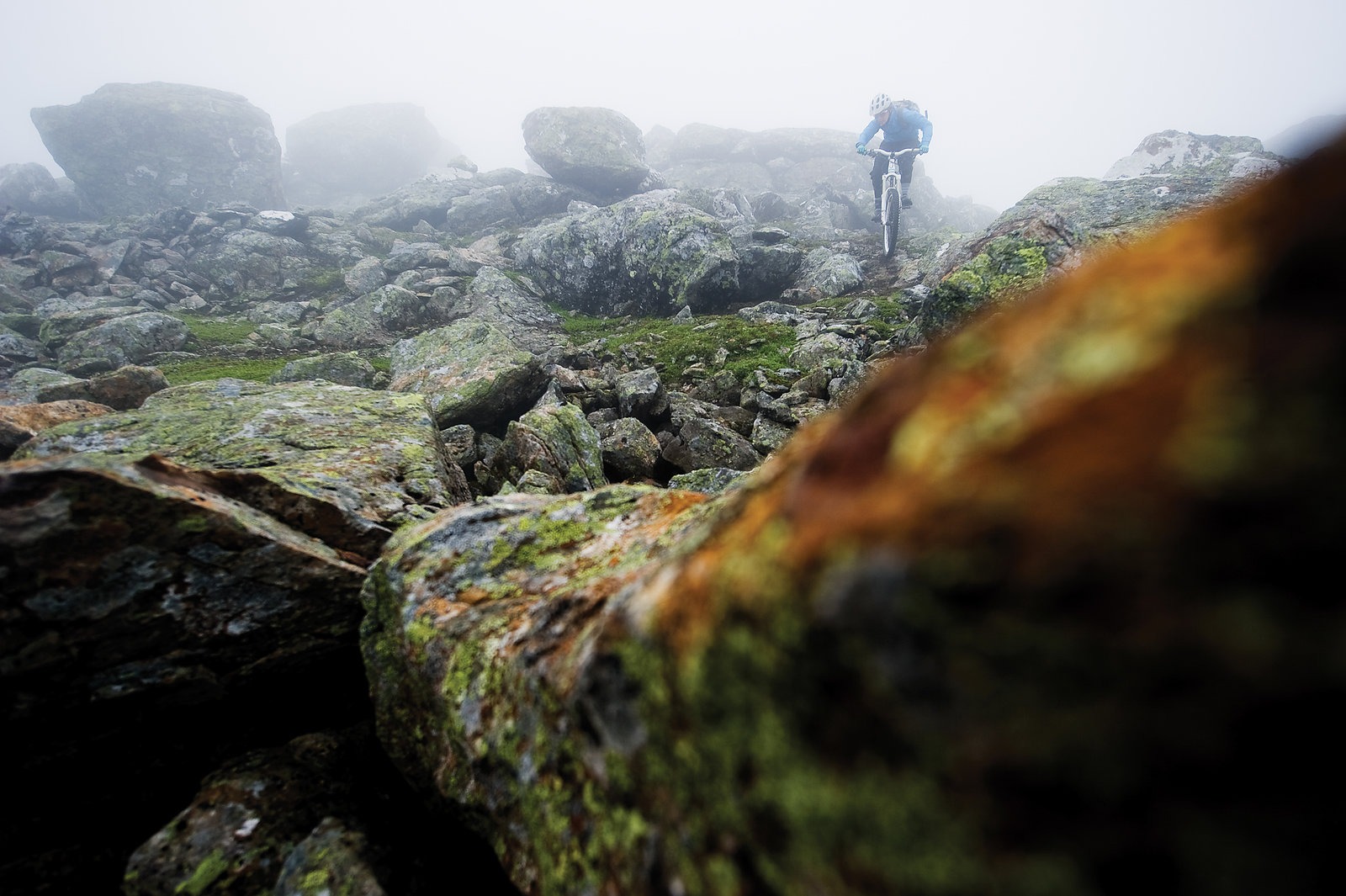 How have you navigated gender roles in your own career?
I used my sexuality a lot more when I was younger. I saw that's what a lot of successful girls were doing, so I did it. I thought that was the model and you had to do that in order to get recognition, which is super bad. There were a lot of top skiers who I looked up to and I wanted to do what they were doing with skiing, but in mountain biking.
Now I have a pretty solid career behind me and a lot of other things to talk about so I don't have to rely on looks at all anymore, or sexuality. I changed my approach—I don't think I would pose like I did when I was 22. I'm able to see that's not maybe the best way to do it. Or maybe it is, but my decisions would be different now than when I was younger.
How did you get into film?
I didn't want to write my thesis paper, it was going to have be really long [laughs]. I'd always wanted to make a documentary and I never had the means, time or motivation to do it, so I convinced my school director to let me do a documentary instead of the paper. He said go for it—I said I worked in television and knew how to do it, but totally didn't. I had to go buy a camera and figure out how to make movies, which was quite the undertaking. I made so many mistakes and I learned so much so quickly. It did come pretty naturally; I'd dabbled in all sorts of art forms. It's nice because its visual, its auditory, all sorts of medium combined. I just picked it up.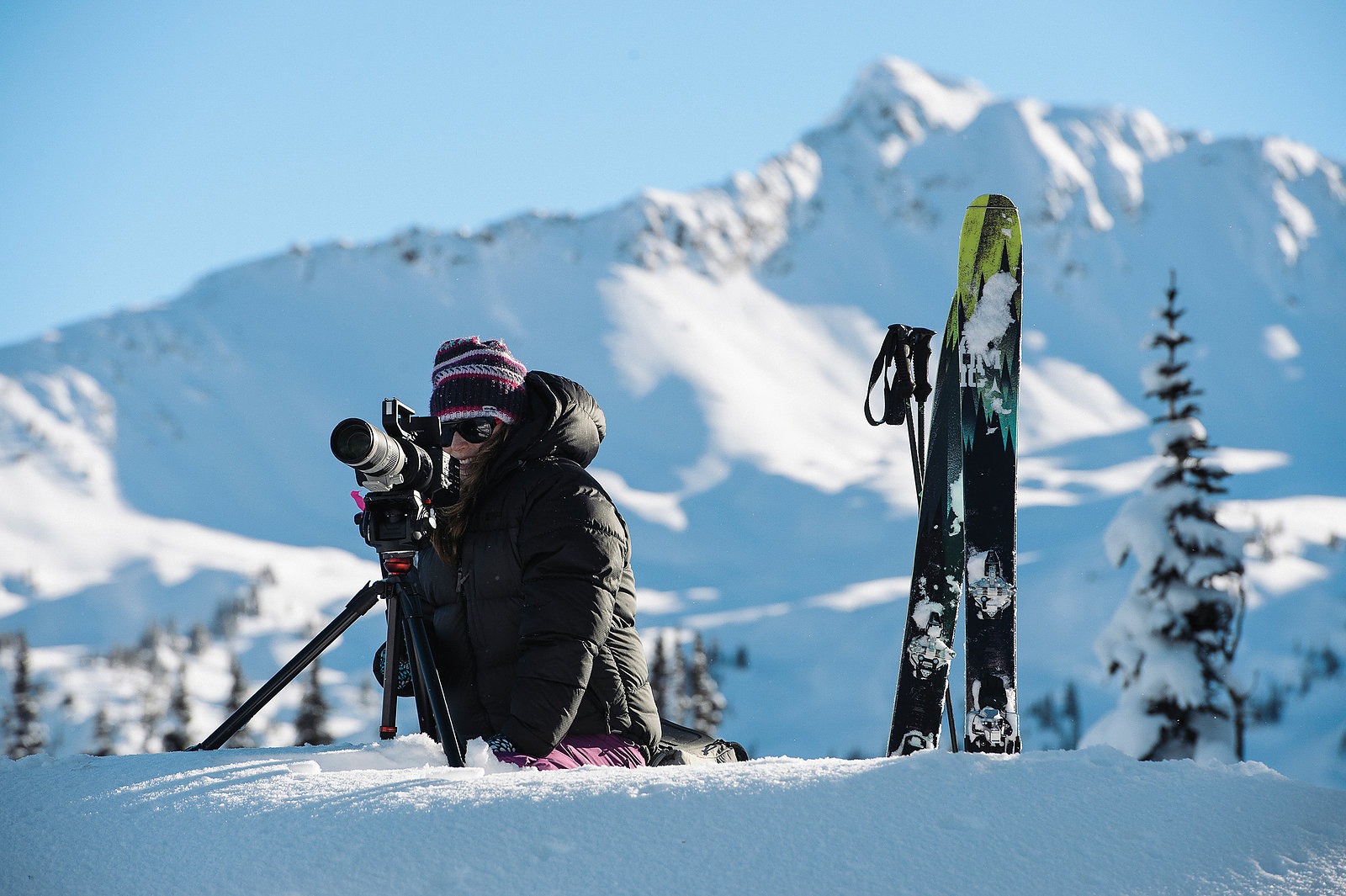 What's your balance between filming and riding nowadays?
The balance switched pretty quickly. It led to being a side gig, and now I could do film work every single day of the year if I accepted all the jobs that are coming along. I'm trying to balance—in the summer I'll do less film because of mountain biking, but over the winter I've been working a ton. I'd say it's 50/50 right now, if not more filming.
Do you want to move more towards film in the future?
I want to start doing actual films, like fictional scripted films with a crew. I want to make that transition in the upcoming years. I'm starting to dabble with short films and music videos and action sports related film. I want to go that direction.
Shooting action sports is by far the best practice that you can have for scripted film work because trying to shoot a skier through a 200 mm lens is like trying to follow a jaguar in the savannah. They're going so fast, you don't really know where they're gonna go. It's the most amazing practice for shooting and planning and having a pre-determined vision.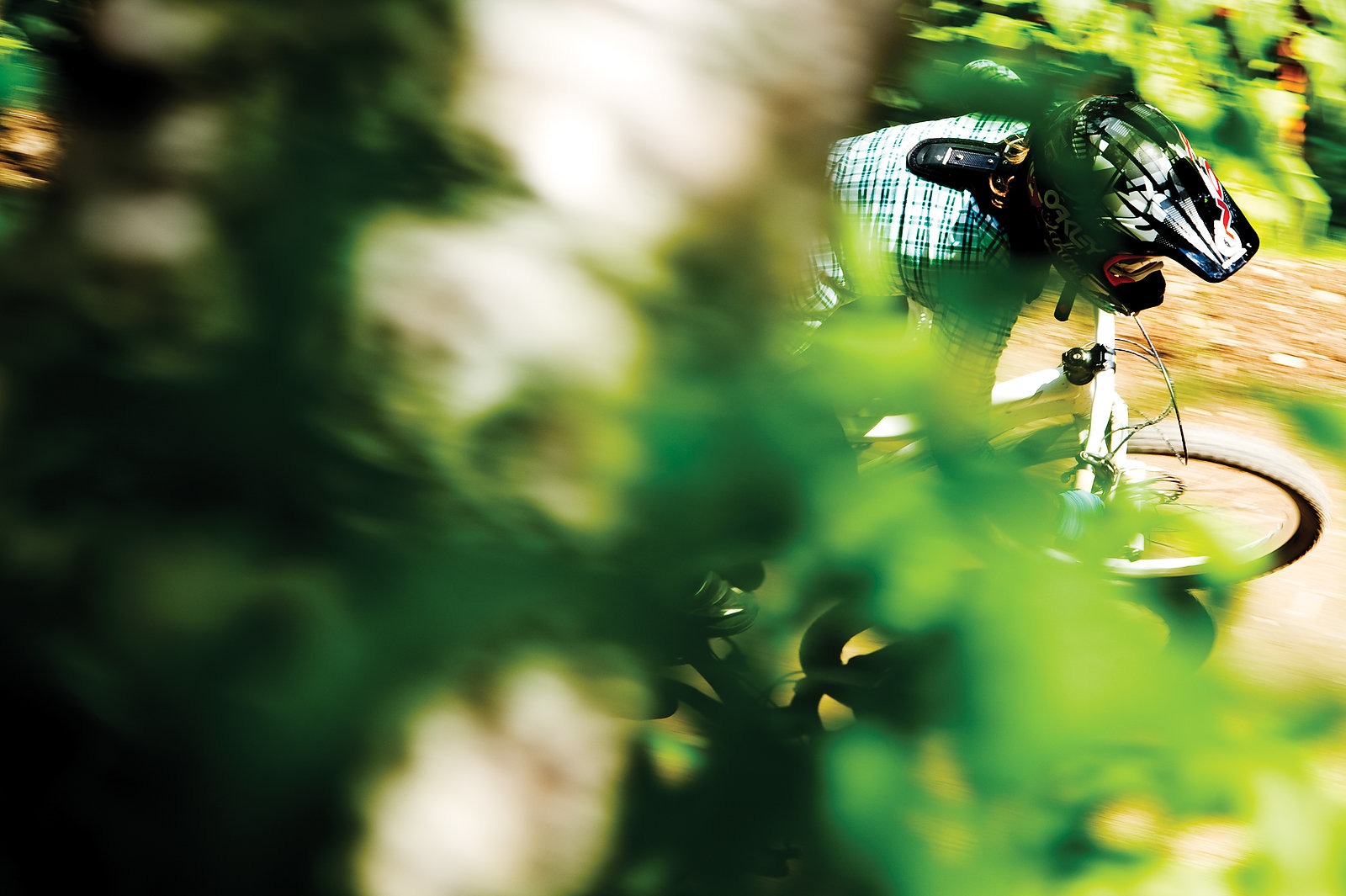 You've been all over the world as both a filmer and an athlete. What was your weirdest experience?
Last year in January, my friend Walid [Azami] was asked to make music videos for the biggest pop star in the republic of Georgia, named Bera. I was the director of photography. Turns out Bera is a 17-year-old billionaire, the son of the richest man in Georgia, and he's albino. He had the craziest production crew, Janet Jackson's songwriter, and all these people working for him. He was the Michael Jackson of Georgia, or the Justin Bieber maybe.
When we went over, his dad was running for President and he's since been elected. At the time it was super tumultuous. The existing government had banned all of their music from the radio, he couldn't be on TV, on YouTube; if you were caught listening to him you would get arrested. We'd have these huge Land Rovers with security guards in them, people following us with cameras, some guy showed us a gun, there were government thugs following us everywhere we went. We were there two weeks filming, but he was so busy with the election that we only ended up being able to shoot one music video. It was such high security craziness and such intimidation tactics from the government in power, it was surreal.
Bera's house was rediculous, it was like this glass spaceship with Picasso paintings, an eight-foot Warhol... crazy opulence I've never experienced before. All the while we're there to shoot this albino 17-year-old wannabe R&B rap star. Google him. You'll never see the music video we made.
Do you have Bera fever?
Big time. He asked me to have sex with him at least 10 times.
Last question: Do you ever find time to slow down?
Yeah, my life is pretty cruisy these days. I have a lot of time to go skiing, time with my family on the island. My life is more go-go-go, working long days, then when I get home I slow down. I'm really good at being lazy sometimes.