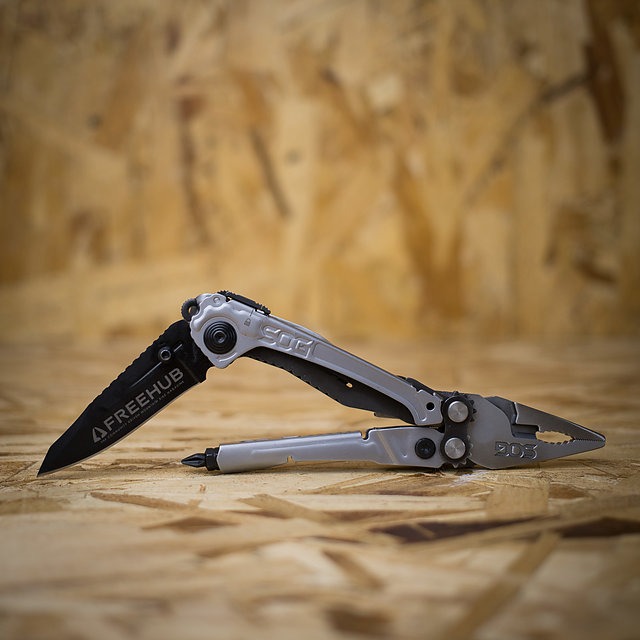 Freehub Reactor Multi-Tool SOG Collaboration
Description
Retail $64.00 Now Only $20.00 (69% off)
The Reactor is a nifty little unit that has been designed with "Oh Shit!" moments in mind. Small and nimble, it provides the essentials. It might not have every too for every job, but you can definitely count on it to get done what it wasn't designed for. It's perfectly at home in dark places (like the bottom of your riding bag or a car glove compartment) and gets immense satisfaction out of coming to the rescue. We've found it ideal for breaking things that are stuck in ways they shouldn't be, shot-gunning beers and delivering a simple (although usually temporary) fix to mind-boggling mechanical problems. It pairs nicely with a roll of Duct Tape when possible.
Tool Count: 10
1) Assisted Opening Straight Blade
2) Bolt/Nut Gripper
3) Bottle Opener
4) Hard Wire Cutter
5) Lanyard Ring
6) Large Flathead Bit
7) Magnetic 1/4" Hex Driver
8) Needle Nose Pliers
9) Phillips Bit
10) Wire Crimper

From SOG: Housing a total of 10 components including a hardcased black coated stainless steel assisted blade and powerful Compound Leverage geared pliers, the Reactor proves to be a great folding knife and multi-tool. Retaining the easy opening characteristic like those found in other assisted folding knives was a main priority. Utilizing SAT (SOG Assisted Technology), a quick push of the thumb stud propels the hardcased black coated blade open and ready for action.
The Reactor's shape fits firmly and securely in a hand. Tucking the blade back in and flipping the handle reveals the patented Compound Leverage pliers. The SOG-exclusive gearing doubles the grasping force of the jaws for more powerful grip and to reduce stripped hardware. The assisted blade and Compound Leverage pliers with the other essentials make the Reactor a capable and versatile tool.
Share
Clearance