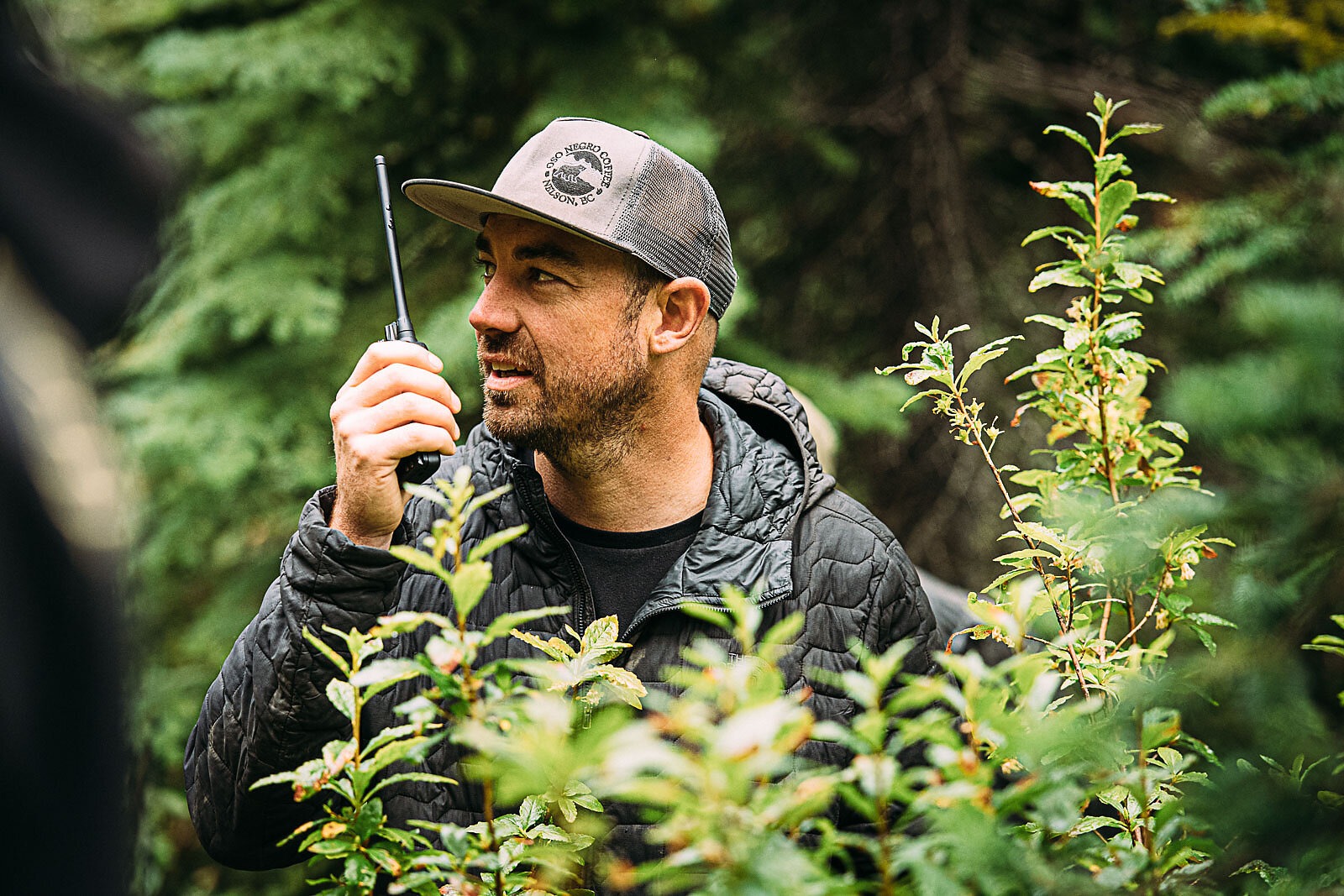 The Reel Deal The Quiet Authority of Jeremy Grant
Daylight is fading as we pack up our gear from various ridges of a past Red Bull Rampage venue in Virgin, Utah.
Our crew has been here since 9 a.m. filming with Cameron and Tyler McCaul for Teton Gravity Research's new film, Accomplice. Snow has been forecast, which means our filming window is about to close. Exhausted, we meander through the area's signature red dirt toward the trucks below, with spicy margaritas and nachos on the brain.
Halfway down, director Jeremy Grant pauses with a tripod slung over his shoulder and takes in the view. Across from us is another orange-hued spine that winds down to the valley floor. Jumps and runouts spill over its ledges. Some are still rideable, while others need a bit of love. Cameron joins Grant and the two retrace old runs. They reminisce about unforgettable moments, like Cam Zink landing his legendary step-down backflip in 2013. Or Brandon Semenuk's groundbreaking contest run in 2008, at only 17 years of age—which took him to the top of the podium and proved he was more than just a slopestyle kid.
During the last few months of working with Grant, I've come to appreciate these walks down memory lane. They're impromptu mountain bike history lessons, especially when you consider Grant's involvement with every Rampage since the event's inception. He's seen it all, only through a viewfinder. The list of influential athletes he's filmed over the years is a veritable Who's Who in the history of freeride mountain biking. But since he's so easygoing and nonchalant, it makes it difficult to grasp what a badass he is.
Grant grew up during the golden age of ski films. Early on, skiing had Warren Miller, who was like Sinatra—classy and timeless. Then the '90s came along and companies such as Matchstick Productions and TGR brought Metallica and Bob Marley to ski-film soundtracks. Equipped with 16mm film, they ventured to re- mote parts of Alaska and Europe with dreams of skiing bigger and bolder lines. Spine-slashing and cliff-hucking moves were set to meaty guitar riffs, and Grant was hooked from the moment he first saw these feats. As a 15-year-old growing up in Nelson, British Columbia, the films left an unshakeable impression on him.
Wanting to emulate his heroes of the silver screen, Grant would stash his parents' video camera in his backpack before heading off to join his friends on the slopes. Trying to create a full-length ski film proved tough, however, since no one in his crew was eager to hold the camera. Even Grant himself vied to be in front of the lens. But when the snow melted, all that changed.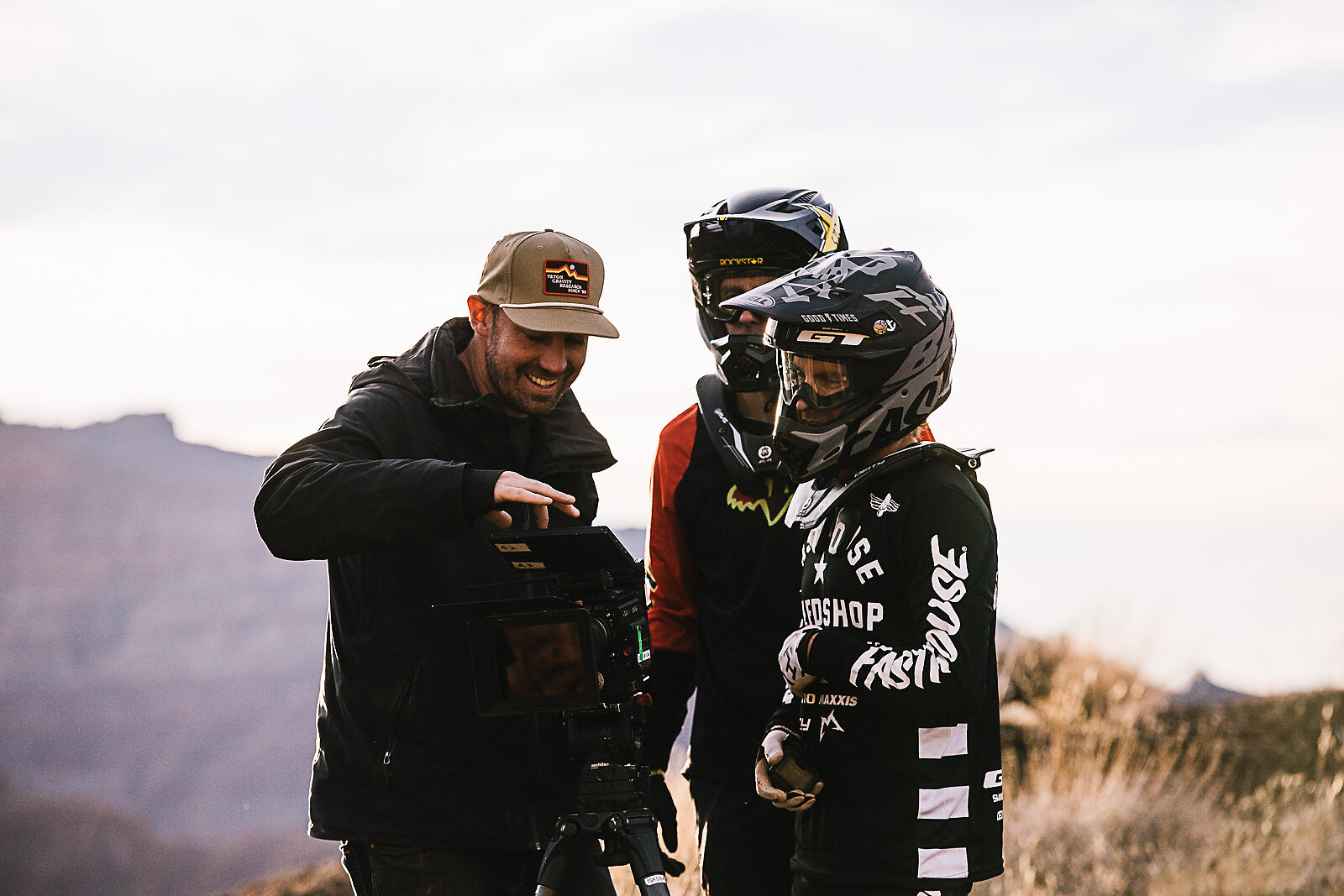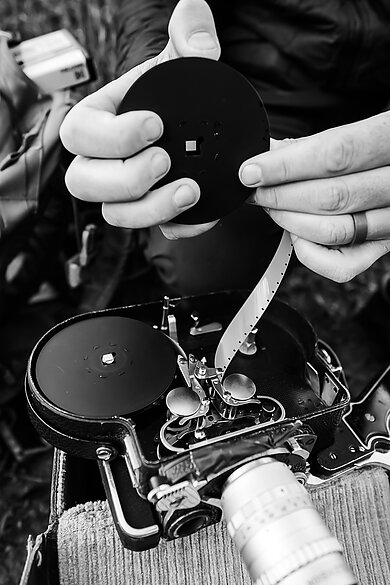 With summer came mountain bike season and Grant and his posse kept at it. His friends started throwing 360s and hitting 30-foot drops on their downhill bikes, and he realized he was perfectly content to document from the sidelines. Not only were freeride pioneers such as Mike Kinrade, Dylan Tremblay, Joe Schwartz and Robbie Bourdon some of Grant's best riding pals, but they all graduated together in the same high school class.
"I was just filming my buddies, and I was lucky enough they turned into some of the best riders in the world," Grant says.
Eventually, he got the itch to orchestrate a proper film. Assuming the role of director and cinematographer, he teamed up with Kinrade. With zero sponsors, they were fueled only by their passion and whatever free bagels they could scrounge from Safeway. After chasing Kinrade around the woods with that same camera, Grant cut the footage and made a short film, Simple Pleasures. The film debuted to the local Nelson crowd and all revenue earned was vaporized at the bar afterward. Following the premiere, they packed their belongings into Kinrade's truck and trav- eled throughout Canada and the U.S. as part of a grassroots film tour. Penniless, they repeated the process annually for four years and became rich with experiences. If they were lucky, they'd score a free bike.
"There was no one to look to as far as role models," Grant says, reflecting on the early days of freeride mountain biking. It was the Wild West. And because the discipline was so young, there weren't any rock stars or overbearing egos.
As freeriding became more widely accepted in the mountain bike community, so did Grant's career as a storyteller. His equivalent of film school was lugging tripods around for renowned filmmaker Bill Heath, who cut his teeth with Warren Miller. Thanks to a mentorship program in school, he had become Heath's assistant camera- man and editor, happily setting up the tripod as Heath captured skiers on rolls of 16mm film.
Eventually, Grant got the bug to make his own film series with Kinrade. Their idea caught the attention of Derek Westerlund, an up-and-coming filmmaker whose New World Disorder series helped catapult freeriding to the sport's upper echelons.
Westerlund used his background in the snow-sports industry to convince ski photographers to join him and his friends on bike trips to off-the-beaten-path parts of Utah, where they would mimic the methods of big-mountain skiers by riding their bikes down rugged chutes without the slightest hint of a trail.
"Think about skiing and snowboarding; those guys were getting to go to Alaska to pioneer those mountains. That's what we wanted to do with our bikes," Westerlund explains.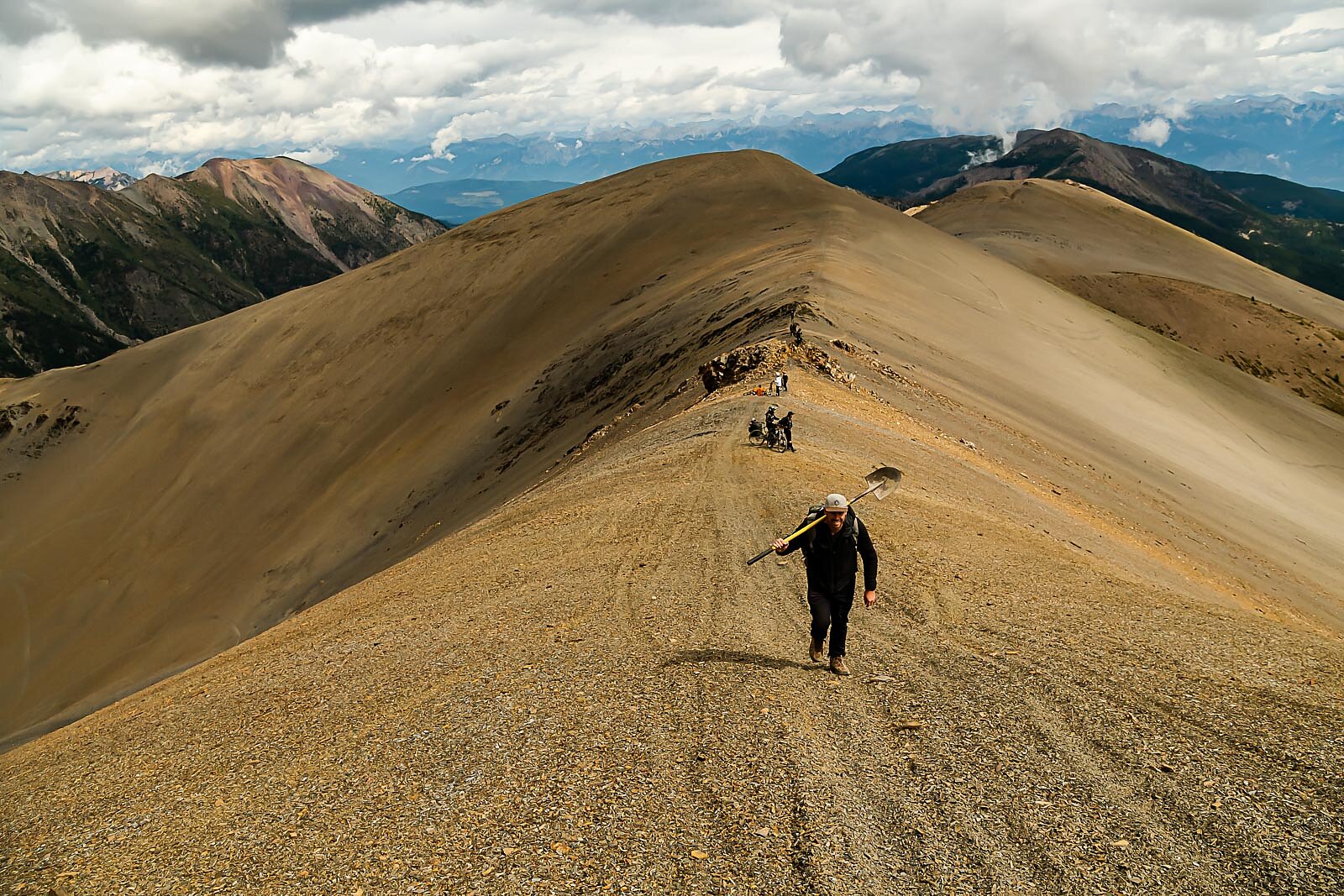 In 1997, Westerlund launched his own production company, Freeride Entertainment, and offered Grant a job. He suddenly went from being a oneman show to part of a team of creatives vested in showcasing the growing freeride segment. Over the next decade, Freeride produced 10 NWD films that essentially chronicled a pivotal era of the sport's progression. From the unforgettable moment when Wade Simmons cleared a giant road gap over a Marzocchi truck to the time that Andreu Lacondeguy landed the first double backflip, each new breakthrough was documented by the Freeride team and shared with the world.
"The list of sport-redefining moments in that series would take a small novel to write," Grant says. Each year, impressionable young riders loaded their VHS players with the latest NWD film and watched their heroes do the impossible. They would then retreat to their own backyards and try to emulate those heroes, eventually mastering their own tricks and spawning a new generation of freeride-oriented mountain bikers.
For the NWD athletes themselves, the opportunity to star in their own segments gave them the space to push themselves without the pressure of contest results.
"You can take as long as you want to make tricks happen, and nobody is judging you," says Zink, who first appeared in a NWD film in 2004. "It's complete freedom from a rider's perspective."
For Grant, that first editing job with Freeride opened doors to creative freedom, and he evolved into a cinematographer and creative director—even directing his own films, such as Where the Trail Ends and North of Nightfall. For those proj- ects, he and his team brought mountain bikes to untrammeled destinations like the Himalaya, the Gobi Desert, the Andes and the Arctic, where they dodged Arctic wolves and lumbering musk oxen.
Even though cameras and editing technology have become more sophisticated compared to those early days with Kinrade, one thing has always remained a constant in Grant's work: the people. From film crews to athletes, Grant considers this community to be family, and that sentiment bleeds into his work.
"I really care about these people, and it felt like robbing the audience not sharing who these riders were."—Jeremy Grant
"I really care about these people, and it felt like robbing the audience not sharing who these riders were," Grant says.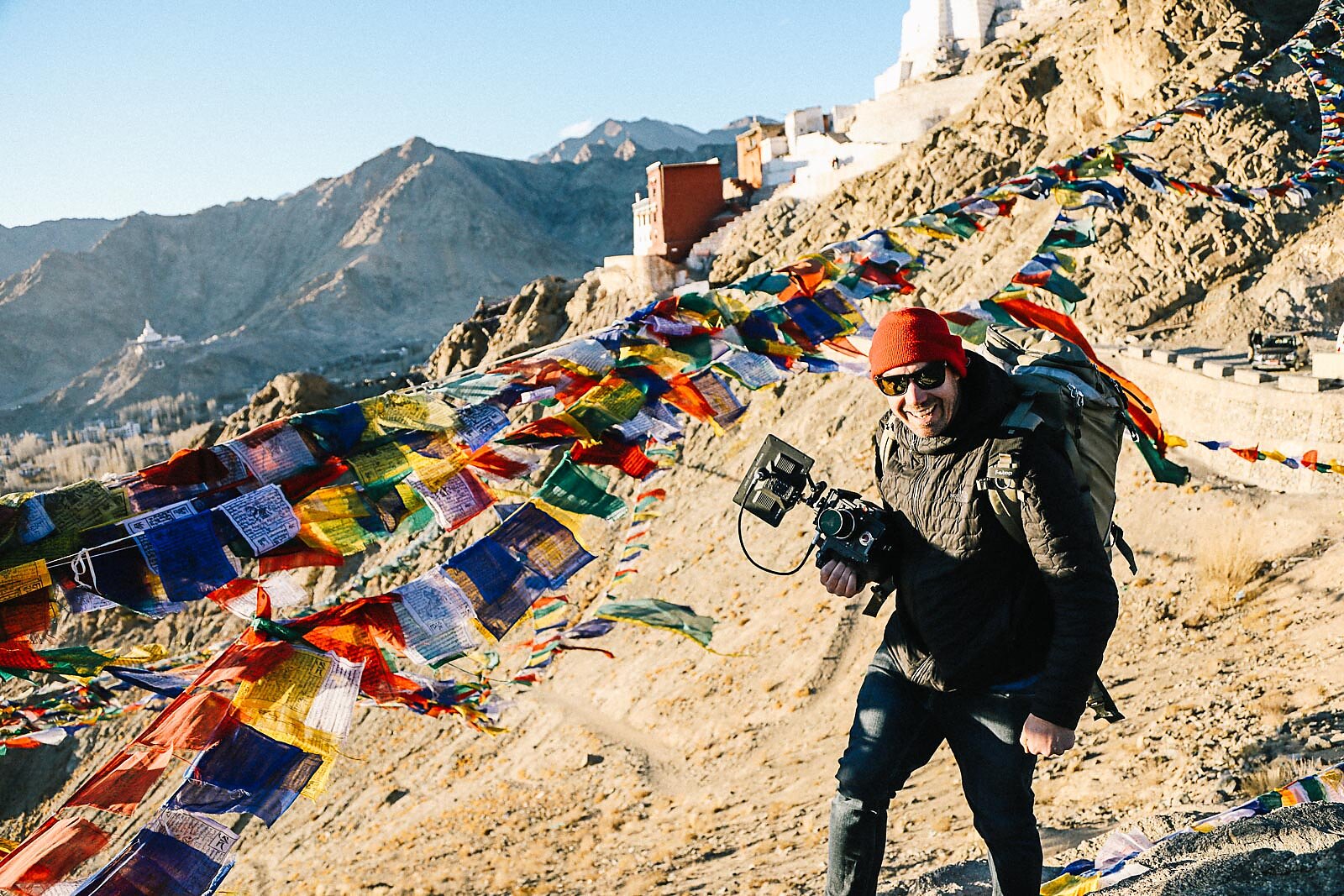 In his eyes, athletes aren't stunt monkeys. They're thoughtful, calculated and even vulnerable—and Grant shows these human traits in his films. We hear about the riders' doubts and fears. We agonize with them while watching their struggles and we celebrate when witnessing their victories, thanks to the empathy Grant shows when telling each character's story.
"He's been creating heroes, compassion and compelling stories through narratives rarely ever found in our sport," Zink says.
In his new film, Accomplice, storytelling is still important to Grant, although the overarching theme has shifted. Unlike previous projects, in which progression and exploration drove the narrative, Accomplice is centered on celebrating what he views as the ultimate sidekick: the bike. In a nutshell, it's a love letter to this twowheeled machine.
"I'm not the best mountain biker, but I love it," Grant says. "I don't do the craziest tricks, but I'll still get out there. So, for me, I found myself wondering why mountain biking resonates so much with me, and it's the people, the community and the places it brings me."
This recently became more evident at his nephew's birthday party, as he watched the 4-year-old tear through wrapping paper to reveal a Walmart Buzz Lightyear bike with training wheels. It's a moment we all know. Whether we're 4 or 40, getting that first bike sparks something beyond words.
Part of Grant wanted to tell his nephew about the door he'd just torn open—the friends he'll make on this and future bikes, the places he'll go and the incredible things he'll see. But that would ruin the fun of it all. Once he starts pedaling, he'll see soon enough.