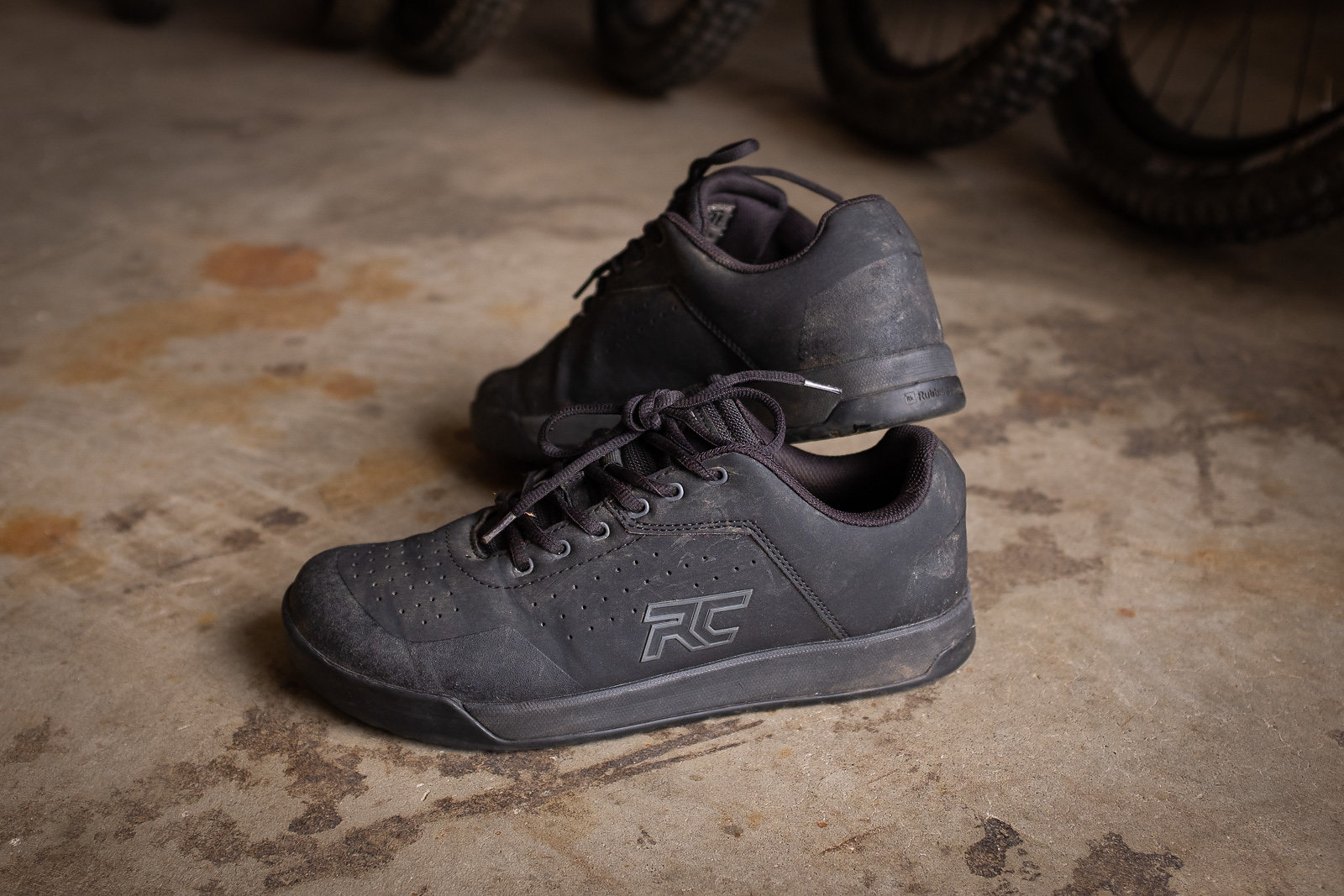 Ride Concepts Hellion Shoe Review
Biking without shoes seems like a pretty bad idea. I haven't tried it, but I don't want to either.
Correct me if I'm wrong here, but in my opinion, shoes are one of the few true necessities for mountain biking. And while any old shoes can certainly do, there are plenty of upsides that come with dropping into a nice pair of riding shoes.
For most of the winter riding season, I'd been using some beefy high-tops to keep the elements out. But with the swampy days slowly coming to an end, I was looking for something a bit slimmer and lighter that could carry me through the summer season and be suitable for pedaling, shuttling and everything in between. Simultaneously, I wanted to see what Ride Concepts was all about, so I picked up a pair of their Hellions.
Relatively new to the mountain bike world (they debuted their first shoes in fall 2018), Ride Concepts was founded by a team of action sports industry veterans who were looking to shake things up in the shoe game. With a full lineup of flat and clipless shoes, they've certainly got something for every style of riding.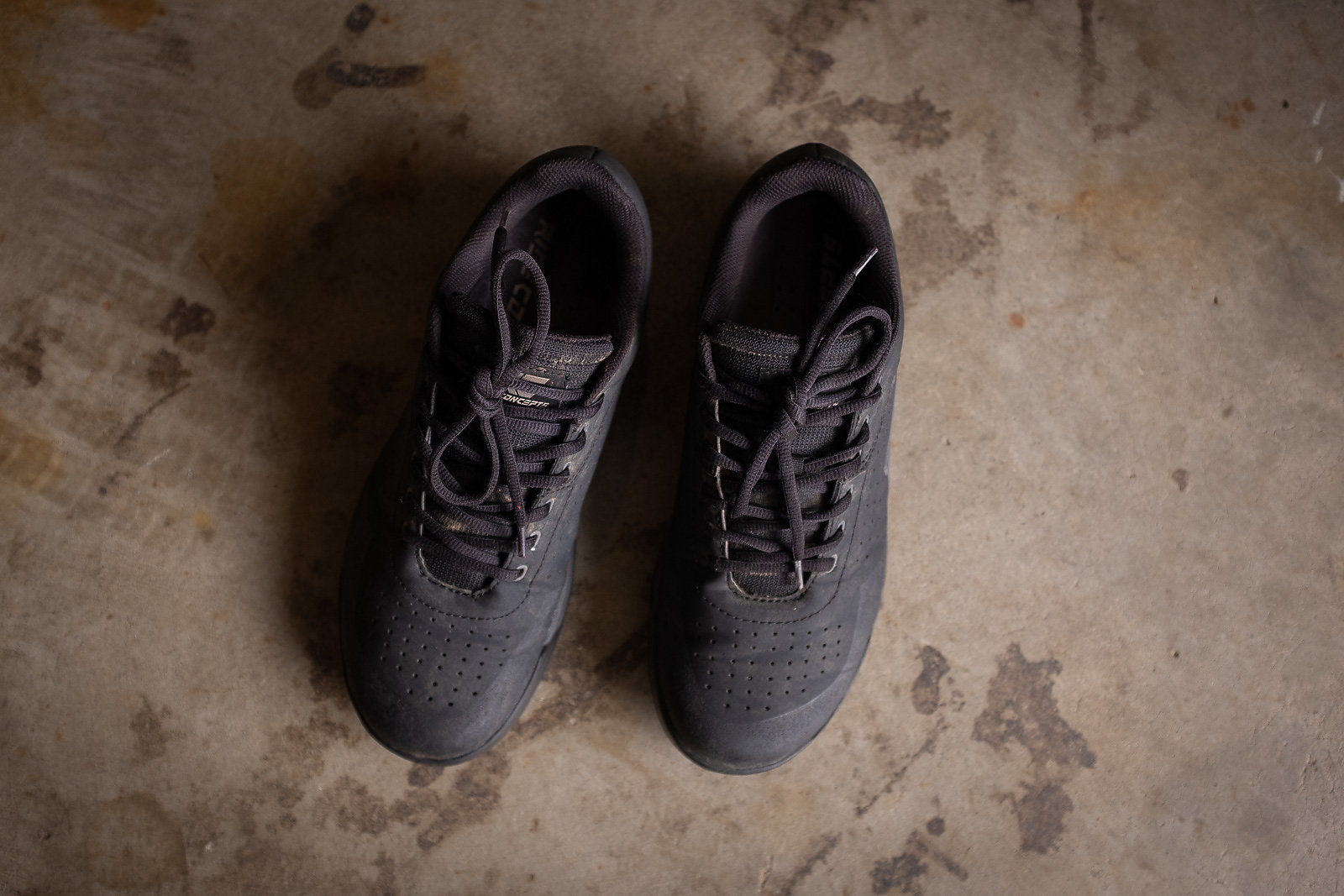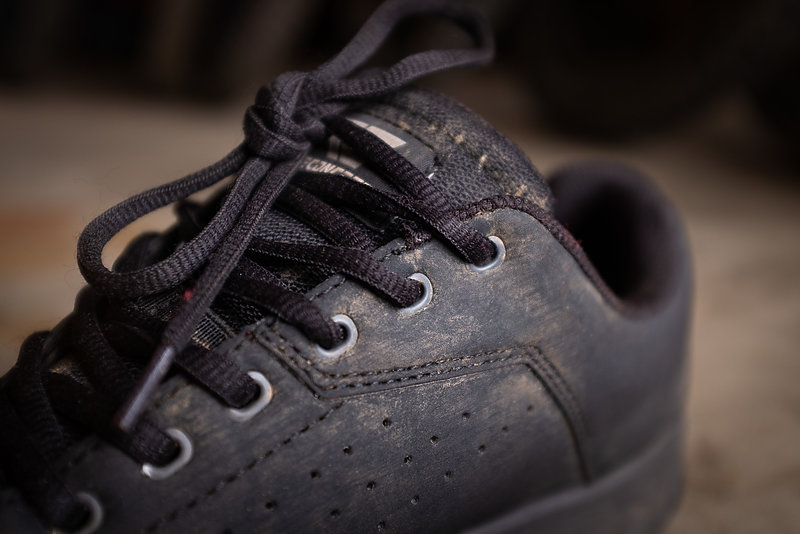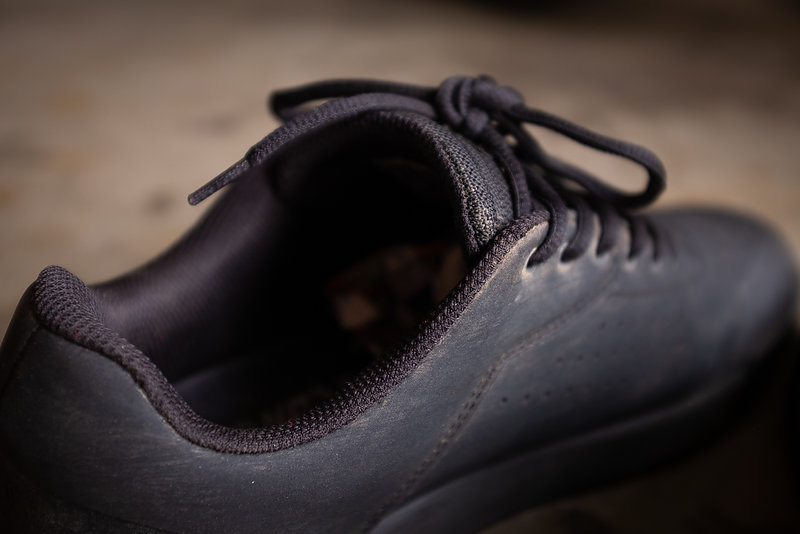 I went down a half size to a 9 (I usually wear a 9.5) and was happy to find the shoes had a snug fit without being overly tight. I do have to be mindful with my socks, as pairs on the thicker side do make things uncomfortable, but overall they fit great. I have a feeling the 9.5s would have worked equally well and just allowed for a thicker sock.
As for overall size, the Hellions are pretty slim and certainly far from bulky—exactly what I was looking for. The tongue is nice and thin, as are the sides around the ankle bone. The toe on the other hand is surprisingly firm, a welcomed difference from a lot of other shoes I've worn. The soles are pretty stout and stiff as well, although still very comfortable to walk around in. Some shoes I've had in the past felt like two-by-fours under my feet, and I'm happy to say that's not the case with these.
The rubber used on the bottom of the Hellions is Ride Concepts' DST 6.0 "high grip" rubber. Developed in conjunction with Rubber Kinetics, the array of rubber compounds offered by Ride Concepts ranges from their 4.0 "max grip" through the 6.0, to their 8.0 "mid grip" used on clipless shoes. Sitting in the middle, the 6.0 has proven plenty grippy on every surface, yet impressively durable—quite often the downside to extremely tacky compounds.
Between the soles and your feet are insoles with D3O impact protection in the heels and toes. D3O is a widely known and respected company when it comes to padding in the sports world, offering light and breathable impact protection. The material is strategically placed in the insole to absorb impacts in the most effective places, notably the ball and heel of your foot.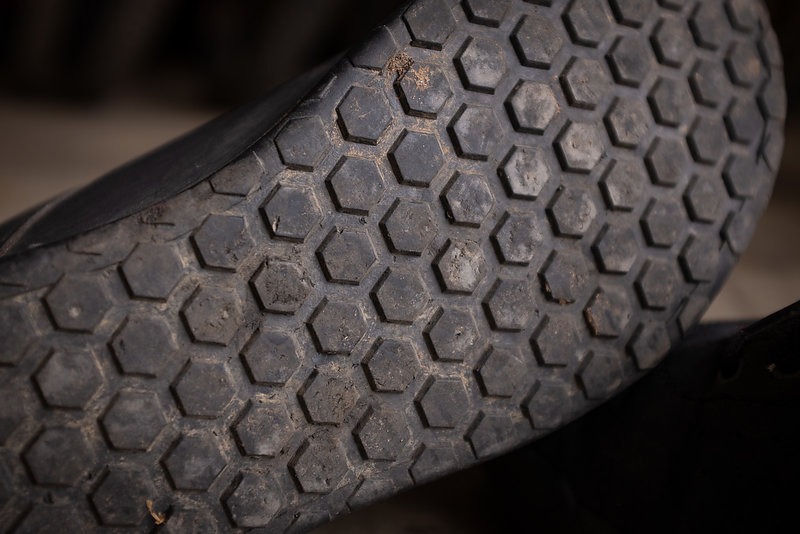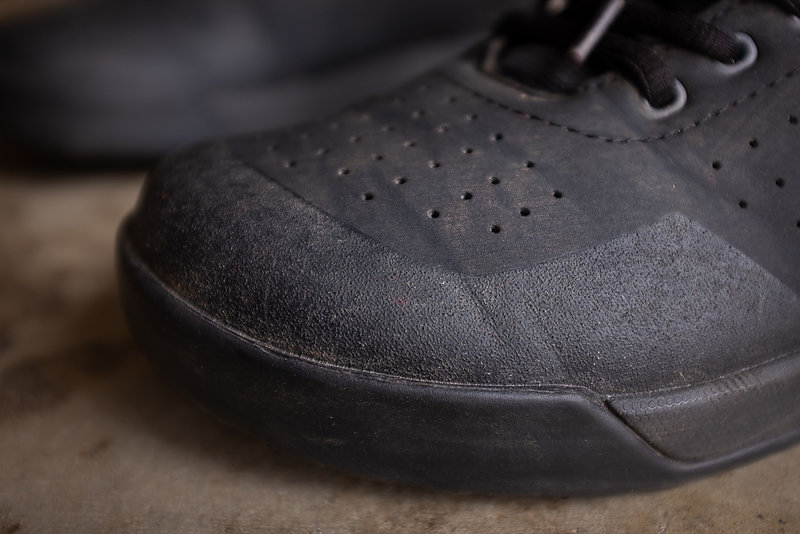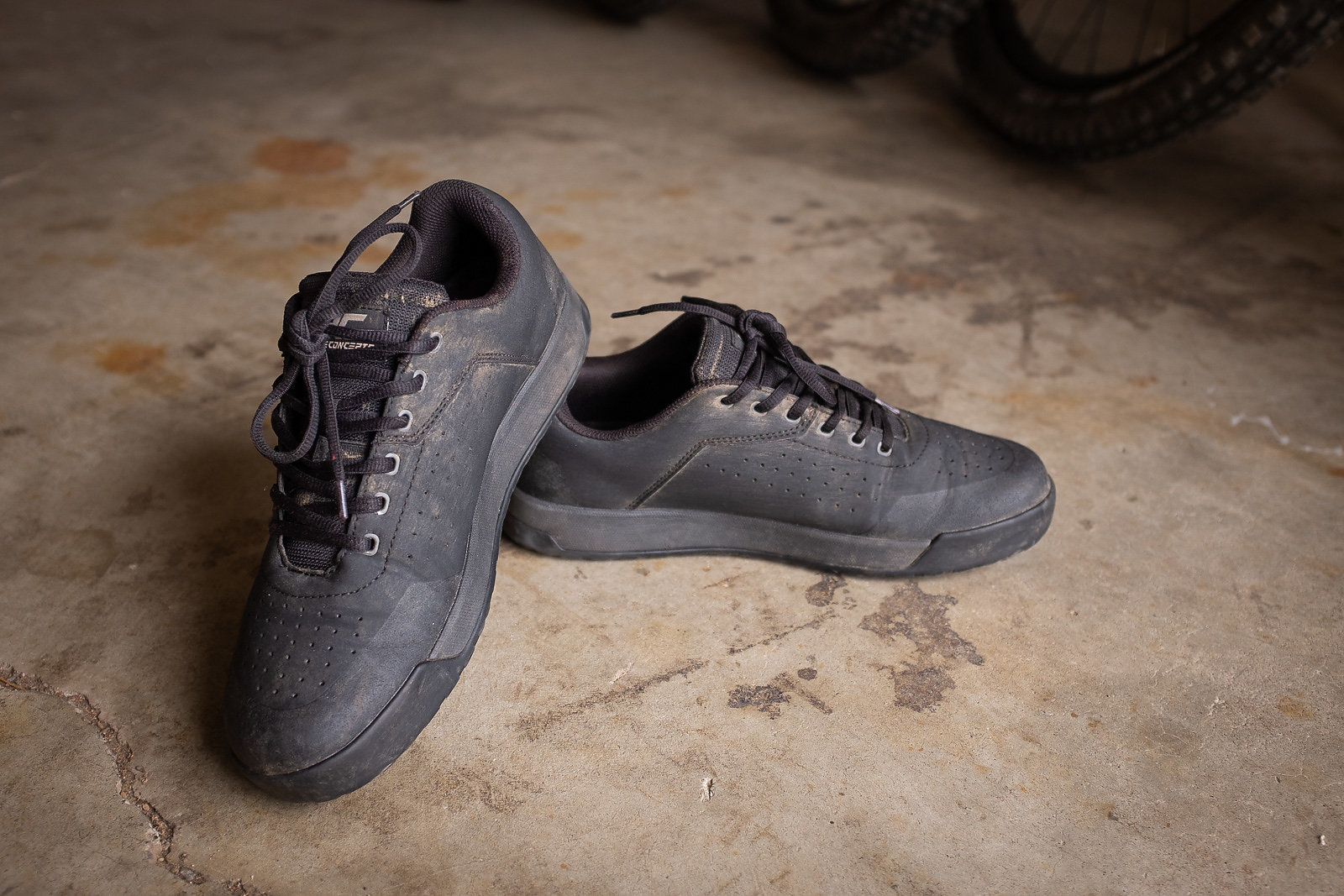 From short hike-a-bikes to long rides, I have been more than happy with the Hellions in the past few months. Thinking back to some shoes I've had in the past, all I could think about throughout an entire ride would be how much my feet hurt. While not entirely the shoe's fault—they were probably laced a bit too tight—it's amazing to be so comfortable I don't even notice my shoes. And in all reality, that's exactly how it should be. The "no pain, no gain" mantra has no place in casual jaunts and everyday trail rides.
On the wetter days, the Hellions fended off the elements surprisingly well. Admittedly, after an hour or two of pointing it directly at every puddle in sight, they were pretty swamped, although I don't know of any shoes except Xtratufs that wouldn't be. While cruising casually on a rainy day, they easily held off the water for hours. Even on the days where the temps froze my breaking fingers, the Hellions had no problem keeping my feet warm. And as the rain finally began to subside a bit and we got our first rays of warm sunshine, they performed equally admirably, expelling heat and keeping air moving.
Knowing that these shoes are solid in conditions that weren't specifically designed for, I'm psyched to have them going into summer, with complete faith that they'll continue to provide without fail. The Hellions are one of the best all-around shoes I've worn and have yet to show a single sign of weakness after months of use.
Ride Concepts Hellion
MSRP: $130