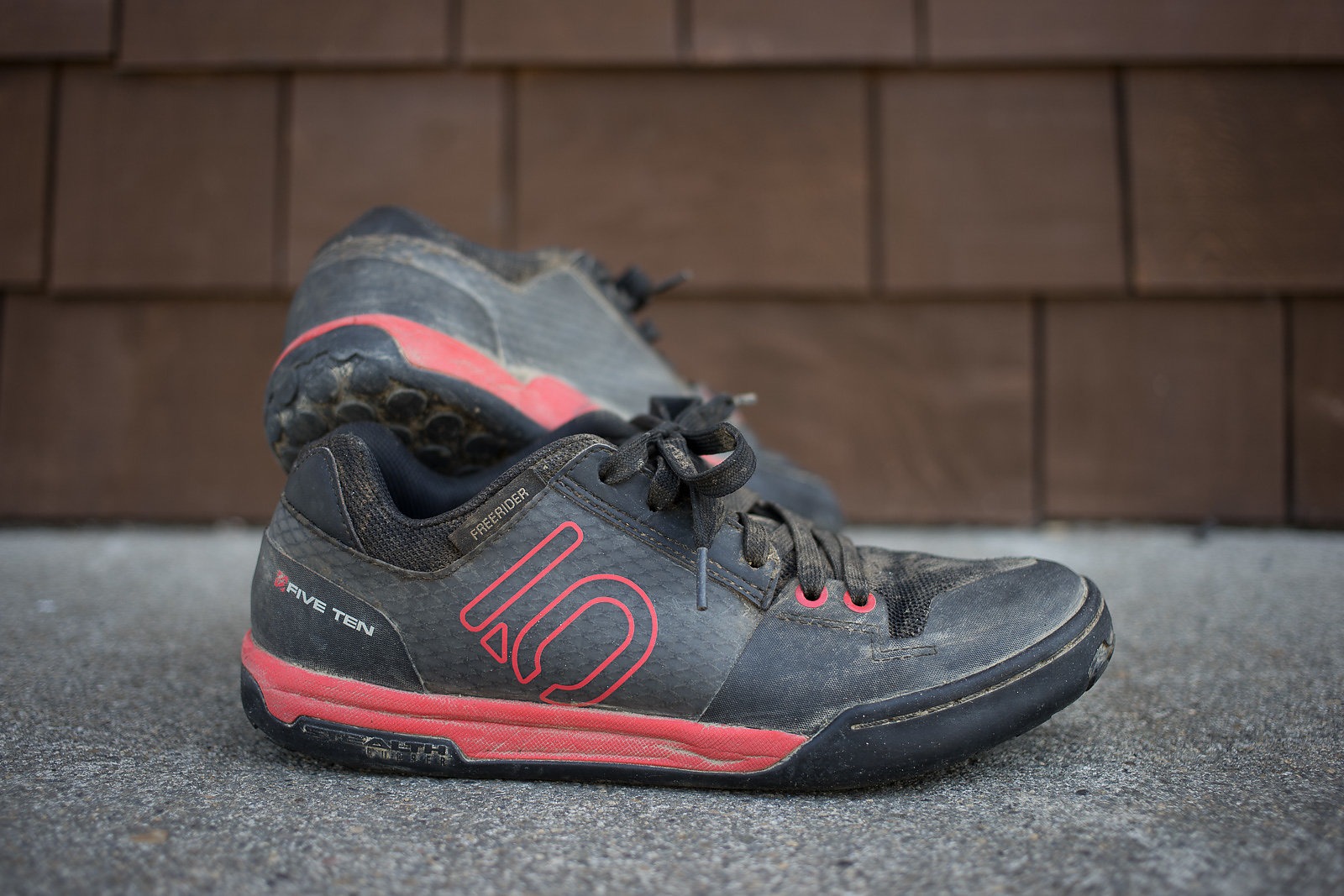 Five Ten Freerider Contact Shoe Review
I'll be the first to admit, I love shoes.
Shoes should be highly functional, yet stylish enough that someone wants to wear them, an often-daunting task. In mountain biking, I've found shoes to be one of the most critical pieces of my kit. Being that our pedals are one of only three contact points with our bike, it's essential that our footwear be up to the task. Sure, you can get by with an old pair of Vans or some tennis shoes, but why "get by" when a good set of mountain bike specific shoes can make such a difference?
The Five Ten Freerider Contact shoes come with many of the features you've come to expect from a mountain bike-specific shoe. The sole utilizes Five Ten's Mi6TM, their softest rubber compound, which provides almost clipless-like grip to adequate flat pedals. The sole pattern is smooth under the ball of your foot for maximum surface area and grip on the pedal interface and also to allow the rider to adjust his or her foot on the pedal without interference.
The uppers are made from a combination of polyester textiles and TPU (thermoplastic polyurethane) which provides protection and abrasion resistance to the sides of the shoe where they tend to rub on cranks or the various odd rock or bush as you descend the trail. The compression molded EVA midsole isn't new, but provides firm support and shock absorption for when things get extra rowdy. Rounding out the shoe are beefed up toe and heel caps for extra protection.
First off, if you don't own a pair of mountain bike specific shoes, get some. I shrugged off advice to get proper shoes for the first couple of years of riding and when I finally bought some on a clearance sale for $30 and took them out for the first time, I kicked myself the whole drive home for stubbornly not listening to my friends.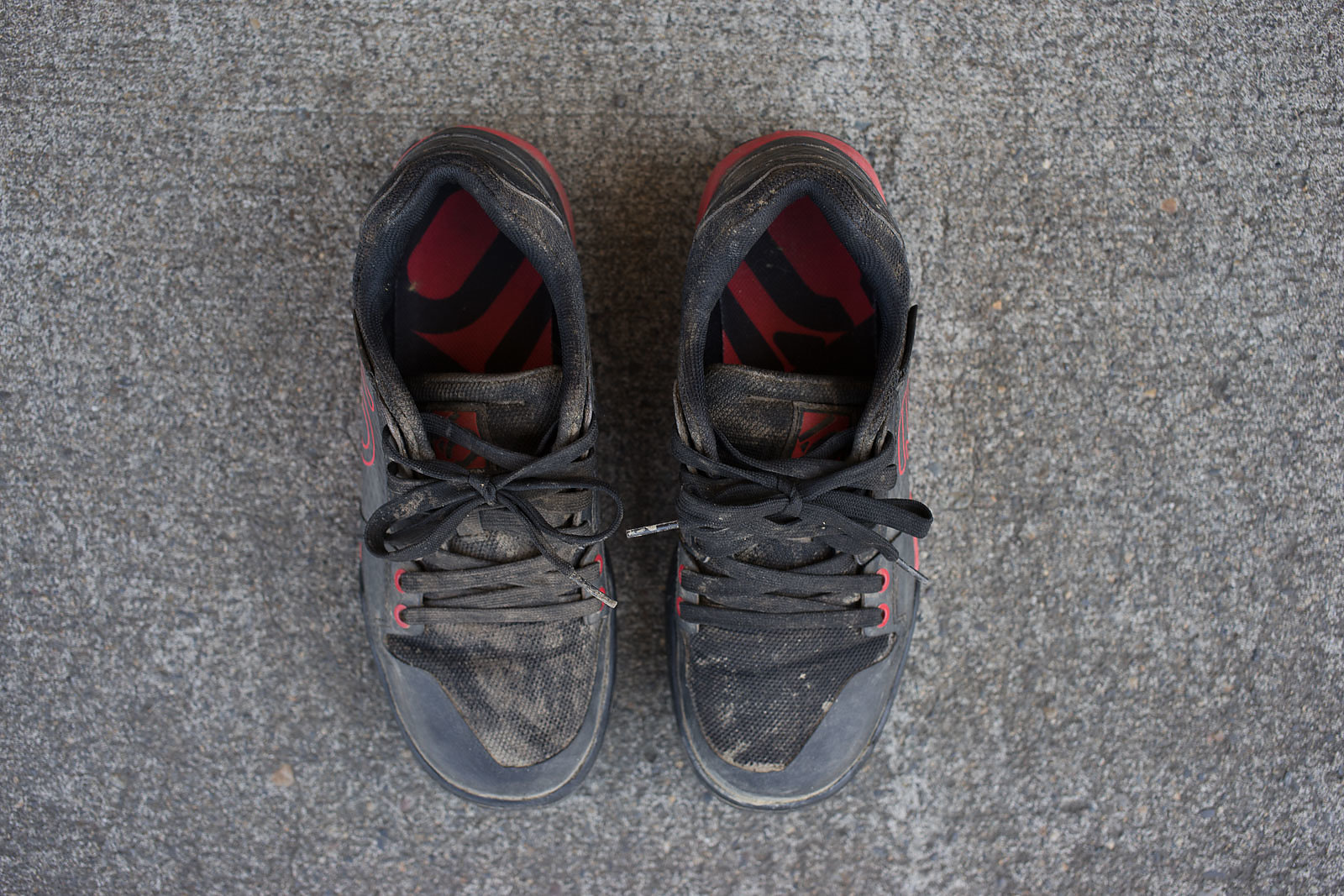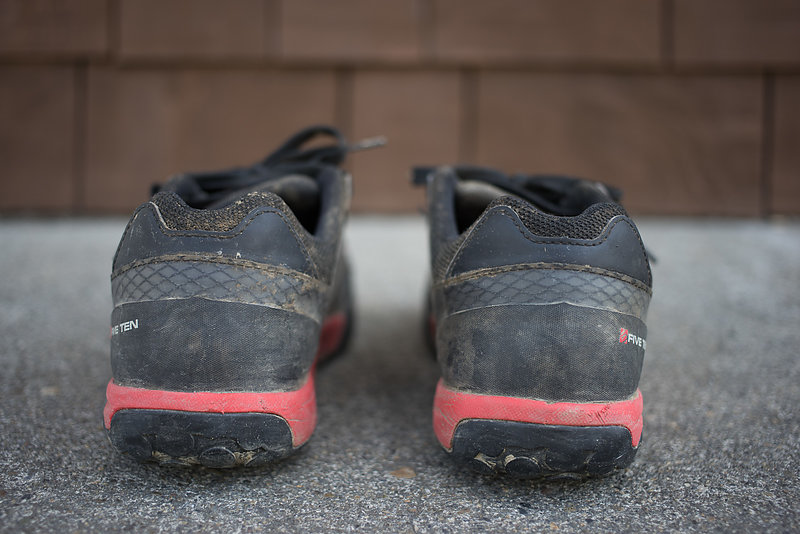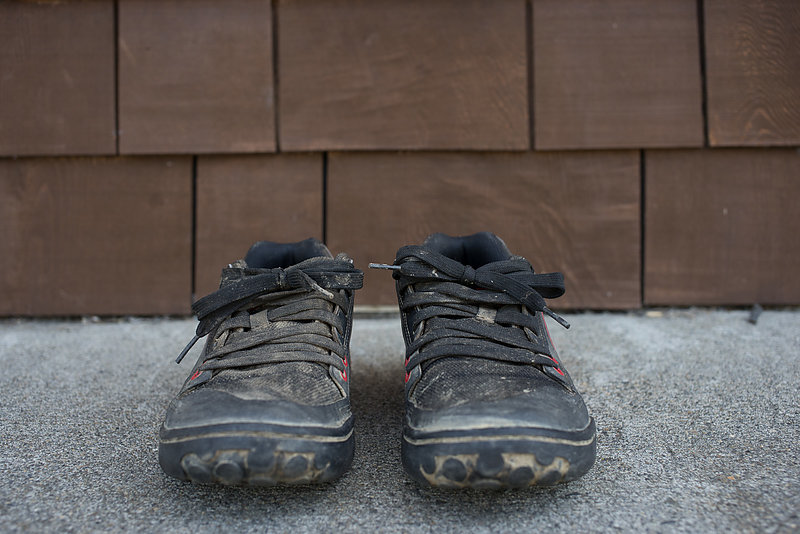 When I first set out to find a new set of kicks last spring, I originally wanted a high-top shoe similar to my previous pair, as I enjoyed (or at least thought I did) the added protection they provided when things got a little squirrely. However, after looking around at what was out there, I couldn't really find anything in the high-top segment that didn't look moon boots, so I decided to go with the Five Ten Contact. I had heard that it had a roomier toe box that would compliment my little, but wide hooves, and fit is paramount in footwear.
Upon receiving the Contacts, I was immediately intrigued by the TPU uppers. They gave the shoes a space-age feel and they felt like they would hold up well out in the elements of the Pacific Northwest. My only initial reservation was that I run pretty hot, as in I start sweating when tying my shoe, so I was a little worried that the TPU wrapping the majority of the uppers would create little saunas for my feet, which is not ideal during summertime rides.
My first day out, I immediately felt the exceptional grip of the Mi6 rubber sole on my pedals. When you plant this shoe on the pedal, you can be confident it will stay there as the flat portion under the ball of the foot sticks no matter how it comes down on the pedal. I found it interesting that Five Ten lists one of the benefits of the smooth sole is that it makes it easier to "shift" the foot around on the pedal without the interference of any lugs.
My experience was that if I needed to reposition my foot on the pedal, unless it was the most minor of corrections, I would often have to lift my foot off of the pedal and then back down again. Obviously, this isn't ideal when descending down a trail, but it's usually pretty manageable with the exceptions being when you have to put a foot down in a corner or feature, such as a rock roll, where you may not have a lot of run-up and therefore setup time to get your foot placement right.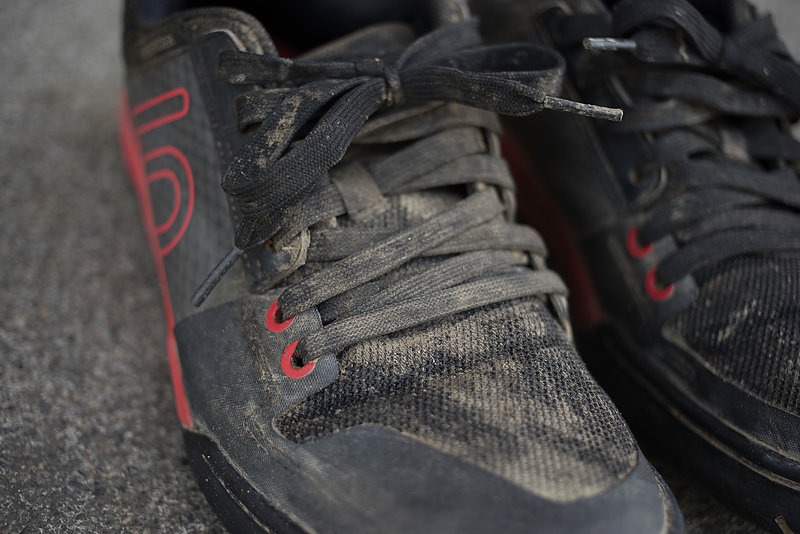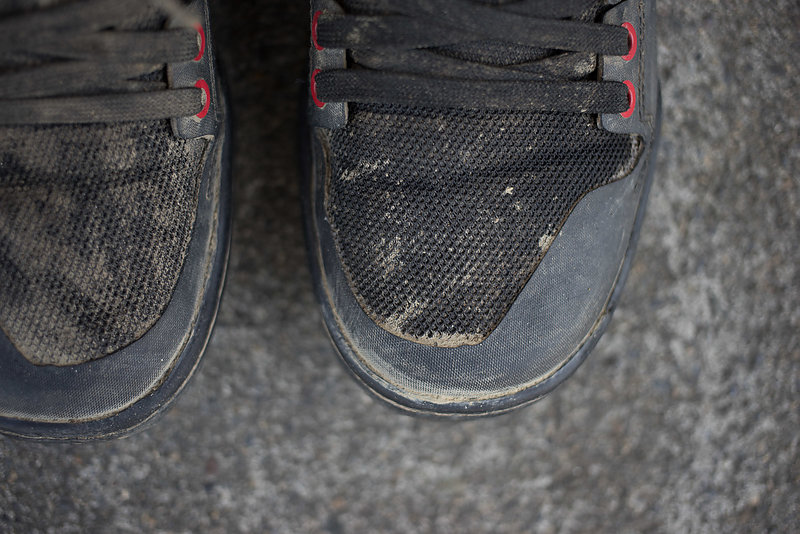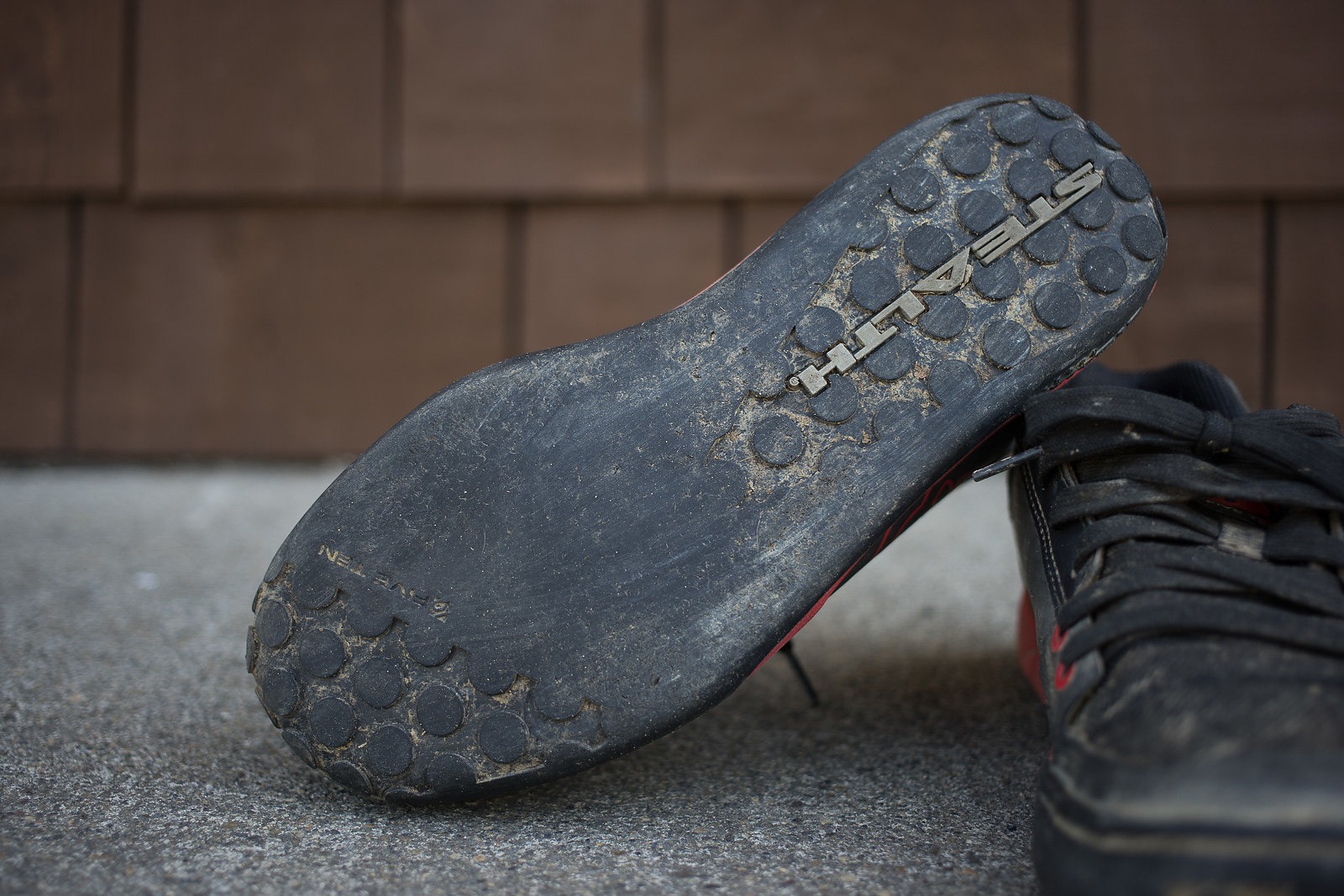 I was pleasantly surprised that the TPU uppers didn't create the heat vortex that I was anticipating. I didn't notice my feet getting warm, even during warm summer rides, but I did note that when I'd take my shoes of post-ride, the opaque portions of the TPU would show some condensation inside the shoe, but the open weave on the top of the toe box created sufficient air flow while riding that this didn't become an issue. Bonus.
Overall, I'm happy with the Freerider Contacts. They are comfortable, lightweight and provide confidence that your foot is going to stay planted once you place it on the pedal. I do miss the shoelace keeper strap on my previous shoes (nobody wants an errant shoelace sucked into their drivetrain) but I haven't had any issues with the laces coming undone or hanging up where they're not supposed to, so maybe it's more of a mental thing.
I do also generally prefer leather uppers vs. synthetic as leather shoes tend to only fit better over time, but the out-of-the-box fit provided by the Contacts didn't leave me pining for more room or for them to pack-out a bit. They've also worn well, after months of riding, they're still in great shape with no blowouts or seams giving up early. The fit hasn't changed though, unlike a leather shoe, so if the initial fit doesn't work for you, don't expect it to get any better over time. If you're in the market for a new flat shoe that doesn't look like a combat boot but still provides ample grip, support and comfort then the Five Ten Freerider Contact has you covered.
Five Ten Freerider Contact Shoes
MSRP: $150
See more at adidasoutdoor.com