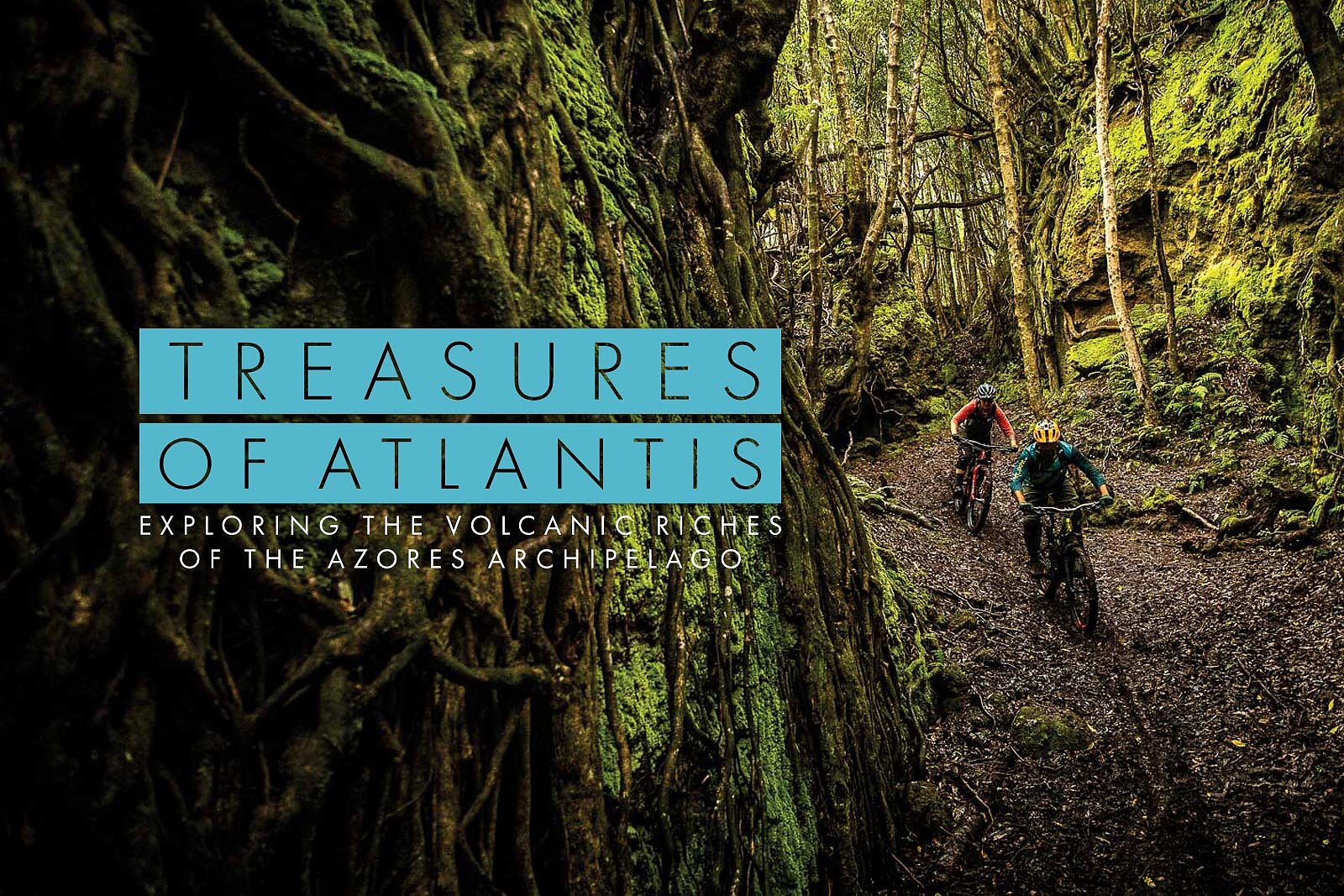 Long before "enduro" became a buzzword, I found myself in the middle of the Atlantic Ocean,
on two islands of the West African archipelago Cape Verde, racing my bike blind down the steep trails of a volcano. I was there for an early enduro-style event—the third installment of the Urge Fabien Barel invitational series in 2011—and the experience completely changed the course of my cycling journey. I instantly became hooked on the thrill of multiday, blind racing adventures, and the farther off the beaten track they were, the better.
I also grew to love sharing these experiences with the many like-minded people I'd suffer with along the way. Looking back over the last decade, it's not the race results I remember. What I cherish most are the interesting, passionate people I've come to know on these adventures. One of those people is Carlos "The Dreamer" Dos Santos, a native of the Portuguese archipelago known as the Azores.
I first met Carlos in Aínsa, Spain, where I was working for the Enduro World Series (EWS) following my retirement from five years of EWS racing. Carlos was visiting to pitch the Azores as a race stop for the EWS, and he joined our crew on a prerace reconnaissance ride as we were doing final course preparation for the forthcoming Aínsa event. We spent the day riding together and he never stopped talking about his beloved Azores. I was struck by his incredible passion for his islands and their trails, and I left Aínsa daydreaming of all the singletrack waiting to be sampled on this mysterious archipelago in the middle of the Atlantic.
Words by Anka Martin | Photos by Sven Martin
It was the end of June 2020 in the Chamonix valley, and the only snow in sight exists within the nooks and crannies of the Alps' granite peaks far off in the distance.
Most elite-level snowboard teams would write this off as a potential summer training ground without even a second look. Yet the Dutch adaptive snowboard team, comprised of athletes Lisa Bunschoten, Renske van Beek and Chris Vos, along with their coach, Frank Germann, came here to hone their skills. And they didn't bother bringing snowboards.
As part of a unique approach to summertime strength training and conditioning, the team uses crossover sports to help develop skills that are endemic to snowboarding. This includes skateboarding, surfing and mountain biking. While bikes might be an outlier when it comes to standing sideways, plenty of commonalities exist. "We integrated mountain biking along the way because it correlates with the high speed, riding lines, banked turns, jumps and the split-second decisions the athletes make while snowboarding," coach Frank says.
In 2019, the team did their first mountain bike trip in Samoëns, France with Arno de Jong of Alp Adventures as their guide. Compared to their native trails in Holland, the Alps are considerably more challenging, with technical trails and grueling climbs. But after a week of riding, progressing and honing their individual bike setups, plus the following spring of training, the team was ready for something bigger. Each athlete has a diff erent disability, and while they've spent years developing equipment for snowboarding, modifying their e-mountain bikes and getting comfortable with the setups was a challenge in itself—before the pedaling even started.
As told to Freehub's Editors | Photos by Carlos Blanchard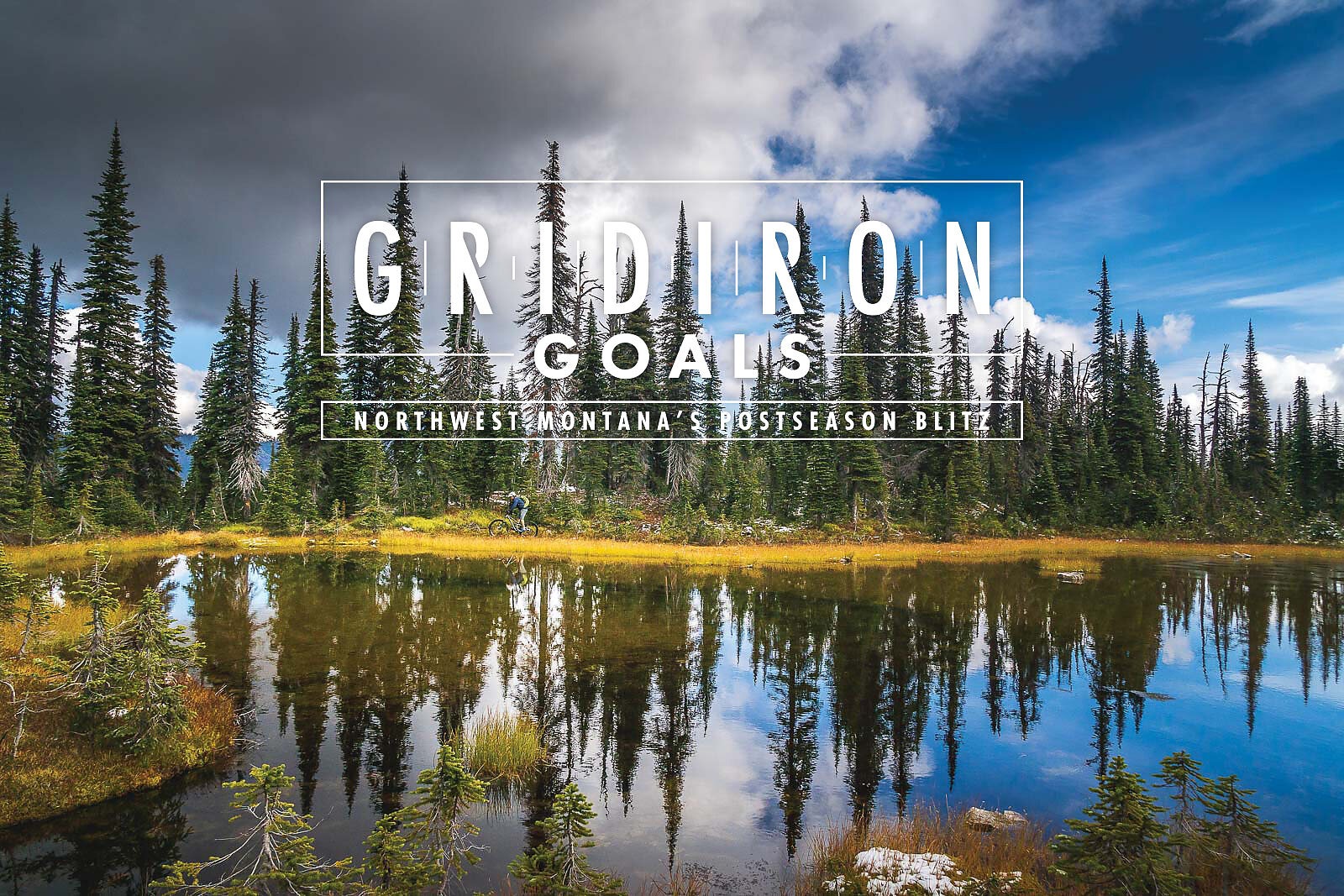 Omaha! Omaha! To most people, this famous snap count is synonymous with Peyton Manning and the Denver Broncos.
But to mountain bikers in northwest Montana, it's a rally cry we yell when we see our buddies on the trail, enjoying the best time of year to ride. While fall means football season for the whole country, in these northern climes it also  represents the prime riding period. And though it might at first seem odd, to us, mountain biking and the good old gridiron have a lot more in common than just a shared season.
Think about it. During the spring, everyone's a little rusty from a long, harsh winter, and our rides here are more like football's training camp, when we're just getting warmed up for the season. The trails are usually still snowy up high and muddy down low, and we can't ride as much as we'd like. Even though fall is several months away, autumnal glory is still at the forefront of our thoughts.
Summer is when the gains are made, putting hay in the barn and working on the fitness that we'll take into the regular season and hopefully the playoffs. While the big alpine rides of summer are cool—and an ideal way to get into shape—it's hot and dusty on our finest lowland trails, and it's all too easy to get distracted by time cooling off in the lake or rivers. But come Labor Day, it's game time for everyone who's put in the work and is ready for the regular season.
Words by Phil Grove | Photos by Marc O'Brien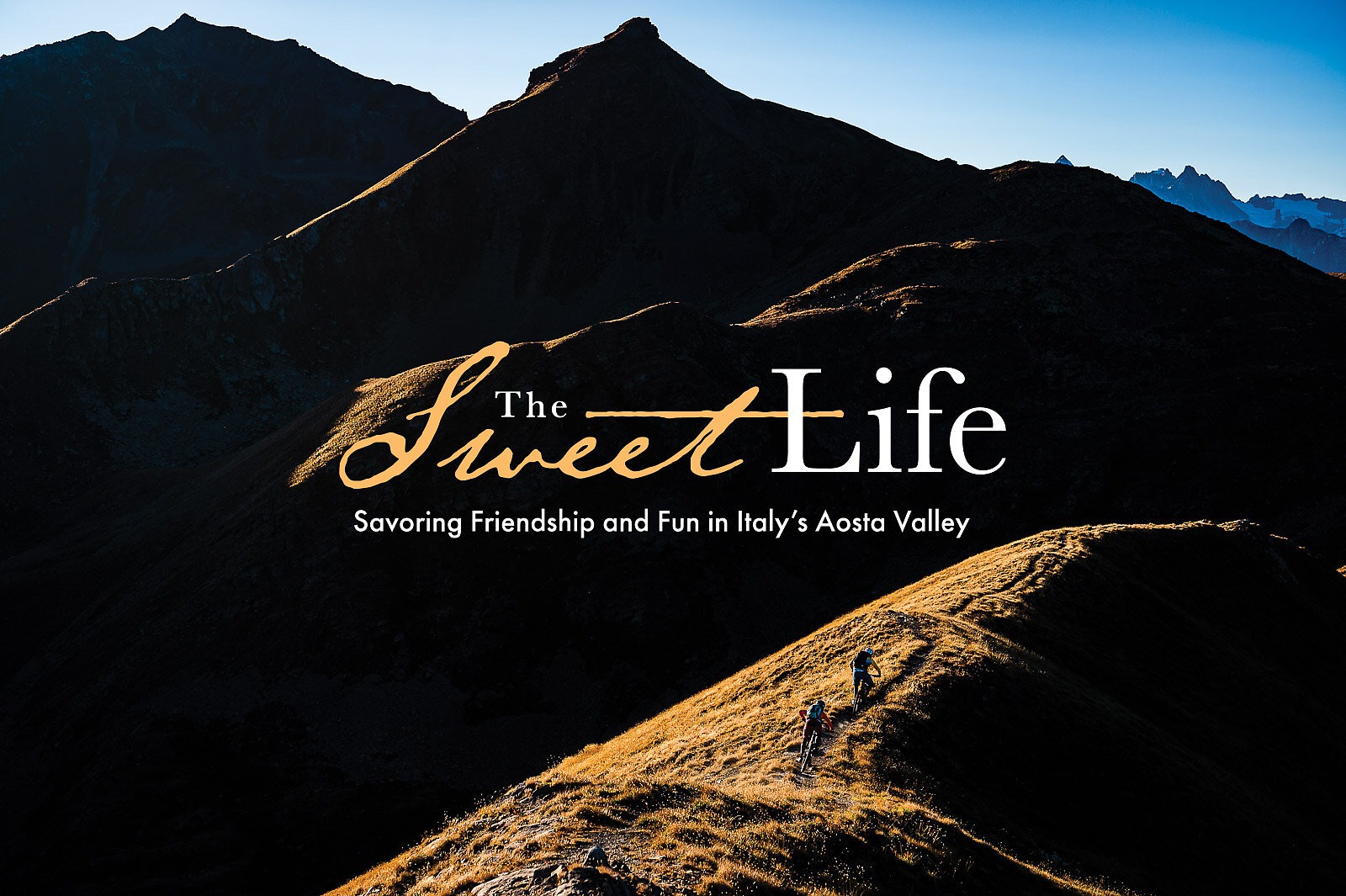 It had been hours since we'd seen or heard another person.
The solitude felt strange, given that we were less than 20 miles from the busy streets of the northwest Italian town of Aosta. I was slowly pedaling up a gravel road that was getting narrower and steeper as we approached the alpine, and the only sounds I heard were the labored breaths of my companions, Aosta local Massimo Ferro and my German friend, Holger Meyer. We'd been on this road for hours, and I was starting to question whether we were going the right way.
Massimo kept reassuring us that we were on track, but it wasn't until we reached a small farm nestled in an alpinem meadow that I truly believed him. The backdrop to the farm was spectacular, with the soaring peaks of the Alps rising above this grassy bowl. Dozens of cows were grazing, and a menacing-looking bull was chained to a fence. A young boy and his fluffy golden retriever ran up to greet us, visibly stoked to see visitors to the lonely homestead. He pointed to our route into the mountains and helped us fill our water bottles before continuing toward our destination—the Bivacco Rosaire Clermont, a sturdy stone cabin that would be our home for the night.
It was too steep to ride from here, so we shouldered our bikes and began the steep hike-a-bike to the cabin, a rustic, 40-square-foot refuge with bunk beds that was tucked beneath the towering Col de Vessonaz. Our plan was to overnight in the cabin, at an elevation of 8,832 feet, then soak up a glorious sunset and sunrise before savoring a hard-earned descent to the medieval old town center of Aosta.
Words and Photos by Mattias Fredriksson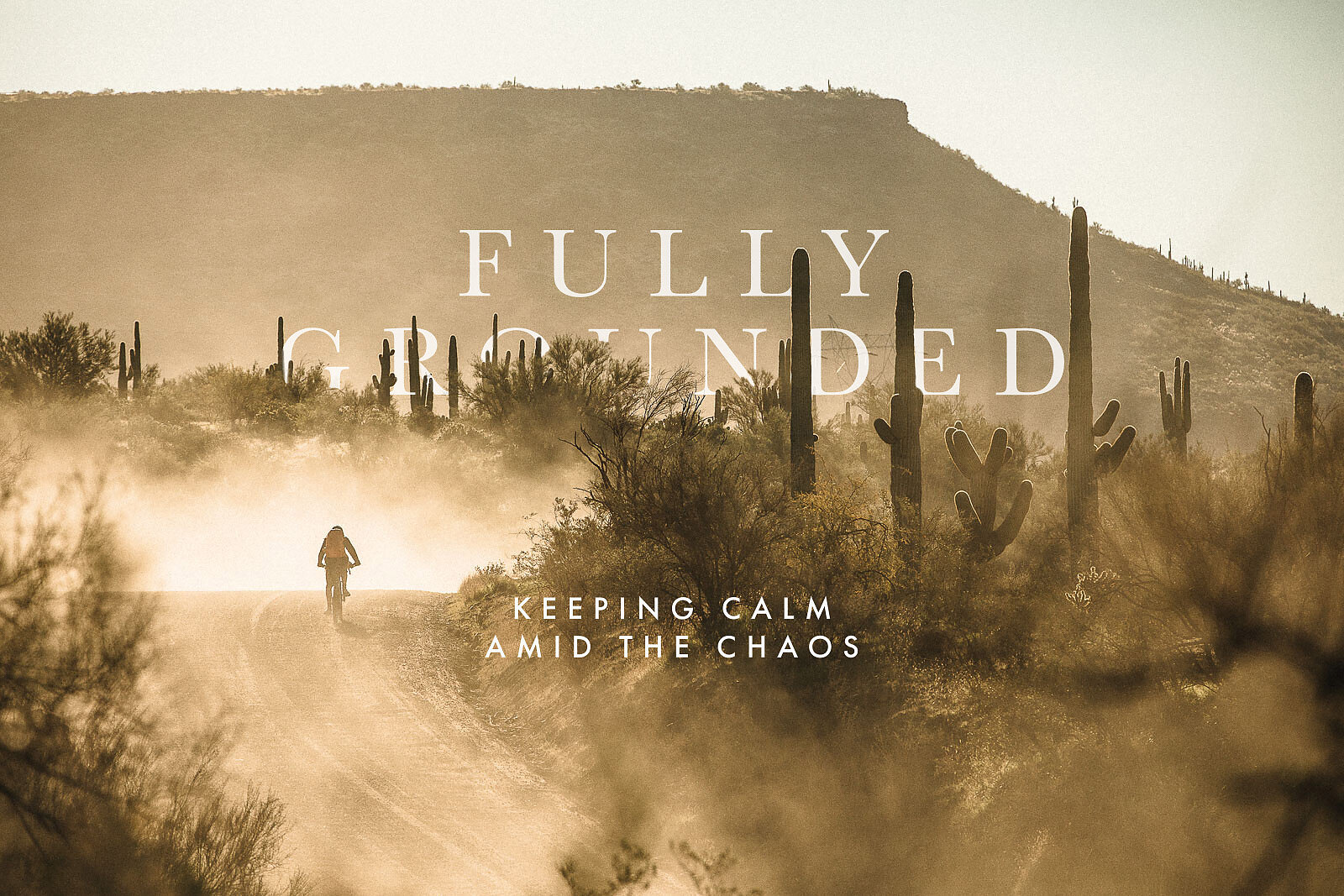 If there's a common denominator to every adventure I've ever undertaken, it's that the success of the task at hand is usually dictated by how well you react to the unforeseen challenges that will almost certainly come your way.
Time and time again, things don't play out exactly as you anticipate, but reacting with the right mindset can shape the outcome in a positive way. This is what has gotten my friends and me through massive bikepacking expeditions in giant mountains such as the Andes, the Caucasus and the Himalaya—all formidable in their own right, and all with their own plans for those passing through.
Before the COVID-19 pandemic truly hit North America in March, I had a busy year of international adventures lined up. By the end of January, I already had a stacked schedule, including a month of bikepacking and film projects in Europe, travel in Canada, commercial film gigs in Colorado and Utah and an ambitious bikepacking film project in a remote, otherworldly location. I was excited about these projects, but when the pandemic became a harsh reality, all of my plans were postponed in just a few days. While the abruptness was certainly a shock to the system, I knew I had to treat this uncertainty the same way I deal with adversity on two-wheeled adventures—with a calm head.
With an alarmingly empty travel schedule and no work anywhere on the horizon, it was time to look for joy and meaning closer to home. Whether we will admit it or not, many of us probably live our lives too fast, filling the calendar as much as possible and constantly staying busy. For me, this has definitely been the case throughout my 20s. But right at the beginning of quarantine I turned 30, and this gave me pause to look back on all that had happened during the previous decade and set some new intentions and goals for the next 10 years. It was a welcome reprieve; a time to slow down and look at where I am in life. The truth was that I needed more time at home to connect with family and enjoy what has been right here all along.
Words and Photos by Joey Schusler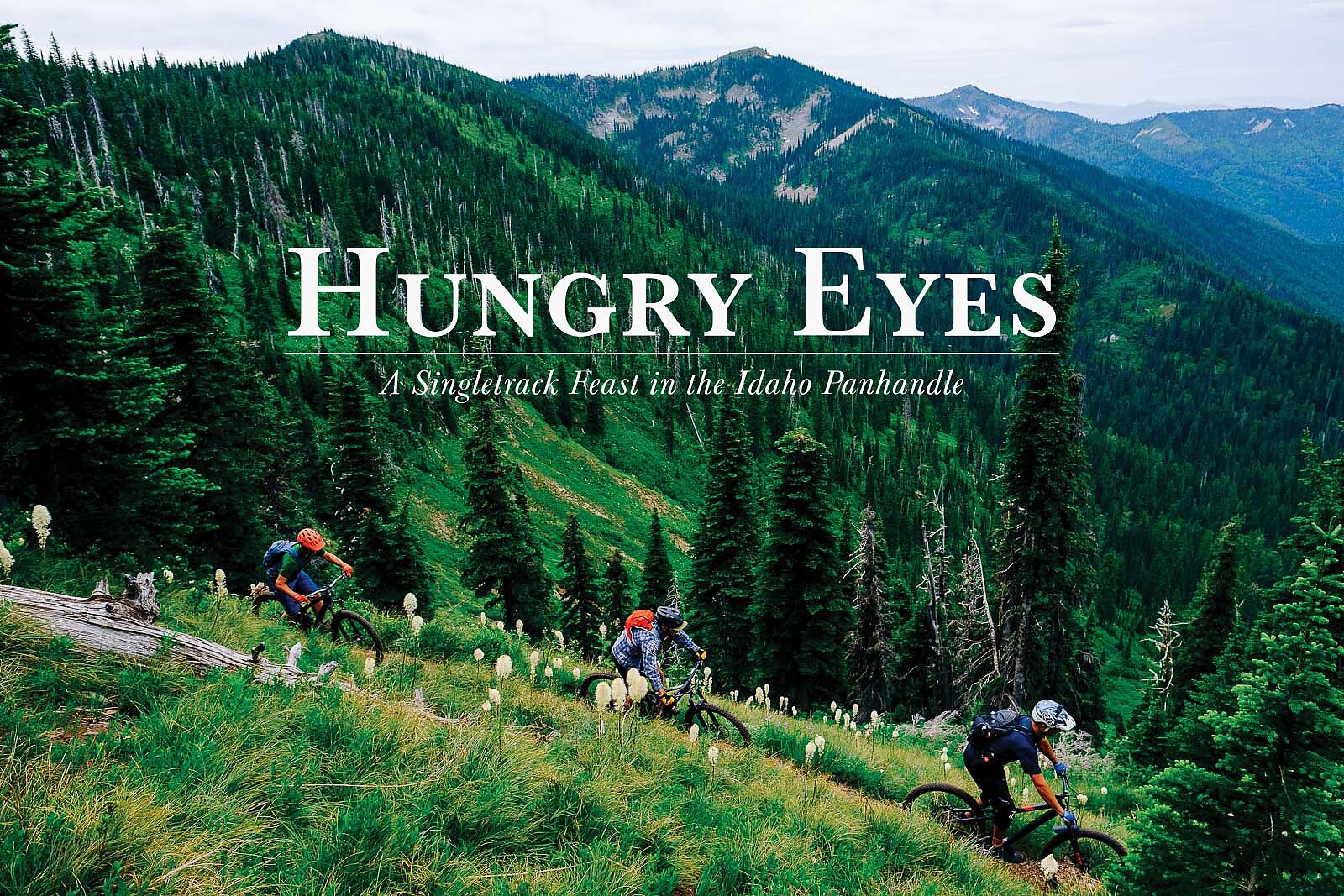 When the eyes of a small-town bike mechanic light up and then go far off and dreamy when talking about a local trail, you listen.
Brian Anderson at Greasy Fingers Bikes N Repair, in Sandpoint, Idaho, is pointing at a collection of pins on a wall mounted map of north Idaho. In Brian's parlance, there are two types of worthwhile trails: bitchin' and super bitchin'. The pins clustered around Canuck Pass, near the Canadian border, highlight a trail that falls into the latter category.
Sandpoint is a timber-and-tourist town on the shore of Lake Pend Oreille, one of few communities of any size in the so called Idaho Panhandle. Squeezed between Washington and Montana, bounded by the Selkirk Mountains to the west and the Purcells and Cabinets to the east, the Panhandle has always acted as an antenna for folks looking to escape civilization. It's a good place to get lost.
Looking for a quick dose of alpine riding close to my home in Spokane, some 90 minutes from Sandpoint, I had zeroed in on the Panhandle. The trails here had been on my radar for years, but, as backyard trails tend to be, they were always bypassed in favor of the famed Kootenays immediately across the border in British Columbia.
The Kootenay River turns to the Kootenai when it crosses the border, and with that one-letter swap comes a change in the character of the mountain ranges surrounding it. Ranges that push past 9,000 feet up north barely scrape 7,000 down south. In the same way, the world-class Kootenays riding morphs into something diff erent here—more horizontal than vertical, more about exploration than adrenaline.
But an extensive system of ridge-running trails looked like it had potential, and the area's proximity to home allowed a group of six of us to come and go as work and life schedules permitted.
Words and Photos by Aaron Theisen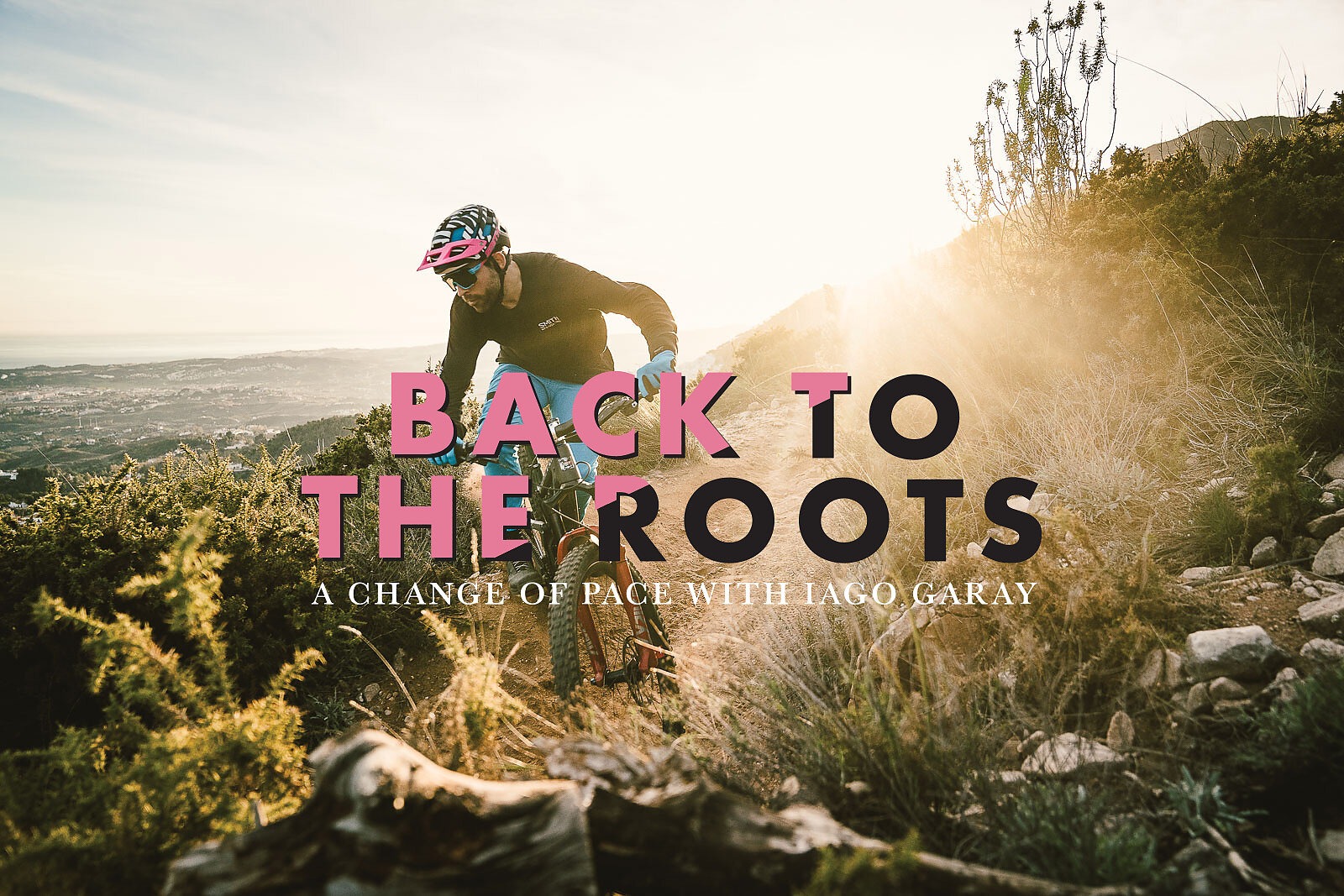 Sipping a cold beer with Spanish enduro racer Iago Garay on the terrace of our local brewery in Madrid, Spain,
is a rare occurrence. Iago's just returned from shooting the second episode of his video series, Not Far from Home, which follows he and his friends as they explore the abundance of great riding in their home country of Spain.
Normally, Iago would be spending his summer traveling around the world to race in the Enduro World Series (EWS), with breaks to film with his Santa Cruz teammates or chill with his lady in Seattle, Washington. But this year's COVID-19 travel restrictions forced him to change plans and get creative.
Iago grew up in a small town on the outskirts of Madrid, the capital city of 6.6 million people that is bordered to the north by three different mountain ranges. Accordingly, the city has a fervent mountain bike culture that thrives on the region's often ancient singletrack. Iago was introduced to the sport at a young age, riding cross-country laps with his family on weekends.
"I hated it," Iago laughs into his beer. "I just wanted to watch cartoons!"
It wasn't until he was 11 years old, when his father took him to a downhill race, that he became truly hooked. Riding downhill without having to climb was much more appealing to him, so he spent his teenage years touring Spain's downhill racing circuit until he left the country to attend college in Cincinnati, Ohio. While living in the United States, Iago made a point of traveling to the seasonal kickoff races in Monterey, California, as well as many other national DH races.
Words by Cal Jelley Photos by Kike Abelleira
In most parts of the world, you can usually expect a mountain bike trip to involve a little rain and wind.
But a typhoon, or tropical cyclone, can be a whole other matter. So, when I woke up last October to the news that a Category 5 "super typhoon" was ravaging Japan's main island of Honshu—barely three weeks before a planned bike trip to the city of Tōkamachi—I was all but sure the trip would be called off.
After all, Typhoon Hagibis was the strongest tropical cyclone in decades to strike mainland Japan, and it was one of the largest typhoons ever recorded, at a peak diameter of 825 nautical miles. For almost a week, Hagibis dumped rain and unleashed 100-mile-per-hour winds on Honshu, causing catastrophic flooding across the Nagano region—just to the south of where we were due to ride near Tōkamachi. I first thought of my friends who call the Nagano area home, and then I wondered about the impact this would have on our planned bike trip with Scottish pro rider Scotty Laughland and American photographer Grant Gunderson.
With our fall riding escape in question, we called Bill Ross, an American expatriate who has lived in Japan for most of his life. As the owner of ski touring and hiking company Dancing Snow, Bill was well acquainted with the region's trails, and he assured us that Tōkamachi had not been hit nearly as hard by the typhoon as Nagano. So, when the rains began to subside over the following two weeks, we decided to give it a go.
Just four hours before Grant and I boarded our last flight to Tokyo, we were watching the news of a Category 4 typhoon that was building off the coast of Honshu. We'd already come this far, so we decided to hop our flight and hope for the best. Some 10 hours later, as we were approaching Tokyo, we encountered some of the roughest turbulence I've ever experienced, and our landing was diverted. As I watched Tokyo disappear in the distance, not knowing exactly where we would land, I thought our trip was ending before it had even begun.
Words by KC Deane | Photos by Grant Gunderson