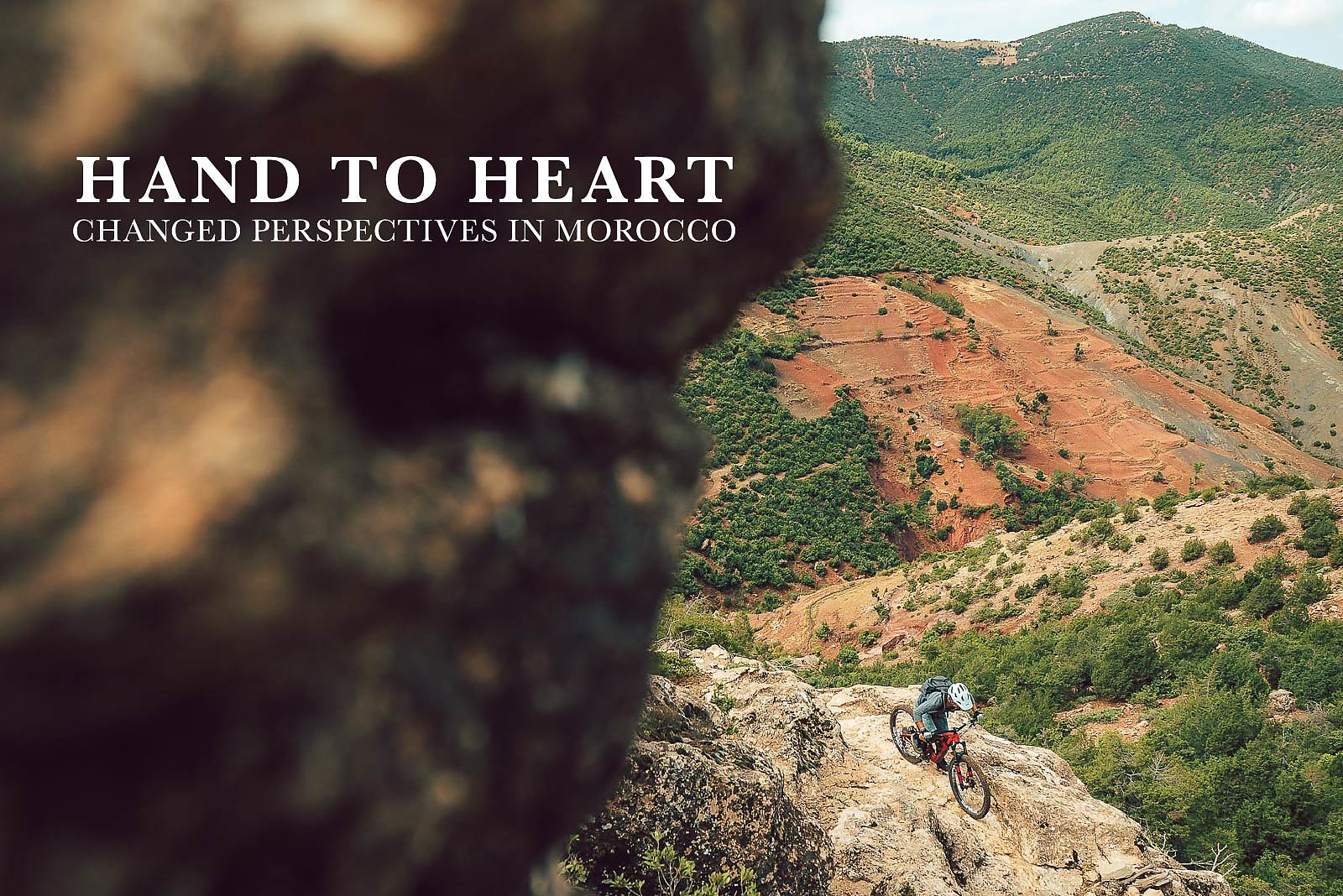 Sweat drips down my face as I tear off a piece of bread and pinch it between my fingers and thumb to fashion a vessel for the veggies in front of me, roasted in a clay pot that looks like a tiny teepee.
I scoop up bits of potato and a chunk of carrot, popping them both into my mouth. Savoring the bite, I reflect on the past 10 days of riding in Morocco's Western Atlas Mountains.
We're only 40 miles southwest of Marrakesh, the country's fourth-largest city, and with landscapes that resemble those of the American Southwest, the trails here have an unexpectedly familiar feel. In a week and a half, we've ridden everything from smooth, flowy singletrack to steep and chunky terrain that left me hoping for the best and preparing for the worst. It's been like a greatest hits playlist with a few new songs thrown into the mix.
Although the trails themselves have largely been similar to what we're used to riding at home in Colorado, the amount of quality singletrack running through the mountains and hillside villages is impressive. These seemingly endless ribbons of goodness are actually byways used by the people and animals who live in the many villages scattered throughout this region. These footpaths, a necessity of daily life in Morocco, are also conduits to mountain bike bliss—even if the country isn't intentionally developing itself as a mountain bike destination...
Words and Photos by Leslie Kehmeier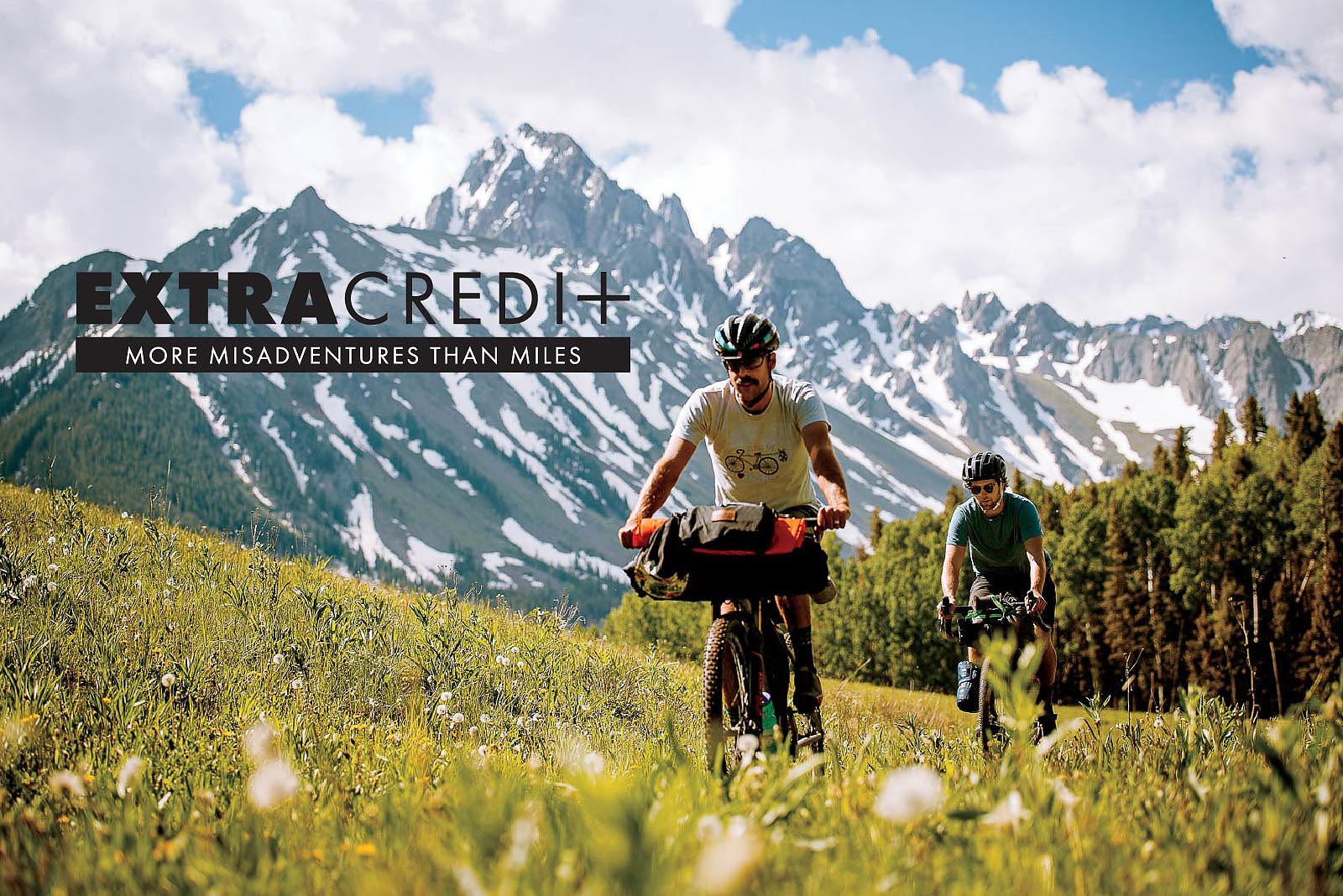 Certain things in the world give me comfort.
Like the sound of rain through an open window on a summer night. The rumble of thunder in a mountain valley. The overwhelming silence in canyon country or a snowy forest. An optimistic thought in a pessimistic world. And the knowledge that Aaron "Professor" LaVanchy is doing exactly what he was put on Earth to do.
That's because the Professor works best when he is on his way to, in the middle of, or recounting some hairball adventure. During the warmer months, those adventures involve two wheels and dirt trails. The Professor rides everywhere. That's because his day job at Fort Collins' New Belgium Brewery allows for such adventure. And his adventure quotient is high. It's as if a higher power handed him a bike and granted the sublime gift of flow, that intangible grace of ascension and appreciation of gravity, all without the need for spectators, financial incentives, or even Strava one-upmanship. The Professor rides because the world would be wrong if he didn't...
Words by Michael Israelson | Photos by Aaron LaVanchy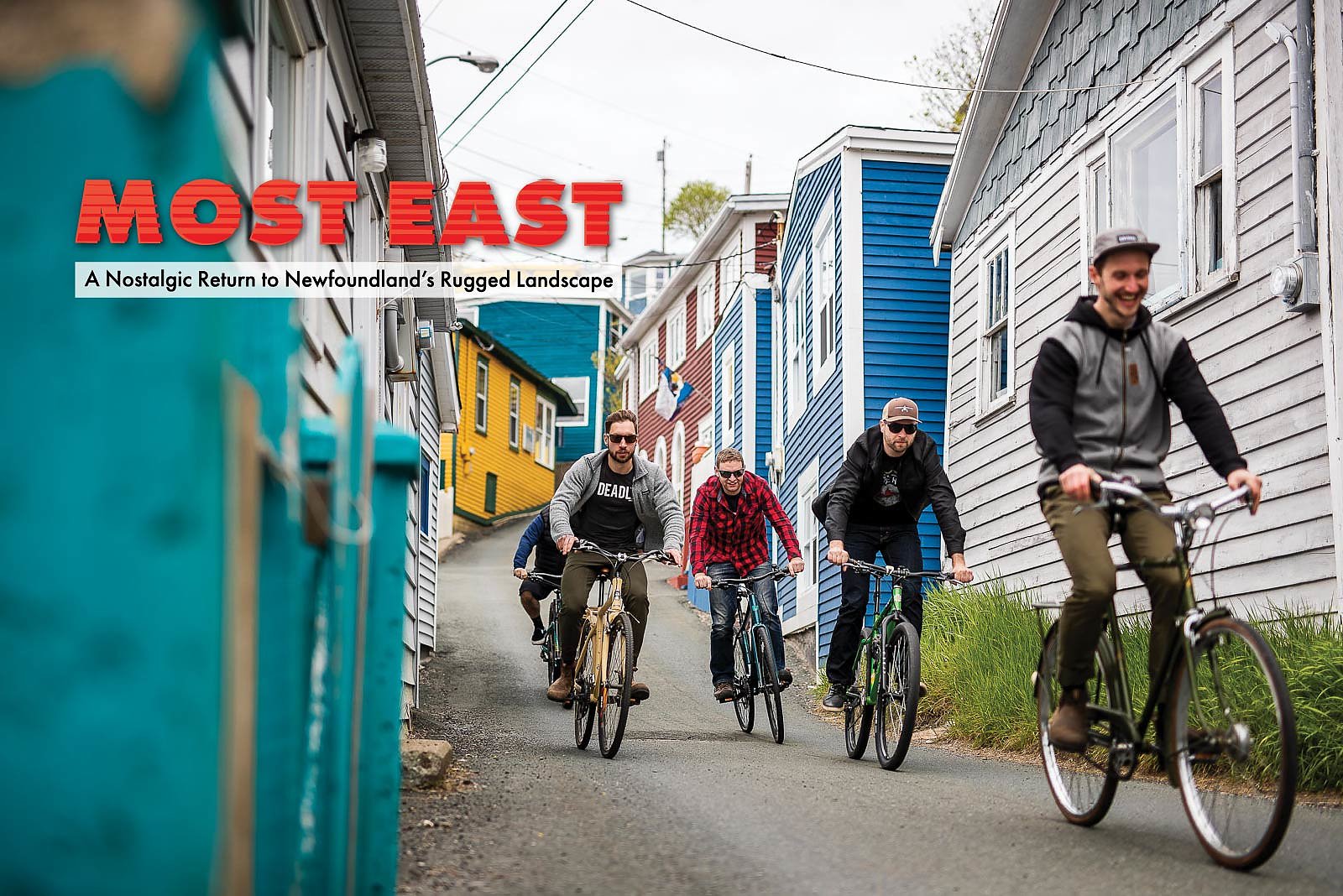 The Canadian island of Newfoundland is known for its bountiful fish harvest, warmhearted people and unpredictable weather patterns.
Mountain biking, not so much. Growing up here, it's not easy to become a lover of the outdoors. The terrain is unforgiving and sometimes all four seasons can be experienced in a single day. The conditions are rarely inviting, and it's easy to become a homebody.
It takes a certain type of person to embrace the elements in Newfoundland. In particular, it requires serious ambition to wake up at 4 a.m. to go iceberg hunting when the wind cuts the temperature to below freezing. Through mountain biking, though, my closest friends have helped me to endure—and even love—such unappealing outings.
I learned early on that a blast of fresh air and an occasional sliver of sunshine would lift me when I was down. The coastal trails that skirt the cliffs around my hometown of St. John's—the capital of the province of Newfoundland and Labrador—deliver both of these, along with plenty of torrential weather. Before there were roads, boats were the primary mode of transportation on the island, connecting small fishing villages to each other. If you didn't have a boat, the only other way to get around was by walking through the tight, twiggy forest, following the sound of the ocean...
Words by Matt Beer | Photos by Dru Kennedy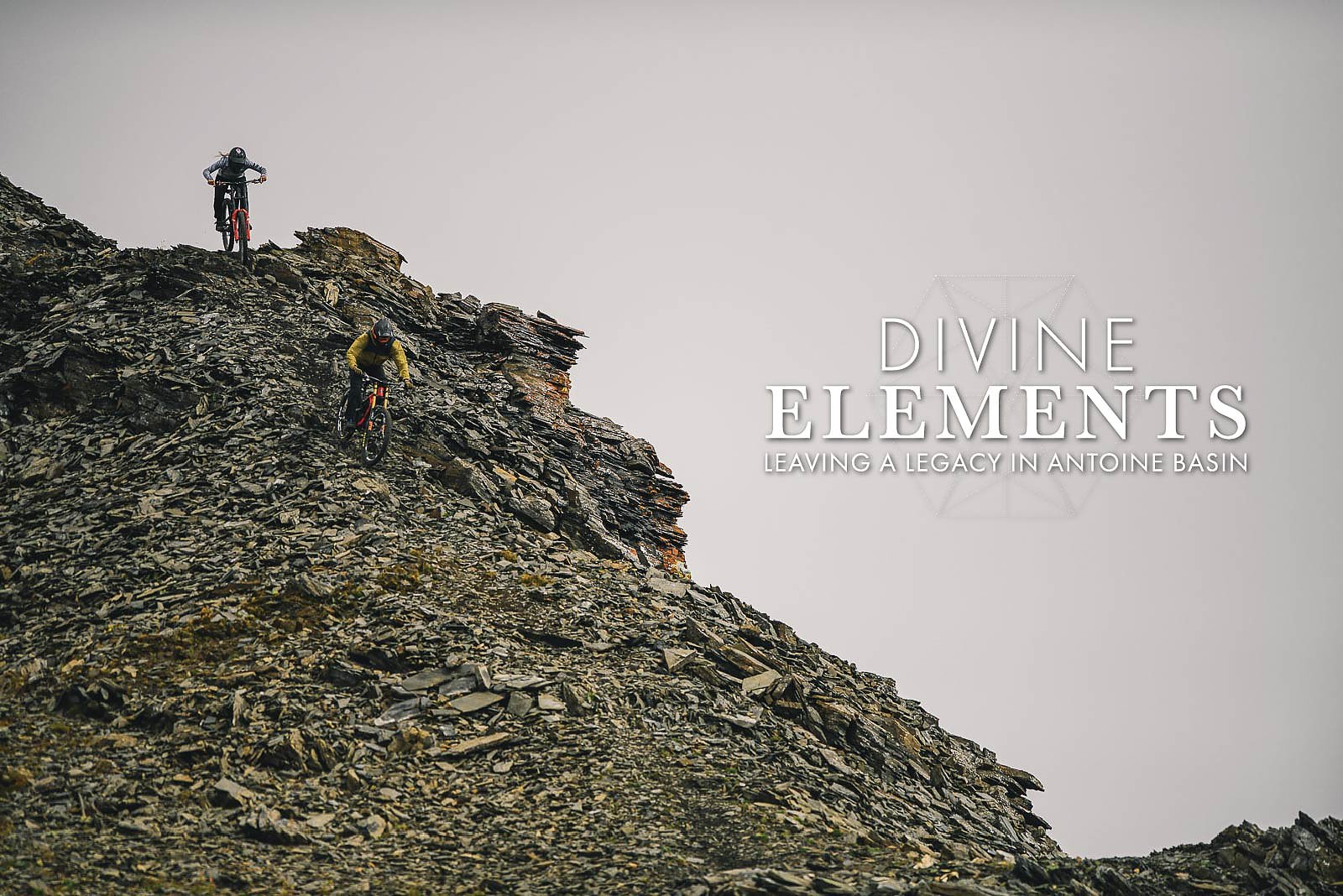 The universe has 94 known naturally occurring elements.
Hydrogen and helium, the two most common, are understood to have formed during the Big Bang some 13.8 billion years ago, while numbers six (carbon) through 26 (iron) have been formed through stellar nucleosynthesis, or nuclear fusion within stars. Elements 27 (cobalt) and beyond are formed by supernova nucleosynthesis—essentially, exploding stars.
These little bits of supernova explosions, which include the majority of heavy metals, exist throughout Earth and are the main reason so many peaks and ridgelines of British Columbia's Kootenay mountains are accessible today. In Antoine Basin, just a few miles northwest of the small ghost town of Sandon, the existence of argentiferous galena—a sulfur, lead and silver ore (the latter two elements formed by supernovas)—brought miners to these mountains as early as the late 1800s.
More than a century ago, this area was in the midst of an economic boom. In the late 1890s, Sandon had a population of 5,000 (with 23 saloons) and would go on to produce more than a billion dollars worth of silver, lead and zinc in its heyday. Just about every hillside still has a road cut across its face, and back then the only things bigger than the miners' egos were the tailing piles they left behind.
If it weren't for such incredibly destructive mining practices—often, entire forests would be burned to the ground to speed up the clear-cutting process—there's a good chance this entire region would be considerably wilder. Decades of natural recovery have already taken place, but the reality is that these peaks and valleys will never return to their original state. Another reality is that without its evil history, this land would have far fewer mountain bike trails on its slopes...
Words by Jann Eberharter | Photos by Paris Gore

Drenched to the bone and shivering, I fumbled through a tangle of underbrush and tall grass, straining to keep my bearings in the blackness of night.
Rain had been soaking me for hours, and with the mercury plummeting as quickly as my body temperature, there was no time to waste. We needed to get across a rapidly rising river before our bodies succumbed to hypothermia or sheer exhaustion. We also needed to find two teammates, who had apparently doubled back in search of a bridge we'd somehow bypassed.
This alpine thicket wasn't making it easy. Nor was the fact that our only torch was on the head of my other teammate, Australian Dennis Beare, who was doing his best to light the way for both of us. I wrestled my bike through the dense foliage, chasing the sporadic light beams and stumbling in the shadows between them. With such fleeting visibility, I'd already rolled both of my ankles on the uneven ground. My irritation was mounting.
"Where the hell did Dan and Fred go?" I asked Beare as we peered through the darkness for flashes from the headlamp they were sharing. "The last thing we need right now is to be separated..."
Words by Brice Minnigh | Photos by Dan Milner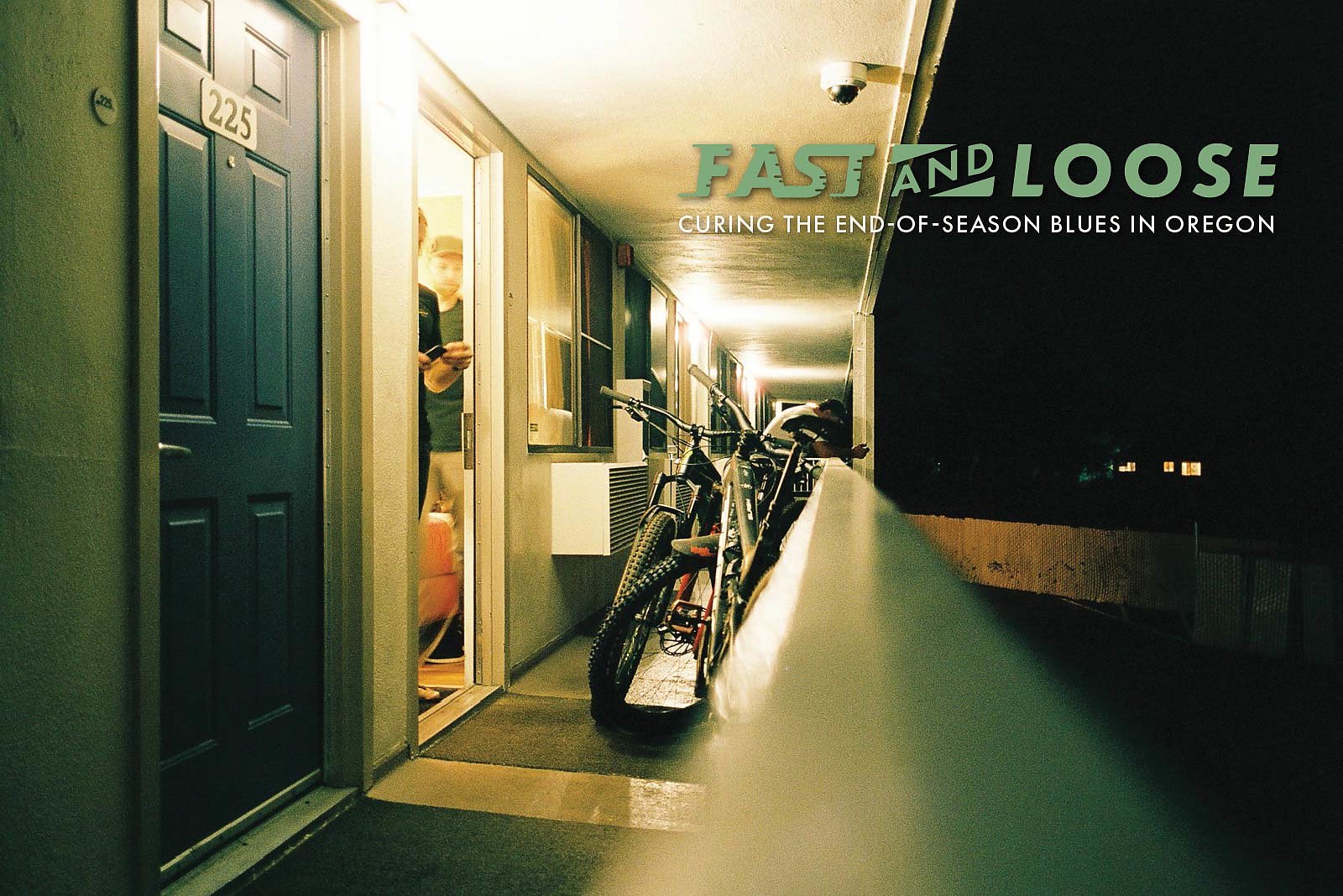 We left Squamish, British Columbia at 2 p.m. on a Wednesday in the middle of September.
The day's only goal was to make it to Portland, Oregon before our favorite pizza joint in town shuttered for the night. Sadly, only a few hours into the drive, our hopes of making it to Scottie's Pizza in time for a pie were dashed. Apparently, a trip to secondary inspection is required upon entry to the United States for all UK and Finnish nationals. This was something our crew—two British Columbia- based RV-dwellers, a Toronto 9-to-5er, a quirky Finn and an eager Brit—was unaware of. Two hours, three questions and $12 later, we were finally let through.
The original notion for this trip was conceived back in October 2018, just after my co-conspirator Mark Taylor and I had returned home from our third year at the Trans-Cascadia backcountry mountain bike race. The thrill of this unique experience had given us a renewed thirst for riding—a rare feeling late in the season. The resulting withdrawals from Oregon's sublime singletrack caused us to plan a harebrained, six-day, 365-mile death march, with roughly 43,000 feet of climbing, as we aspired to ride from Oakridge to Hood River. We originally thought by staying in motels we could minimize the amount of essential equipment, keeping bag weights to an absolute minimum and allowing us to travel the ridiculous daily distances more easily. But once it came down to serious planning, we discovered a few problems with our initial concept...
Words by Will Cadham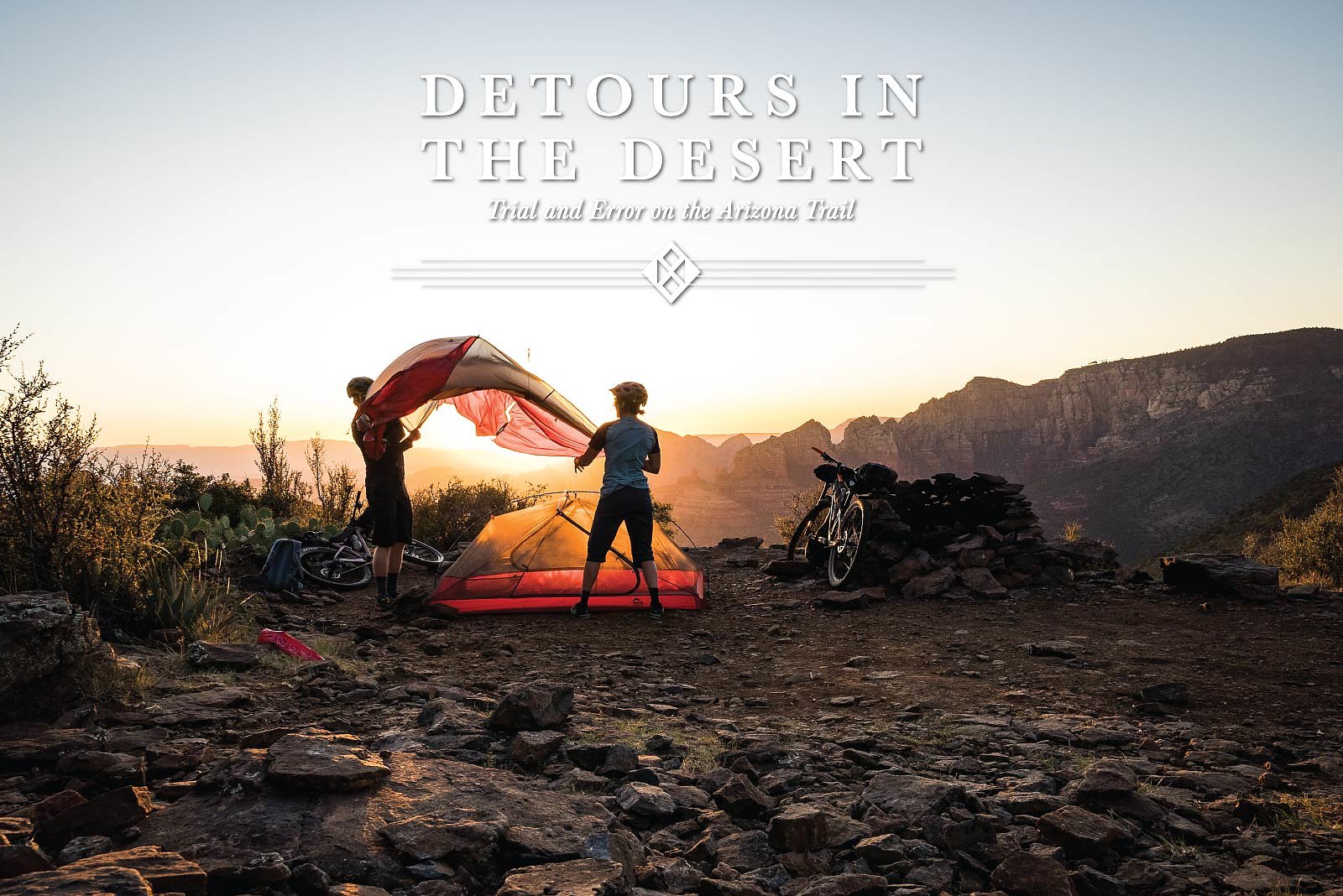 Shivering inside my sleeping bag, I went through my mental clothing checklist to see if there were any clothes that I wasn't already wearing.
I'd been trying not to admit it, but I had to concede it was taking every last layer I had to keep me warm in the low-20s temperatures. It was mid-October, and the Arizona high desert was teaching us a lesson in temperature swings.
I'd come here with a friend, big mountain skier Jackie Paaso, to bikepack a stretch of the Arizona Trail, from Flagstaff to Cottonwood, just outside of Sedona. I was surprised to learn that Flagstaff sits at an elevation of about 7,000 feet, and even more surprised to feel how quickly the temperatures dropped off once the sun had set. Due to a delayed flight and a host of last-minute, on-theground preparations, we'd gotten a late start to our journey, hitting the trail at 5 p.m. with only an hour or so of daylight left.
At 800 miles, stretching from Mexico to the Arizona-Utah border, we had only signed up to ride part of the Arizona Trail as a quick escape. But within minutes of pedaling, I could tell the trail is a colossal collaboration. Using a variety of public lands, the trail connects some of Arizona's most famed historic sites, ascends mountains, crosses plateaus and provides access to the state's most epic views for hikers, equestrians and bikers alike. Designated a National Scenic Trail in 2009, the concept was originally dreamed up in 1985 by Dale Shewalter, a Flagstaff schoolteacher who worked tirelessly to help the idea come to life...
Words by Stan Jorgensen | Photos by Riley Seebeck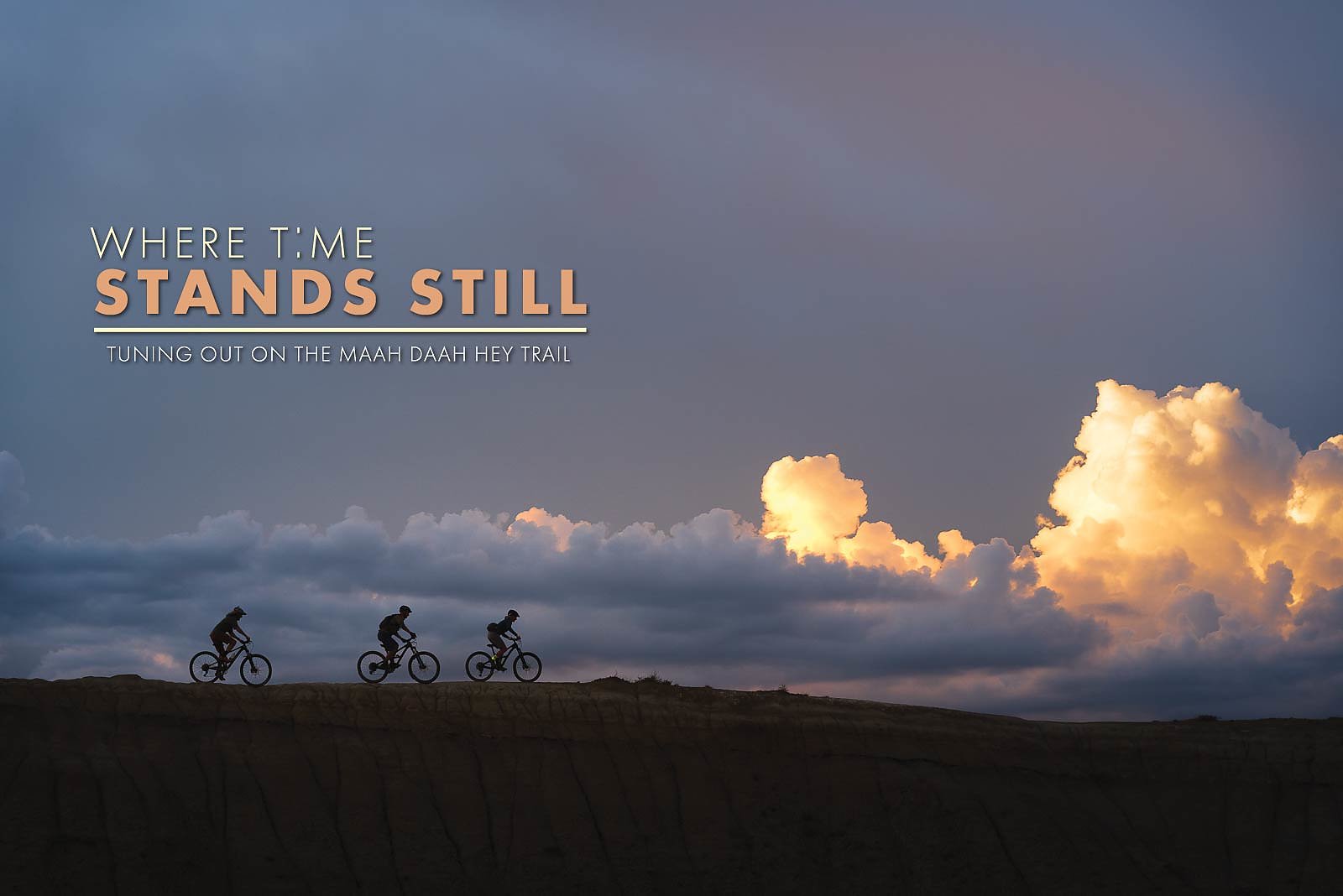 Our tires skid to a halt under the piercing North Dakota sun.
As the dust settles, we focus on the steady movements of two dung beetles, carefully rolling their utilitarian balls of goodness down the same ribbon of dirt we've come to ride for the next four days. The encounter is the first of many novelties to grace us in the storied Badlands on the Maah Daah Hey Trail, which this year celebrates its 20th anniversary. I'd heard about this trail for quite some time, but am finally experiencing it with four fellow Montanans, tuning out from our busy lives to enjoy this playground in the dirt without a soul in sight.
We are far from the first to escape to this desolate region. Theodore Roosevelt dropped out of society to move to this spot in the 1880s. Lured initially to hunt buffalo, but later to heal a grieving soul, his cabin life along the banks of the Little Missouri River was straight out of a western. Today, his namesake national park is the area's primary attraction, with the county seat of Medora (population 130) being the hub. The land outside of the park is managed as national grasslands, with open-range cattle capitalizing on the bounty left from spring rains. We'll soon see firsthand the delicate nature of the relationship between precipitation and the land upon which it falls—both for beasts and mountain bikers who travel far and wide to ride the classic singletrack...
Words by Pete Thomas | Photos by Marc O'Brien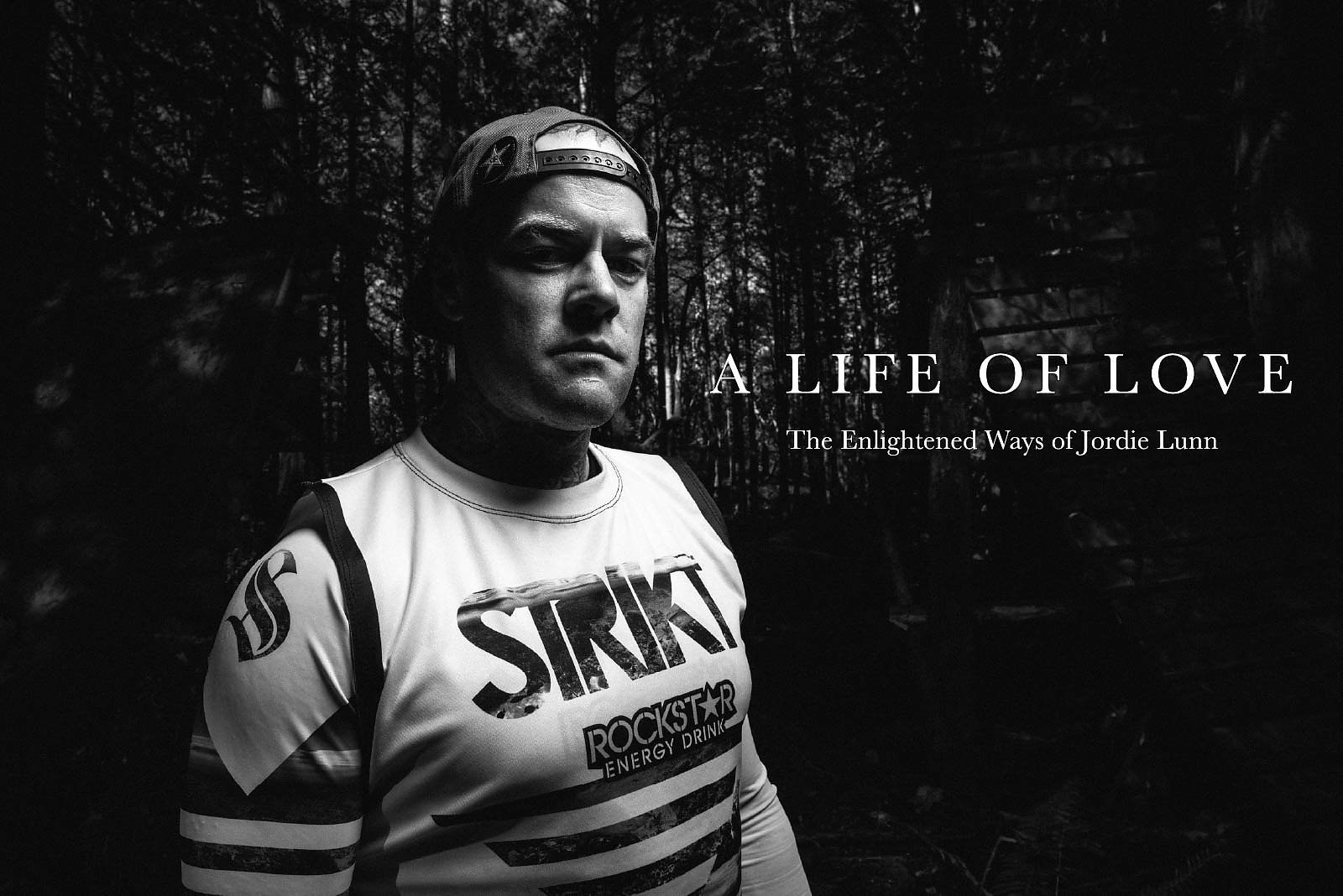 As the mountain bike world grieves over the tragic loss of another one of its greatest ambassadors—seminal Canadian freerider Jordie Lunn—friends and fans alike have found solace in cherishing the extraordinary example he set for a life well lived.
Though Lunn left us at the young age of 36, the impact he made with his 20-plus year career radically transcends his years and the often-groundbreaking nature of his riding.
In the days and weeks following his departure on October 9, 2019, the groundswell of emotion and memories pumping through social media feeds has been overwhelming. Lunn's influence and the kindness he showed to others resonated through all strata of society, from his rough-and-tumble freeriding brethren to the thousands of fans he'd taken the time to chat with over two decades of pushing the sport's limits. Everyone loved him, from the countless kids he coached and mentored to the parents of those kids, all of whom connected with his gentleness and enthusiasm for life. It seems that almost everyone who met him came away with a once-in-a-lifetime story...
Words by Brice Minnigh | Photos by Margus Riga