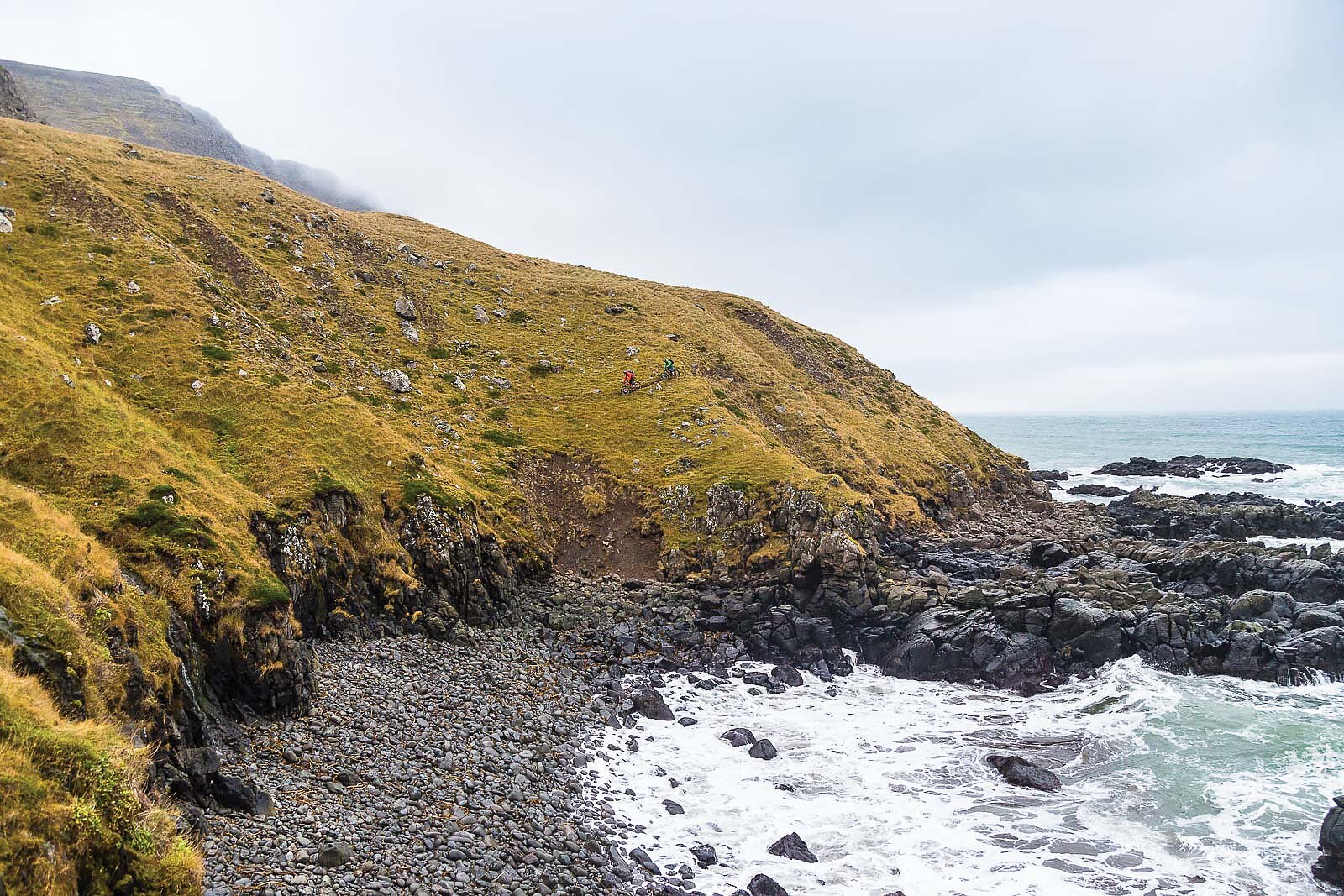 The Old Way Rebuilding Ancient Routes Through Iceland
After a morning spent slamming my pedals into the muddy sides of our "trail," repeatedly jerking to a stop mid-stroke, I'm beat.
These crisscrossing sheep paths looked so promising from a distance, but each trough formed by tiny hooves is just too narrow for a bike. Rain splatters against my glasses as I take a minute, lying on the spongy moss carpeting the valley floor and wishing a trail would magically appear and make this whole exploratory bike trip worth it.
Steely blue water foams against volcanic cliffs far below while a high plateau towers into the clouds above us, radiant with green lichen, tufts of golden grass and shiny blueberries. An early fall sunset glows through hazy fog, casting long shadows across the stark splendor of Iceland's West Fjords. By all accounts, it's beautiful. But a mountain biking destination? I'm not so sure.
Two days earlier, our 20-seater prop plane dipped beneath thick storm clouds, zooming toward basalt cliffs dropping 2,000 feet down to a dark indigo harbor bustling with activity. After the short flight from Reykjavik, the airplane banked a U-turn at the end of a narrow valley and we touched down on the single, questionably short, ocean-side runway of the Ísafjör∂ur airport, the largest town and hub of the remote, sparsely populated West Fjords region.
My friend Vidar Kristinsson met us at the baggage carousel with a huge smile. His looks identify him as a local—light oceanic eyes and a vibrant red beard, a modern-day Viking. "Welcome!" he said as he helped shuffle our baggage to the parking lot. After jamming three bike bags and gear into his Subaru, we piled in for the short drive to town.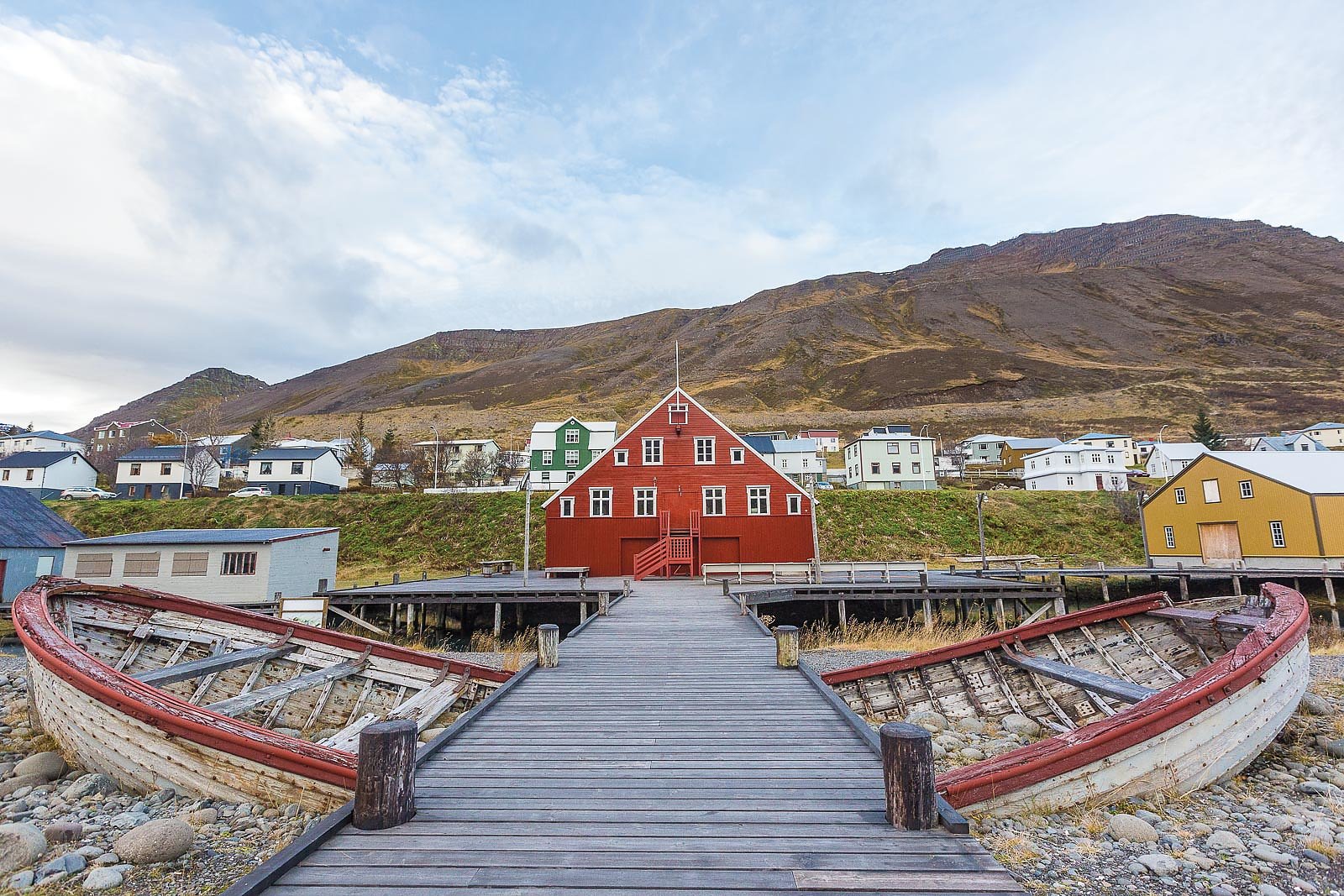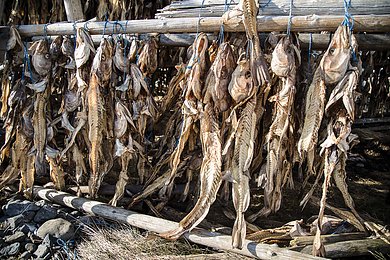 The West Fjords are home to some of the most isolated communities in the nation, where small towns are scattered across 9,000 square miles surrounded by jagged North Atlantic coastline. The frigid ocean reaches inland by way of deep, glacial- carved fjords and the rocky, sparsely vegetated landscape is scattered with wind-battered homesteads once inhabited by hardy farmers whose Viking ancestors settled the land 1,000 years ago.
While the flight from the capital of Reykjavik took only 40 minutes, driving requires five hours on winding, partially paved backroads. The region's small population of 6,870 has been shrinking since the 1980s—when a seafood industry conglomeration bought out individual fisherman—stripping towns of their traditional jobs and income. But over the past few years, these remote towns have found themselves in a renaissance of sorts. They've discovered that the landscape that provided for their ancestors over the past 1,000 years has something to offer the new generation as well.
While outdoor recreation was never a thing in the past—being outside meant hard, often dangerous work on fishing boats in the stormy seas, plying the rocky ground with potatoes and carrots, or chasing sheep over the region's fog-bound mountains— it's definitely a thing of the future. And that's why we're here. Camilla Edwards, a recent West Fjords transplant, wrote me about a downhill trail that was being built near town. Vidar corroborated her story, saying the mountain bike scene was at an early stage, but he'd been putting in hours on an enduro trail above Ísafjör∂ur. He wrote, "I have many ideas. I promise you it will be a sufferfest and rocky. But also a lot of fun."
The following morning, Vidar shakes his head with furrowed eyebrows. There's no way all four bikes are fitting in his Subaru and small trailer. He's offered to show us the town bike trail—the one he raved about a few months back via Facebook Messenger— but we need to get to the top first. Luckily, we're sitting outside his grandfather's old woodworking space, an olive-green Quonset Hut.
Carston Oliver and Eric Porter, my travel companions who are well-versed in bike transportation, suggest building a tailgate style side on his tiny trailer. Vidar eagerly pulls out wood scraps and a drill. Twenty minutes later, we're off, and Vidar's stoked on his new bike mover. With the sport being so new to the West Fjords—we're about to bike the town's first purpose-built mountain bike trail, just now nearing completion—standardized racks are hard to come by.
As the sun creeps over the rolling green horizon, orange light spills across an ethereal landscape. The gravel road curves into the hills, following a ginclear river tumbling over boulders. "I used to drive this road with my grandfather," Vidar says. "Before tunnels connected neighboring towns, these roads were the only way."
As we drive higher, a thick, chilly fog envelops the car. After parking at a nondescript fork in the road, Vidar pedals off through patches of snow and ice, disappearing into the clouds. A wooden stake marks the drop-in. The top is patchy with snowdrifts, but a serpentine singletrack works its way through the tundra-like terrain, over dirt jumps, wood bridges spanning streams, and not the easiest sequence of rock rides. Triangular peaks punctuate the plateau, striped with bright white snow against black volcanic rock. We pass a wheelbarrow and shovels before the trail takes a turn for the worse—a section that hasn't quite been connected in the middle.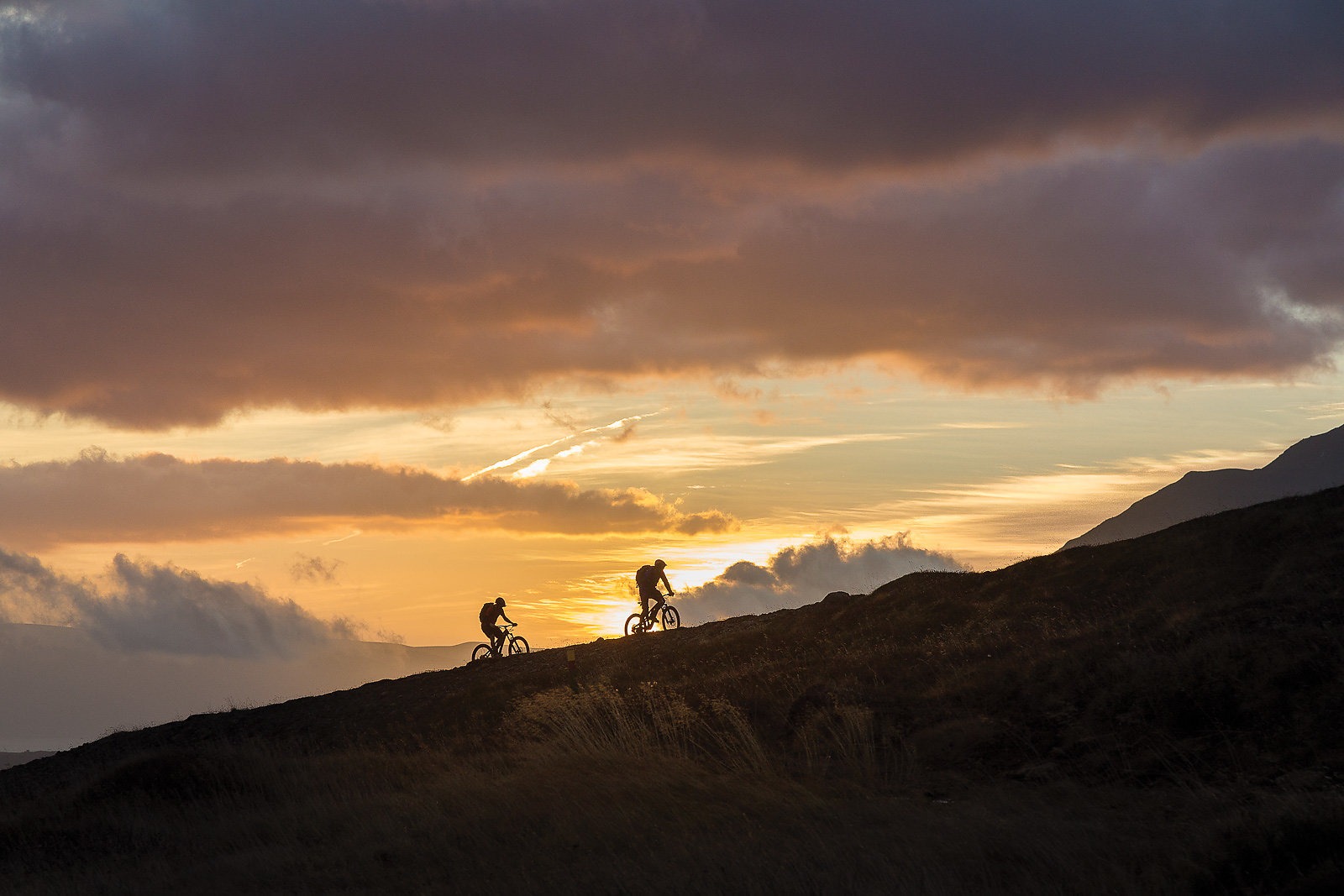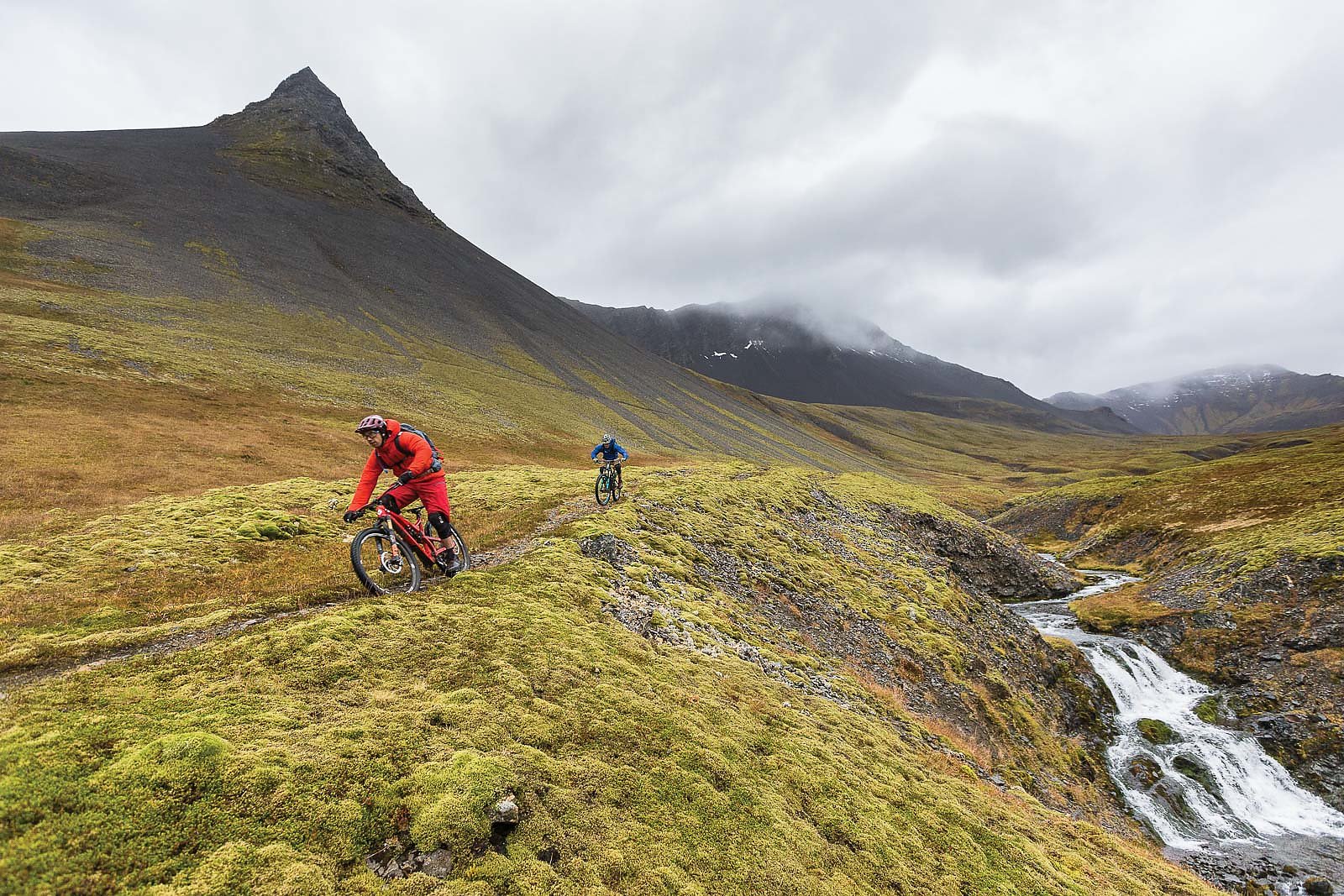 Vidar got his bike this summer, and he's in full send mode. "Every time I ride the trail, I do something new or better," he says, grinning. A willingness to crash helps, I realize, after watching him follow the boys off several jumps for the first time. The route is informally called Óliver's Trail after the local who made the first effort to extend existing wood jumps near town into a longer downhill ride. Community members have worked on it all summer, with plans for other connector trails to crisscross the valley in the coming years.
Descending toward town, we roll out of low-hanging clouds and into brilliant sun, a panoramic view of the deep blue fjord and colorful houses of town far below. Swooping through several perfectly banked turns, we cruise back to the access road and celebrate a successful first ride.
We spend the next few days exploring nearby fjords, following whims and sheep trails, getting our bikes blown out from under us by the infamous North Atlantic wind, and carving ruts across smooth black sand beaches. Our pedaling experiences are frequently frustrating, derailleur-bashing trials, but that makes the occasional rideable sections all the more gratifying. After a few days of demoralizing riding, we meet Óliver for a morning ride on the town trail and he commiserates with our struggle.
"That's why I started building this trail. After moving west from the Troll Peninsula, a place with many more years of bike infrastructure, I came here and found nothing," Óliver explains. "I started digging alone, and now the whole town is behind it. We're planning several more trails for next year."
It's incredible to see the region's initial forays into biking, the slow, organic growth of a bike community from nothing. The momentum is rolling, and in another few years trails will zigzag through the entire valley above town. But for now, we're in search of something more. Although the town trail is fun, we can't ride it everyday for three weeks.
Óliver points us east, toward his old hometown, sending us with an introduction to his biking buddy and directions to his favorite trail. After a winding, windy seven-hour drive we pull into the small town of Dalvík on the Troll Peninsula. The only open restaurant (tourist season is long over) serves hearty fish soup for dinner and we settle in for the night after walking the main street with our heads tilted skyward under a swirl of brilliant green northern lights.
We wake before sunrise to meet Óliver's friend Einar, an Icelandic mountain guide, and his wife Erin at the tiny church marking our trailhead. Doubletrack steeply climbs a rocky hillside before funneling into singletrack and meandering up valley beside a narrow stream. As we pedal, Einar points toward different slopes above us, "There's a bit of old trail there, and there. That one's just an awesome freeride."
Dark clouds soon block out the orange and purple sunrise as snow flurries swirl through the air. After a precarious stream crossing, the trail leaves the moss- and grass-tufted valley floor, switchbacking steeply toward the ridge. The first snowfall of the season remains on the ground and the crème brulée crust is solid enough to ride on with the occasional abrupt puncture into soft sugar snow below. Gaining the pass, a valley of braided waterways stretches toward the next fjord, a line of cairns marching down into it, marking the way for old timers crossing between villages when thick ocean fog would roll in and obscure vision.
After riding a few scree-slope ridgetop lines, the snow returns. It's soft and harmless at first, then comes with wind and force, coating the trail thickly as we beat a hasty retreat. A curving trail drops to the base of the ski resort and, following sincere thank yous to Einar and Erin, we pedal intently to the town pub we'd discovered the night before.
The jovial owner greets our mud-splattered faces with a huge grin. The snow is still coming down outside, but he doesn't question our choice of biking at the end of October like so many other Icelanders—he can tell we're finding what we came here for.
After warming up with several bowls of fish soup and tasting the local Kaldi beer on tap, I open an email from Einar. He's sent GPS tracks of all his favorite rides in the area. This feels like a huge success after days spent wandering blindly with bikes in tow around the West Fjords. Never have I been somewhere with people so happy to share their personal stashes and time.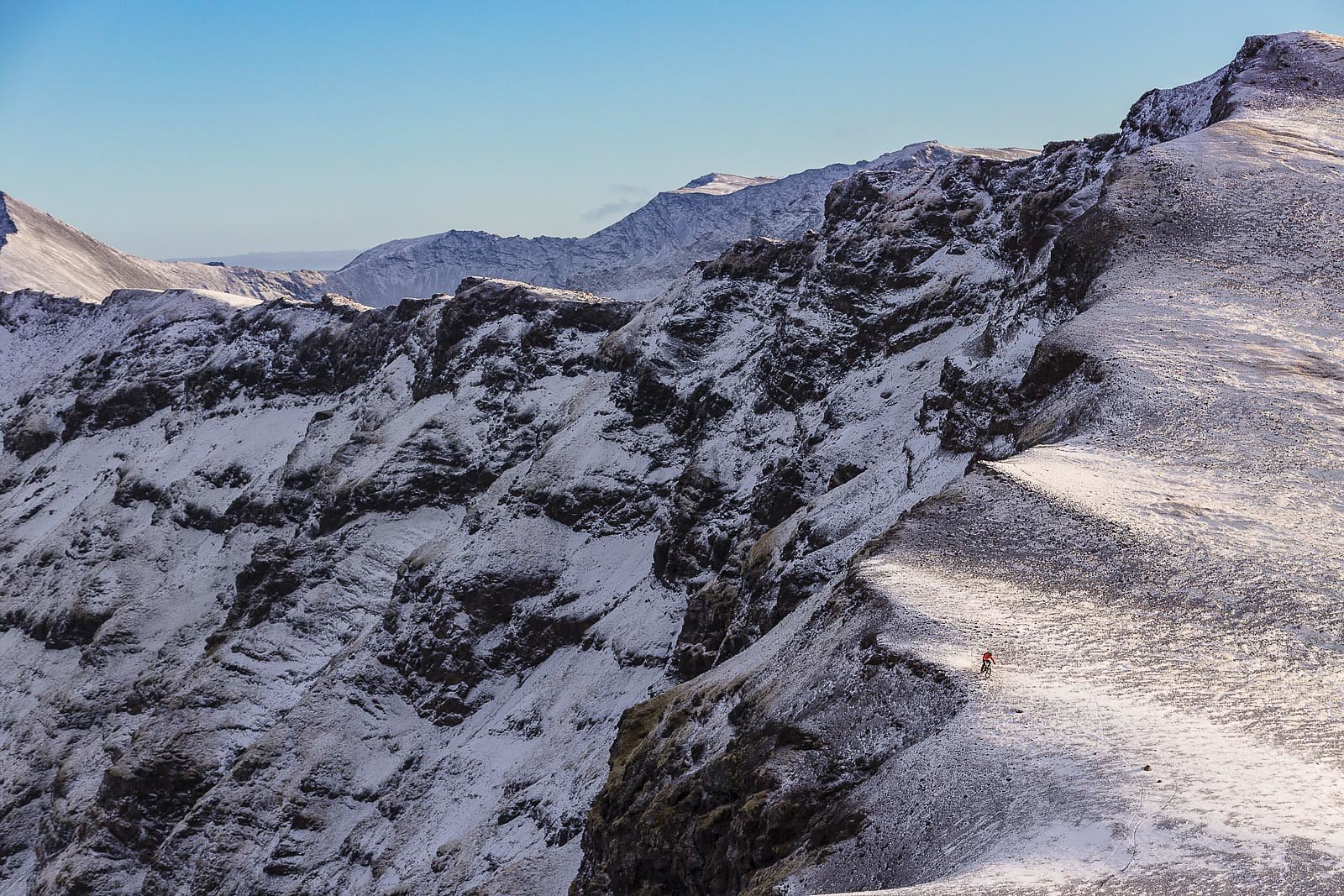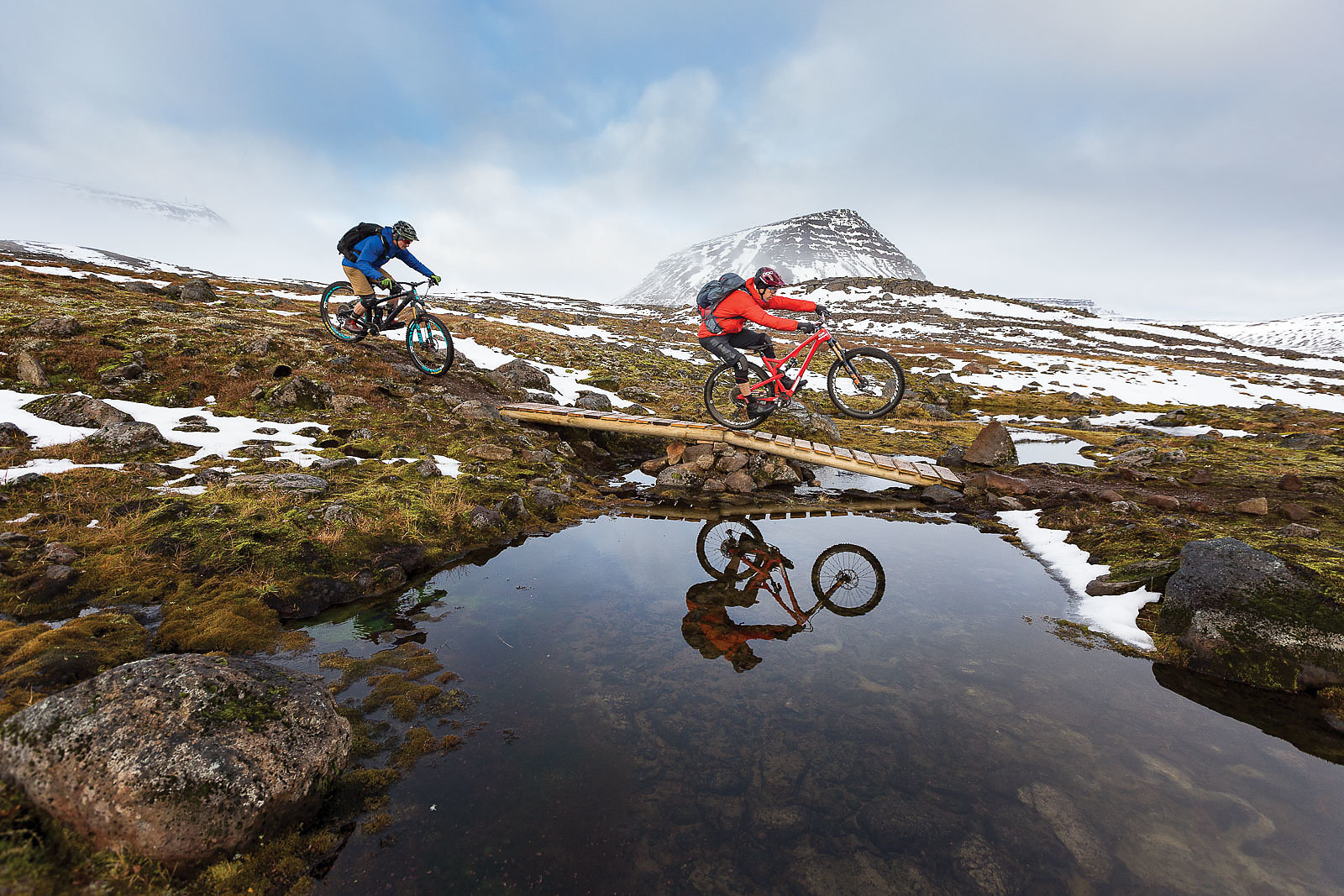 The next day we drive farther north, to the last town on the map before the coast becomes wild and windswept, dotted by remote farmsteads. Einar told us about a young biker who recently moved to town and we're eager for more exploration. We meet Gestur at one of two occupied tables at the pizza shop. Standing more than six feet tall, with hair cut short around the base of his skull and gathered into an enviable man-bun on top, he'd fit seamlessly into any nouveau- Viking-hipster TV show. Instead, he's an Icelandic farm kid who recently moved to Siglufjör∂ur, a town with a marked absence of young people—or any people, really—to pursue his love of biking and skiing.
He didn't move here because there was a thriving mountain bike scene to join; he moved here to be the mountain bike scene.
Over seafood pizza and Segull 67 beer, he describes moving here with the ease of any 20-something who packs up their whole life to start anew. He didn't move here because there was a thriving mountain bike scene to join; he moved here to be the mountain bike scene. If all goes well, he'll attract others.
"There's so much exploring to do—it's up to me to find the old trails," he says, clearly thrilled about the task. Iceland is crisscrossed by ancient routes from the time before roads, which in most places isn't that long ago. In 1967, Siglufjör∂ur was still accessed via a high mountain pass, summer months only.
"These paths are out there waiting to be rediscovered— I just have to put in some work to clean them up," he says. Gestur's company, Wild Tracks, specializes in these old routes, using existing trails and armed with the latest tools (mountain bikes) to enable a new generation of Icelanders to explore their landscape. After one more beer, he suggests we stay in his spare room and ride his favorite trail early the next morning.
It's still dark when we roll out of bed and wander into the kitchen, where Gestur sips a freakishly green spirulina smoothie to fuel up for the ride. Over coffee, he talks about transforming abandoned fish-processing plants into grow houses to provide fresh vegetables for the community. "The potential for this town is huge," he says. "It's an exciting time to be here—I can actually impact the future of this place."
After running a shuttle in the darkness of predawn, we pile into Gestur's Super Jeep and bump our way up a ski resort access road zigzagging high above the fjord. When we reach a patch of snow that would require some major side-hilling above exposure, Gestur puts it in park and we quickly pull on jackets against the brisk morning wind.
Pointing toward the still-sleeping town, Gestur explains, "Siglufjör∂ur was practically giving away houses when I came, the town was dying, everyone was moving away." The population had shrunk to half it's size in the last 50 years after the man who held the fishing quota moved his operation to a bigger town. Opportunities for work plummeted. It's hard to imagine this idyllic, colorful fishing town facing depopulation, but that's the sad fate of many of Iceland's once-thriving coastal settlements.
During the 1950s, herring fishing was the way of life in these outposts on the rough and stormy North Atlantic. "But now, tourism is saving so many of these little towns that would be bulldozed over," Gestur says. "And everyone in Iceland is an entrepreneur now, the economy is changing so fast." For his part, along with founding an adventure biking company, he's working with the town to make it a summer destination for Icelanders and foreigners alike.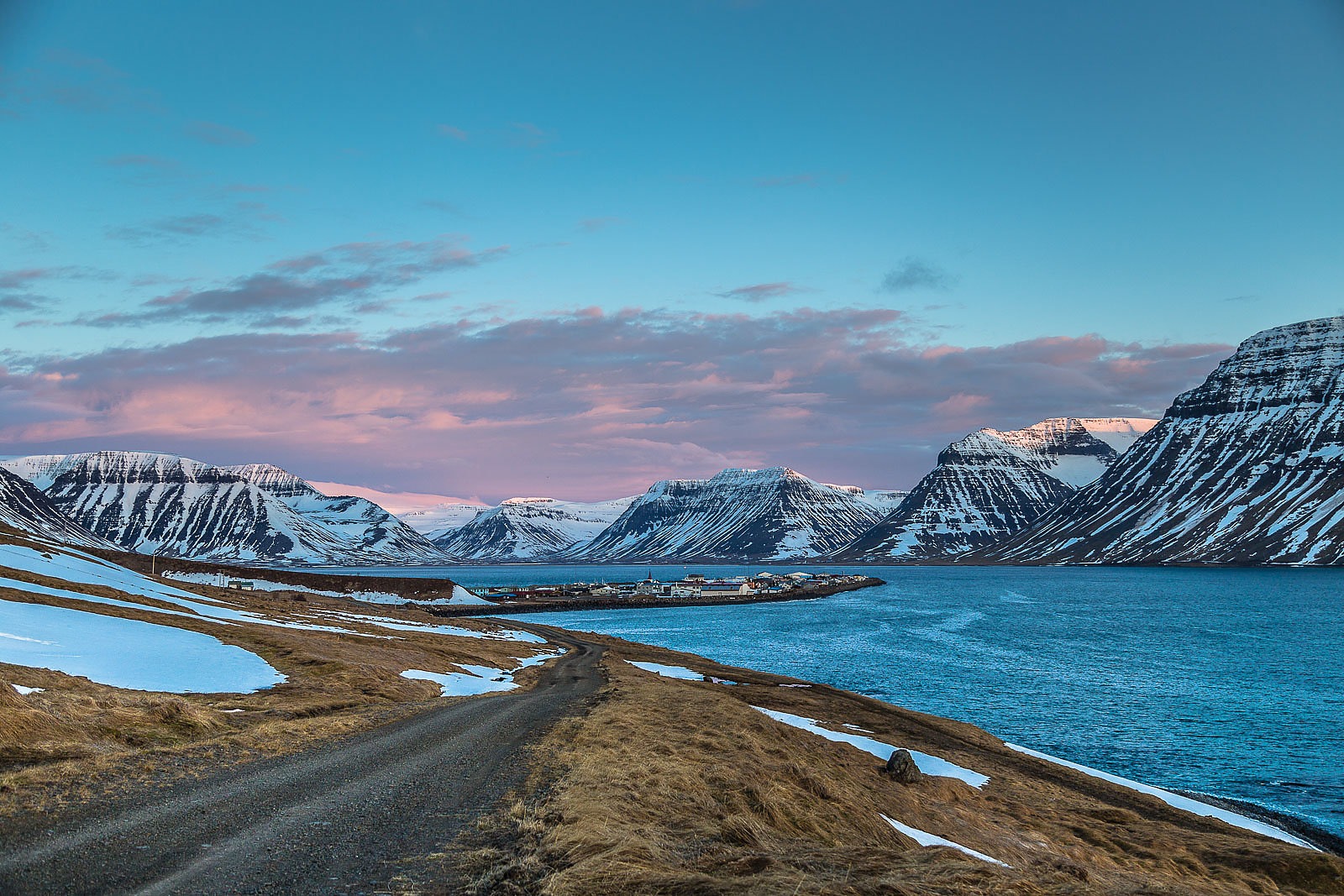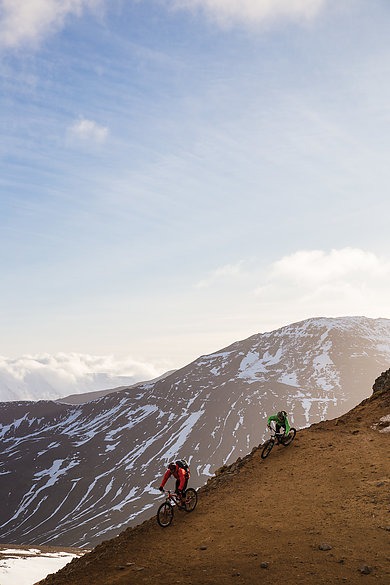 We pedal up the rock-strewn road to a cleft in the cliffs and start down an old postal route connecting Siglufjör∂ur to remote outposts along the coast. The trail was last used to deliver mail by horse in the '70s and some sections are in rough shape, but it's all there, just waiting for rejuvenation with people like Gestur's exuberance to use and improve existing routes.
Pausing on an overlook where grassy hills roll down toward the vast indigo ocean, Gestur points at a notch in the distance, our singletrack weaving sinuously around lakes and boulder fields between here and there. Gestur and Carston take off at full speed down the loose trail, swooping around a banked corner before dropping from view. I take a minute to imagine the people who used to walk and ride this route—if they could see us now.
The last section of trail is smooth and fast, dipping into gullies with quick turns before popping out for another stunning ocean view. We exit onto a farm road and pedal to our shuttle car, Gestur excitedly talking about future plans between breaths. This year, he took bikers on a sailboat to access adventure rides in some of the wildest sections of the coast, now uninhabited, searching for routes from hundreds of years ago.
"I'm hoping to convince the town that we want quality over quantity of visitors," Gestur explains aswe drive into town. "People who want to stay and recreate—skiing, biking, hiking. They contribute more to the community than cruise ships that dump 500 people to overrun town for an hour and leave."
At each stop along our journey, we met hard-working, enthusiastic community advocates, all shepherding dreams of trail networks, sustainable food production and viable economies centered in outdoor recreation. The plans are set in motion and, if all goes well, it seems recreational tourism might be the answer to replace the dwindling seafood trade and keep these small communities thriving in the decades to come.
As people like Óliver, Einar and Gestur continue developing specialized attractions and putting energy into local quality of life, what's special about this place—the people, the traditions, the interaction with the natural environment—will live on. The very reasons these coastal settlements were such a challenging place to live for centuries—with extremely punishing weather and inhospitable mountainous terrain—may be exactly what saves them from obsolescence.