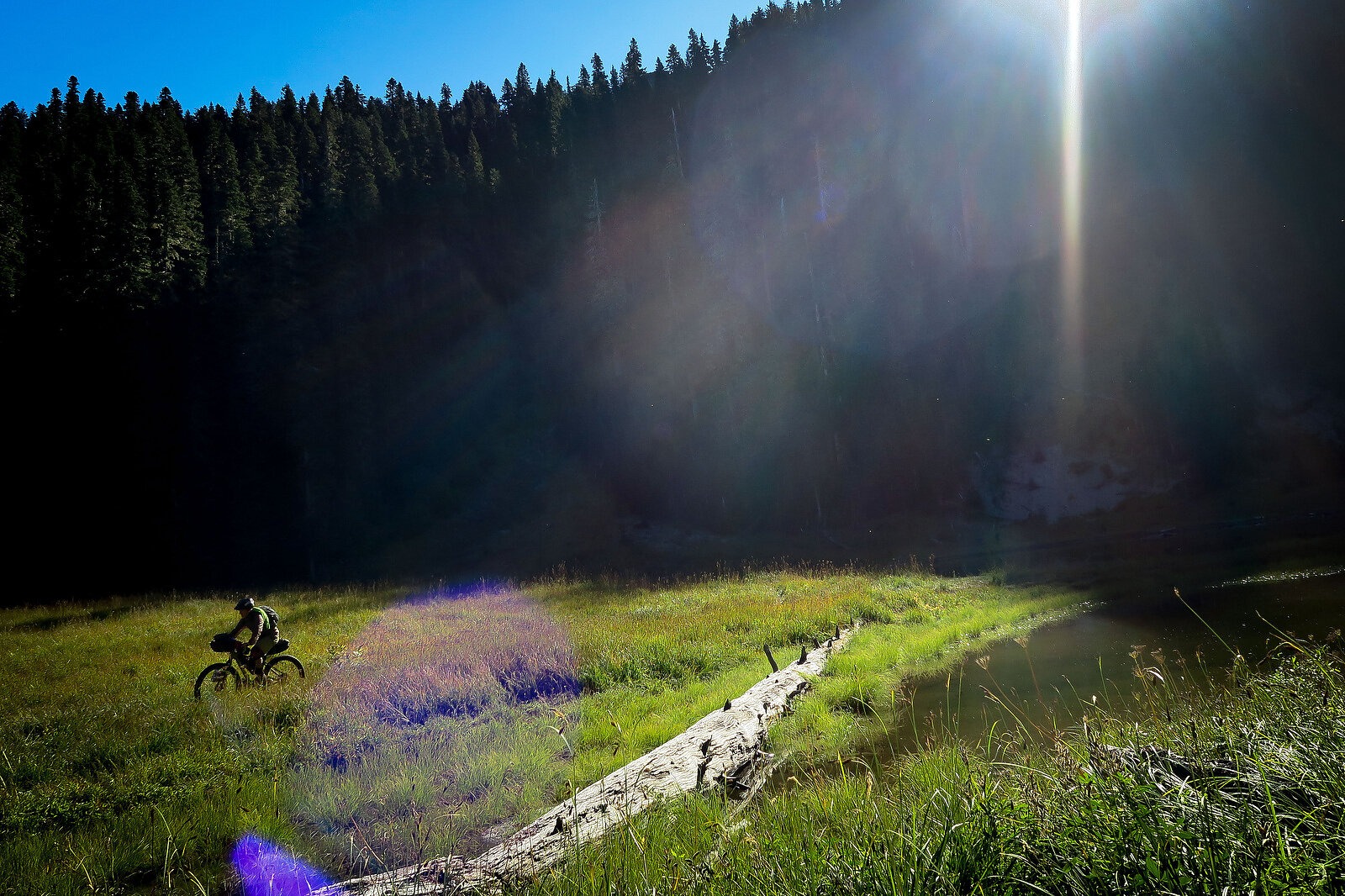 No Easy Tours Bikepacking and Brotherhood in the Land of Sasquatch
Packed in with five close friends, wind and rain pounding on our bivy sacks as we lay under the awning of a closed snack shack, a thought crossed my mind, "How the fuck did we end up here?"
Months prior, on a video call to outline our upcoming trip, Ryan Booth uttered the words "easy tour." His comment came in reference to a route I'd recommended for our next bikepacking mission—a seemingly straightforward loop through Washington State's Gifford Pinchot National Forest.
"Bring fishing poles, beers and camp chairs," our old NorCal amigo turned Florida Phil said. "People complete this route in a day. How hard can it be?"
As it turned out, plenty hard. Our initial planning calls had failed to address that bike trips with buddies are always hard, no matter what anyone says beforehand about keeping the pace "leisurely" or picking a "chill" route. Though we often kid ourselves in the months leading up to a trip, as far as I can tell, the fact that it will be tough is precisely the reason we all go. We don't go for easy; we go for adventure and friendship. We go for the chance to leave the comfort of loved ones behind—intentionally putting ourselves into airplane mode, even in places so far out that phones won't work anyway. We go to try as hard as we can not to get too lost, or break ourselves, or our bikes, all the while pushing closer to the edge of exhaustion, laughing hysterically in the face of the unknown.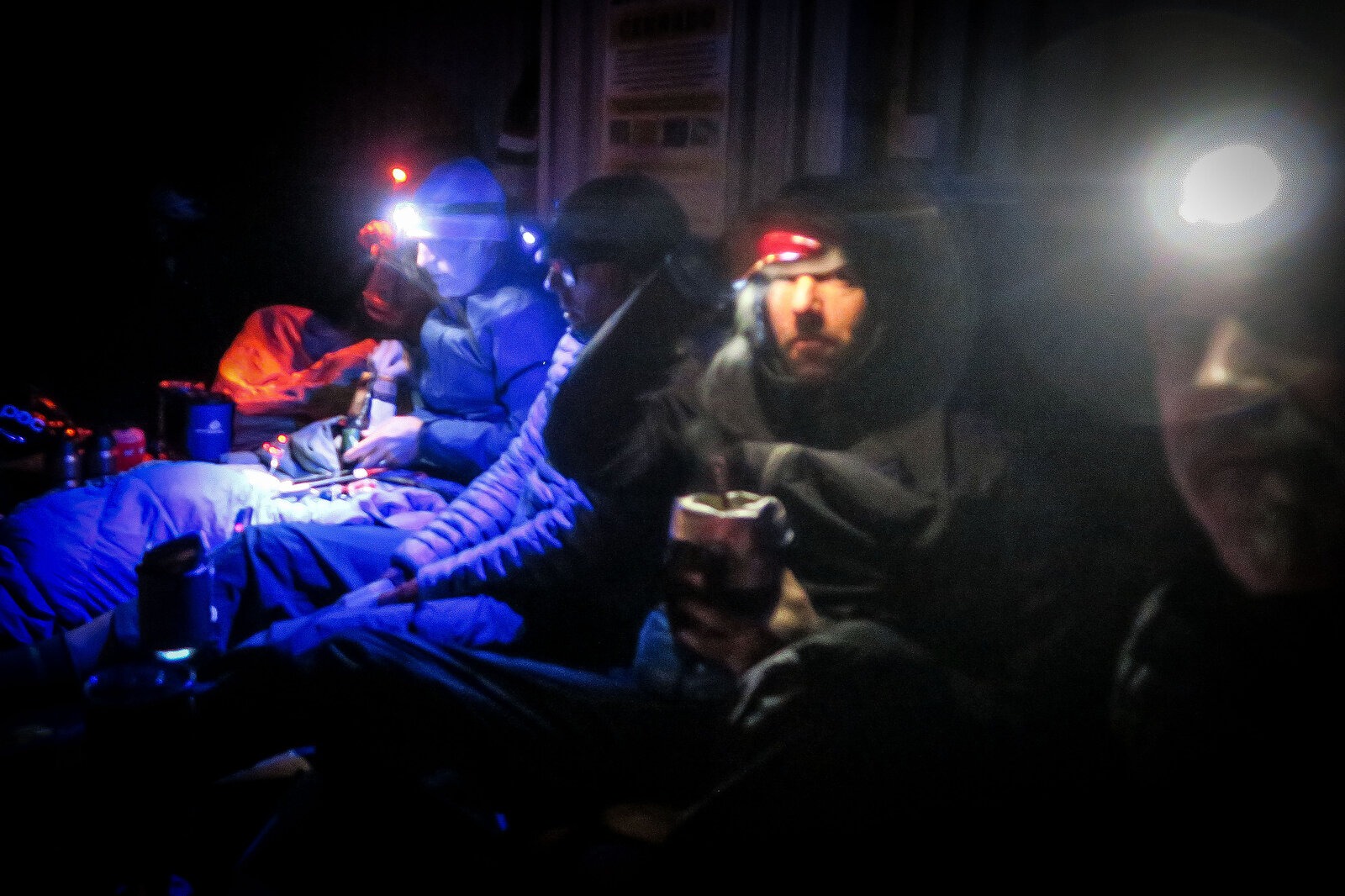 Six months later and countless texts and calls to talk through gadgetry and grams, five great friends showed up in my driveway in Hood River, Oregon to build bikes, gear up and head out on our annual installment of the "meet somewhere random, pack everything we need, repack it a hundred times and then pedal and push it all out into who-knows-what" show.
Our sights were set on the Mount St. Helen's Epic, as it's known among adventure riders in the area. The loop is comprised of 80 total miles and around 12,000 feet of climbing, all including a short list of super stacked and rip-worthy technical singletrack offshoots weaving around a handful of mind-blowing volcanoes. As if that wasn't exciting enough, high winds and the first heavy rainfall of the season were forecast for the duration of our journey. Elsewhere in the region, heat waves and some of the most devastating wildfires in recent history burned across millions of acres. Undeterred, and with enough Sasquatch stories and forest-grown psychedelics to scare the shit out of even the hardiest of Bigfoot hunters, we set out.
The weather gods wasted no time in delivering their first punch. Just as we got rolling, a deluge of water fell from the sky and soaked the first few miles of pavement and dirt road. As we pushed through the rain, we got our first real taste for what lie ahead: sustained and grinding uphill. With bikes strapped with food and gear for four days, plus water for the full day's ride, it didn't take long before we all realized how out of shape we were—at least for a route of this magnitude. So, slow and steady it was. Forward is progress. The obstacle is the way.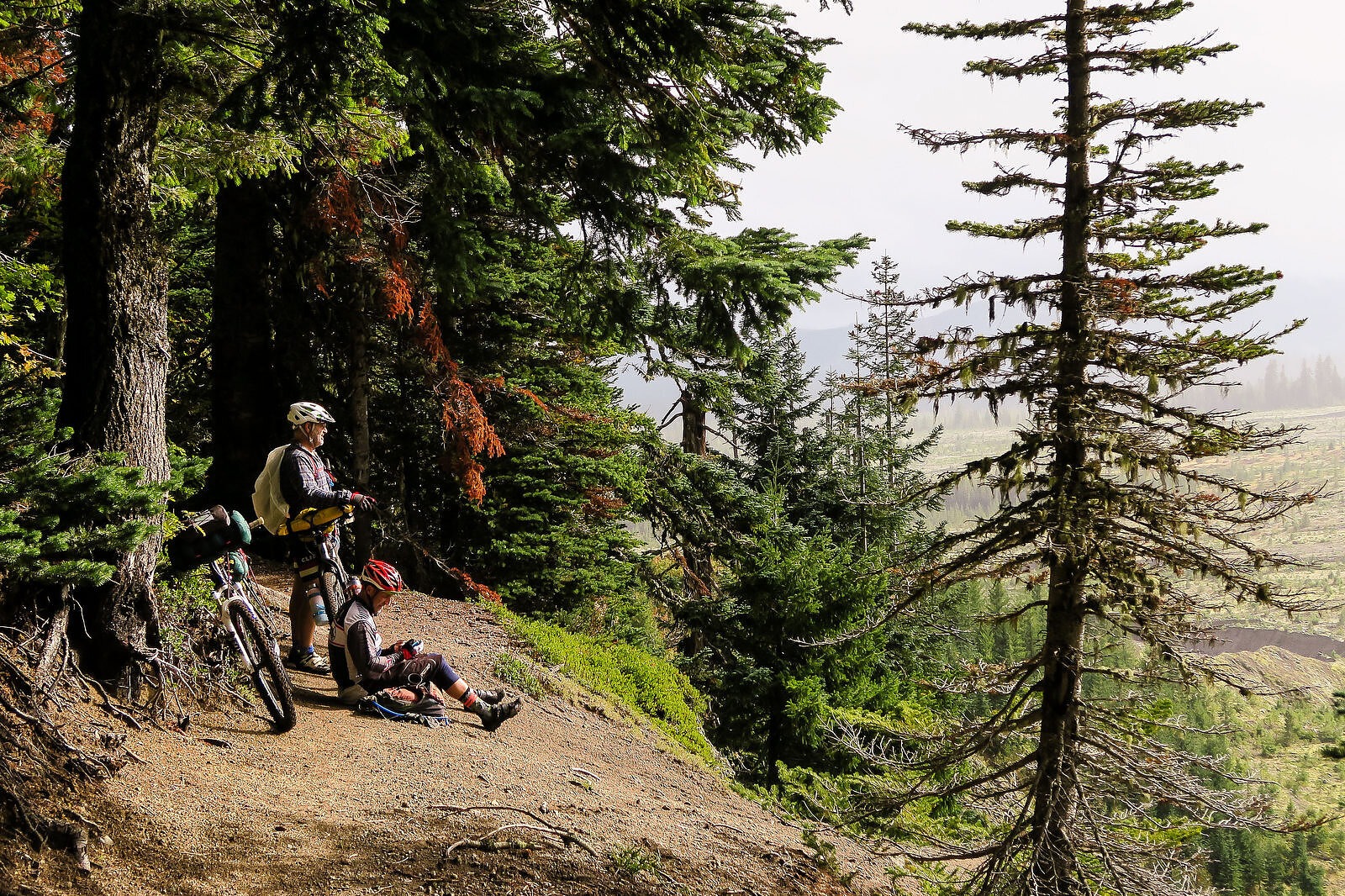 As we climbed, I pondered how incredibly close the words "hike" and "bike" actually are. Why is it that no matter how much walking with our bikes we do on these trips, we still call it biking?
Topping out after our first mega climb, with a view of Mount St. Helens freshly blanketed in snow, what little breath we might have had left was officially gone. The sun blasted through and held the rain at bay for just long enough to rip a short pavement section to the base of Ape Canyon for a sun-drenched lunch and drying session. Spirits lifted as we refueled and scoped our next hopeful water spot on the map.
The uphill continued, along with occasional moments of steep hike-a-bike, until we finally crested the top of Ape Canyon and entered a long traverse across the Plains of Abraham. The landscape here felt more like the moon than the dense forests of the Pacific Northwest we had grown accustomed to over the previous five hours. Despite the sporadic torrential rain, water was hard to come by and we all nursed the last of our liquids in hopes of finding a new source soon. As the day wore on the skies continued to darken. Pushing into the wind and with no good place to camp in sight (not that we could see very far anyway), we rallied onward. Once off the Plains section and safely across the knife edge of Windy Ridge, we managed a smile as a beautiful piece of singletrack delivered a much-needed dose of downhill payoff. Though, preventing us from fully delighting in this epic trail, 40 to 50 mile-per-hour winds and the resulting sideways rain chipped away at our spirits. Exposed more now on the mountain than we'd been all day, tensions grew. We were all soaked to the bone, some growing cold, with darkness creeping in and still no place to call home for the night in sight. This was really starting to hurt.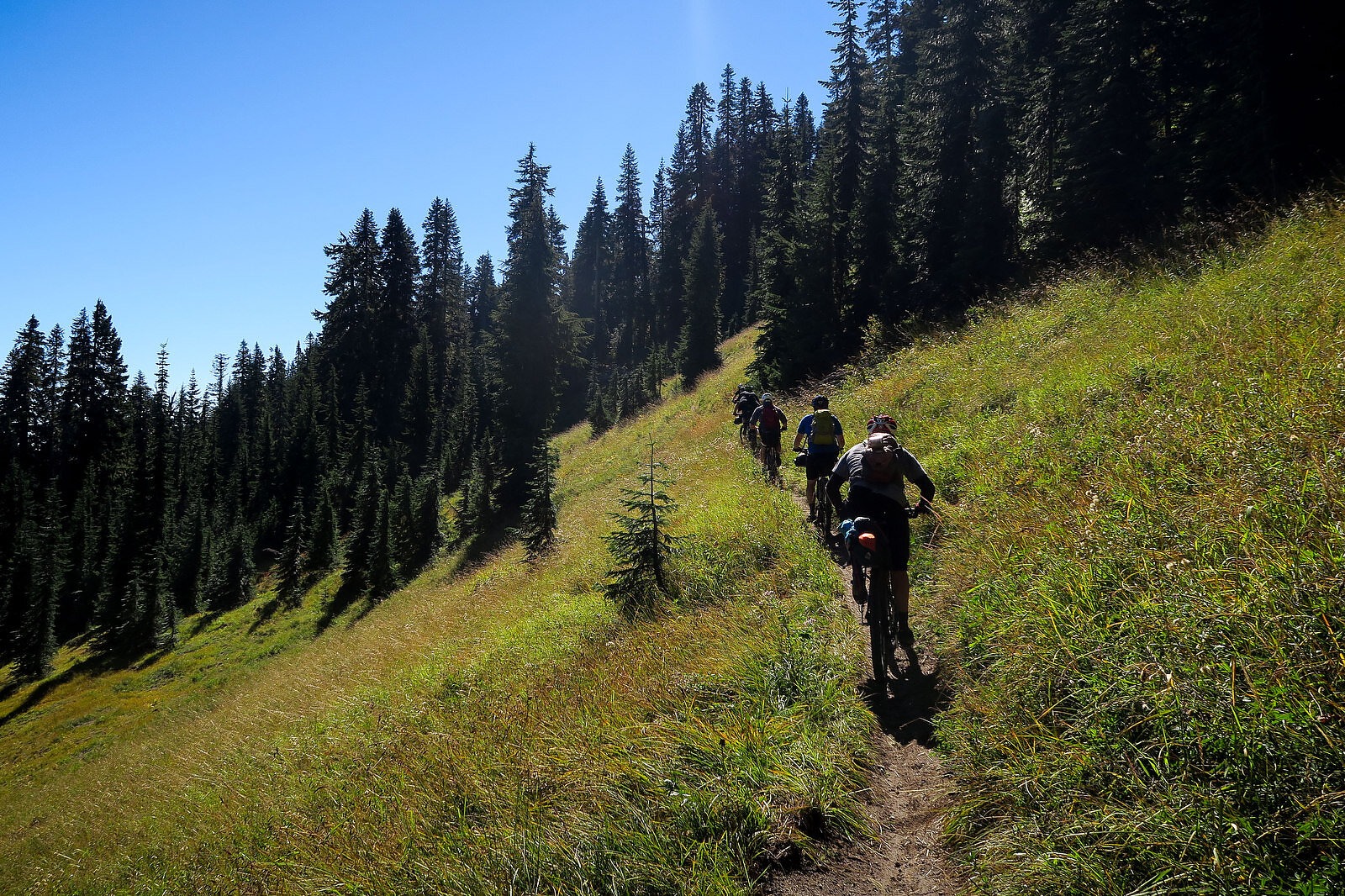 A few miles later, we came across a park restroom with an exposed overhang. What should we do? Sleep here by the shitters and shiver-bivy the night away or push on in hopes of finding something, anything, better than this? Dusk settled in and, estimating no more than 30 minutes before total darkness, we reluctantly decided to keep moving as the winds and rain continued.
Sure enough, just as anyone would have officially called it dark, we pulled into a closed snack shack with an awning sizable enough to host us all and at least get out of the relentless rain. Using our bikes, we built a barrier from the elements and laid out our bags and bivy sacks like parallel Lincoln Logs to create a semblance of a dry zone. Moments later the familiar hum of propane stoves had begun and a bottle of Mezcal Vago started to work its magic to warm our frozen fingers and toes. 35 fully-loaded miles and nearly 5,500 feet of climbing—day one, done!
The following morning brought a full-blown carcass party of gear drying and coffee sipping in the sun. As the sun rose directly over Mount Adams and Mount Hood, we cackled recollecting of the previous day's heinous ride, bumping music from a mini speaker and relishing the possibilities of a new day ahead.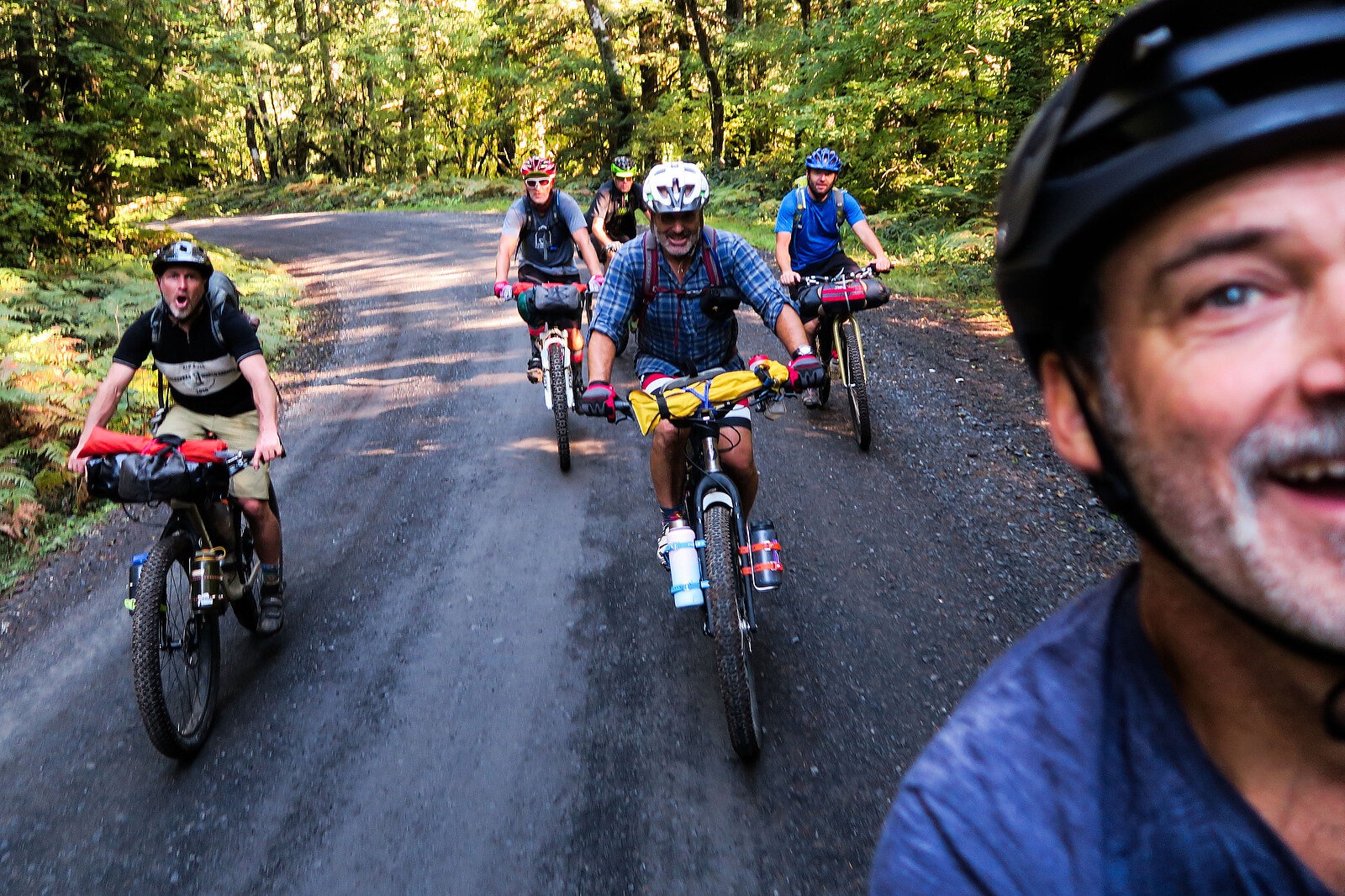 On tap today was the famed Boundary Trail by way of the Mount St. Helens National Volcanic Monument on the Spirit Lake Highway. Our plan was to ride about 18 of the 54-mile traverse. Should be easy enough, we figured. Yet anyone who has ever hiked, biked or moto'd even a small section of this multi-use gem cautions to its difficulty. Blisteringly fast downhill sections burned permanent holes in our experience-rich and rut-rattled brains. When the trail pitched skyward and we were forced to dismount, there were times it took two of us to hoist one loaded bike up the inclines. Had we entered a wrinkle in time? Only 13 miles to go and yet this section took hours on end. Bikepacking nearly turned to bikepuking as we struggled to make it to our campsite before sunset. Ragged from another tough day on trail, we dumped our rigs, stripped down, and washed it all away. Mas mescal por favor.
Relatively unscathed, we were thankful to put an end to our time on the Boundary Trail. The downhills are indeed unparalleled, though the brutal ups blur the mind in its ability to truly take in any of the scenery.
Another morning of coffee, self-served in our bivy bags, ensued before a big climb up to Craggy Peak. We landed ourselves on the ridge line for a four-volcano-view lunch, and after a good look at our maps we aligned on the decision to cut the day a little short so we could have another primitive camp before dropping into civilization again the following day.
A blistering five miles of descending lay ahead as we rolled out after lunch. The mob session was on! Hooting, hollering and absolutely hauling ass we twisted along forested singletrack and butter-like mountain-meadow traverses. Then, like a freight train smashing into the side of a Mack truck, "Wham!" A painful sounding pop following a half pedal stroke balled up my chain and rendered my rear wheel useless. Looking down, I noticed my derailleur was hanging from my chain, crinkled into one with my used-to-be drive train.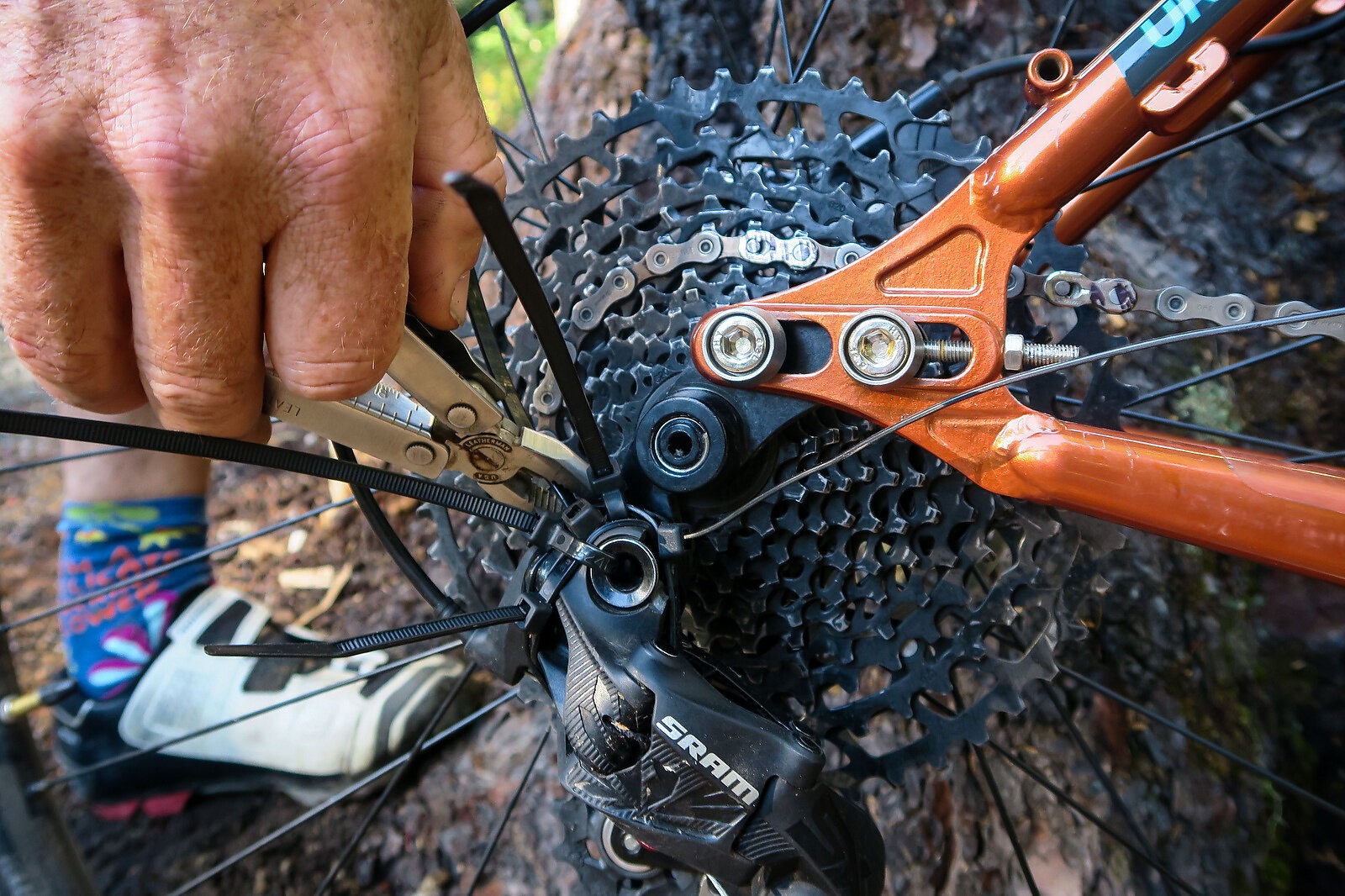 Luckily, I was still entirely in one piece. And though I didn't have a spare derailleur, I knew we only had four more miles of mostly downhill trail. Links removed, chainline checked and I was back in the flow after a good bit of tinkering. Through a mix of soft-pedaling and pushing, I hobbled my way into camp as, yet again, day quickly turned to dusk. With our bikes set aside and gear exploded, we milked the last of the sun by swimming in a drainage ditch, hollers of "Hell yes!" ringing out from our campsite. Another day in the books. The following day called for 17 miles and the only real question that lingered was how many of those miles I'd be walking, versus riding, in an effort to get out of the wilderness and back to our point of origin.
Our final day arrived after a marathon night of wrenching with beloved bike doctor and my dear bikepacking brother, Uncle Tony. At first, we thought turning my bike into a single speed was our only option but upon closer inspection, and after a proper happy hour, Tony came up with the idea of simply zip tying my rear derailleur right back onto the hanger. Sure enough, there was just enough left to grab the mounting post and from there it held on for dear-ailleur life, thanks to six perfectly placed zip ties. All hail bike repair kits!
Spirits were high and the sun greeted us as we broke camp, prepped bikes and crushed more Alpine Start coffee along with the dregs of everything else we had left to consume. We had about 17 miles to go on our last day—the first five of which would be top speed, smoke-your-brakes, blow-your-mind, ultra-fast and tech downhill.
Our finish line nearly in sight, we flew down the smooth and swooping singletrack of the Lewis River Trail, only to be met with an unimaginable number of downed trees from the high winds of the week before. Hoots and hollers were interspersed by mega bushwhacks, walk-arounds, strained bike lifts, altogether a slow parade of last-ditch effort and energy.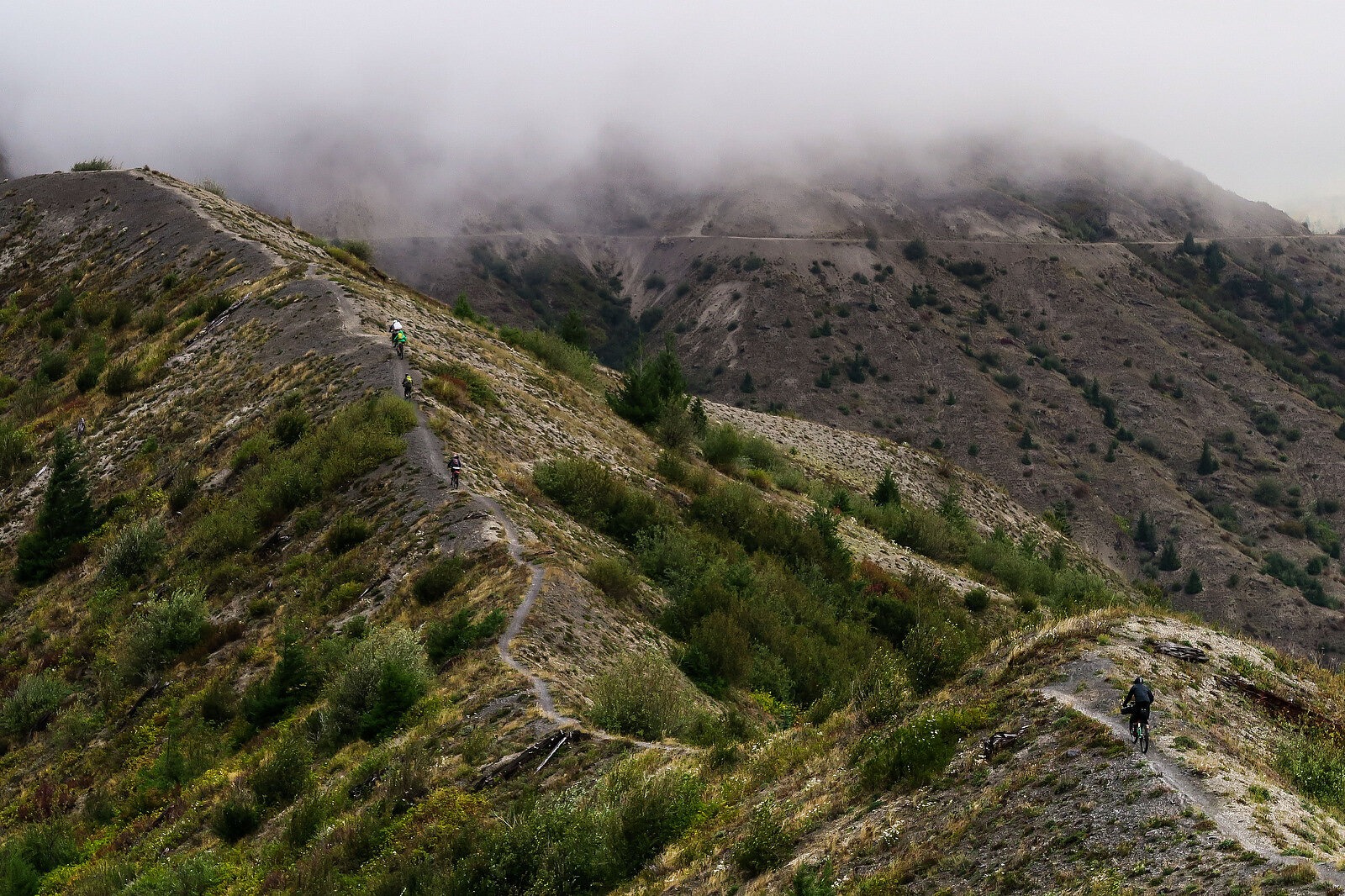 I managed to milk three relatively comfortable gears out of my wadded-up drive train—far better than the failing single speed of the day prior. I still couldn't really hammer any climbs for fear of breaking my chain which had, through the course of our late-night repairs, been taken from its original length and shortened to accommodate a single gear, then lengthened again with three quick links. It was officially the sketchiest so-called chain I'd ever ridden.
Needless to say, I was more than happy to pedal softly as making incremental progress was key to the ultimate happy ending. And oh, what a happy ending it was. The river trail ended at our initial dirt road and a quick hard right delivered us to a final steep climb, putting us right back to where this whole adventure had started a very full four days before. The beers were as cold as we had left them, and our memories quickly vaporized our Type 2 fun experience. We held that notion for a moment and managed to still make our way into flip-flops and fresher clothes for the burgers and fries that awaited us.
Out of the woods, back into our Covid masks, cell phones beeping their way out of airplane mode, the realities of our day-to-day lives crept in and quickly transformed our thoughts into planning our next trip. Peter, the original instigator of our bikepacking shenanigans, will be celebrating his 50th next year. His only wish? Go bike touring with his buddies. Although this time, as we scour routes and compare notes for our next trip, we're keeping in mind one important lesson: There's really no such thing as an easy tour.