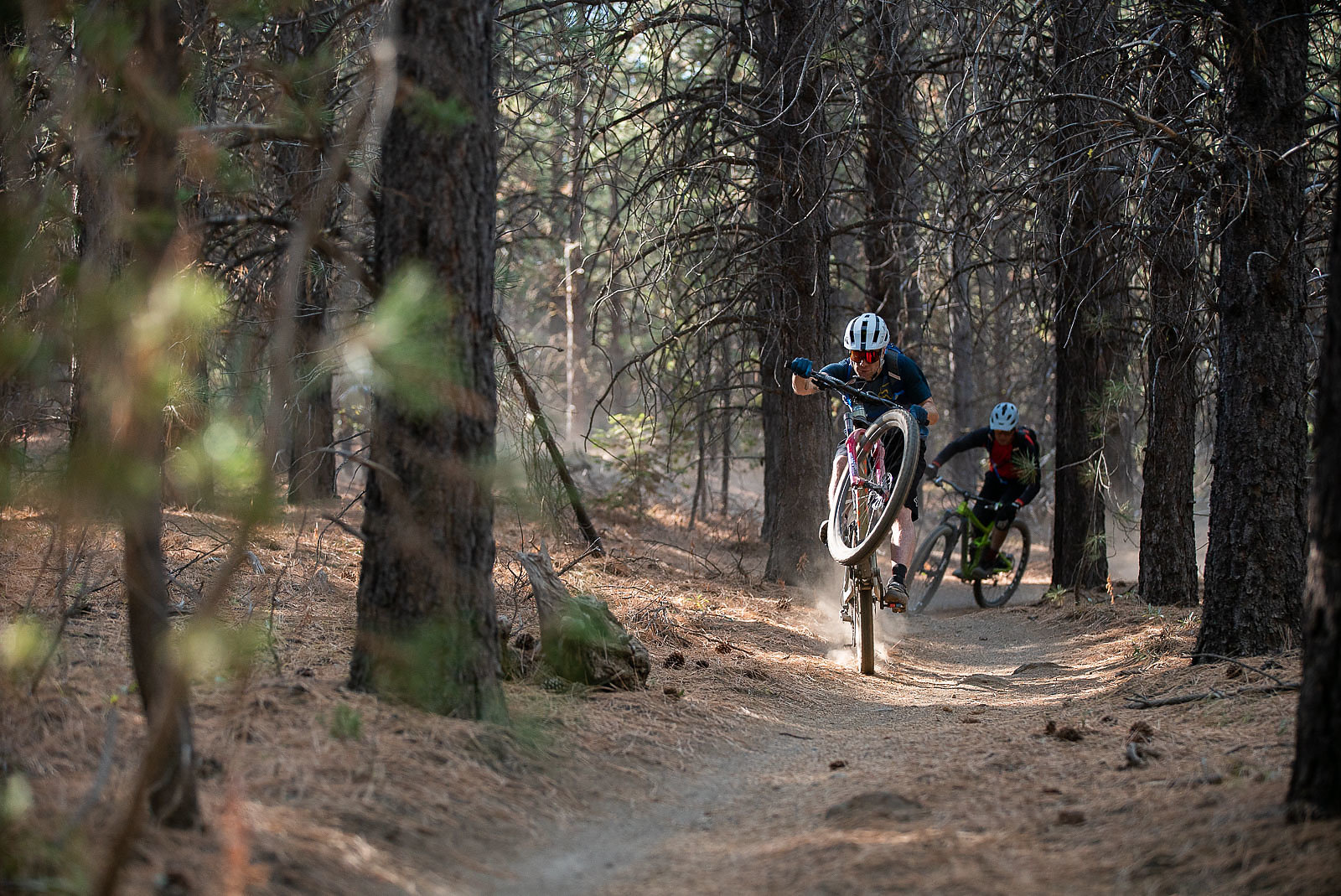 The King of Fun Kirt Voreis' Unconventional Program
Kirt Voreis likes to say he's lucky.
The 44-year-old professional mountain biker has an illustrious career that's evolved with the sport itself, witnessing—and at many times partaking in—the changing disciplines, fashion forays, mainstream surge and cultural changes. But for every life-changing instance that Kirt attributes to luck, there are 10 other equally defining moments that are the direct result of his hard work and persistence.
The man has a seemingly endless reserve of energy that keeps his positive and ever-joking attitude firing on all cylinders. Never one to say something can't be done—and usually the first to prove it can—Kirt's goofball persona is perhaps best known to mountain biking's younger generation through his skit videos and ingenious tricks. The mentality that has shaped his 25-year career, however, started with an undying love for skateboarding.
Today, it's easy to understand that drawing creativity from four wheels and translating it to two has defined the way Kirt sees what's possible on a bike. It took a decade on the World Cup racing circuit and 12 years traveling the country in a tour bus to find the niche that he finds most fulfilling, and it's a direct extension of his roots.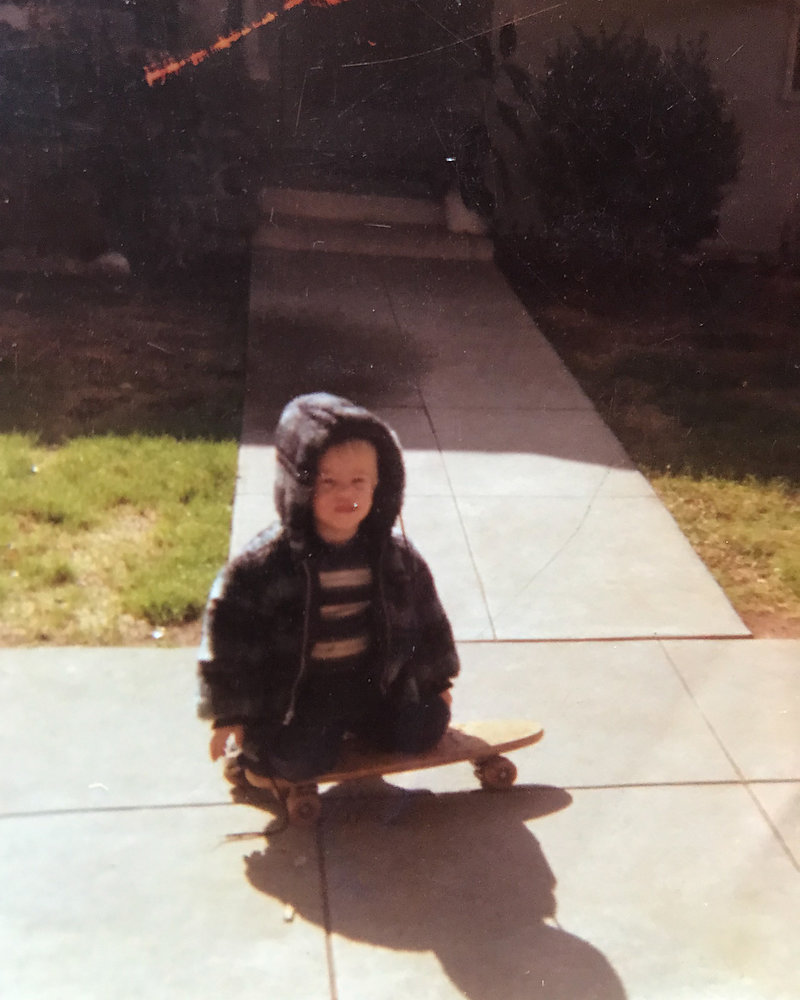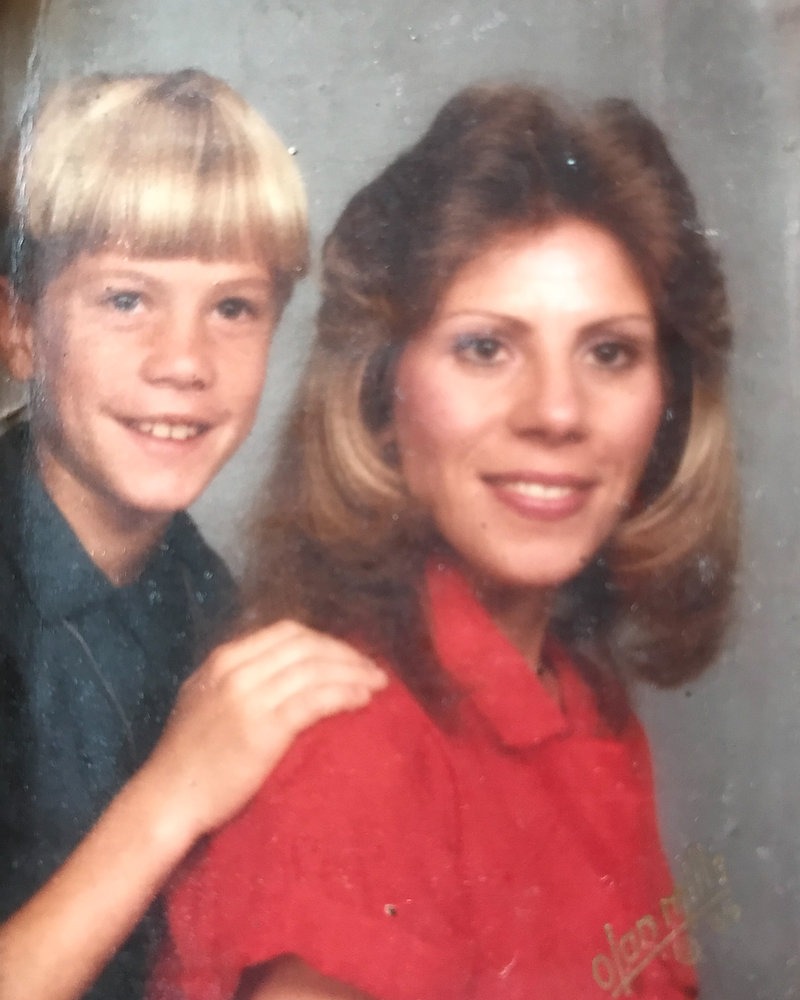 Growing up in Fontana, California, in the '80s, the surfing, skateboarding and BMX scenes were in full swing, providing a plethora of opportunities for a young kid to expend endless amounts of energy. But the underlying attraction of both were to escape from life at home. When Kirt was five years old, his dad died riding a KZ1000 motorcycle—he would often sit Kirt on the gas tank and go 100 miles per hour. There was blatant drug use in the family too, even death from overdoses. All of this made for a turbulent upbringing.
Kirt's mom worked a graveyard shift when he was in high school, giving him little sense of routine or responsibility at home. He'd take off on his bike, skateboard in tow, with no curfew and only the expectations he set for himself. The haven Kirt found in skateboarding was as much physical as it was mental. The tricks gave him a problem to solve, along with determination and confidence that trickled into daily life.
"I wasn't getting good grades, I wasn't wearing the fly-est clothes, but I had my skateboard and people were like, 'He's a skater,' so it gave me a sense of identity," he says.
Through the magazines he'd pore over, skateboarding also gave him a look into a different kind of life. He would see ads or graphics and his mind would run wild thinking about who this person was and what their life looked like. Despite the craziness at home, Kirt had a good relationship with his mom and stepfather, but he found his idols on the pages of Thrasher and Skateboarder Magazine.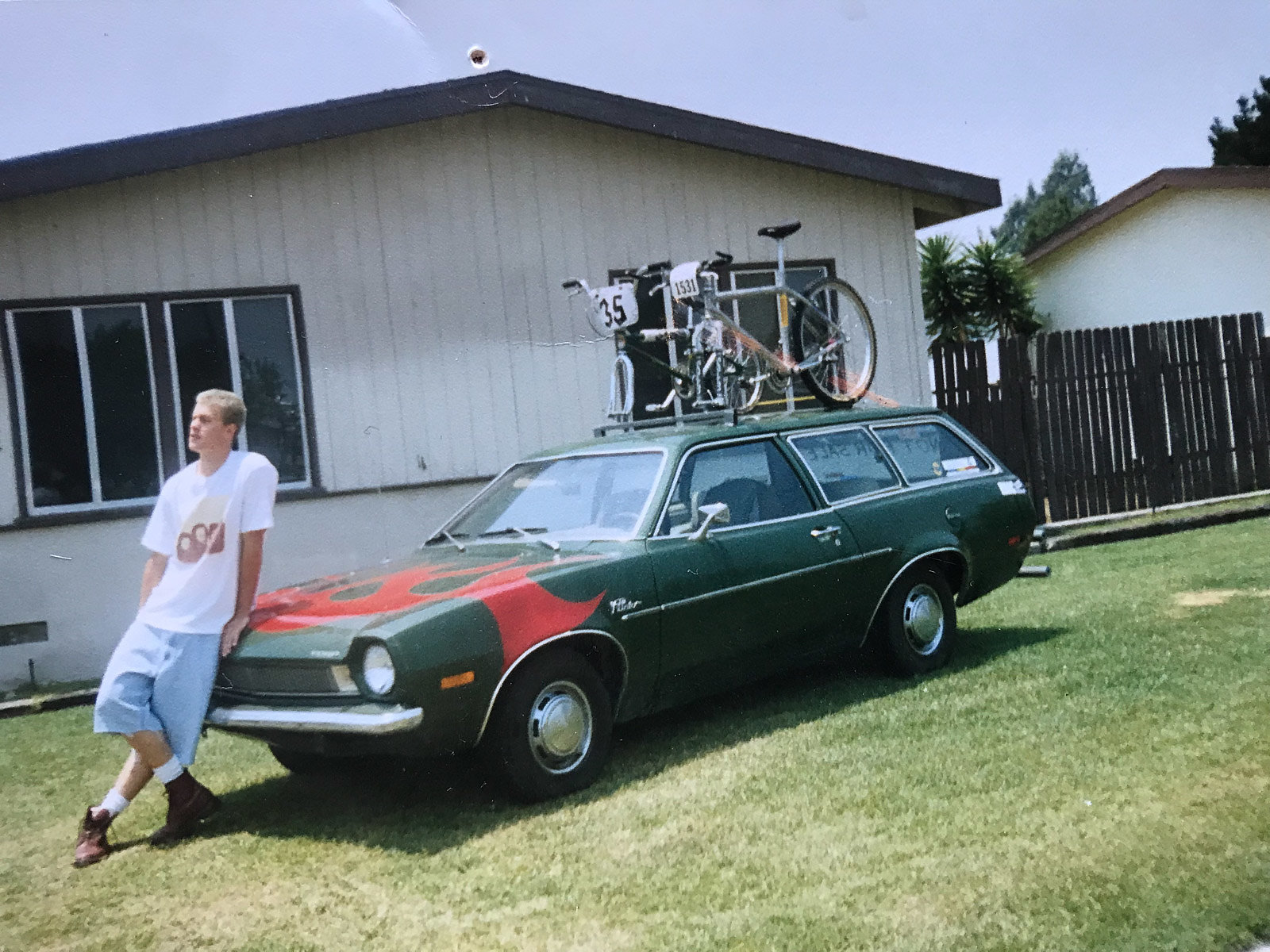 By the time he was 17, Kirt was spending less time skateboarding and more on his bike. An injury at the skateboarding state championships in Santa Barbara in 1991 sparked a realization that his chances of going pro were "fizzling." To keep his freedom and get out of the house, he took to riding his mom's nine-speed Murray mountain bike into the hills to hunt for snakes and lizards. This soon transitioned into riding dirt jumps on a BMX bike that Kirt built up from a frame he found in a field.
"I made a video of me jumping my mountain bike and doing backflips on my BMX bike," he says. "Losing skateboarding really pushed me into wanting to get sponsored because it was like, 'You're going out to get a job, you're gone. You're 18 now.'"
His parents were pushing him hard to get a job, and he'd occasionally join his stepfather on construction sites. But Kirt hoped a life far different from that of his parents would exist in a bike sponsorship. He just needed a chance to prove himself.
Before Kirt's father died, he worked at Frito-Lay and took the opportunity to invest in a handful of $50 bonds. Despite all the chaos of his life, Kirt's dad had been looking out for him. And while the forethought to set money aside was for college, Kirt saw a different opportunity. When he turned 18, he cashed the bonds in.
"I got enough money to get a mountain bike and race for the season," Kirt says. "There's no way I was going to college. It was straight up like, this is what I'm going to do."
He spent that next season racing cross-country in the sport category on the NORBA, won the overall and placed fourth in the one expert race he entered. But it was the skateboarding roots and obsession with freestyle that set Kirt apart.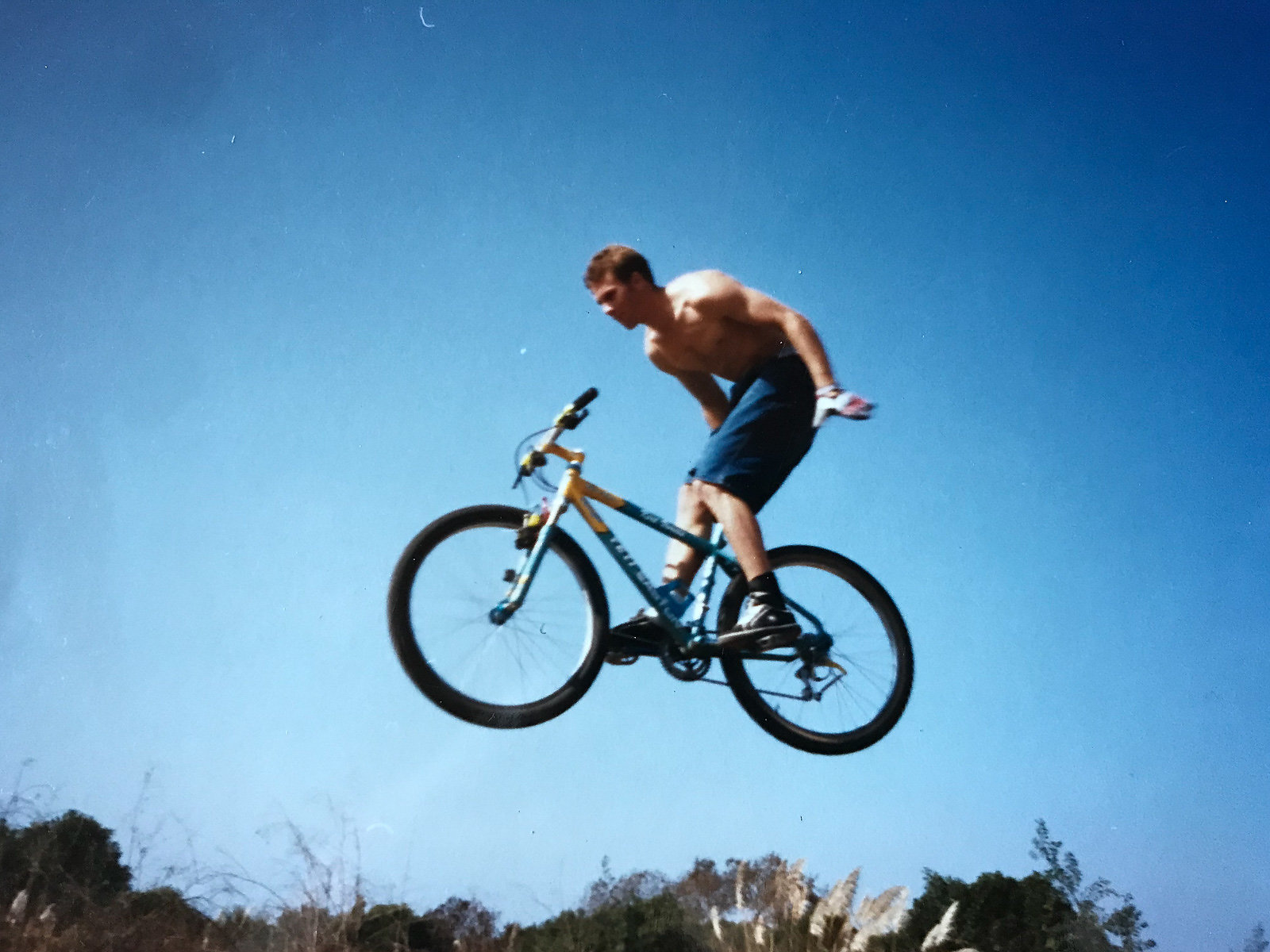 After that year of nothing but bikes, Kirt put together a video of his stunts and sent it to Yeti through a family member's connection to the owner. Serendipitously, it was right after Missy Giove and Myles Rockwell had moved to Volvo Cannondale, and Yeti was left without a team. With only one year of XC racing under his belt, Kirt was catapulted into the burgeoning world of downhill racing, on a factory team. He made his way through the ranks that first season and came away with 7th at the national finals in Big Bear, California. Then he was handed a contract for $20,000 for the next season. Kirt's world was changed.
"Once I got this [chance] it all came together," Kirt says. "This is what I needed in my life, some kind of stress, some kind of pressure to become responsible, because being in school and all that stuff, I never did schoolwork, I never paid attention to anything, I never had any kind of real focus. But when that came in my life it was like, this is it. And it's been that way up to this point."
He picked up his life, moved to Durango, Colorado, and spent the year traveling from coast to coast, all over the U.S. and Canada, including eight races on the national circuit and a few World Cup races. But in all reality, Kirt was still relatively new to the world of racing, and although flips and 360s were no problem, he had no clue about training or fitness. He learned how to improve his starts, how to determine his race run strategy, how to give feedback on bikes to designers—things that he had never considered to be part of riding bikes. By 1996, Kirt was on the World Cup circuit and still figuring out how he got there.
"Even [other] people were tripping, they're going, 'You got ninth in a World Cup?' And I've got a broken tooth and am looking like a dork. You know, I'm looking like a skater guy, not your classic shaved leg, buff downhiller and I'm just like, 'I don't know what I'm doing, you guys are just charging and charging.' So, I did that—it was about 10 years of racing."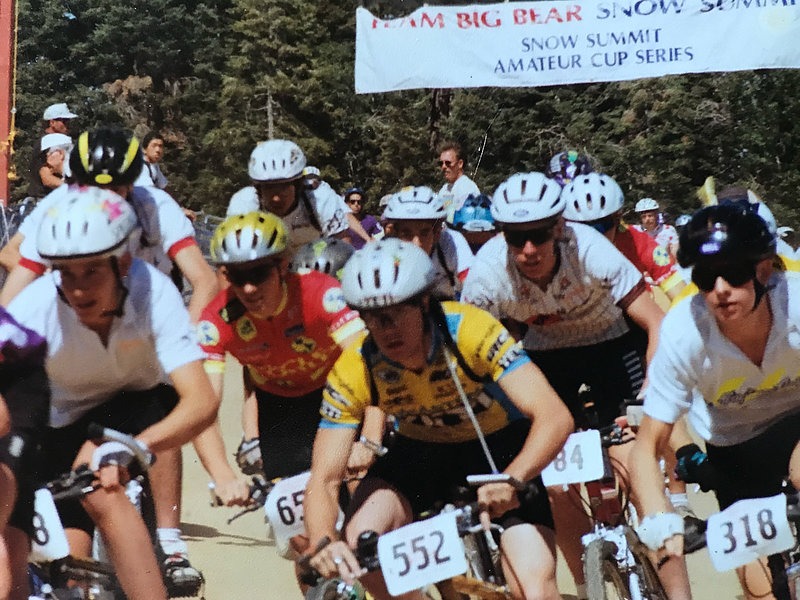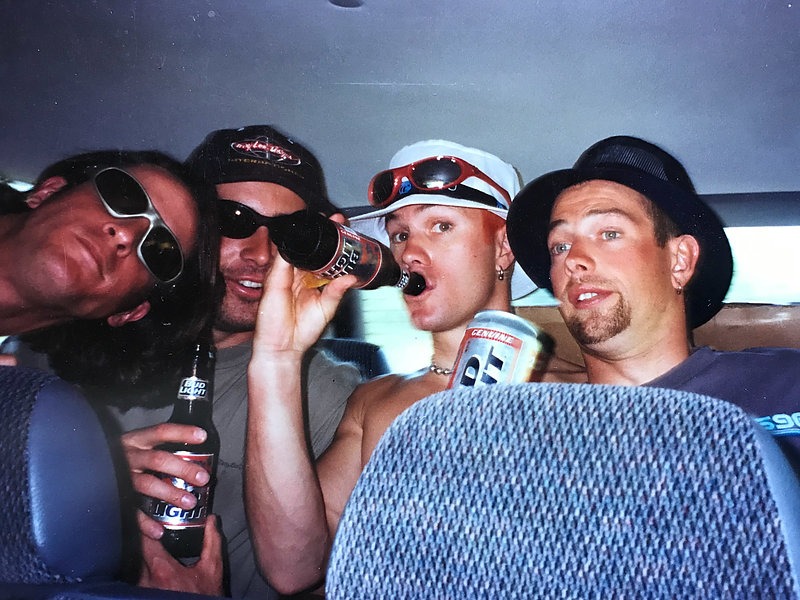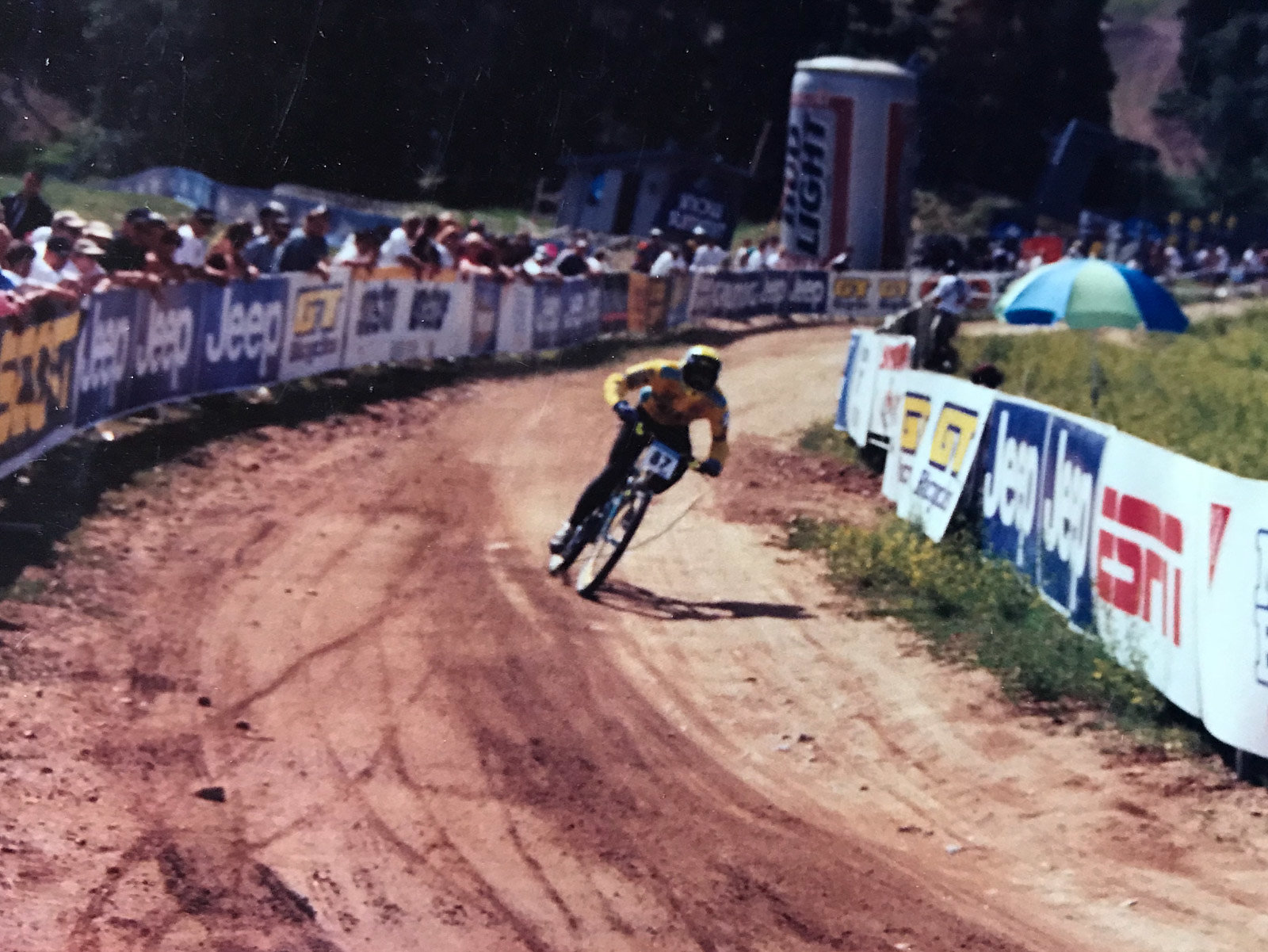 When he wasn't busy racing, Kirt continued progressing the freestyle antics that he loved so much. During the off-season in 2001, his buddy Matt Collins joined him on the road, filming everything that went down. Kirt was riding an Intense Tracer DH bike at the time, and the geometry was perfect for jumping. He was doing bar spins, no-footer 360s, backflips, jumping urban features and shredding skateparks—all things nobody else was doing on a mountain bike. The footage came out in 2002, in the now-legendary movie "Evolution." 
"At the end of 2002, I was like, 'You know what? I'm going to go after this stuff because this is what I like to do.' I wasn't born a racer, I was born to jib and dick around and pop wheelies and have fun—I was over trying to win," Kirt says.
In the early 2000s, racing hit tough times and lost a lot of its energy, as well as its incoming money. Seeing this downward trend, Kirt once again drew from his skateboarding influence to bring something different into mountain biking in 2003: the AllRide Tour.
"I came up with the saying AllRide, and I was like, 'Oh my God, this is great. AllRide, that represents me because I ride everything. I ride cross-country, downhill, dirt jumps, everything, and I can relate it to people and say let's AllRide," he says.
Fox MTB bought him a 34-foot RV, he gutted and refurbished the whole inside with the help of his stepdad and painted the outside black with red flames and began touring the country during his off season. The whole idea of the AllRide Tour was to connect with mountain biking's core culture. Just as skateboard brands would host demos in empty parking lots, Kirt would show up to bike shops, trailheads and pumptracks all over the country, handing out t-shirts, showing new products to managers and riding with everyone who showed up.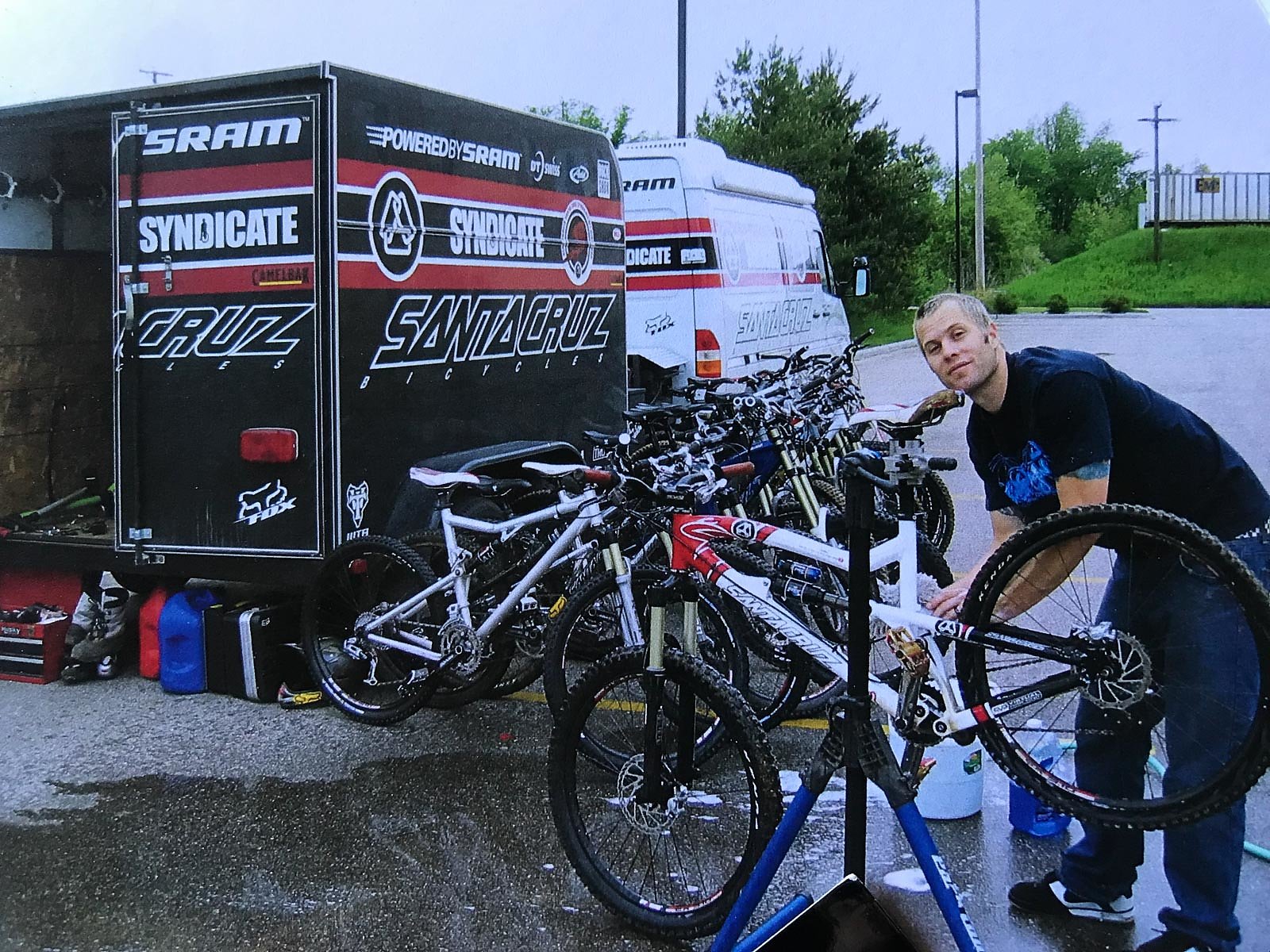 After two years of getting the tour off the ground and also racing, he was driving the RV 35,000 miles a year, and flying another 70,000 miles around the world to race. It was too much. He quit racing and took the AllRide Tour on the road full time. In 2005, he walked away from the World Cup after coming in 12th overall that season.
By 2004, with the support of Santa Cruz, the AllRide Tour included a fleet of demo bikes for people to check out and ride in whatever town Kirt happened to be in. It was a win-win situation wherever he went; he was psyching out local riders on the trails, keeping brands stoked by promoting their products and having a blast simply riding his bike.
"I just felt like being a part of everything," he says. "The tour made it so I didn't have to show up and ride and be the man. I was like staff now, just helping people and telling stories. That was good because it gave me a chance to decompress from 10 years of racing and sponsorship and all this stuff of trying to perform."
This was also the heyday of freeride in mountain biking, a time when people were figuring out the physical limits of what could be done on two wheels. New World Disorder, a film by Freeride Entertainment, debuted in 2000 and was one of the first videos to look into how different riders were interpreting the sport's direction. Rampage, the sport's most notorious and progressive event, debuted in 2001 and put freeride on the world stage.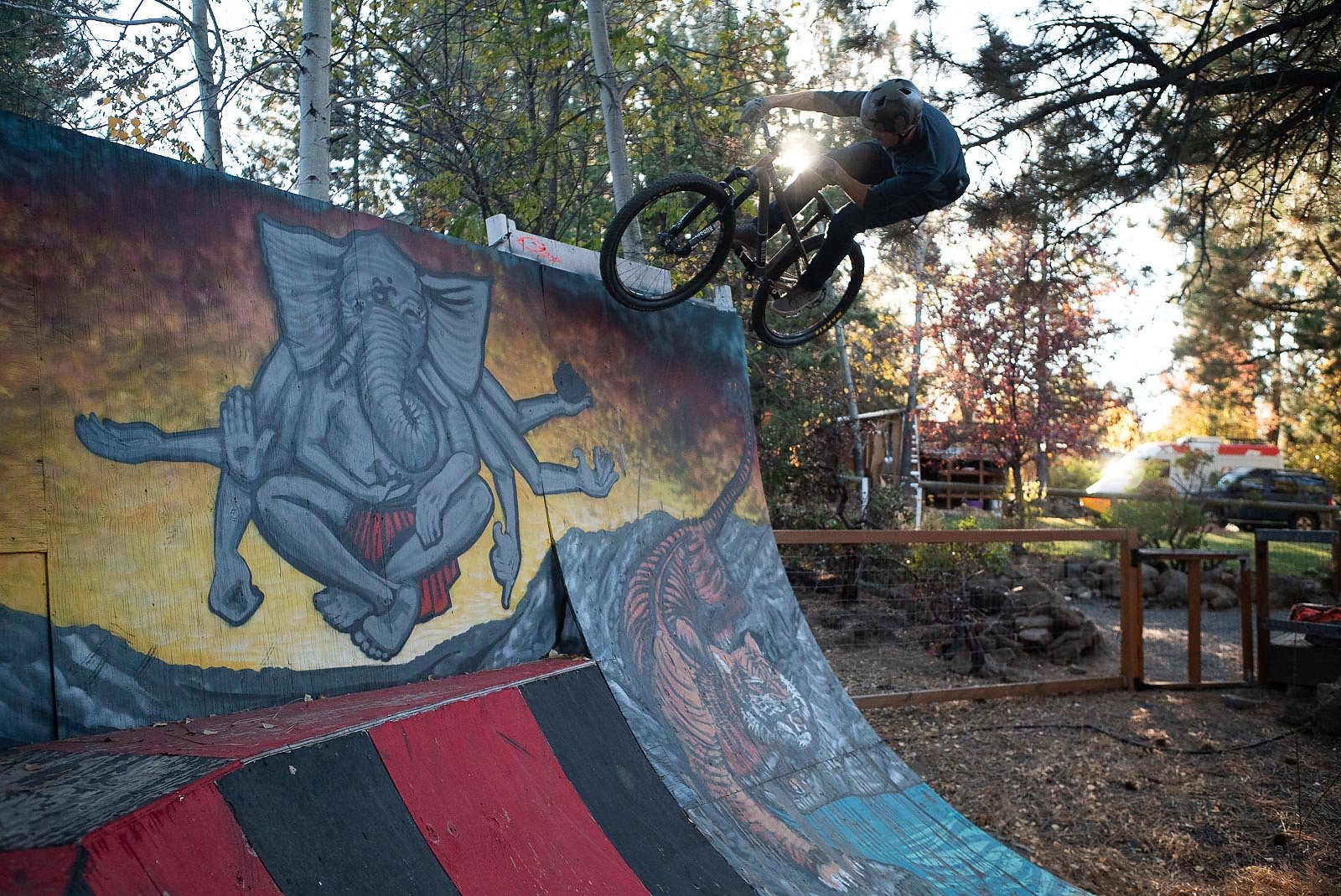 Every year—for an entire decade—the New World Disorder series showcased a new level of freeriding. From urban ledges and water-fountain gaps to heinous rock gardens, Kirt was in the mix and at the forefront of progression.
"I came to realize, 'Wow I need to get on this, because if I don't get on board with this I'm going to be left behind,'" Kirt says. "Now I look back and I'm so stoked to be a part of the New World thing because it changed everything."
Kirt and his then-wife, Lindsey, moved to Bend, Oregon, in 2005, and the small mountain town became home to AllRide. Every year, in addition to filming, Kirt was taking the tour up a notch. In 2007, he began coaching Santa Cruz's Junior Syndicate program, which included a young kid named Richie Rude. Specialized took over as the bike sponsor from 2010 to 2012 for the AllRide Academy, giving Kirt a bigger budget to work with and the opportunity to really help bring the race program to its full potential. Three years later, they added a women's program that was spearheaded by Lindsey and picked up by Liv in 2014. Kirt and Lindsey split up the next year, each taking their vision for AllRide in a separate direction.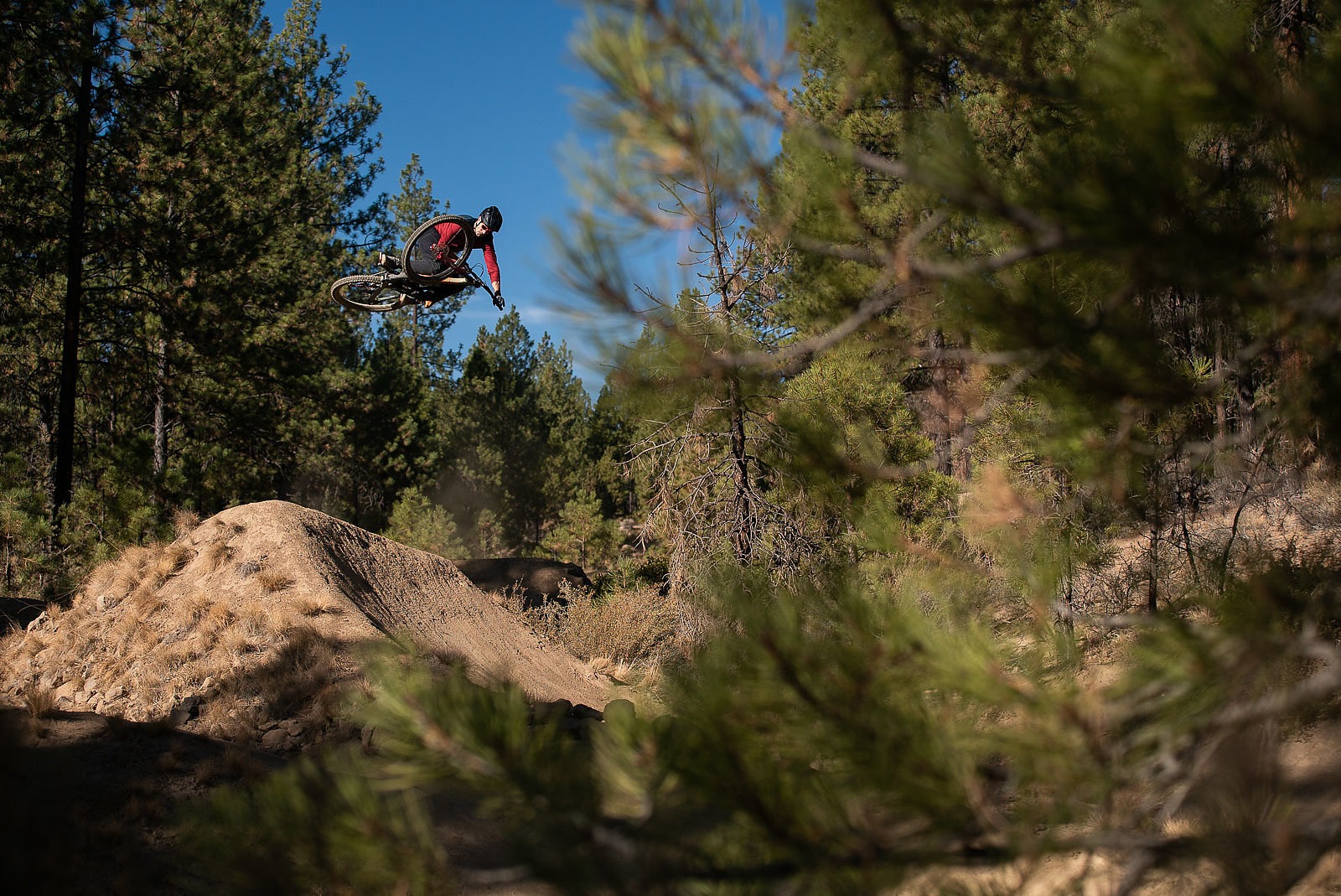 By this time, Kirt had been on the move for nearly two decades and AllRide had become more than just riding his bike. In the end, that's all he really wanted to do. At 41 years old, he still felt there was an entire realm of mountain biking he wanted to tap into. His inspiration came from all the skate videos he watched as a kid and his favorite skaters acting out ridiculous skits. Mountain biking had all the same potential, but few seemed to think of it in that way.
"When Instagram came out, I was like, 'This is great, this is a way to put skits up or fun, dumb stuff that I can do on my bike,'" Kirt says. "There's been a lot of times where I would do production videos with like New World or whoever, and they're putting in the shots that they think are the bangers. When I put this [funny] stuff on Instagram, people relate to it."
Scrolling through Kirt's Instagram feed delivers no shortage of laughs and relatable content, but many of the tricks themselves are just as lucrative as what actually did make it into the New World Disorder films, just on a different scale. The things that come from Kirt's mind—no-footed manuals while drinking a cup of coffee and barspins on recumbent bikes—are one of a kind. And his sponsors recognize this.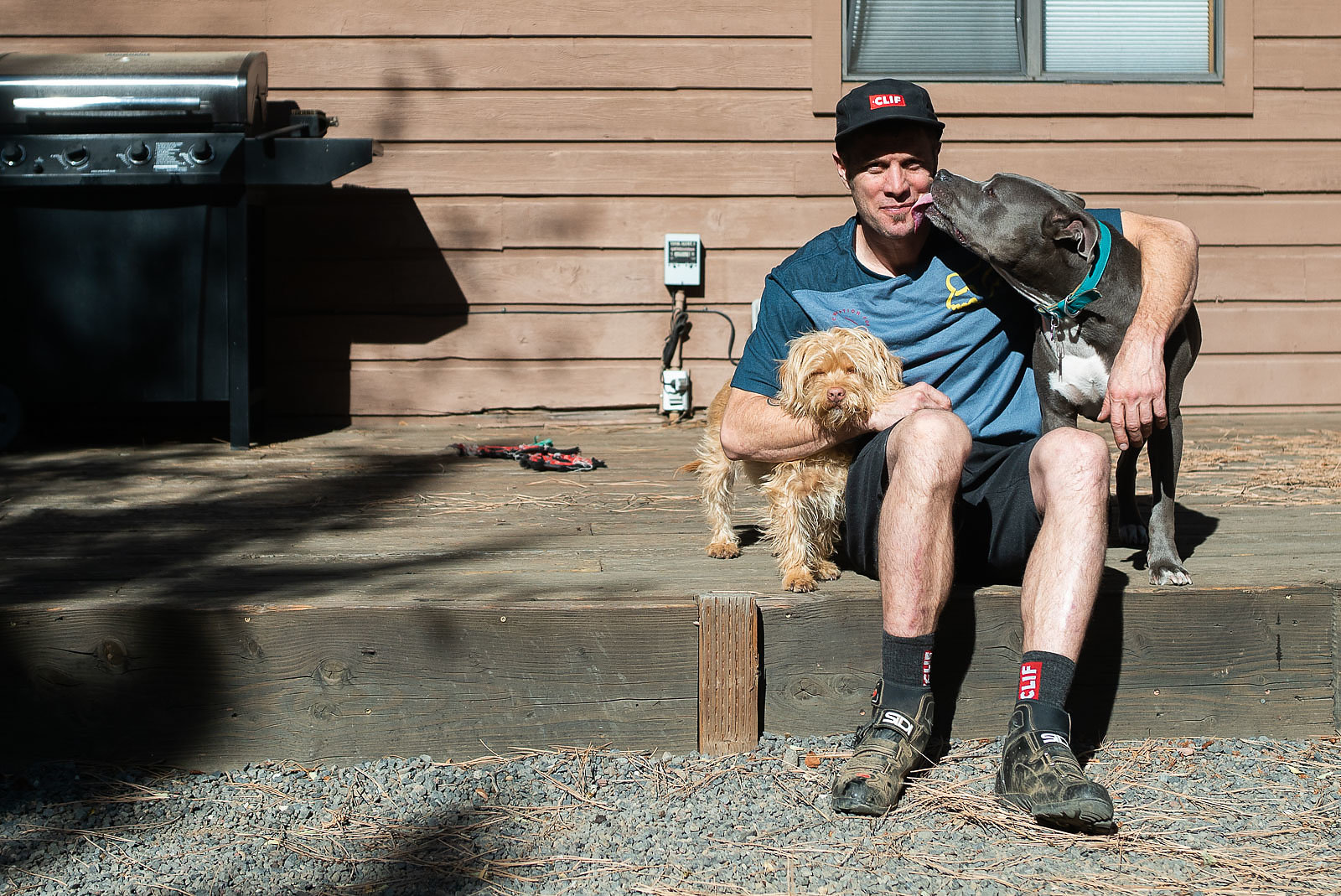 In 2017, Kirt signed with Niner bikes. His main commitment is to continue producing "fun dumb stuff," as he says. After so long forging his own path, first in the world of racing and then with the AllRide Tour, it's no surprise that he continues to do just that. This time around, he's simply the king of fun.
"I try to put as much [content] out as possible," Kirt says. "It's not because I'm scared to lose it, but because I want to keep doing it. You know, I'm 44 years old and I don't have much time left with my body to keep charging."
Nowadays, rather than worrying about podiums or products, his role is the same as those skateboarders he looked up to as a kid. Kirt continues to show that our identity is our decision and no path is predetermined. Achieving that position within a career—and life—takes a lot more than luck.