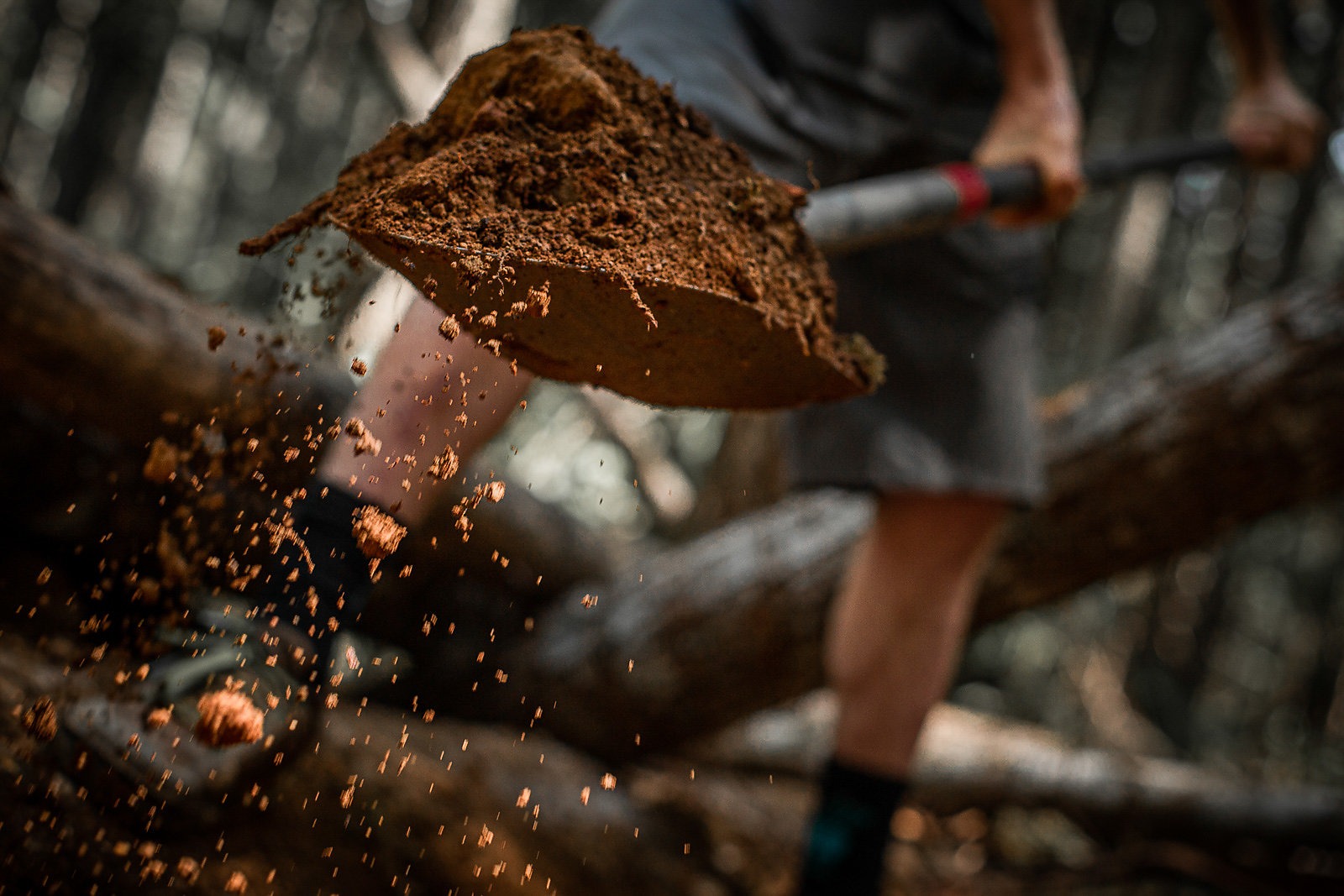 Coherent Creation Into the Woods with Mark Matthews
On an early spring day in the quiet woods of Vancouver Island, British Columbia, the whirring of a hub reverberates through the trees and disappears into the abyss.
Petrichor lingers in the air and the recent precipitation is visible in the dark brown dirt. Endless small pebbles line the trail, evidence of a winter's worth of rain.
This is where Mark Matthews finds solace. Sometimes a friend will join, but most of the time, it's just him and his shovel. He's been working on this trail for more than a year and it's finally nearing completion. Stemming from a long forgotten hiking trail, the top is tight turns, perfect berms and mini gaps. Soon, however, the trail gives way massive step-downs and step-ups, all hand-built and perfected by Matthews.
"I think that's what got me into trailbuilding," Matthews says. "I had to make something or there was nothing to do."
Here, there is a lot to do—both on and off the bike. He casually laps the trail a few times, flying head high before making his way to the bottom section that has yet to be finished. Countless hours of dirt work have been put in before now, and the remaining landing that needs to be filled in will certainly require many more. The unsuspecting soul driving the past in his truck at the top could never fathom what's in the woods below.
But this is all very in-character for Matthews. The 31-year-old professional mountain biker has made a career out of the features he builds and rides, leaving the mountain bike world stupefied at their existence, and of course wanting to know where they can find them. This desire to create has simultaneously driven Matthews into the woods, around the world, out of slumps and into new endeavors.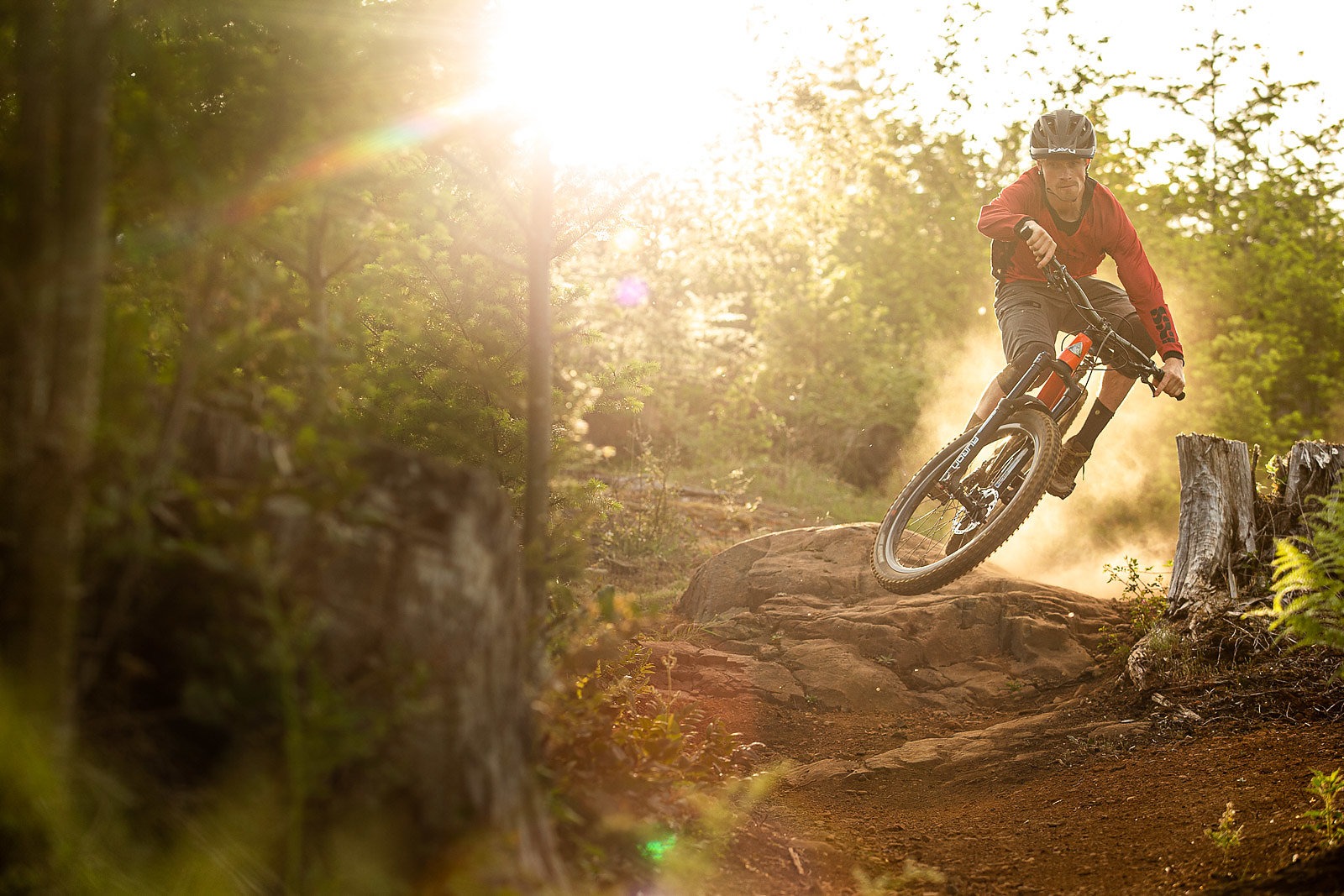 At 14 years old, Matthews wrote a letter to the municipality of North Saanich, a small town just north of Victoria, advocating for local dirt jumps. Already a BMXer and slowly getting into mountain bikes, he was soon going to council meetings and organizing build days. The dirt jumps eventually got built and have since morphed into the North Saanich Freeride Park.
In the early 2000s, the iconic New World Disorder series was inspiring a whole new generation of riders—and riding—and British Columbia was the epicenter. Matthews soon integrated into the local freeride scene and was riding with people from all over the island, including Jordie Lunn, who lived further north in Parksville.
"Just seeing guys like [Jordie], that were riding at a pro level and how they were building, being the younger kid, I guess it inspired me to go and do some of my own stuff," Matthews says.
"The message we kind of passed on is 'Hey, this is a process, you got to build it yourself and then it's unique to you. Every jump is different, every drop, every stump ends up being different, it's kind of a special process."—Jordie Lunn
There's a lot of forest on Vancouver Island, with endless opportunities to rake in new trails. But soon, it wasn't just scratching. As the entire sport tried to figure out its limits, pushing drops and gaps to the max on handbuilt features deep in the woods, so did Matthews.
"The message we kind of passed on is 'Hey, this is a process, you got to build it yourself and then it's unique to you,'" Lunn says. "Every jump is different, every drop, every stump ends up being different, it's kind of a special process."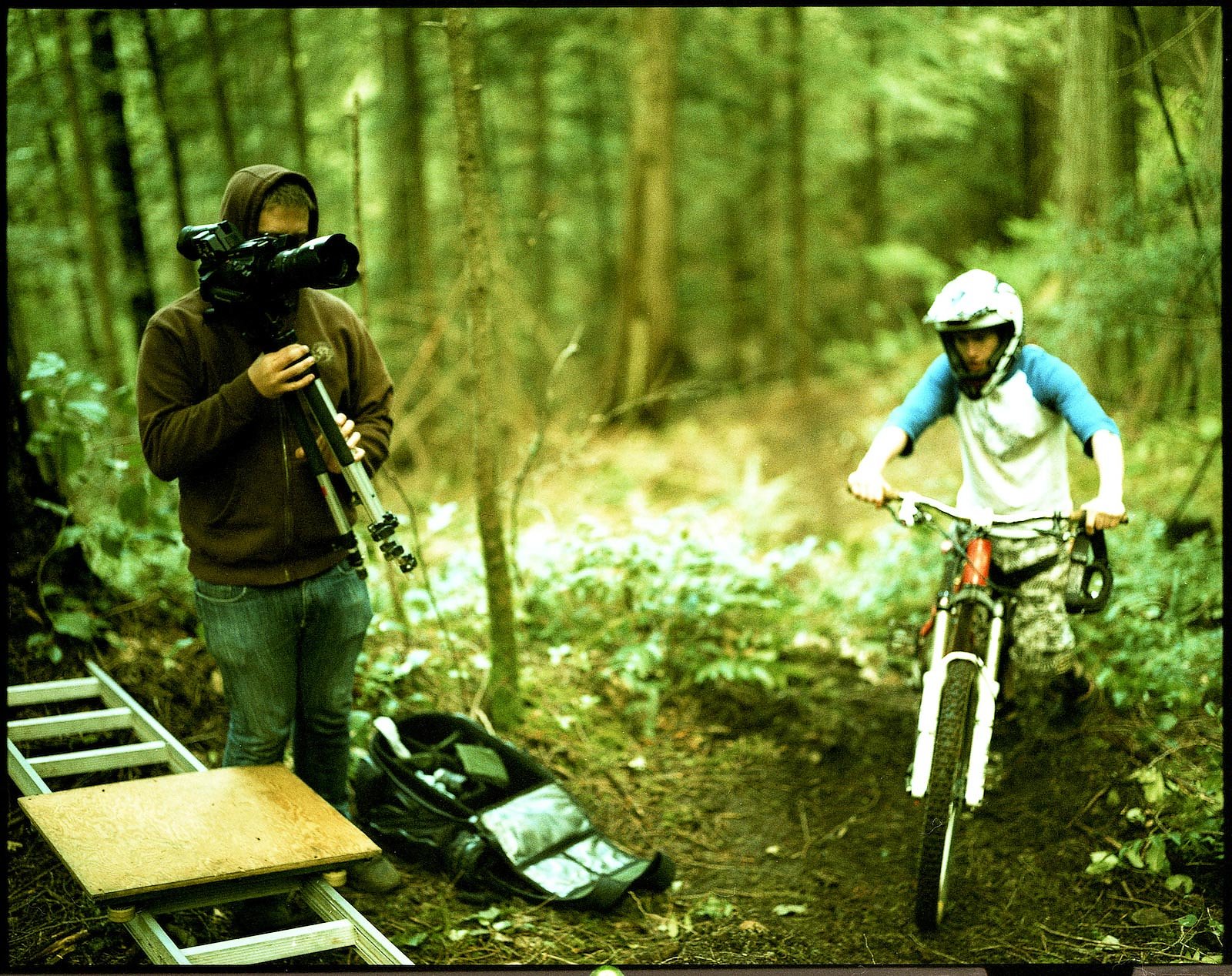 Soon after graduating high school in 2005, Matthews landed in North Vancouver, where he moved in with Lunn and fellow rider Eric Lawrenuk. He knew he didn't want go to university right away and began chasing the slopestyle scene. For work, he'd land a job with a landscaping company only to get fired for taking weeks off to follow the Freeride Mountain Bike Tour and compete at events like Vail, Colorado's Teva Games.
"Living in Vancouver, partying too much, not riding enough, but still riding with friends and having a good time," Matthews says. "It was just never ending and went like that for quite a few years."
It made for a cycle that was enjoyable in the moment, but without purpose. His competition results were respectable, but not usually at the top. In need of a little direction, he moved back to the island, enrolled in the Pacific Institute for Sport Excellence at Camosun College in Victoria and began studying sports marketing.
During the island's wet winters, in between classes or on the weekends, Matthews picked up a shovel and took to the woods. He'd spend weeks scouting a line, and then months digging it. After two winters, he had his own trail and teamed up with MindSpark Cinema's Aaron Larocque to film Sweat Equity, a three-minute web edit that put his trail and skills on display.
"I made everything bigger than I was comfortable with, but that I knew I could do," he says. "That helped me push myself."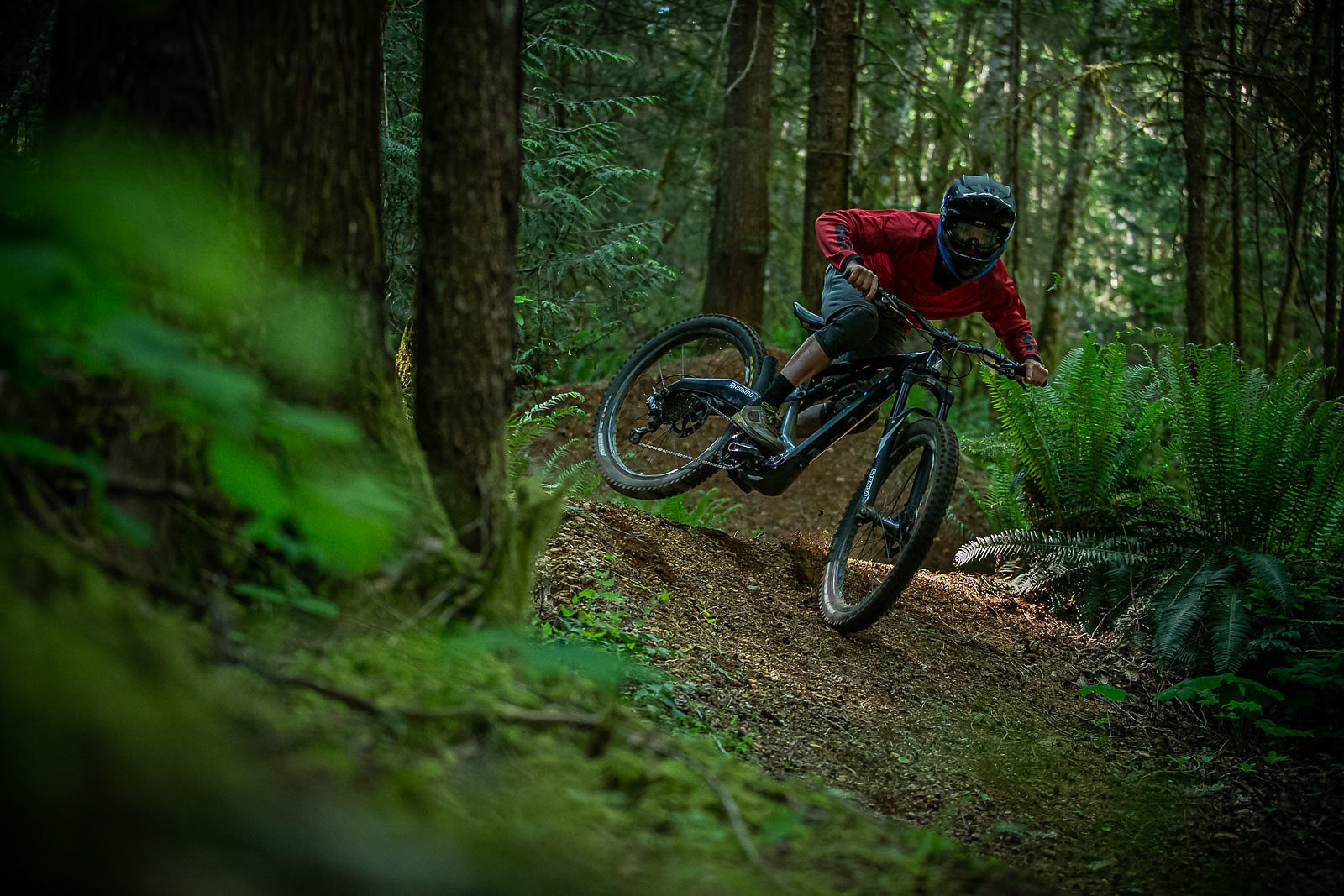 In the summers, Matthews moved to Whistler, where he got a job at Air Dome, a massive indoor bike park and training facility. His daily routine soon became riding (and working, a little) at Air Dome during the day and lapping the bike park all evening.
That summer, Matthews took a trip to Farwell Canyon, a zone further north in BC with massive spires and scree slopes, where he got his first taste or freeriding. The high-speed descents and free-for-all lines introduced a new kind of terrain he aspired to master—and meld with his tricks.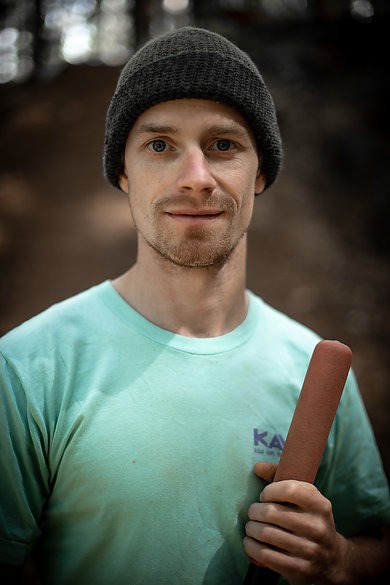 In the fall of 2013, after two years of significantly progressing his riding, and with the help of his videos and his freeride peers vouching for him, Matthews received an invite to Red Bull Rampage, the pinnacle of big mountain bike competitions. But at the event, a rough crash ended in a broken femur and an ensuing nine-month recovery.
"That was really hard to recover from," Matthews says, "because I didn't really have any proper sponsors—I was getting free bikes and a bit of budget, but that was it. So that happened and I kind of lost everything. It made me question what I was doing."
Wanting to heal more than anything else, he obsessed over physical therapy, nutrition and the exercising he could do. His body bounced right back, but the confidence took a while. Big jumps might have been on hold for a bit, but big rides weren't. Matthews again found intrigue deep in British Columbia, this time in the long epics rides of the Chilcotins and Pentictin.
From there, the trips just kept piling up: Tibet, Turkey, Iceland, Israel. Thanks to a large social media following, Matthews was able to connect with people all around the world and work with guiding outfits to organize trips to unlikely places. He landed in Vancouver once again, this time with Geoff Gulevich, but without the crew he once had and wanting to ride year round, the island was calling.
"I don't feel like I was ever deflated, I just kept pivoting," Matthews says of his mindset. "I just adapted with the situation."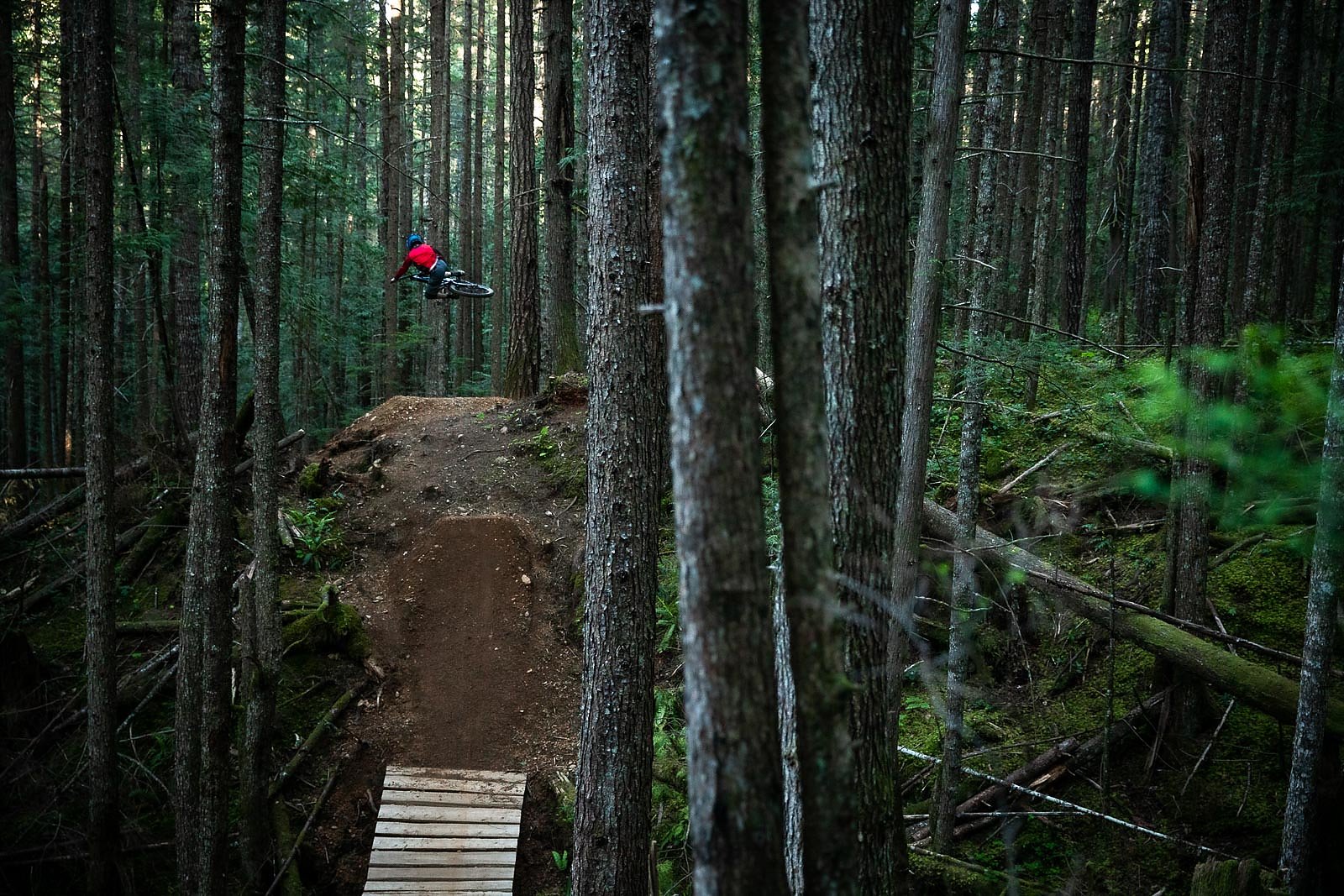 Adapting back to life on Vancouver Island took some time. Matthews lived in Victoria for a bit, but eventually moved to the Comox Valley, an area about 130 miles north with a budding mountain bike scene and plenty of places to dig.
"There's sheer endless possibilities of finding something new," Lunn says, "when you go look on your own, the landscape and the woods up here provide these features that you'd never think of. You might have walked past it a few times, and then you realize, 'Oh, this could work as this wacky, weird thing.' That's how it all starts."
Matthews' current project is adjacent to a buddy's property and off the beaten path—the perfect place to build the kind of hits he likes to ride. The trail's final feature is the one missing piece, and it's a beast. A 10-foot-tall wooden launch ramp is aimed at an equally tall landing—built on stilts with 8-inch diameter logs—that sits about 25 feet away. It's as much of a wood and dirt edifice as it is a work of art. It's these type of features, linked together, that Matthews wants to continue building and perfecting. It's his vision for progression.
"I see trailbuilding going that same direction as how riding is going," Matthews says, "technical, but built in a way that it's not way more difficult. So you can hit everything bigger than ever before, but it's almost not going to seem like how it use to be, because it's not so big and sketchy."
Watching him ride the trail only serves as affirmation that Matthews is onto something, as the surreal masterpiece comes to life under his tires. The features are bike-park worthy in their loft, smoothness and perfection, but the tight trail and close trees create the need for perfect speed and immense precision. It's as if he's an artist who's already experimenting with the next realm of riding.