Real de Catorce Mexico
It's 5 a.m., but there's no need for a wakeup call from the front desk—the free-roaming donkeys and roosters outside of our hotel take care of that.
Our shuttle—or rather pack train, as roads are all but non-existent here—to the second set of mining ruins above the small Mexican town of Real de Catorce, is scheduled for 5:30 a.m, and we ready ourselves quickly. Cuco, the pack train leader, rides bareback on a knit blanket (which looks more inviting than our saddles). Outfitted in worn jeans, flannel shirt and dusty cowboy hat, he rolls naturally with his mount's gait. We however are outfitted for a downhill shuttle in full-faces and pads, and look as out of place as a virgin in a brothel. The animals fight for the lead position as we climb higher in the rugged, barren terrain, navigating rock gardens and hopping deep trenches, excited despite the heat and rough footing. While our gear may clash with the local style, our excitement easily matches that of our stubborn equine porters.
It is our third day in Real de Catorce, a semi-abandoned mining town in the Mexican state of San Luis Potosí. Us three Americans—all Bend, OR natives, including Carson Storch, photographer Tyler Roemer, and myself—have earned the title "Los Tres Amigos," and we're hiking today's trail at the advice of the local Monterrey Mexican rippers that climb beside us. Guillermo "Willy" Aguilar, Nicolas "Nico" Cantu and brothers Fredrico and Richardo Ganem all know the region well, and between their advice and Tyler's precision planning, we have made our way to this amazing and special place.
Real de Catorce is only a three hour drive from the Monterrey airport, seeming even shorter in our excitement. But reaching the 1.5-mile Ogarrio Tunnel (one of only two access points to the town) and loading onto the small bus that can negotiate the passageway's turns and narrow dimensions, we're dealing with far larger periods of time. We're stepping into a place where donkeys rule the 10-road town and shepherds ply the 10,000-plus-foot mountains, a land considered sacred by ancient indigenous tribes and holy by thousands of Catholic pilgrims each year. It is a place with buildings older than our home country, with a history filled with wealth, violence and more recently, growth. And among the centuries of boom and bust, a place where we hope to find some of the most incredible and colorful mountain biking we've ever ridden.
Perched at nearly 9,000 feet and accessed primarily through the Ogarrio, Real de Catorce—or simply Real, to the locals—owes its origins to silver. And peyote. Lots of peyote.
Real de Catorce means "Royal Fourteen" in English, a reference to the town's original name: Real de Minas de Nuesftra Señora de la Limpia Concepción de Guadalupe de los Alamos de Catorce, or "Royal Mines of Our Lady of Conception of Guadalupe of the Fourteen Poplars." And while it was officially founded in 1779 after the discovery of rich silver lodes a few years earlier, it had been visited for centuries before by native shamans to collect peyote buttons for religious ceremonies. A small village existed on the town site prior to its founding as well; it just didn't matter to the outside world until there was money to be made.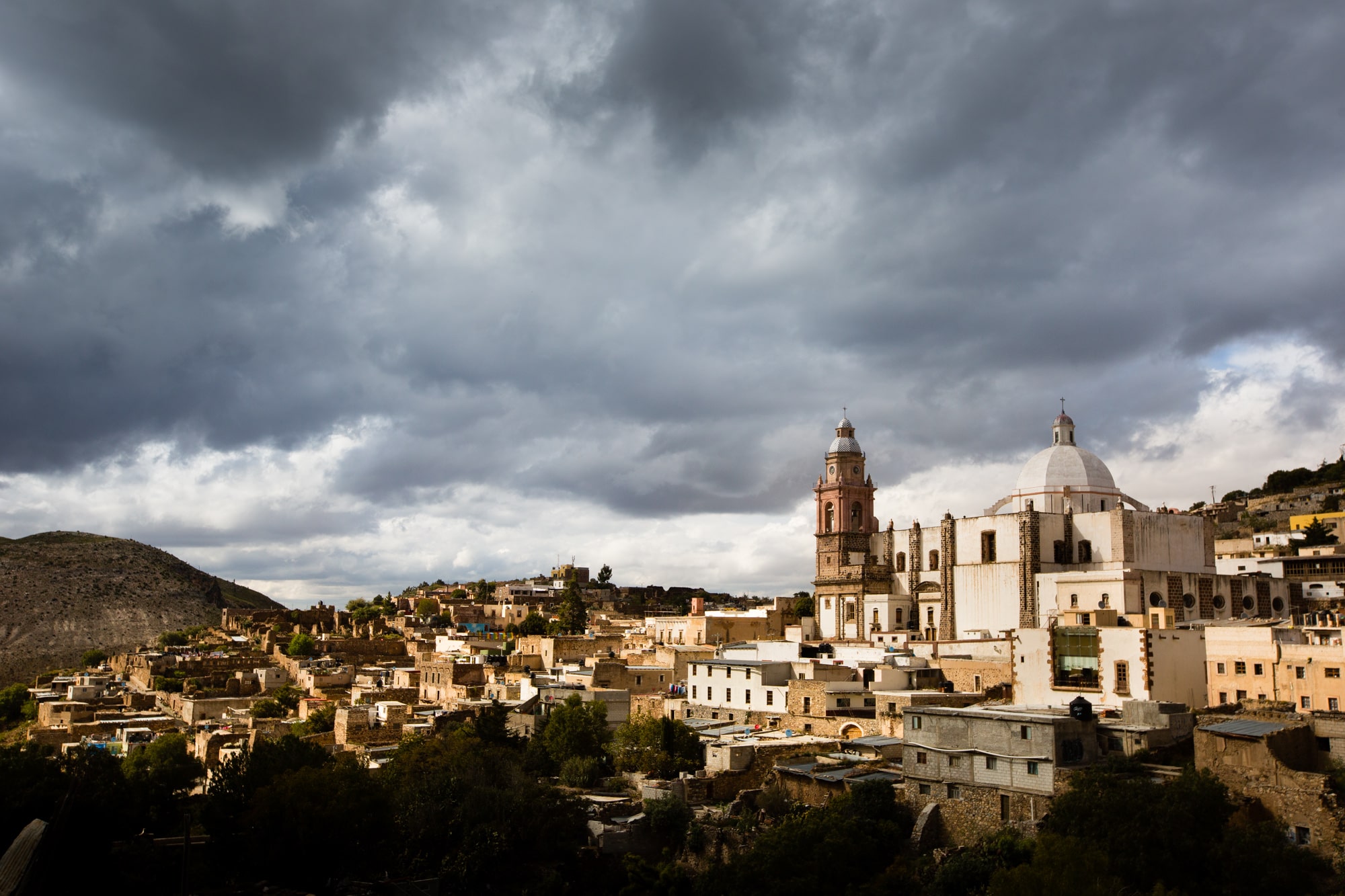 Stepping into the bright sunlight at the end of the tunnel, we get our first view—the buildings, rising abruptly from the cobblestone streets like castle walls, look as though they were expertly chipped into the hillside and sculpted from loose rock. This is because they literally were, constructed from the mining debris and loose shale and clay. I have never seen such a combination of excellent workmanship and borderline desolation.
While many of the homes have been patched and show signs of repair, sections (or entire houses) are essentially ruins; rubble or not, it's to what many of the locals attribute Real's unique character. During its heyday in the late 19th century, the town boasted 15,000 inhabitants; today that number is just over 1,000, a number that has been much lower in the not-so-distant past. Many exist on tourism or eke a living out of the brutal terrain or grazing in the mountains above. There is a reason Real became a ghost town between each silver boom—between difficult access, few roads, almost no water and a marked lack of basic supplies, it is a tough place to survive in the best of times.
Despite the difficulties and desolation, the arrival of tourism, the constant Catholic pilgrimages to its famous Parish Church of the Immaculate Conception (the first stone of which was laid in 1793), and native tribes visiting nearby religious sites (and collecting peyote), Real has seen a recent economic resurgence. Within moments upon our arrival, a crowd of children gather to watch us we jump stair sets and pop wheelies outside the hotel, their faces lighting up when we offer to let them take our bikes for a ride. A few take us up on the offer, and surprisingly rip around like they have been riding all their lives. But soon a fog rolls in to engulf the town, and we decide today is for resting—as short as the journey from Monterrey may have seemed in our excitement, we are tired. Tomorrow is for exploring.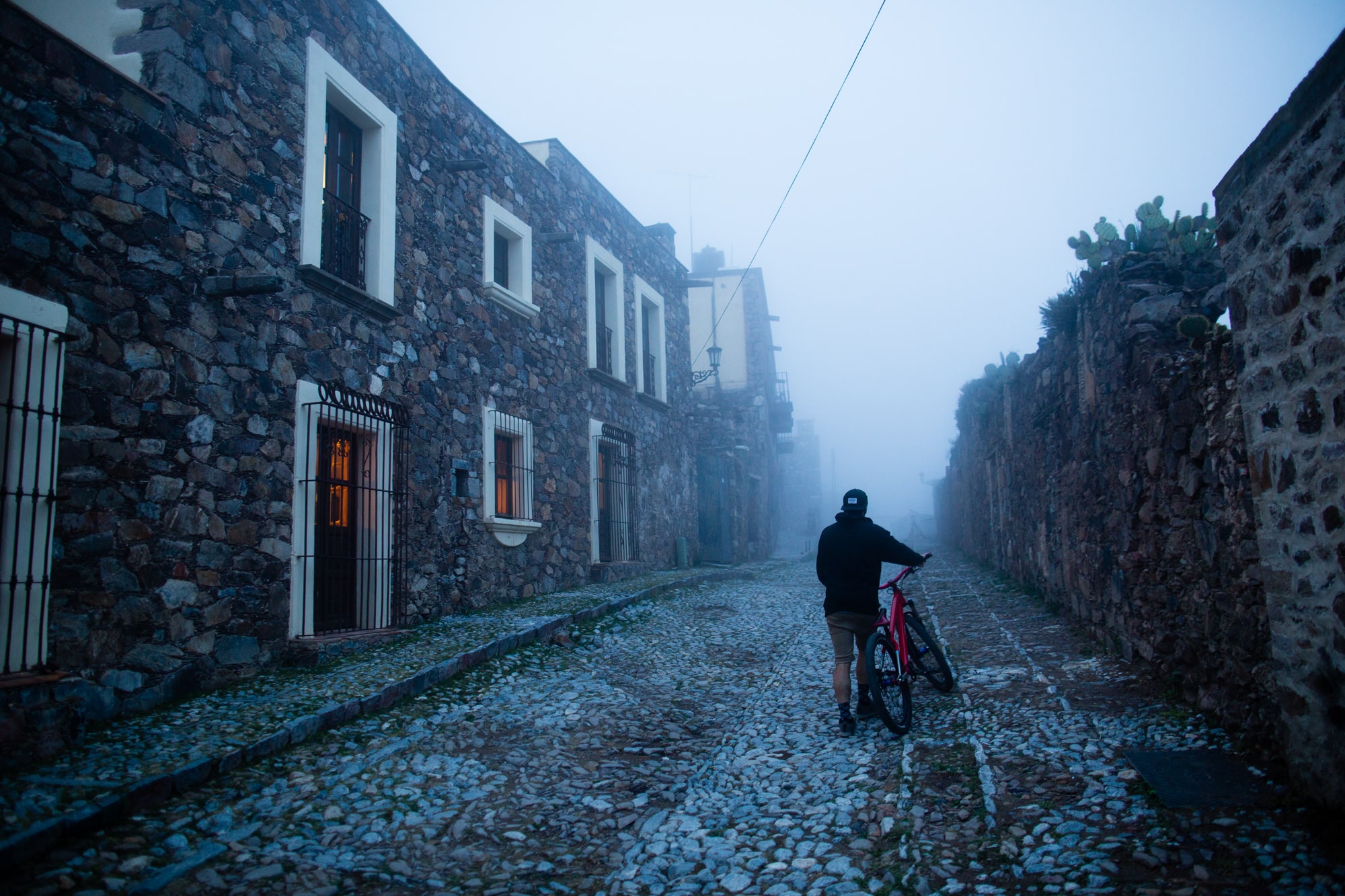 Spilling like geological warts on the hillsides above town, the centuries-old jumbles of buildings and bleached mounds that make up the remains of Real's mines are still reached solely by equally ancient footpaths. After years of being pounded by storms, donkey hooves and miner's boots, what was once narrow single track has become 12-foot-wide "roads," and the imposing structures mere ruins…or in our minds, perfect choose-your-own-adventure downhill trails and unique freeride features.
Heavily trafficked or not, the hike to the main mines is a hefty journey up from our hotel. Built over nearly three and a half centuries, the original mining tunnels were hand-dug and shallow, as the silver was easily available; in later years, as larger foreign companies and businessmen joined in on the silver fever, those simple tunnels quickly became huge warrens burrowing into the hillsides, producing vast amounts of the mineral and drawing ambitious fortune seekers from around the world.
What took hundreds of years to build ended in just a few. At its height, shops in Real boasted luxury goods from Europe, a large bullfighting ring, even an outdoor theater. When silver prices plummeted in 1905, the once-bustling town of thousands was essentially abandoned. Only some 250 hardy habitants remained.
Boom or bust, during our hike we soon find one thing hasn't changed over the centuries—the stubbornness of a determined donkey. Struggling up the hill towards the ruins, the animal carrying our bikes decides he wants to take his own route, cacti and crumbling rock walls be damned.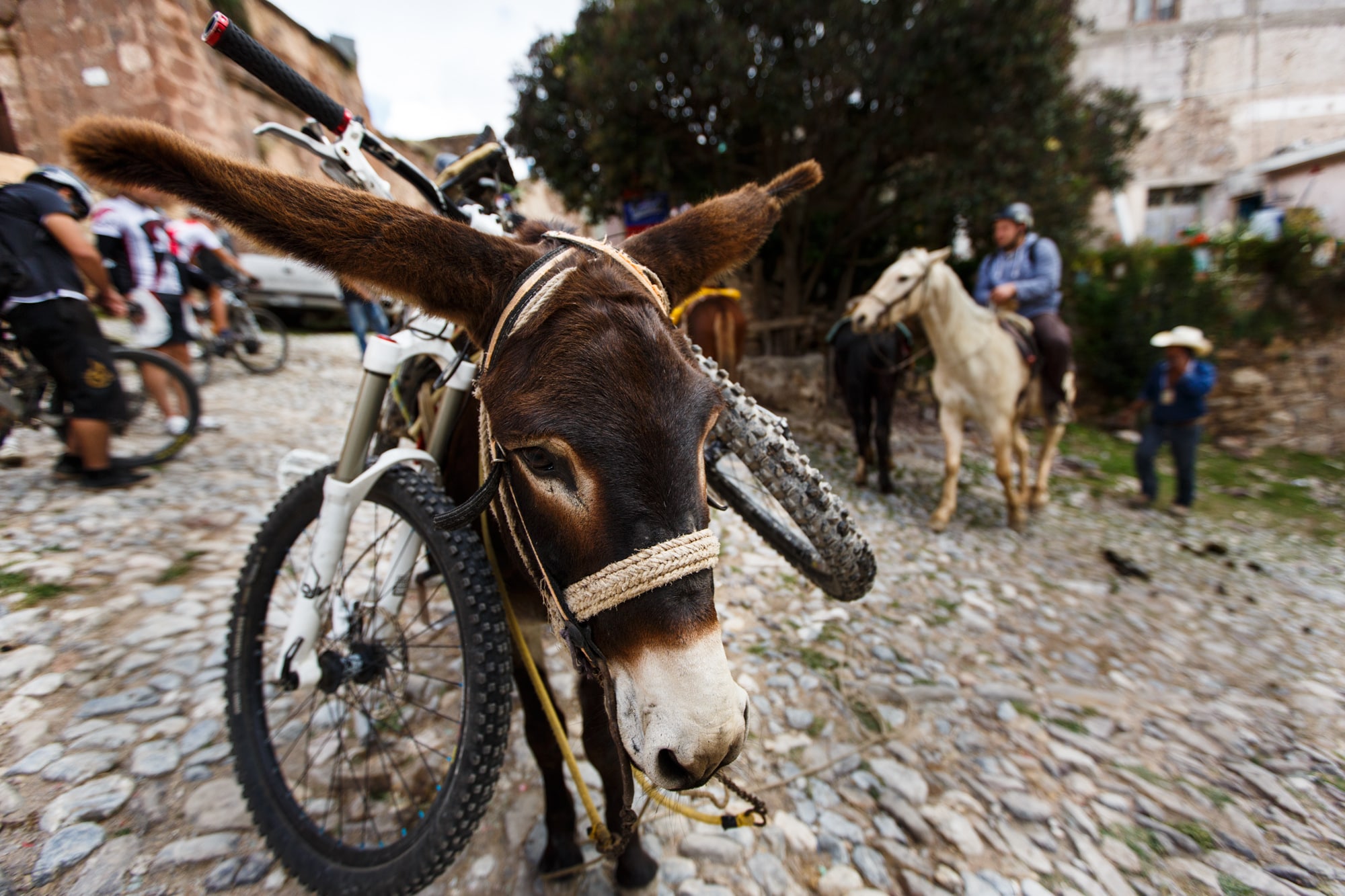 What begins as comical quickly turns into a lesson in preparation; as the wayward beast picks its way through the remains of a building, it gets stuck trying to haul the bikes through a narrow opening. Funny at first…until we notice the donkey's antics have popped Carson's tire and we realize we don't have a spare. Note to self: next visit, bring lots of water, and as many tubes as will fit in your pack. They go quick.
After a fit of swearing and self-reflection, Carson decides to cut his day short and head back into town in search of redemption. We unload or bikes from the donkey at a tall ruin wall, dropping onto narrow singletrack twisting down a scenic ridge. Despite being surrounded by miles of uniform (but still stunning) desert scrub, the trail itself is a geographic hodgepodge: from pumice to dusty red clay to a valley of boulders along what looks like another abandoned road. Multiple lines weave between dirtjump-like rocks, the freedom of options feeling akin to snowboarding. Soon the sky clouds over, and we see the first rain of our trip—an incredibly rare occurrence, as any type of precipitation is scarce in the area—but it's too fun to ride just once, and we hike the thousand feet to take a few more laps. The hard berm at the bottom keeps us from launching off the edge of a cliff and into oblivion…literally a single turn between life and death.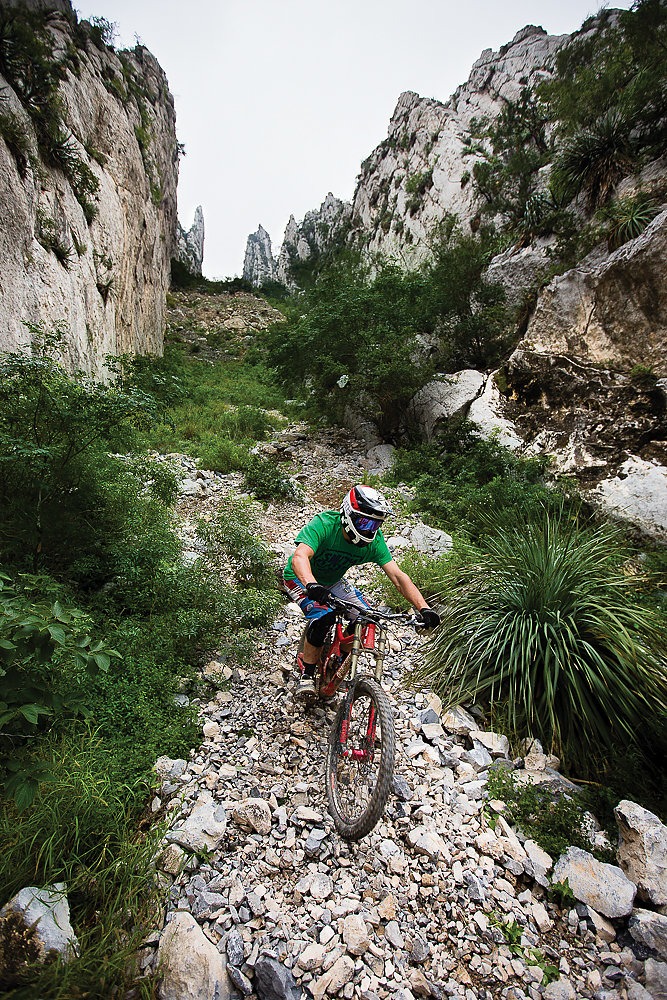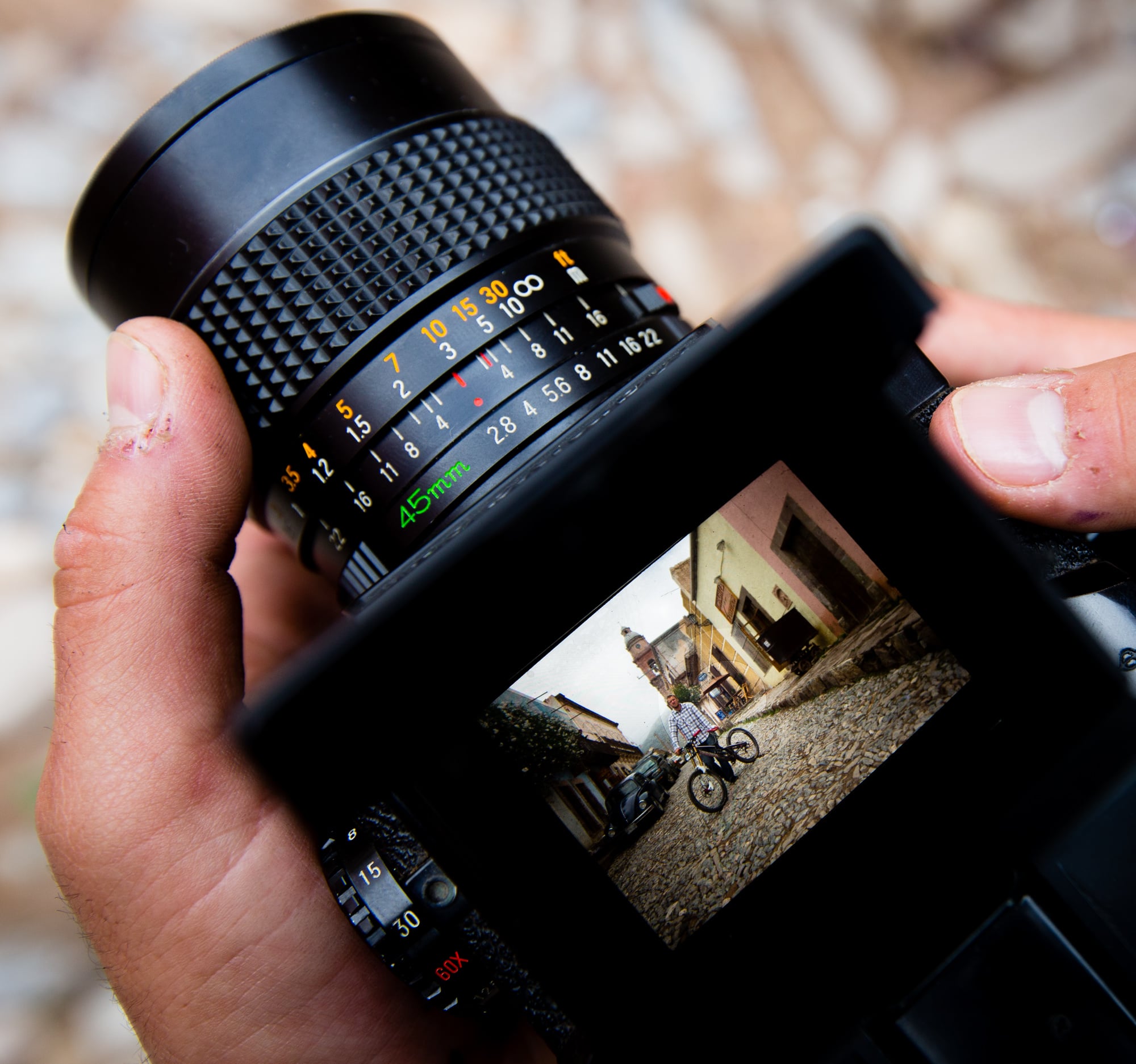 Meanwhile, back among one of Real's handful of streets, Carson meets up with Willy, Ricardo and Fredrico, who find themselves among a cheering crowd and one of the strangest competitions they've ever seen—a donkey race. Ripping along the cobblestone streets, a few hundred jockeys tear through the town, battling for time and respect…and possibly some less-than-legal pesos. At over 15 mph, the riders verge on the edge of control, mere inches from spectators. NASCAR, Real De Catorce style. Some of the villagers may call what we do on mountain bikes scary—however, we have nothing on these loco cabrones.
Once again our beloved rooster/donkey alarm wakes us at 5 a.m., and we load up bikes and shovels (and extra tubes) for the journey back to the mines. Today is the fourth day in Real and we have a specific feature in mind that we spotted during our first visit to the ruins—a 25-by-30-foot step-down gap, so impressive that just standing below it would be enough daily adrenaline for most bikers. The landing is a little violent; but that doesn't stop Carson and I from stomping it, and between that and the Mexican desert sunset we return to town victorious.
At dinner, we run into a local rider named Thomas. While born and raised in Switzerland, the former woodworker has made Real his home—we soon find out he actually owns the place, called El Mesón e la Abundancia. After quite a few drinks and a few hours of good conversation, Thomas offers to take us on an "all time shuttle experience" the next day. From our previous donkey-assisted lap, it's an offer we can't resist.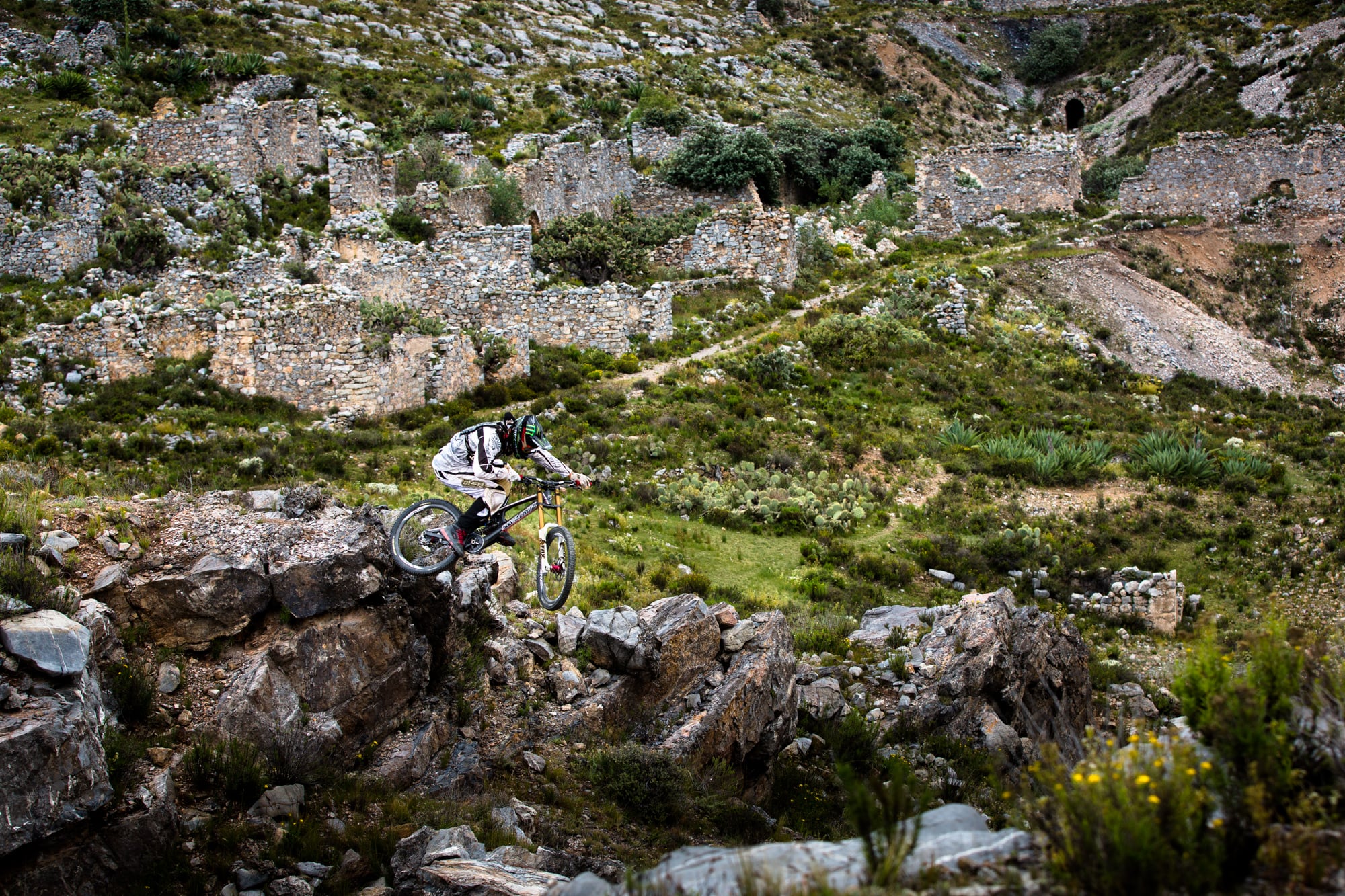 Early shuttle plans or not, it is our last night in Real and last chance to enjoy a surprisingly lively night life. Coincidentally, it's also Revolution Day, the celebration of the Mexican Revolution in 1910, and the few streets exude energy, packed with folks dressed up as spiritual beings. There is dancing on decks and tables in the park, and I can't help but join. My conspicuous redneck foot stomping, is greeted with laughter and photographs…although I imagine it's a mix of both laughing at me and with me. Michelada, a spicy Mexican beer infused with peppers and spices, is served in Slurpee-sized cups, and inevitably the offer comes to join a different kind of party. We are led to the 100-plus year old stadium to watch a cockfight; still a regular activity in both the town and country, the packed seats attest to its continuing popularity. Despite our reservations, we have never seen one and decide to attend for a round, Carson and I placing bets on opposing roosters.
Suddenly, among the announcer's Spanish dialogue, we hear "Los Tres Amigos Loco!" and the crowd's attention swivels our way—the only three gringos amidst a sea of locals, we are quite obvious. However, there is no spite in the call out, as the man behind the microphone is Cuco, the captain of our donkey train. It appears Cuco is quite the local hero, organizing town parties, leading gringos on tours…and, apparently, announcing cock fights.
As the bell rings and the roosters released Carson's bird quickly overtakes my own, and the loser is hauled away immediately for de-feathering and a celebration grilling—which assuages some of our guilt. When in Real, I guess?
The next morning, at the now-standard 5 a.m., we meet up for the first leg of the shuttle—or rather, donkey leg. Despite a late night of announcing, Cuco is unfazed. Actually, from his composure, I don't know if he slept at all.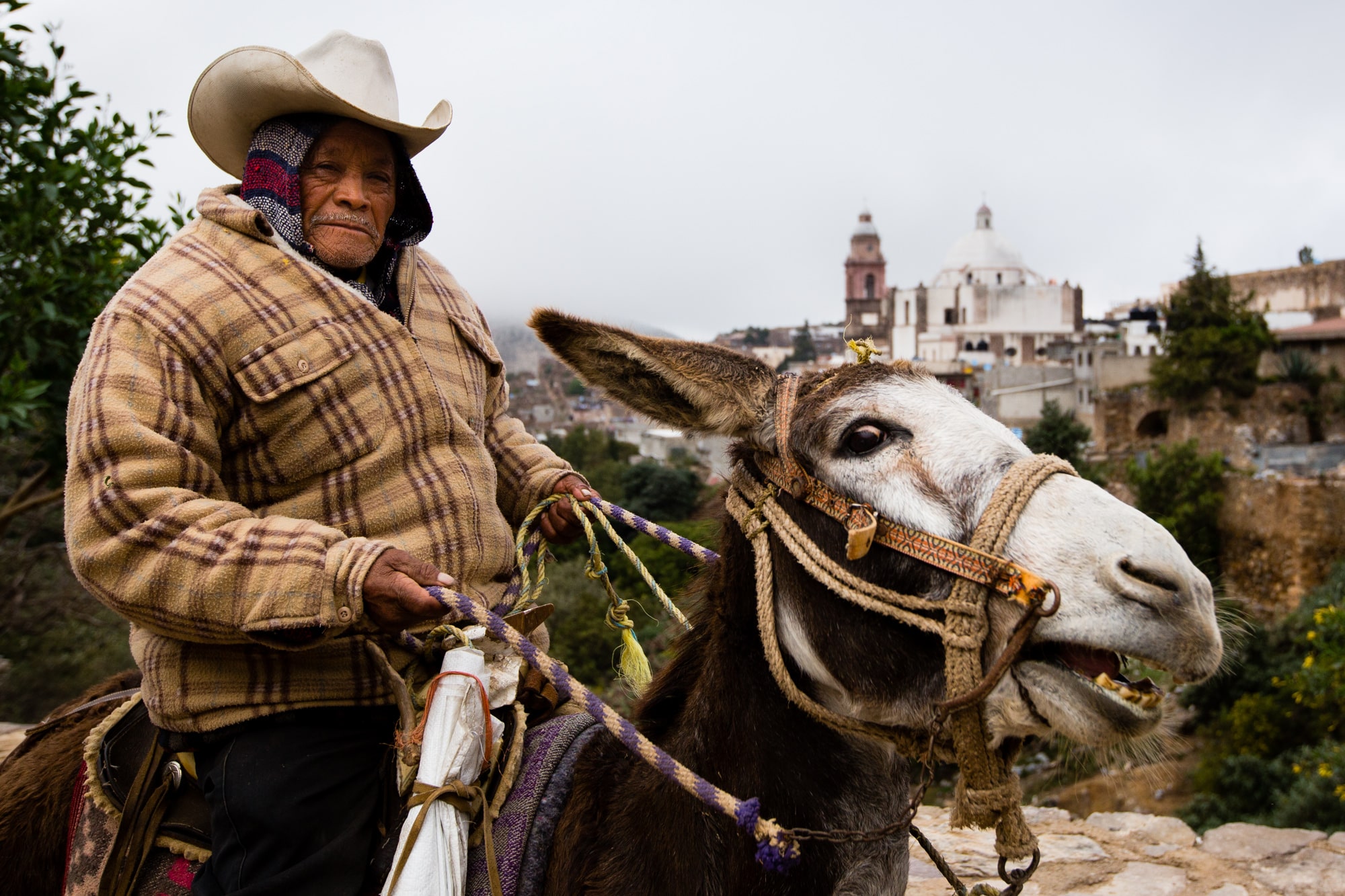 As our pack of equine porters once again help carry our bikes skyward we know what we're in for, and we make the trip like seasoned locals. At the final push, Cuco informs us that it's too steep for donkeys—it's time to do some human porter-ing. We dismount, toss our bikes on our backs and struggle up to the 10,000-foot summit…and find a small shrine at the top. The peak, we find out, is sacred to the local Huitol tribe among others, who believe it is where the universe began and many of whom walk across miles of desert each year to leave religious offerings. We follow suit and offer our respects, each tossing a coin into the fire before we drop in. From the following 3,000-foot descent, it seems to have worked.
The trail twists through the valley, pinching into narrow channels at spots and opening to multi-line widths and cacti-spotted single track at others—a constant danger, as the beautifully stark views are almost impossible to avoid. Things get rockier and more technical as we fall deeper into the valley, but despite an impressive ruggedness Thomas navigates the entire thing on a hard tail, a testament to both his badass status and the variety of lines the trail has to offer.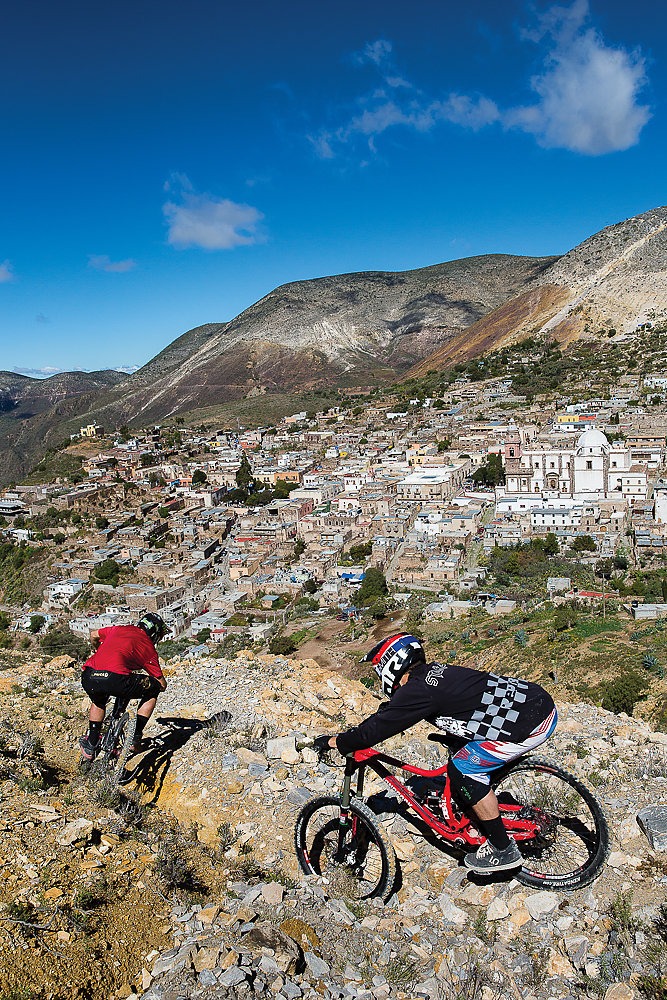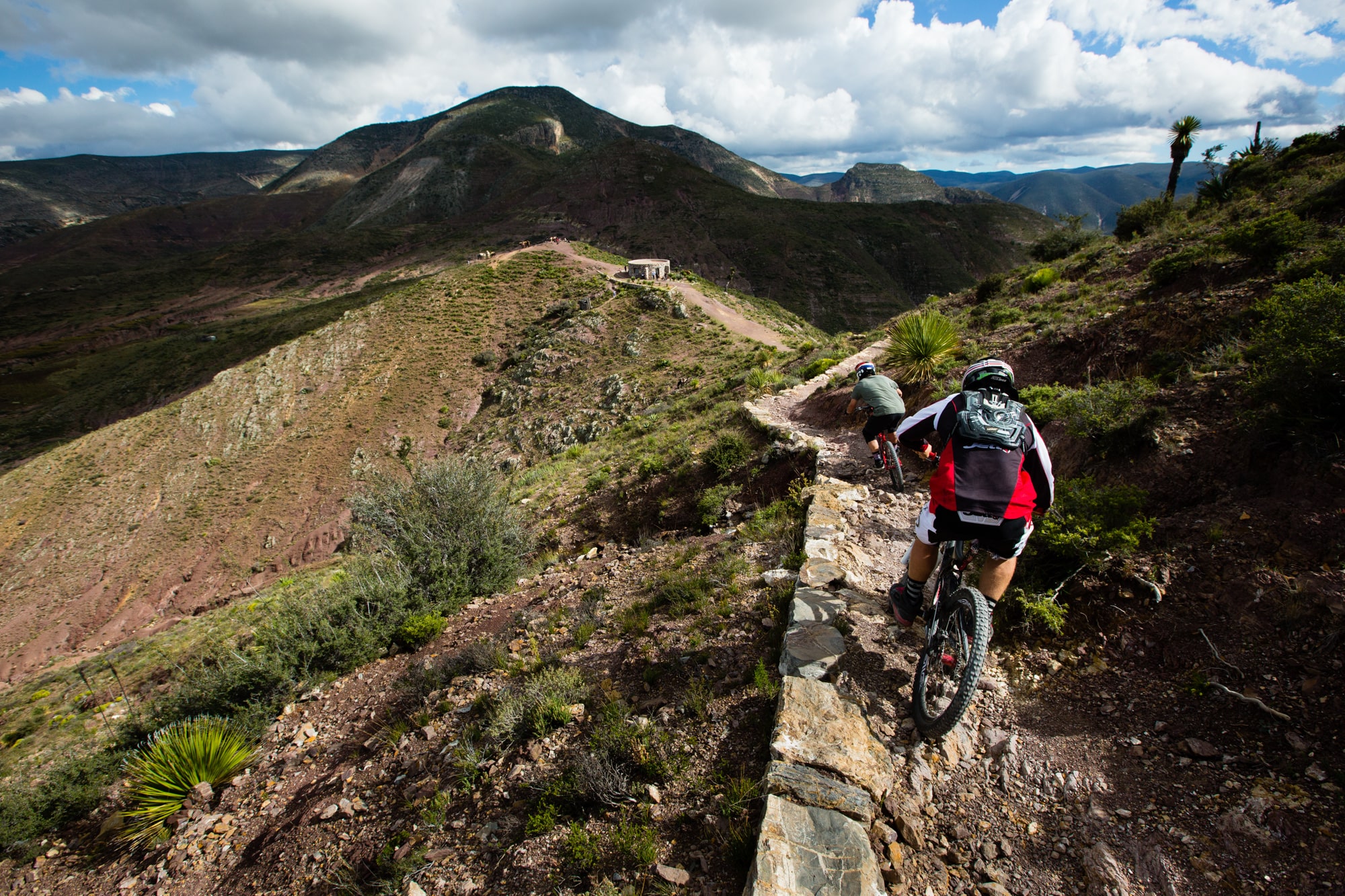 We finish at a small village on the other side of the mountains, where we meet our Thomas-arranged shuttle back to our hotel. Instead of the usual donkeys, we're surprised as a lifted green, 1956 Willys Wagon pulls in to pick us up. A beautiful vehicle for a beautiful day.
A typical dirt road runs from the village back into the hills, and the Willy makes quick work of the first few miles. Then as we near Real, seemingly out of nowhere the road turns to cobblestone—all of the roads in and around Real, it turns out, are paved with cobblestones from the nearby river. Stretching for tens of miles, they were built in the 18th century and are another relic of the town's boom-eras. I almost can't imagine the amount of work that went into their construction.
The driver pauses to shift into four-wheel as we are suddenly assaulted by another heavy rainstorm. This may be good for farms and fauna, but with only a few feet between us and a thousand-foot cliff to the riverbed it makes the climb more terrifying than our descent. However, unless we want to drive around the mountains to Monterrey and the tunnel, we have no choice. As another example of the town's remoteness, it's the only other road into Real.
With our week in Real de Catorce finished, we make the return journey through the tunnel and town to Monterrey for some far different riding—tomorrow, the city's new public bike park opens. But before we hop onto our hardtails and hit the dirt jumps, we need one last Mexican DH.
A clearly industrial city, Monterrey still butts up against some amazing mountains—and some amazing trails as well, a fact that has created a thriving bike culture in the area. The main local trail system, called Chipinque, has both amazing views of the forest and city and equally amazing, fully shuttle-able trails, reached by paved roads. Both by terrain and access, it is a shocking and welcomed return to civilization. As daylight fades, we drop in as the sun dips behind the bustling horizon, another beautiful—albeit different—Mexican sunset.
The next afternoon, far below Chipinque and amongst the bustle of Monterrey, grand stands of spectators watch and cheer as the Central Bike Park sees its first laps. We session the jumps and pump track for hours with locals Willie Aguilar and Nico Cantu, weaving among the kids and other bikers enjoying the fresh dirt. There are no donkey shuttles or sacred peaks, no raging downtown donkey races or semi-legal cockfights. Despite being in a different country and only hours away from one of the most unique places I've ever been, it's a scene that could be found in nearly any bike park around the world. A few hours later, us Los Tres Amigos will load a plane towards Oregon. But as kids in skinny jeans and flannel flow the jump lines like the park's been open for years, I realize that the centuries separating Real de Catorce from this modern scene aren't as dramatically different as crumbling ruins and industrial skyline: be it gringos or donkey guides, ancient mining booms or busts, riding bikes is fun.