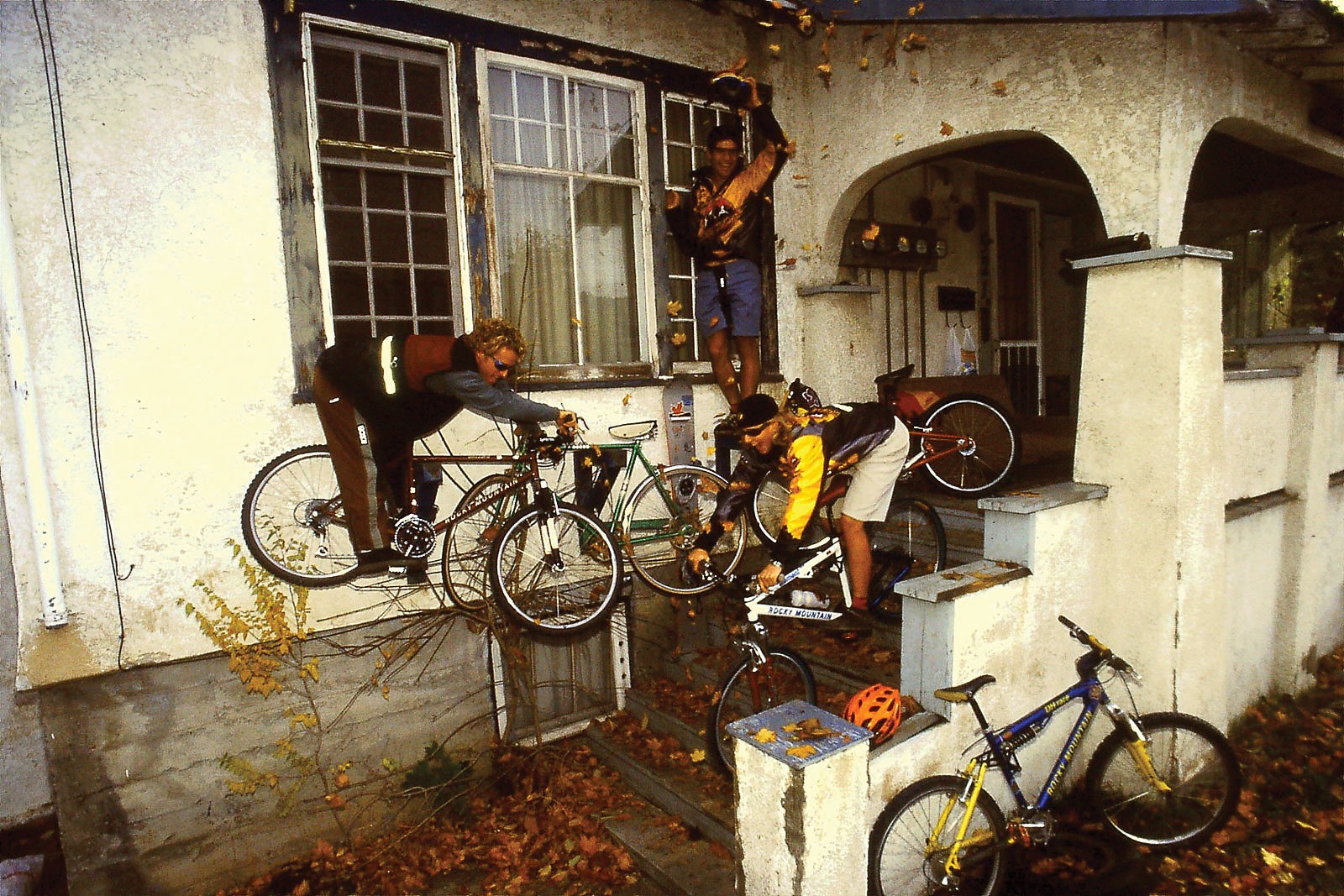 Let Our People Ride - The Rebirth of Race Face
Editor's note: This article was published in August 2013. Nearly a year-and-a-half later, in December 2014, an announcement was made that Fox Factory Holding Corp. was acquiring Race Face Performance Products Ltd. and Easton Cycling, which common shareholders of the Race Face brand had purchased almost nine months earlier. Chris Tutton is currently the president of Fox Factory's Specialty Sports Group, which includes Race Face and Easton Cycling.
It's a scorching late June afternoon—the Friday before Canada Day long weekend, in fact—and I'm getting a tour of Race Face Performance Products' new Burnaby office.
A half-hour east of Vancouver, BC's North Shore and just past what looks like a junked mini-golf-course lot strewn with oversized plaster statues, the new space has a largely unassuming, drab-grey façade. But inside the glass double-doors, there is an air of excitement. A longstanding staple of the mountain bike industry is getting a much-needed reboot.
Race Face's new home isn't the largest facility and it doesn't need to be. A tight crew now runs a business that fell victim to an industry crunch a couple years back. Their eyes are firmly focused on the future. And for Race Face, that future has a lot to do with carbon.
The tour starts with a visit to the company's new carbon facility, which allows them to build, test, tweak and progress their carbon components in a streamlined fashion. Senior Design Engineer Jonathan Staples carefully walks us through the various stages of production, from computer modeling to in-house assembly to load testing. He's been with the company since 2007 and carbon cranks are his specialty. The new facility should help Race Face sustain their edge on the competition. As Staples explains, "We can try something and ride it the next day, so when we are in an R&D cycle it means our loop between iterations is literally days instead of months, which would be the case if we were trying to get something from overseas. Being so close to the manufacturing process allows us to not only innovate, trying things that other companies don't have time to do, but react quickly to shifting industry trends."
Indeed, the short-term future of the company has a lot to do with a new rendition of their trademark carbon NEXT SL cranks, which have a roughly 150-gram advantage over the rest of the industry, and which will be launching right around the time this article hits print. But there is far more to Race Face than cranks—since its creation-by-necessity at Rocky Mountain Bicycles twenty years ago, Race Face has always lent a touch of coastal BC ingenuity to the mountain bike world.
Slippery Roots
It began simply enough: the crew at Rocky Mountain, mostly passionate riders themselves, wanted components that worked (and looked) better than what was available in 1992. Innovation came early: within a year the house brand had introduced their first breakthrough, the threadless Real Seal headset, which would remain in the product line for over a decade. Next came their bread and butter, the I-Beam crank, which would later become the Turbine. A single-piece, CNC forged aluminum crank with a low profile finish, it was the mold upon which Race Face built its brand. By 1996, however, Rocky Mountain was under financial pressure and sold the in-house components brand to three investors, including then-Rocky Mountain employee Craig Pollack. Race Face went out on its own as a rider-driven boutique brand.
Just before Race Face split from Rocky, a young and relatively unknown rider named Wade Simmons joined the team. "We used to test the strength of the crank spindles by jumping our bikes off the loading docks," Simmons remembers. "Even though everybody at the company rode, it was our job, as riders, to really push the limits of the product and see what it would take for them to break."
As Simmons and a growing crew of Vancouver locals built a freeride Mecca on the slippery roots of the North Shore, Race Face built products to satisfy the needs of these riders who were starting to hit drops and ride skinnies—who were pushing the boundaries of what kind of punishment frames and components could withstand.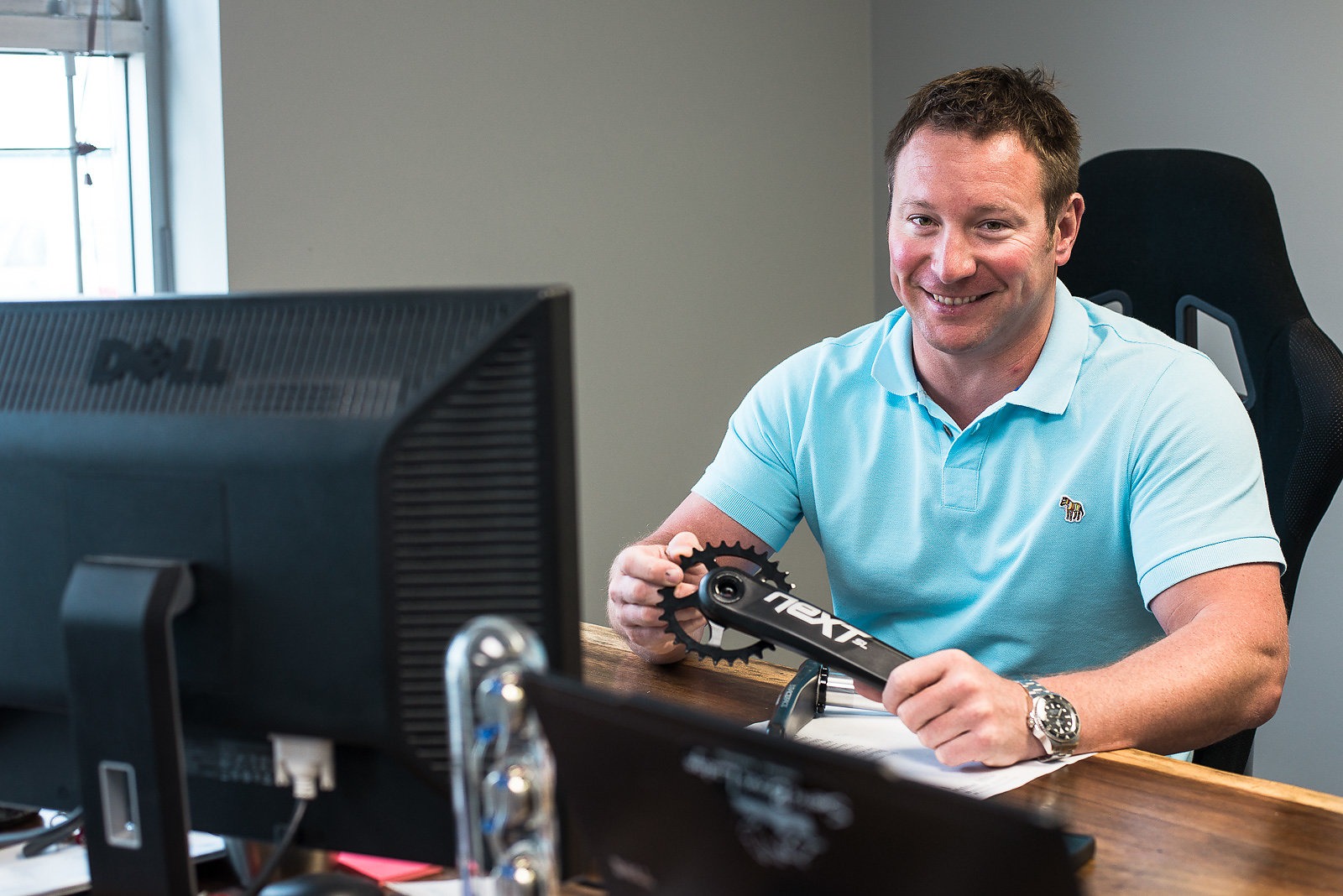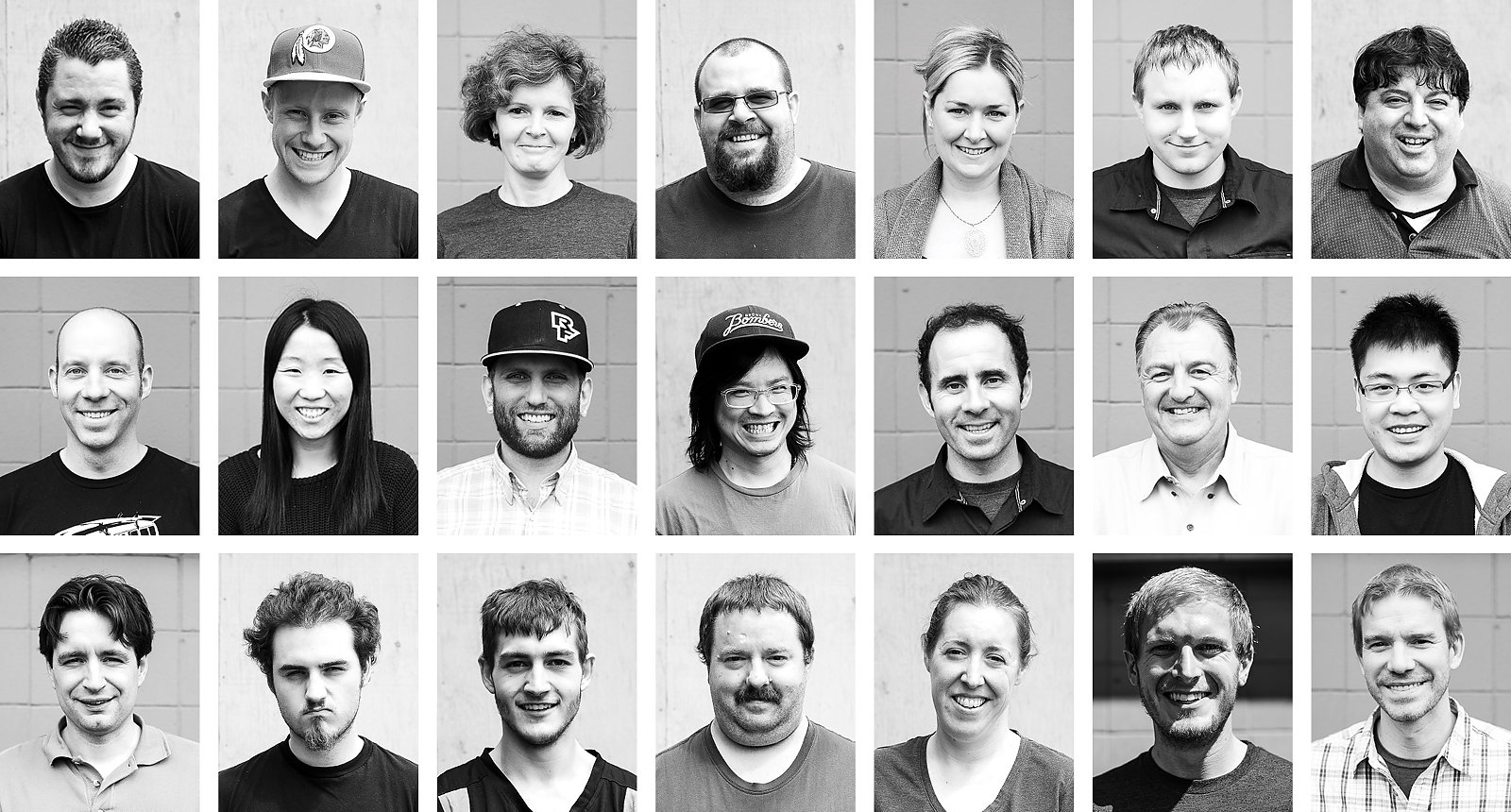 Around the same time that Simmons joined Rocky Mountain as a rider, a 19-year-old by the name of Chris Tutton joined the warehouse crew. Now 39 years old and President of Race Face Components, Tutton has certainly has come a long way from packing boxes. On my late June visit, the youthful Tutton is conducting business from his headquarters in the back. Inside his modest office an omnipresent Rocky Mountain-branded six-inch ride sits in a corner adorned with a pre-production version of the NEXT SL cranks. His football-sized mini-doberman, Growler, gives me a leery stare from the corner.
Tutton is quick to reminisce about the old days when he would travel to both the local, BC-based races, and eventually NORBA events and the Cactus Cup in the American southwest. With athletes like Simmons, Richie Schley and later Brett Tippie along for the ride with himself and industry veteran Paddy White (Product Manager, Kona Bicycles), it's safe to say that the little company was having a lot of fun. "Let's just say that Paddy and I are no longer allowed to rent cars in a few states and leave it at that," Tutton remembers with a smirk.
Rental-wrecks aside, Race Face had momentum—they were front and center within a growing freeride movement and the aftermarket component market was becoming more prevalent as mountain biking matured and diversified. By the late '90s, the company had moved into the Braid Street facilities they would occupy until early 2013. But somewhere along the way, something changed. Growth led to rationalization. No longer was the whole crew traveling to events together—instead, they were traveling the world selling their products.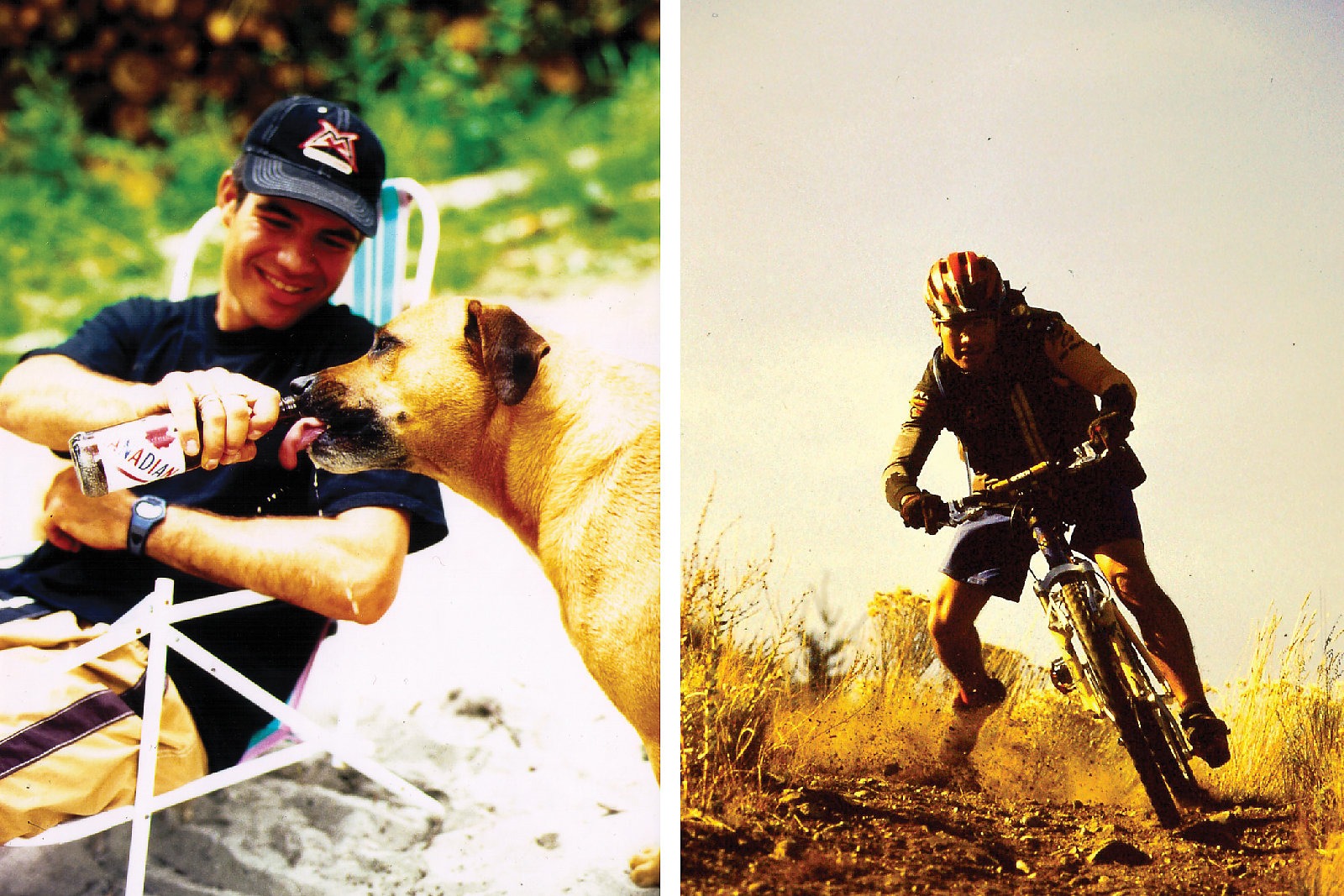 Derek Wills joined Race Face in 2001 and is now the US Sales Manager, investor and board member, and he remembers the vibe at the turn of the millennium: "I came from an old-man steel industry to the bike industry. There were lots of young people, lots of girls, and lots of cool things going on. So I took a pay cut and joined the Race Face team."
"There were lots of young people, lots of girls, and lots of cool things going on. So I took a pay cut and joined the Race Face team."
He admittedly wasn't much of a mountain biker then, but Wills bought into the energy at Race Face—a company that was now almost a decade old remained true to its rider-driven roots. Then the dot-com bubble popped. Race Face laid off around 40-percent of its staff. Amidst the turmoil the company still managed to diversify, buying clothing and protection brand Roach in 2002 and successfully integrating both apparel and padding into their line. By the mid-2000s, with sales nearing $15-million per year, a top-down corporate culture became the modus operandi at the brand. While a strong camaraderie remained amongst staff, management grew increasingly unresponsive to employee input. In 2007, there was an additional round of layoffs. Fed up with the corporate culture at Race Face, Tutton left in 2008 to become the Director of OEM Sales with Easton Bell Sports. On March 12, 2011, Race Face went bankrupt.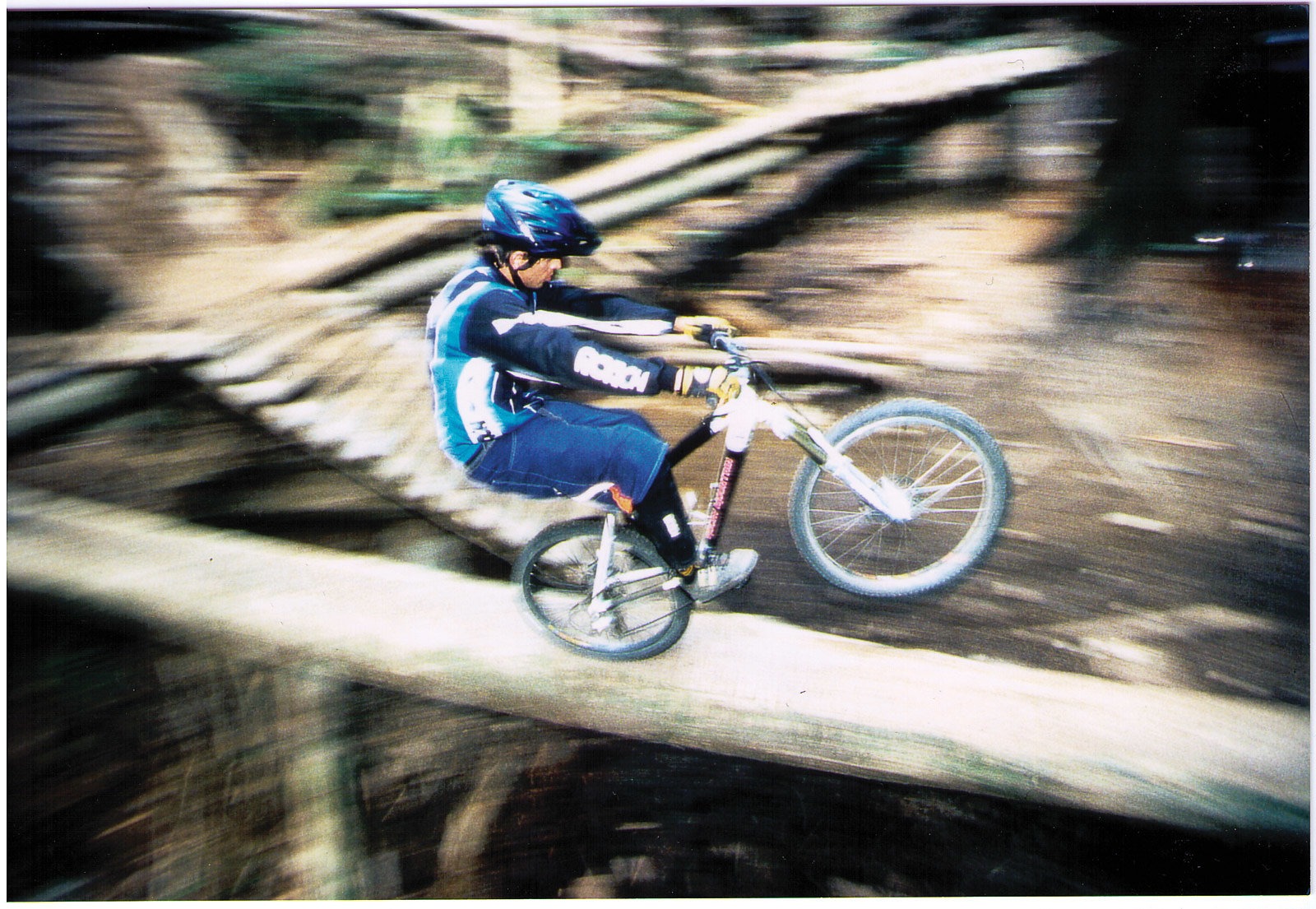 The Human Equation
When the old Race Face shut its doors with little warning, its employees were left hanging in the balance. But there were many who remembered the golden years of the brand—and they remained hopeful they would get that feeling back. One of them was Tutton. "The company wasn't broken," he says, "it was just the way that it was being run that was. I received a phone call from the company that was executing on the receivership order because I was listed as a shareholder of the old business. The bank shut the company down and it went to a sealed bid, which means they were simply selling the company's assets—the inventory, the chairs, the tables, pretty much anything tangible, as well as the patents, intellectual property and trademarks. There were something like 13 sealed bids that were submitted and mine was the one that came out on top."
Tutton brought Race Face back with contributions from a private investment group. They understood the roots. They understood its image as a small, independent company capable of big things. And they understood that Race Face had a loyal following in the mountain bike world. On May 10, 2011, Race Face was reborn.
"I believe the old ownership knew that the company was going down for a very long time," Tutton says. "They had not spent any money on infrastructure, any money on maintenance of the building or the machines… there had been zero dollars spent. So walking into it was like a bomb went off. The first six months was like doing triage, just trying to get the machine shop up and running."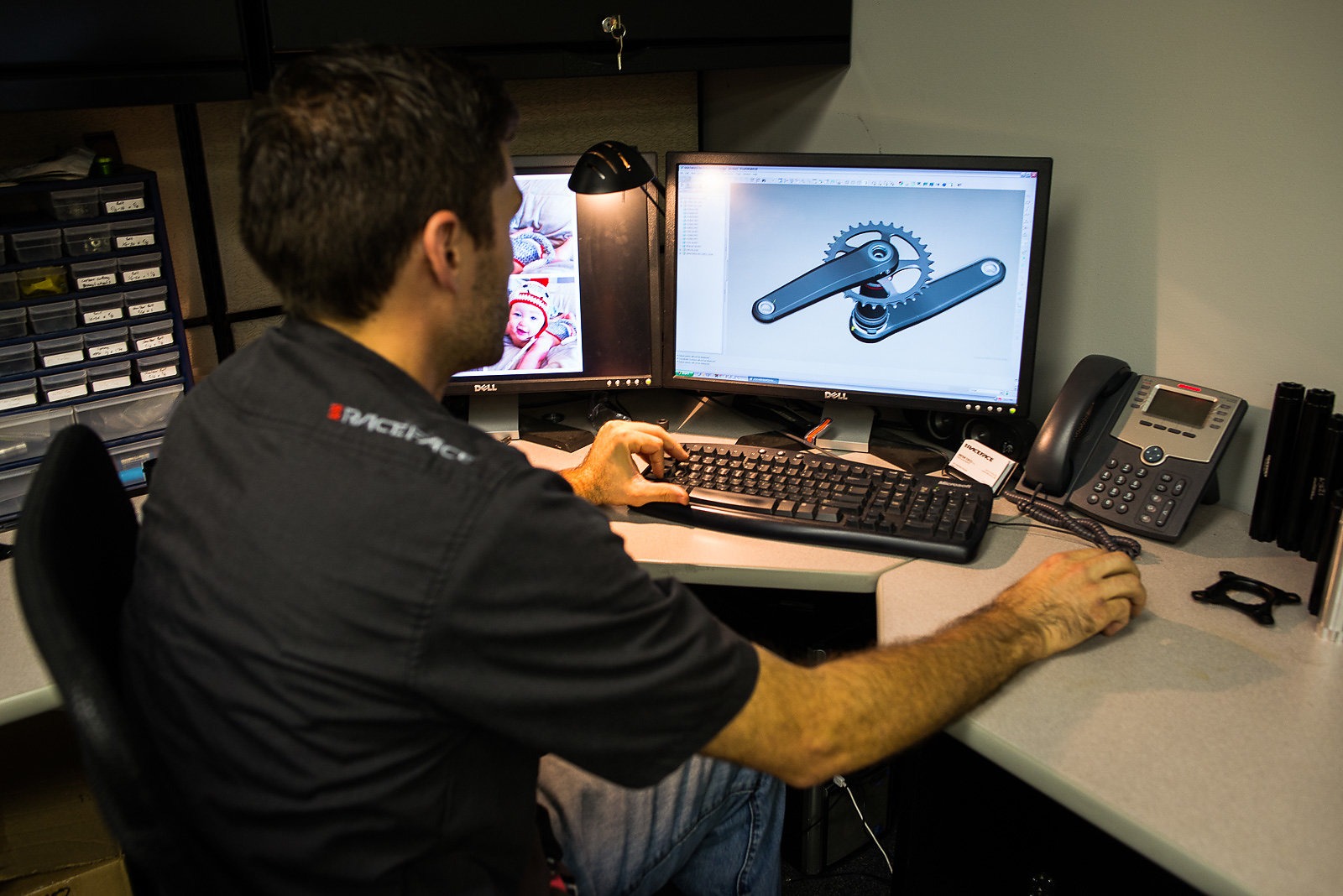 The initial investment that Tutton made was in people. Nine weeks in he hired Operations Manager Dave Murray, an Englishman with a manufacturing pedigree earned in a company that made pumps for nuclear submarines and power plants in the Old Country. Murray had moved to Canada in the late '90s and spent the better part of the 2000s working for Rocky Mountain. Rocky stopped manufacturing right around the time Tutton bought Race Face and the timing was perfect. "It was terribly tough, the first year," the 57-year-old Murray says. "It was a struggle to get long-term vendors to deal with us again. We all understood, given they had also been burned in the bankruptcy, and we all expected the rebuild to be challenging. But still, it was disheartening to hit road block after road block. This past year we've really turned a corner—vendors have renewed confidence in us, and they should. The staff have worked tirelessly to re-build and it's because of that dedication that the company is back up and products are rolling out. We've just spent hundreds of thousands of dollars to double our carbon capacity and update the machines. There aren't many manufacturing companies in B.C. at the moment that are actually growing like we are. The new [NEXT SL] cranks are a testament to that dedication."
"We're a small group and we're pretty tight—I've got a bunch of friends here. My vacations are with my colleagues. We live and we play together, and that's a special thing."
Alongside well-aged new blood like Murray, Tutton brought back key Race Face employees like Marcel Jakob, who handles OEM sales, Design Engineer Chris Heynen, Wendy Tewnion in marketing and soft goods design, and a handful of others who originally joined Race Face for their love of bikes and love of the brand—staffers excited to start anew and have their voices heard. "Here at Race Face," Heynen says, "the great thing is you get diversity, it's really broad. I get involved from conceptual market research to conceptual design to testing, packaging instructions and everything in between. That's something really fun that I don't think I would get at a big company. As a designer you're tied into the whole line. Plus, we're a small group and we're pretty tight—I've got a bunch of friends here. My vacations are with my colleagues. We live and we play together, and that's a special thing."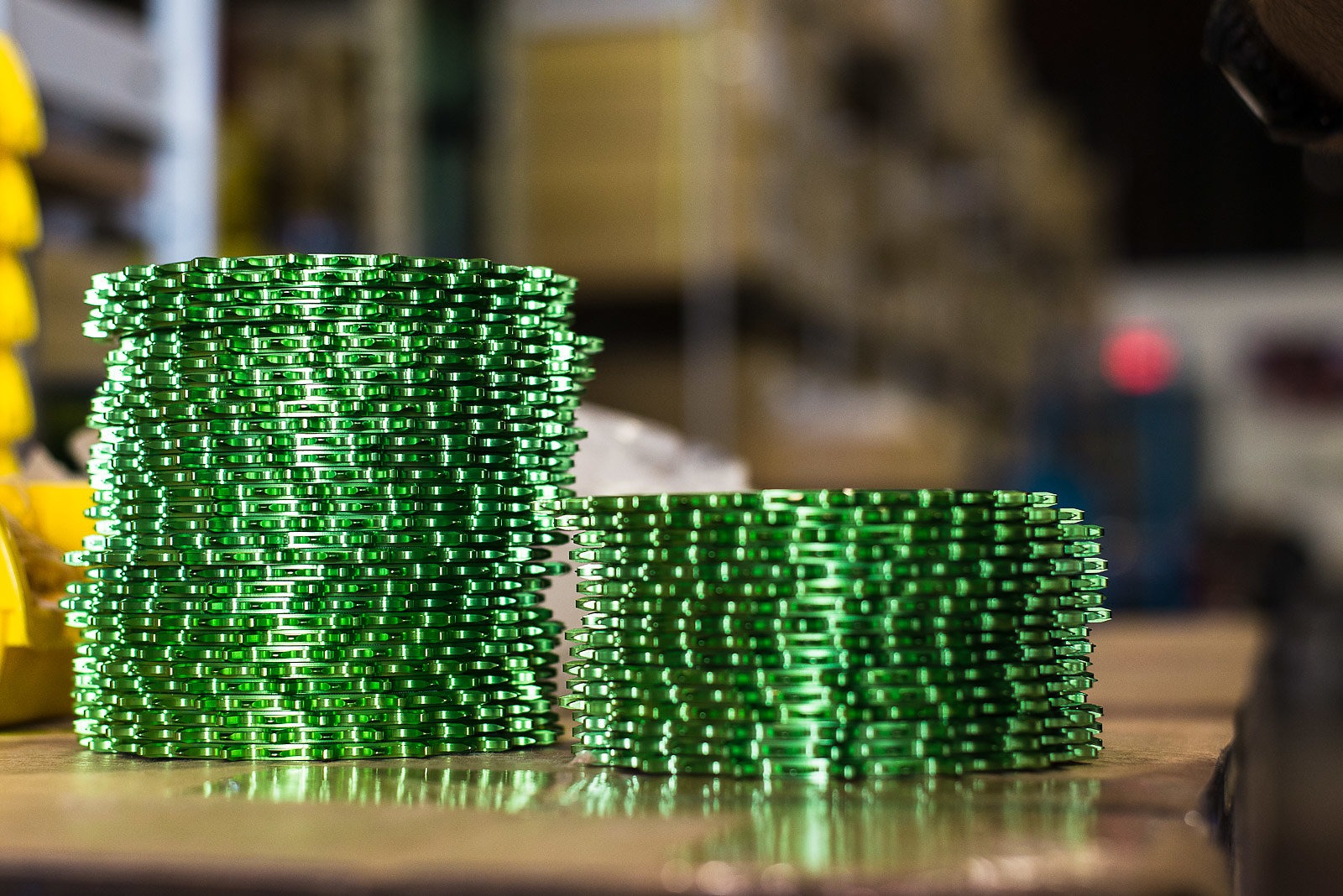 As we talk, half the crew is preparing to head to the Silver Star Bike Park to spend the long weekend riding bikes together with their families. For Dave Murray this is infectious. "I'm one of the older people that works here," he says, "but I don't feel old. They keep me feeling young. They keep me positive. They keep me focused. They eat, sleep and breathe bikes. I don't have to worry about what's going on here—I know that the job is getting done because they're just so passionate about what they do."
Positive Vibrations Revisited
Nowadays, there are 50 full time employees at Race Face, down from roughly 75 before the shift in ownership. An office staff of 15 includes three full-time design engineers to keep the focus on innovation. Many Race Face staffers live near the trails of the North Shore or commute from Squamish on a flex schedule. It's this 'let our people ride' philosophy that drives a refreshed corporate culture. With carbon production in house, they can expedite design and innovation and bring a product to market faster than their competitors. With another facility in Taiwan making aluminum products, they can meet a competitive price point. And now more than two years into the new Race Face, we can expect to see a diversified product line for 2014. "There's just a culture here of doing it right," Jakob says. "We don't take anything to market that we're going to be ashamed of or that will potentially blow up in our face. And that's what I've always respected about this place, even before I worked here. It makes it extremely easy to sell product having the people and product behind me. Customers can see the quality. It's just one of those jobs that you love to do."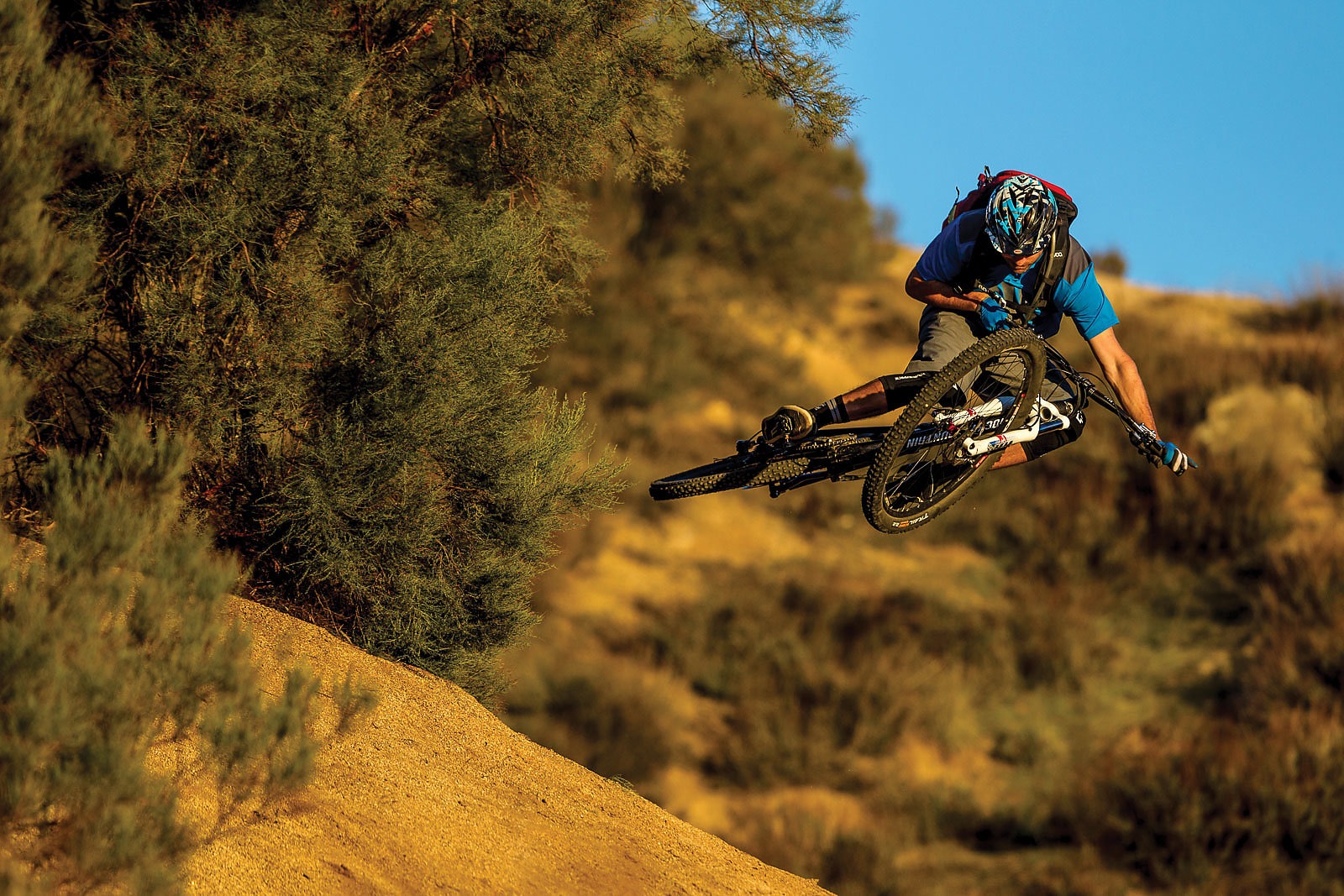 There's no doubt that Race Face has a proven track record when it comes to solid products. Yet, as Tutton understands, it's going to take a dynamic team that truly believes in the product to make the new Race Face work. "You gotta remember I'm no expert at this," Tutton says. "This is all new to me, too. I got thrown into the fire—let Race Face go down or do something about it. It wasn't something that I had in my five-year plan. This was just how life played out."
"We're not running thick with people," he continues. "The staff here are charged to act with a lot of autonomy inside their roles, but they also have to understand the great responsibility that comes along with that freedom. I think they like that too, though—they like that they have some direction and control. Everybody gets to talk and everybody who wants to be involved is involved. Running the business like this attracts that sort of mentality that keeps the business growing in the right direction. Employees are not being managed by a boss that strictly focuses on financial targets but one who, like the employees, truly wants to make the best possible product."
By 4 pm on this Friday afternoon before the long weekend, everyone is getting antsy—it's time to go ride. The warehouse kid has left the building by jumping his bike out the back loading dock, much like Wade Simmons back in the day. And one thing is abundantly clear: the company is full of positive energy. Like the Race Face of old it runs upon the shared vision of a passionate group of people who, first and foremost, want to enjoy the ride.