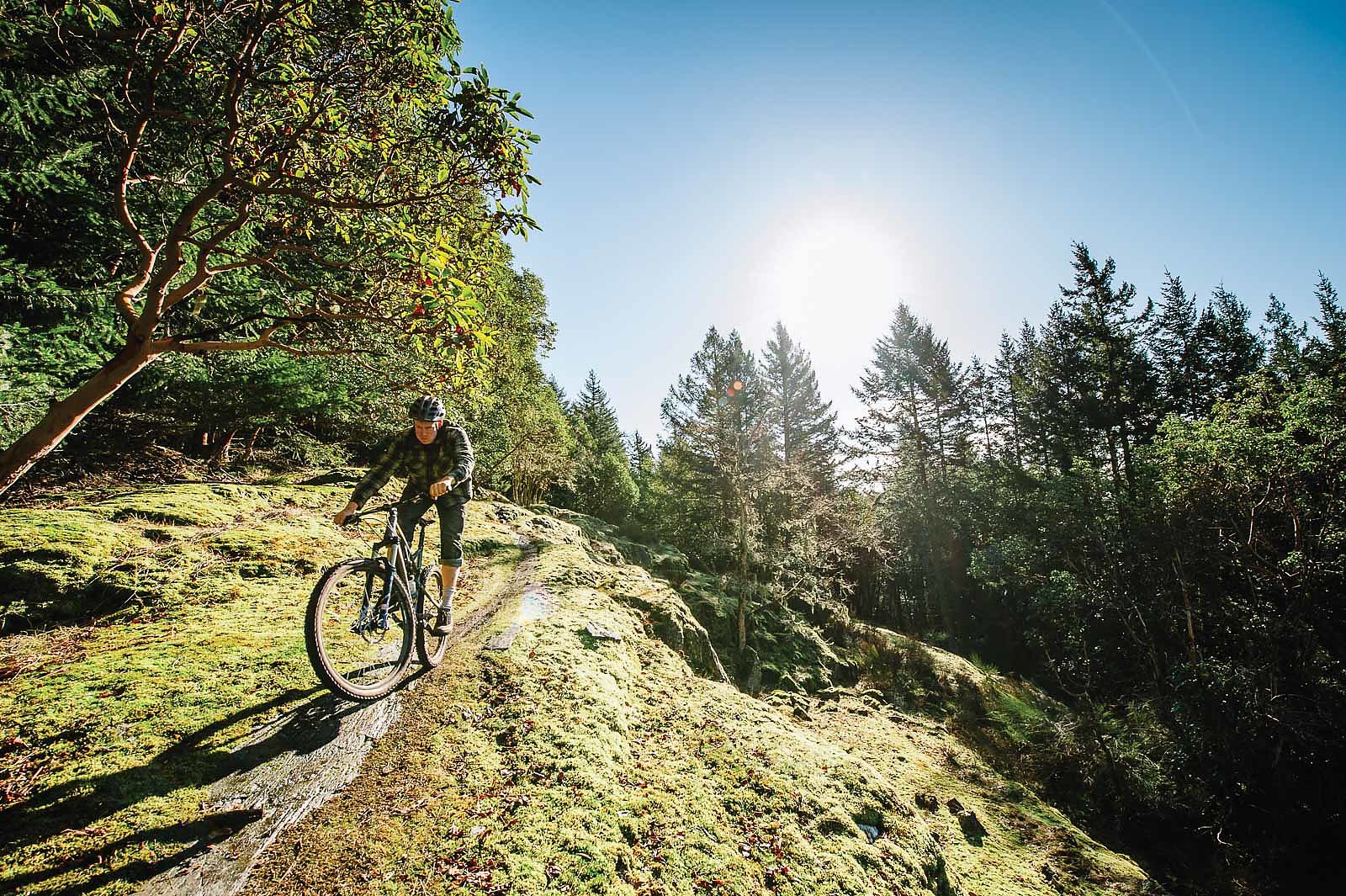 Legalizing Maple Syrup - Vancouver Island's Maple Mountain gets its First Sanctioned Singletrack
For more than two decades, mountain bikers have been exploring the walls and ridges of the mountains surrounding Vancouver Island's Cowichan Valley.
"The warm land," as its original inhabitants christened it, includes the swath of island directly between Nanaimo and Victoria, and its surrounding mountains host premier coastal wilderness at its finest: electric green forests, rich dirt, sweeping views of mist-layered seas, along with primo trails—which are, technically, illegal.
Down in the valley, the balmier climate has produced a world-renowned food and wine industry, defined by organic farms, oyster companies, artisanal cheesemakers and world-class vintners. But up in the mountains, a recent coalition of riders is hard at work building a different—and much needed—type of niche tourism draw: sanctioned singletrack.
Established earlier this year (2014), the Cowichan Trail Stewardship Society came together with the goal of properly building and maintaining legal trail networks in the Cowichan Valley. Outside interest in the region's trails has been steadily growing—evidenced by the number of companies stopping by with their pro riders and film crews this year.
This fall, the Trail Stewards celebrated their first legal expression of mountain biking freedom: a sanctioned mixed-use trail that descends for a full 5.5 miles down Maple Mountain.
The Ride
Conquering Maple Mountain is no easy task, but one that is truly rewarding. Like many a mountain bike ride, it starts at the omnipresent yellow-gated threshold of a fire-road climb. The steady 3.5-mile ascent starts off mellow, but gradually steepens—be prepared for a haul. A few flat sections deliver much-needed reprieve and moments to catch your breath before the cranking resumes. Next year the Trail Stewards plan to carve in a singletrack climb with a much easier pitch.
At the top of Maple Mountain, you've earned your first reward: fantastic views of the Cowichan Valley. Looking south reveals Maple Bay, Salt Spring Island and the cliffs of Mt. Maxwell Park. Often the view is obscured by fog, adding an ethereal quality: the mountains poking out of the mist and glimpses of ocean.
Finally, as you turn your attention to drop in you reap your second reward: Upper Maple Syrup. A throwback to classic mountain bike trails, it snakes back and forth across the slope, making the most of the terrain. The descents are steep and rocky with multiple line choices and climbs that are short and fast to keep the flow going. You encounter many rock bluffs—and you learn to grin when you see them, because you realize that they are always followed by a section of trail that you'll remember for both its beauty and its difficulty.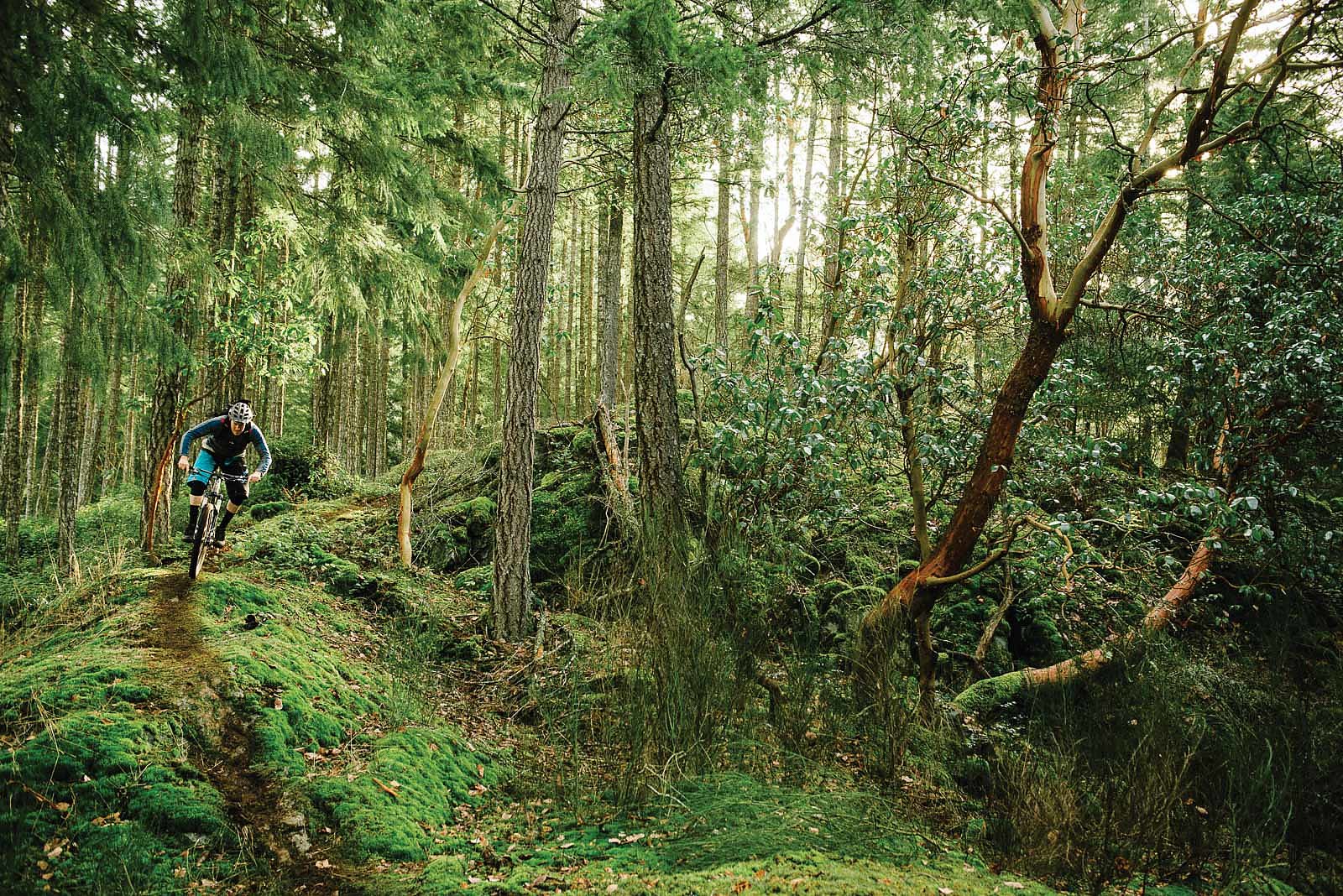 Upper Maple Syrup comes to an end at a another fire road, which you'll take to the entrance of Lower Maple Syrup. Here is your third reward.
Showcasing the craftsmanship of legendary trail builder Riley McIntosh, Lower Maple Syrup is a masterpiece of all-mountain design. Built with the mission of using the terrain's contours to their max potential, Lower Maple maintains elevation rather than dumping elevation with quick fall lines. Descending seems to involve just as much ascending, but that's all part of the exploration. "Maple Mountain is super lumpy and bumpy and features all sorts of bluffs, valleys and knobs throughout," says McIntosh. "It truly is an all-mountain-style mountain." Built to challenge your physical aptitude while simultaneously encouraging you with its incredible scenery and the intrigue of diverse ecosystems, Lower Maple Syrup is a symphony of fast berms, long low-gradient climbs and techy rocky sections.
In addition to its earthen track, the trail also hosts some supremely constructed man-made features that invoke the creativity of McIntosh—a characteristic that has garnered him worldwide recognition and seen his trails featured in major mountain bike movies. Ninety percent of this woodwork is mandatory, but rather than hucker features, each artistic piece solves a real-life problem: passage across the wet spots, a bridge from rock to rock, assistance up a climb. Integrated seamlessly into the trail, the features add fun for both novice and experienced riders alike.
Today Lower Maple's fresh-cut dirt adds a certain laomy allure, but in the years to come, as the rocks and roots begin to rear from the soil with each passing bike an already magnificent trail will only gain character.
By now, you are already past the halfway point of the descent, but Maple Mountain's lower trails keep things interesting all the way down. With names like Solar Coaster, you can easily visualize each trails demeanor. By the time you shoot out of the last bit of singletrack and see the road, you have already started to plan your next ride up. New trail cruxes will preoccupy your mind and you will find Maple Mountain in both your sleeping and waking dreams.
Planning Your Trip
There are actually three different ride zones to choose from outside of Duncan: Mt. Tzouhalem for speed and flow; Mt. Prevost for the gravity slaves among us (and where Downhill World Cup champion Steve Smith trains); and Maple Mountain, which serves the all-mountain crowd.
Cowichan Valley also hosts three bike shops: Experience Cycling, Cycle Therapy and Cowichan Cycles.
Accommodations in Duncan are plentiful: the hotels, motels and dozens of B&Bs offer unique experiences, and with names like the Funky Frog you won't soon forget them.
Legalizing Maple Syrup as originally published in Freehub Magazine Issue 4.3 (Fall 2014)