Kone Process 153 Review
The Kona Process 153 DL is not a "do-it-all bike," nor should it be.
As soon as a bike tries to accommodate more than one type of riding, its performance for each individual style starts to wane. And no offense, but I don't want a cross country bike, because that's not what I tend to ride.
On first impression, the Process 153 DL looks pretty savage—like it might eat your small-travel XC bike if it gets too restless. Its steep top tube, slack head angle, 27.5" wheels and one-by-eleven drivetrain immediately come together to create a bike that begs for steep, rugged terrain. So for the last four months, I've been answering its call. I've pedaled and (occasionally) pushed this thing on every variety of trail I could find, from some local trails in Bellingham that many feel warrant a DH bike, to the wildly technical and ladder-crazed networks of Vancouver's North Shore.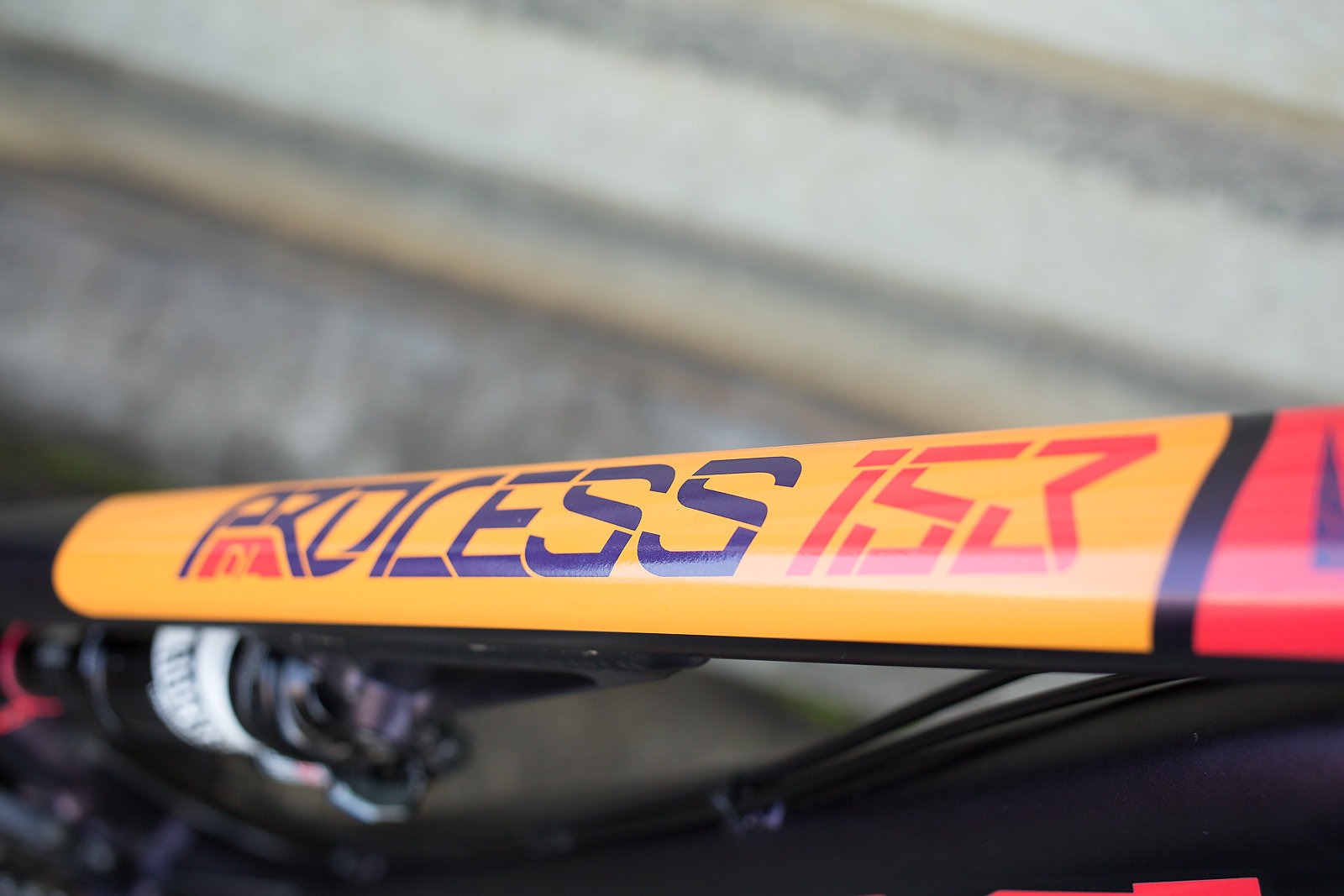 The Build
The Process 153 DL's build kit is an impressive one that blatantly gives away the bike's intentions. Starting with a Rockshox Pike RCT3 Solo Air 160mm up front and a RockShox Monarch Plus RC3 (with 153mm of travel) in the rear, it's no secret that this bike is designed to handle some serious gravitational force. The SRAM X1 crankset and X1 10-42t drivetrain create a gear range that is very admirable. And frankly, I've never met a front derailleur I liked, so I was happy to see that Kona didn't feel the need to complicate things.
Shimano XT brakes provide the stopping power on this machine, and are touchy-yet-smooth thanks to their two-piston caliper setup and are a considerable step above the Deores that come on the other Process builds. The wheels are WTB's new Asym i35 rims, designed so there's no dishing and more even tension. With a 35mm inner width, these rims pair nicely with a wide pair of tires, like the 2.3" Maxxis Minion DHFs that come stock, and give the bike a very stable feeling. The combination also allows for tubeless set up, one that seems frivolous, but becomes necessary once you finally dial it in.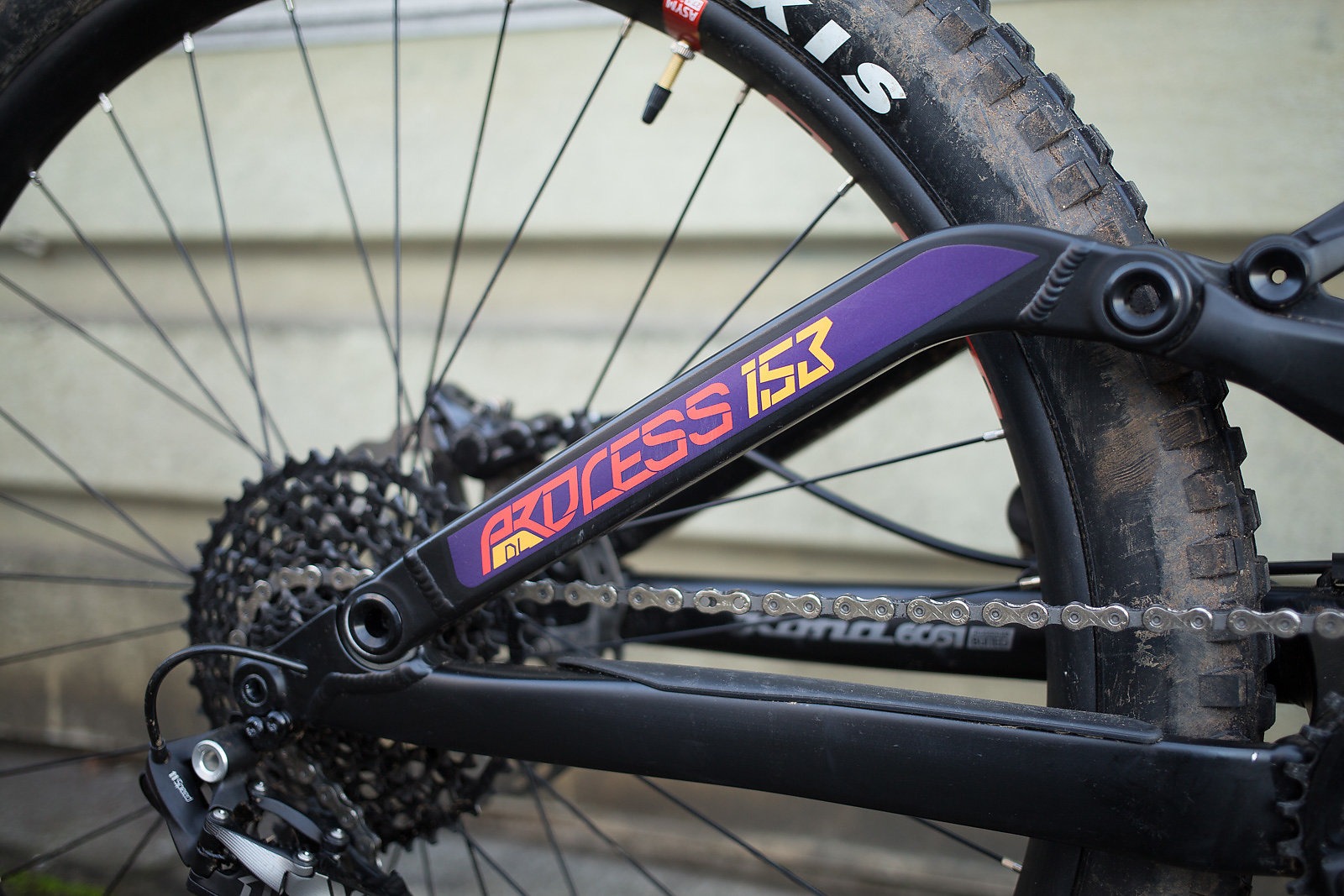 The Ride
This thing is so playful, it's hard to not hoot and holler as the turns you know so well magically become even more fun. The short chainstay and short wheel base combine to make an incredibly nimble bike. The back end is a breeze to move around, be it in the air or on the ground, and this thing corners like a dream. Thanks to a wheel base that's about 1-2cm shorter than a lot of other bikes in it's 160mm-travel category, I was really impressed with the way it could handle tight berms. I kept leaning it more and more, and every time I was surprised at the response and stability.
This is also thanks in part to the WTB Asym i35s, a relatively stiff rim that keeps its rigidity well under force. The tubeless set up has allowed me to run dangerously low pressures in the tires—I'll take all the grip I can get when it's wet and rooty—resulting in a few decently sized dents in the rims. However, this is probably caused more by me pushing the limits, than the Asym i35's inadequacies. So be forewarned. But even with said dings, they're still true, so I guess it's a testament to the upside of the rim's evenly distributed tension.
Another contributor to the bike's agility is its low bottom bracket. The Process 153 DL is frighteningly comfortable at high speeds, and one thing I kept noticing was that it carried momentum unlike any other bike I've ridden. This might be because it's so easy to pump small bumps and transitions with, but it often feels like the bike has a pinned throttle.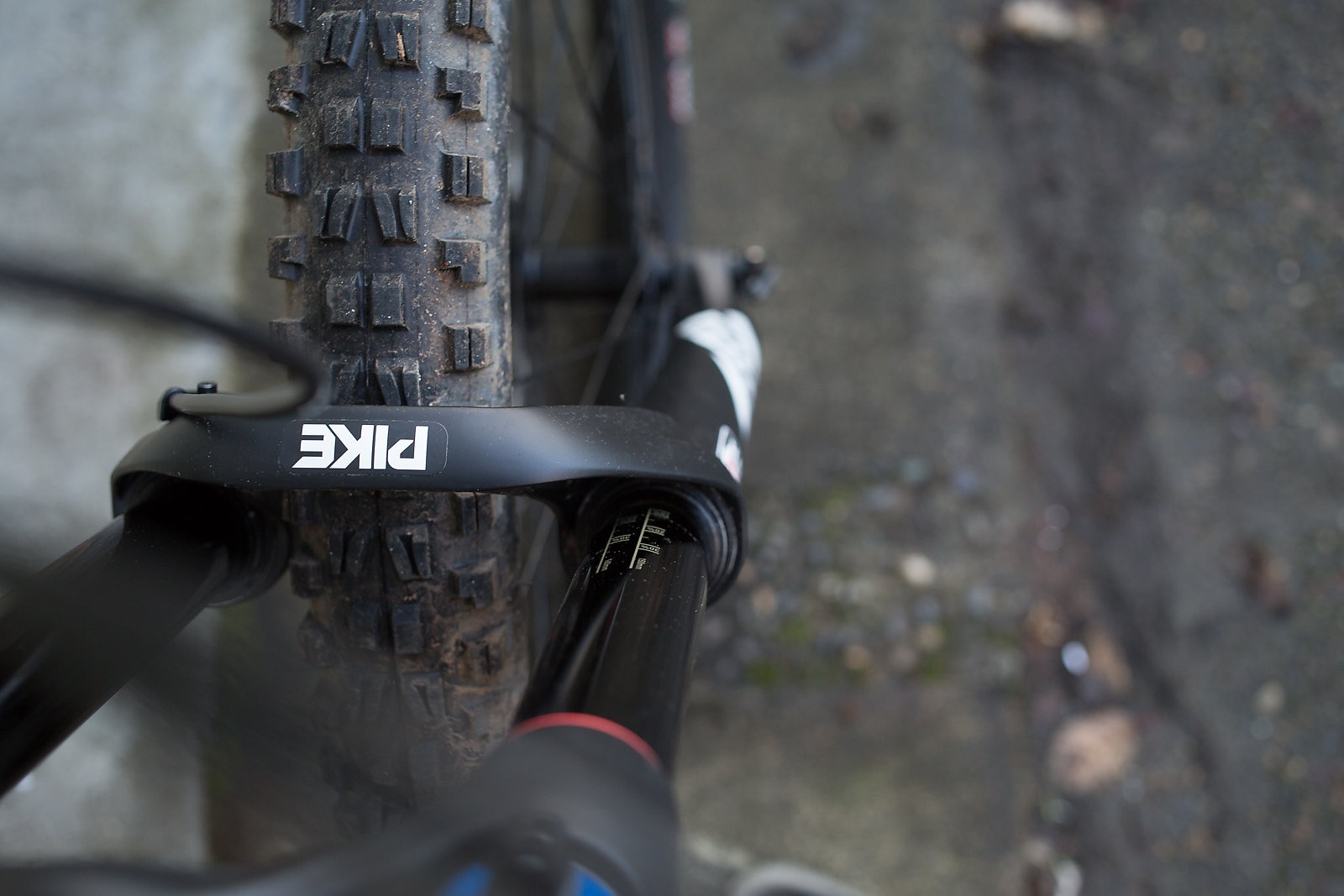 The Rockshox bling on this machine might need no introduction, but it's one more part of this elegant charger. The Pike 160mm has quickly risen to the top as one of the premiere forks on bigger trail bikes. The fork is light and stiff, with consistent compression. If you want to dial it in even further, you can add spacers or tweak the low speed compression or rebound.
In the rear is the RockShox Monarch Plus RC3. I've found that I get the most response out of the shock when I put a little extra air in it, so it sits just a bit over 30 percent sag. The three position compression allows you to easily switch between minimum, fully open for high-speed mobbing, mid, which is kind of like trail mode, and maximum, ideal for conserving energy while pedaling.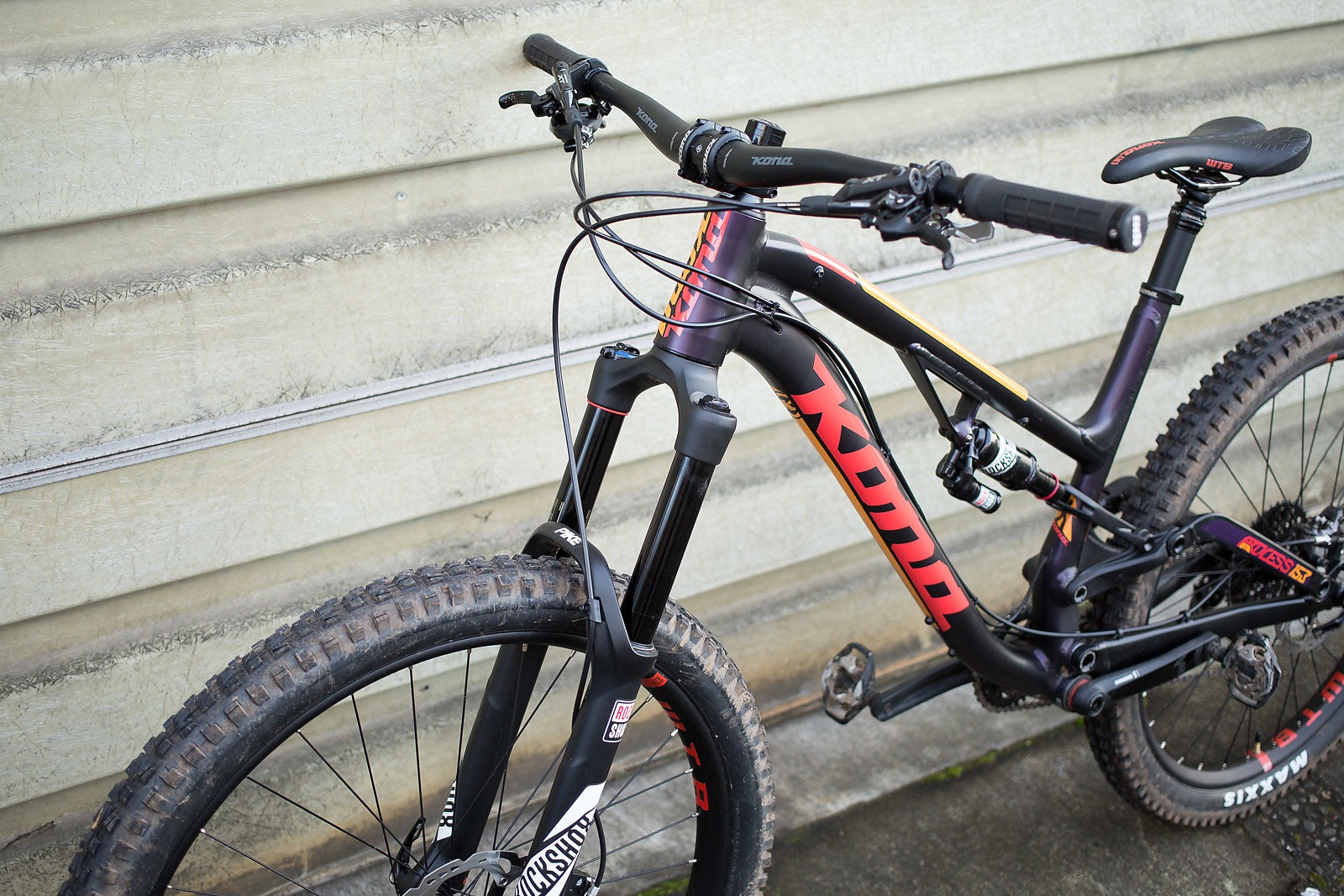 Ah yes… pedaling, that's the big question, right?
I'll admit that I've pedaled bikes that are a lighter, or a have a little more vigor on the climb, but they're a fraction of the fun that the Kona Process 153 DL is to ride down the trail. I like to think of it as paying for what you get. The Process might take a bit more effort on the way up, but once you get to the top, it's full on party mode. That being said, I still haven't encountered any climbing trails that the Process is too much for, and the 27.5" wheels make rolling up hill that much more efficient and smooth.
So to sum it all up, the Kona Process 153 DL is an absurdly fun bike, with a tenacious knack for the downhill. The gearing, the shocks and the angles create a bike that can can go anywhere if you're willing to put in the energy, and once you get gravity back on your side, the reward is greater than you can imagine.
See more of the Processs 153 DL at www.konaworld.com
Tester profile
Bike size: Large
Height: 6'
Weight: 140lbs
Inseam: 32"
Specs
Frame Material: Kona 6061 Aluminum Butted 153mm travel
Wheel Size: 27.5-inch
Wheels: New WTB Asym i35 rims, tubeless ready with a 35mm inner width
Rear/Front Suspension: 153mm/160mm
Fork: RockShox Pike RCT3 Solo Air 160mm QR15 tapered
Shock: RockShox Monarch Plus RC3
Crankset: SRAM X1 1200
Drivetrain: SRAM XG1195 10-42t 11-speed
Cockpit: New KONA designed and branded 35mm bar/stem, ODI Ruffian MX grips
Brakes: Shimano XT
Tires: Maxxis Minion DHF EXO 3C 27.5x2.3"
Saddle: WTB Volt Team