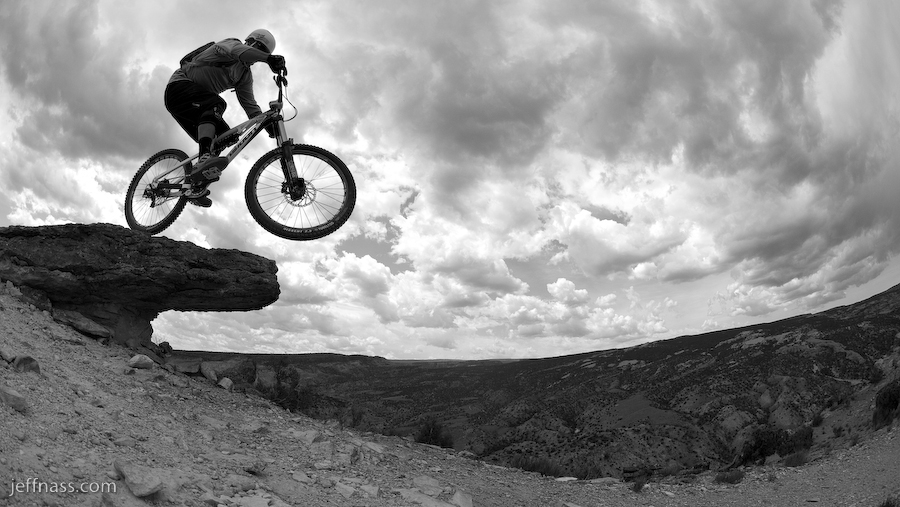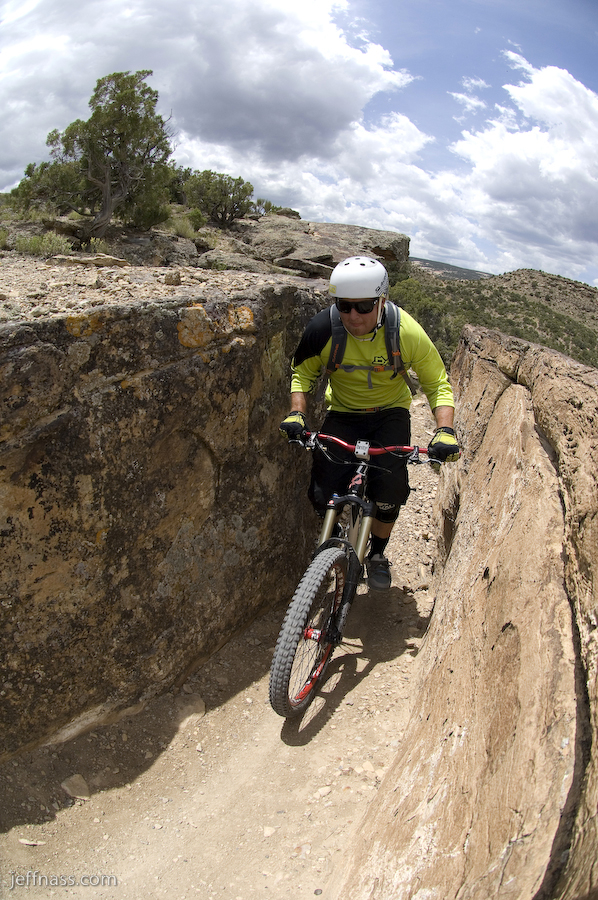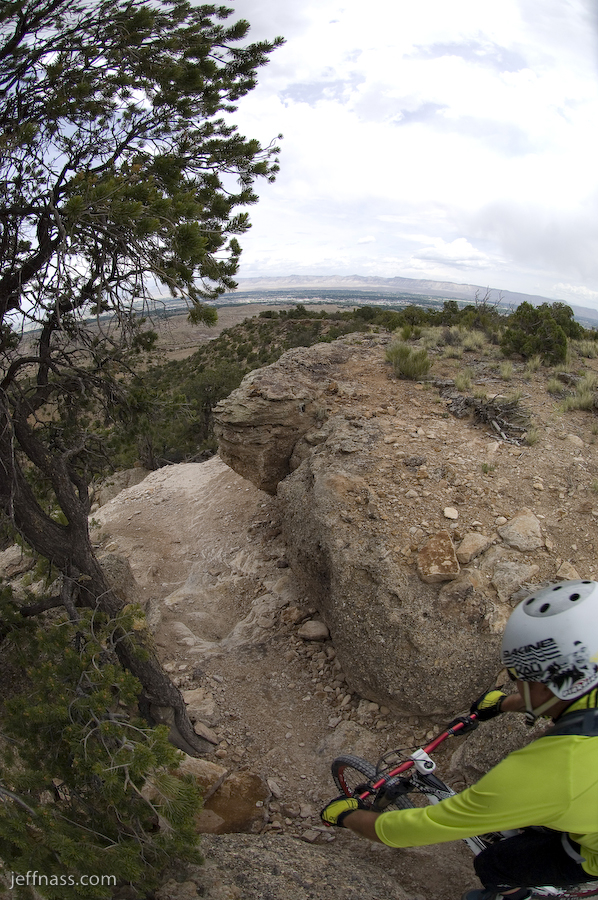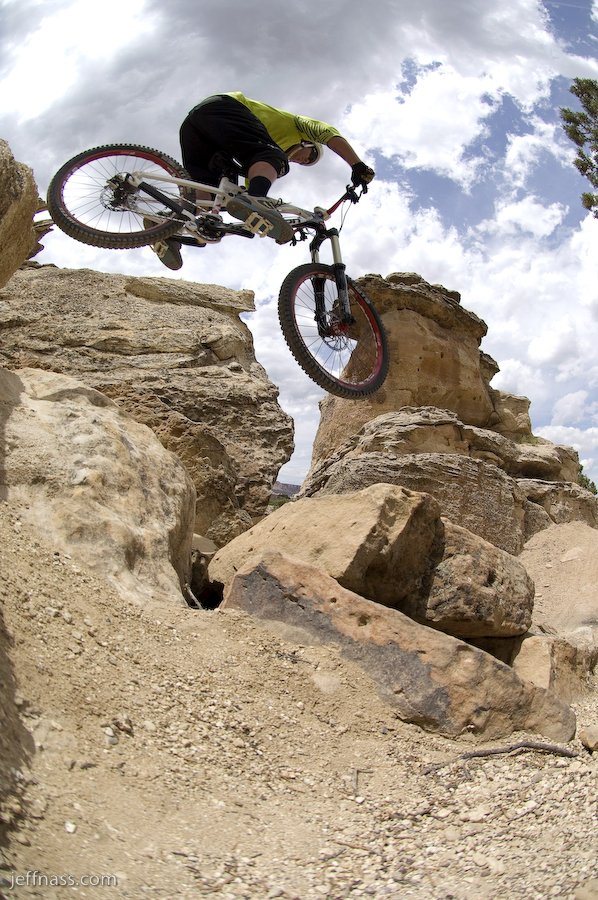 Article of the Week:
0
Taxonomy upgrade extras
Grassroots Cycle's topless shuttle van is surrounded by singletrack as it winds its way up to the vehicle drop off point. Riders gaze at the 100-mile view of mesas, canyons, rivers and the town of Grand Junction as they prepare themselves for a day of gravity fueled speed. When you hit the top, it's a short pedal up "LunchLine" to the highest point of the lower trail system that most people refer to as, "The Lunchloops." At the top the view only get better with the Colorado National Monument in sight and the canyon that the "Ribbon" trail makes it's way down.
You're about to drop in "Freelunch," the first downhill-use specific trail on BLM property in the United States. I remember getting the call from Greg Mazu, of SingleTrack Trails, to help in the design and building processes (keep in mind this trail was in the making for about 5 years!). I was super pumped when we finally did our first walk down the line and got her all flagged out. There was potential for a fun trail with good progression for people to step up there game. "PuckerUp" is a second trail below FreeLunch that we built 1.5 years later. It has more speed and many more jumps and drops, which makes for a pretty sweet run!
FreeLunch begins with a little natural rock divingboard type of drop, then your off. Between this drop and the first play zone it's rocky and rough, the rocks are just far enough apart to treat them like little doubles which can either get your flow on or slow you down. The first play zone has a number of lines through a little drainage from overhead drops to techy rock rolls. Cruising out of there you're in and out of a drainage where there are a couple jumps including a good size double. After the second play zone there's a sweet 6' drop that hips a bit to the left, then more rock pumping to keep your speed up. Next, the trail drops off a ridge and has a ton of line options that are all bench cut, so you better have your A game on. My favorite line is a 5-6' drop off a overhanging rock shelf that leads into a nice 12' hip around a little bush, so fun and flowy. From there it's pumping your way back up the ridge and around to meet WidowMaker Hill. It's steep rutted and nasty.
Now get ready to PuckerUp. Jam down a highspeed section of trail and look for the warning signs to your right. Drop in to hit a rock berm setup or two little popper stepups, hit 3 smallish drops and ride up on a left hand rock wallride. Then your going to hookup with another trail for a right hand turn, look for the berm leading back into the bushes, rage it and pop onto yet another rock wallride. Now you're in a rocky tech zone with house-sized boulders surrounding you. Then there's a couple different options: to the right you have a steep rockroll to a line we like to call "The Coffin," or vear left to find a rock launch into some off camber sketch and a nice little floater for style points. Then comes a little zone I like to call "Cathedral Rocks." Steep loose roll down to a small divingboard drop over a roller and down a two-bike-length steep roll. Once you pop out of PuckerUp theres a few ways to the bottom, you can't go wrong! Once your at the bottom go grab your DJ bike and hit up the LunchLoop Bike Park.
Grassroots Cycles are the caretakers of the Bike Park and also maintain the freeride trails. Catch us on the trails almost any day, but look for us on Friday nights for our shop ride or one of our monthly team BBQ's. We are always happy to show people around and lead them off sweet lines! You need to go for a few runs in the famous topless (thanks to shop owner Matt Bollig and his sawsall) shuttle rig. And if you're in the area late spring, be sure to check out our event "Ranchstyle," it was a stop on the FMB world tour this year and it's only gonna get better! See you in the dirt!
James Flatten
Shop Manager/Flow Farmer
Location
United States
39° 3' 49.9356" N, 108° 33' 2.3364" W
US