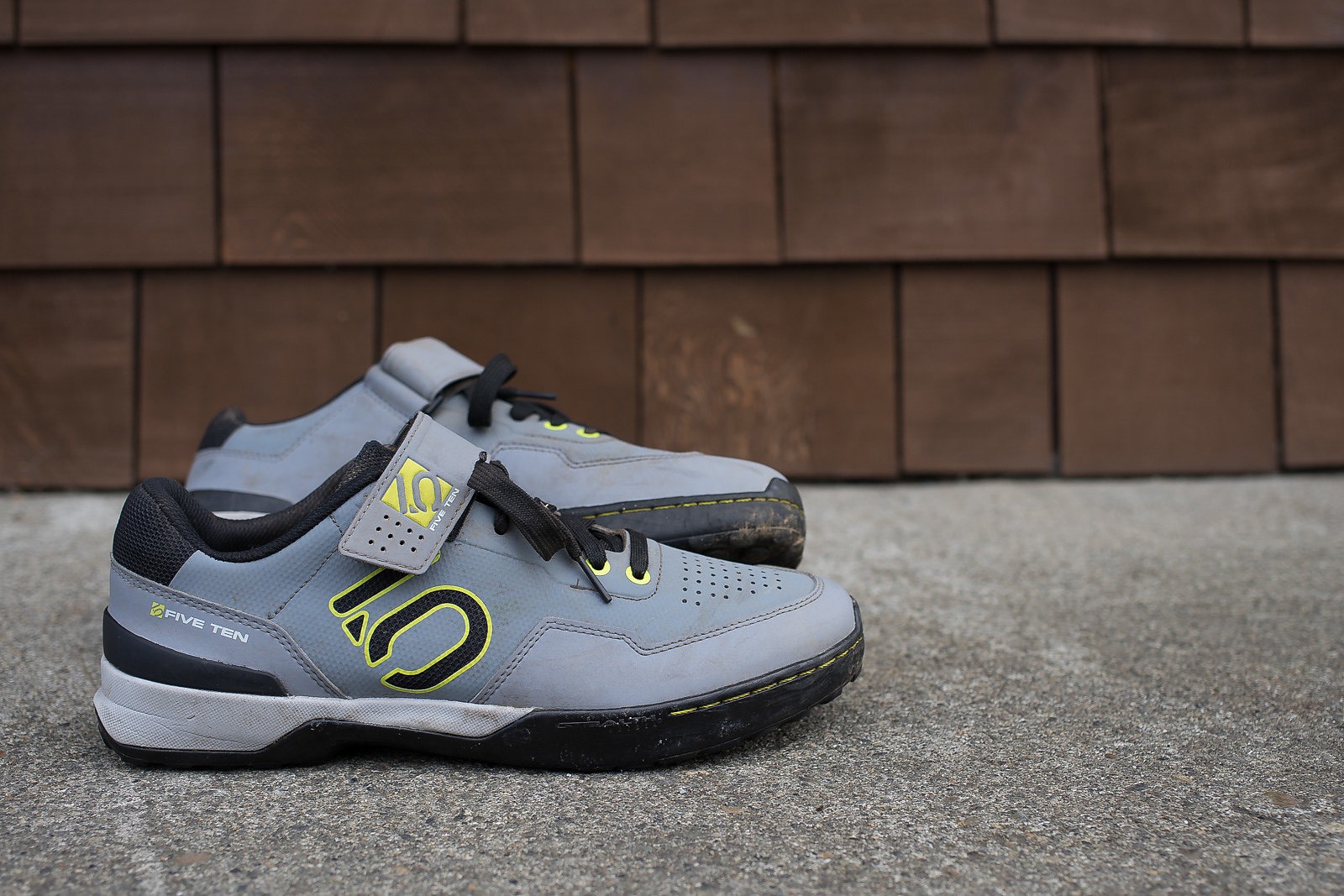 Five Ten Kestrel Lace Shoe Review
All I've ever wanted is a normal-looking, trail-adequate pair of clipless shoes.
For some reason they're hard to come by, as the market seems to focus on enduro race shoes or DH mega-boots. So when I caught wind of Five Ten's new Kestrel Lace, I was psyched on both the look and functional design of this clipless anomaly.
The shoe's predecessor, simply the Kestrel, is a sleek, low-profile clipless shoe with a Boa closure system and a stiff, carbon-infused shank (the supportive structure in the sole of a shoe). The young Kestrel Lace has many similar components, except for a lace closure with a Velcro strap and a nylon shank. Five Ten considers the Kestrel Lace 15 percent less stiff than the original Kestrel thanks to the nylon rather than the carbon. However, on first impression, these shoes are incredibly stiff. I haven't ridden in the original Kestrel, but on my first ride, they felt as stiff as my Giro Privateers—one of those enduro-style shoes with a stiff nylon outsole—but much less wobbly.
Featuring Five Ten's Stealth C4 outsole, a material that is also used in Five Ten's approach shoe. The idea behind the hard rubber, along with the the company's "Dotty" tread, is extra traction, especially on rock. This is something I can attest to; they are exceptionally gripping on rock, especially the various forms of granite that we have here in the Northwest. However, the firm sole can also mean slippery on wet roots—another thing that is plentiful in the Northwest.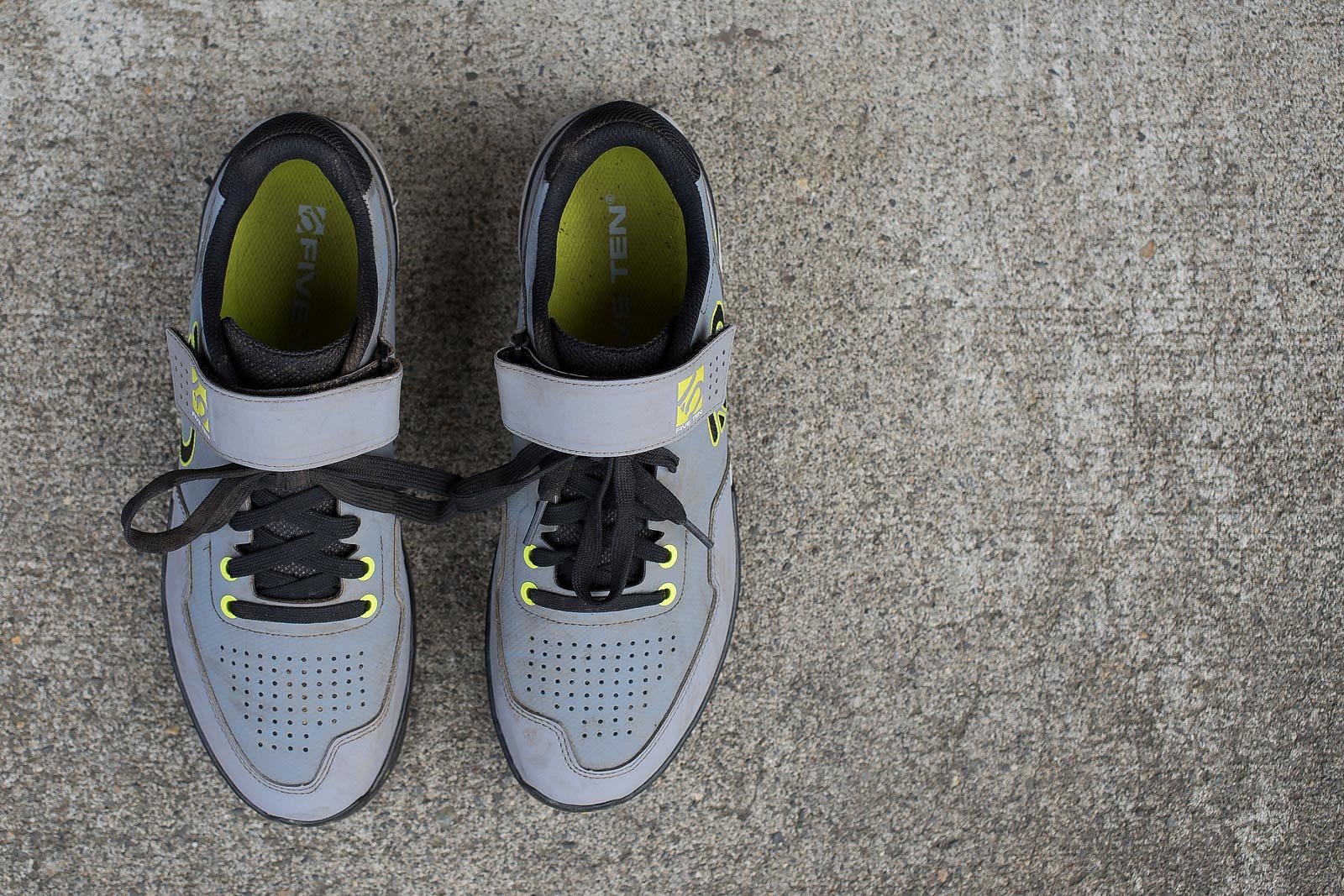 The Kestrel Lace has a perforated toe and mesh tongue, making for a refreshingly breathable shoe. However, this became a weak point on wet days but unless you're riding a winter-specific shoe, it's almost impossible to avoid. Similar to every other Five Ten model, the Kestrel Lace has reinforced, double-stitched toes, and two months into the test, everything about the shoe was holding up. I've ridden these things in a variety of conditions, from the sandy trails outside of Bend, Oregon to the swamp-like winter trails of Bellingham, Washington.
Their stiffness is most recognized when hiking steep terrain. They allow for a (very) slight bend at the ball of the foot, and with less bend comes more heel rise. The Kestrel Lace's Velcro strap is obviously in place to address this issue, and it does, however, it doesn't eliminate it. It was noticeable, but didn't take away from the hike-ability factor.
The combination of the tongue and Velcro strap might be my one complaint with this shoe. The strap is incredibly high and the tongue is relatively small. With synching the laces and the strap, I had noticeable rub on the tendons on top of my ankle. The tongue isn't quite large enough to combat this and tends to slip under the strap. I found myself continually loosening the strap, choosing comfort at the cost of a little extra heel rise.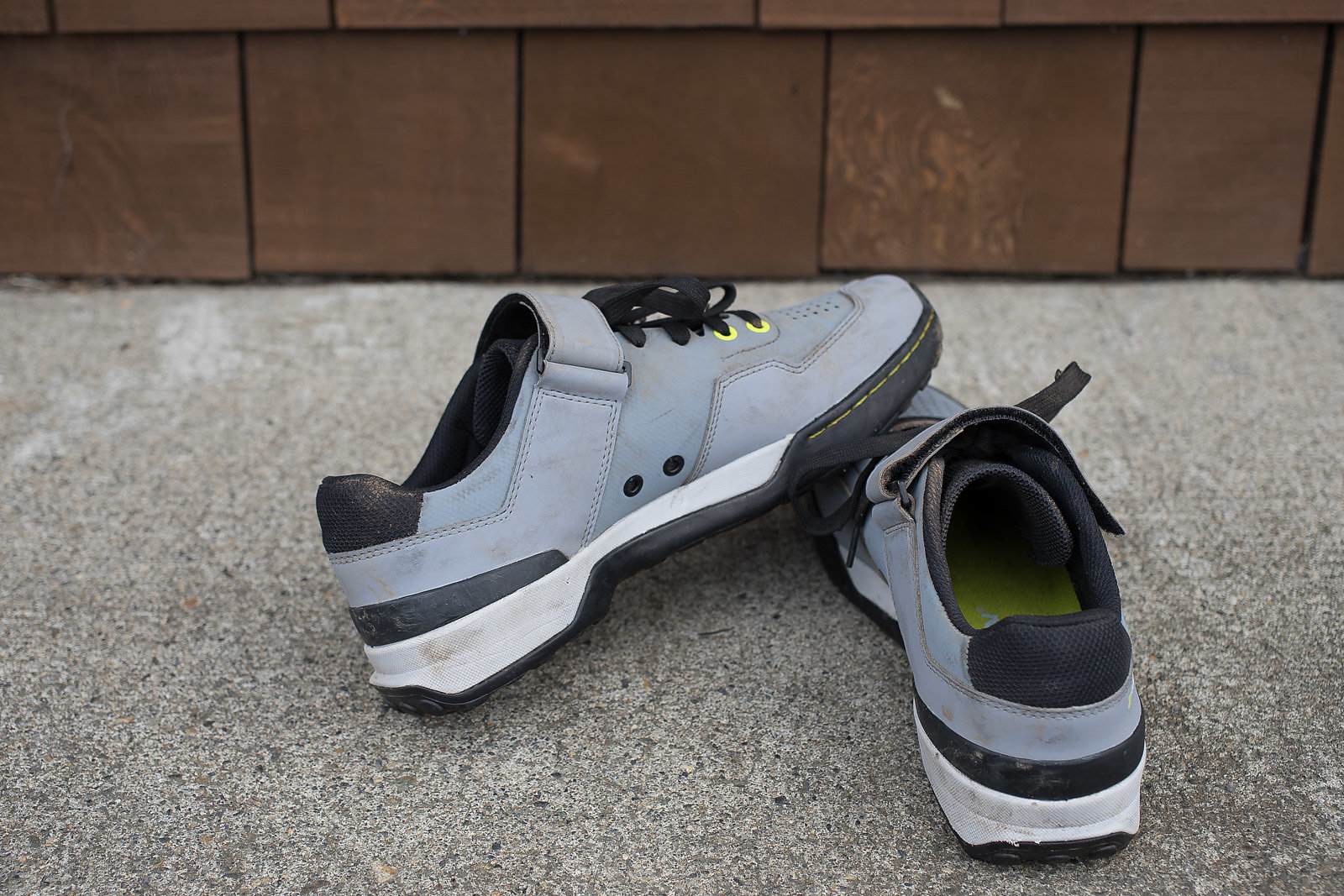 On the pedal side, the Kestrel Laces were all I had hoped for. Their stiffness was a plus, efficiently transferring energy to the pedals, and the clip groove made for an easy click in and out. I was riding on Shimano M530 SPD pedals, but the shoe is designed to work with any SPD pedal. The full sole made for a great platform that provides stability on and off the pedals.
Five Ten shoes are notorious for running large, but not so much with the Kestrel Lace. I stuck true to my foot size with a 9.5 shoe and, while slightly roomy, I'd be nervous about stepping down a half size, as I haven't had them pack out whatsoever. Loose or uncomfortably tight shoes can make for a world of hurt on a ride, so it's important to know how Five Tens fit to your foot size.
All things considered, the Kestrel Lace is a quality trail shoe that pedals, rides and hikes likes it is meant to. They're ideal for all types of trail riding and I have no doubt they could handle some downhilling. I'm excited that this category of modest, high-performance clipless shoes has been broken into, and while there might be a few tweaks needed, Five Ten is off to a banger start with the Kestrel Lace.
MSRP: $150
See more at www.fiveten.com