#########HEADLINE
Curtis Keene doesn't consider himself a late bloomer—never mind the fact that he didn't really start riding competitively until his early 20s and his career is just now taking off in his early 30s. Maybe it's due to the fact that the 34-year-old is currently in the best shape of his life. Or that, in the rapidly-growing world of enduro racing, he is a rising star who appears to have found his niche.
Since he transitioned from downhill to enduro over the course of 2012, Keene has compiled a steady stream of top -five finishes, including first place in the 2012 North American Enduro Tour—all while moonlighting as a pro downhiller both stateside and in the occasional World Cup. For 2013, he signed to Red Bull's elite cycling program and has been focused solely on enduro, chasing podiums on the home front and ultimately dedicating his year to the newly formed Enduro World Series (at press time, with three of seven events complete, he sat in 10th place as the top American).
Ask about Curtis Keene at an industry gathering and the answer is usually the same: nice guy, always stoked. For those who know him a little better, the description might be something like burrito-loving moto-head. Indeed, when I talk to Keene in late June, he doesn't go more than five minutes without mentioning motocross or food—both of which are centrally-related to good times amongst friends. A pretty simple equation, really. But he is also caught up in the responsibilities of growing stardom—on location in the Sea to Sky corridor shooting a video for Red Bull, he will soon journey across the Atlantic to continue his racing campaign.
Keene doesn't seem too stressed about any of it—while he may be nearing his mid-30s, he is just coming into his own as a mountain biker. And there is no doubt that his best years are still ahead of him.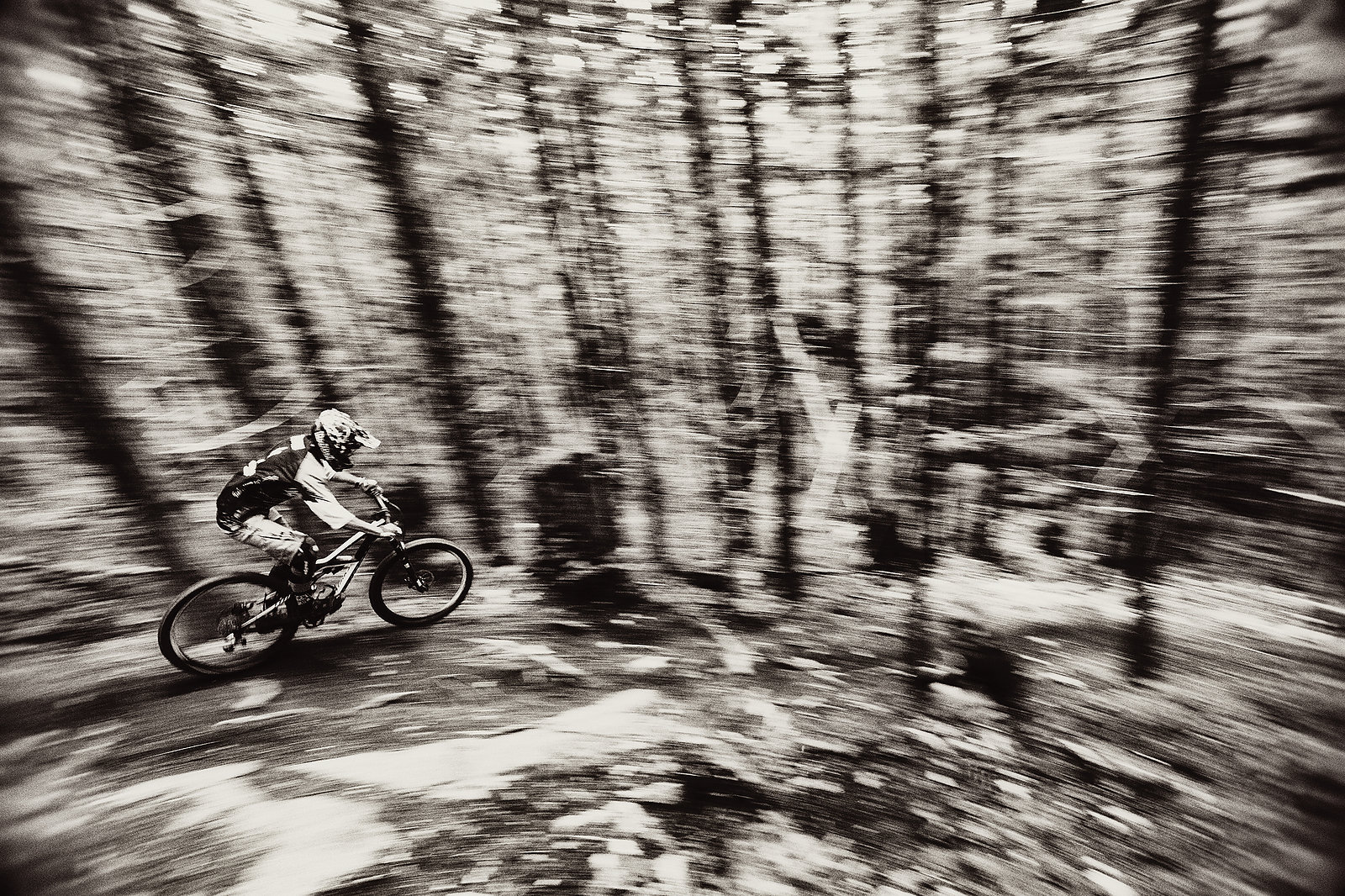 When did you sign with Red Bull?
They approached me last fall—we went on a ride with some people from the Red Bull Media House. They approved me in North America, then they had to send it to Austria for the final say. That took four months and they gave it the green light in April. I have great relationships with Troy Lee Designs, Specialized and SRAM and [Red Bull does] as well. It all made sense, and all my sponsors are like seven blocks from where I live.
You live in Santa Monica—is that where you're from?
No I'm from northern California. I grew up in Fremont, which is 40 minutes east in the Bay Area. I ended up moving to Santa Cruz five years ago. Living there is amazing. It's kind of like BC because there are a bunch of shredders and there are miles and miles of flowy, ever-changing single-track—it's heaven to me. It was tough to move to Santa Monica, but my lady's pursuing some things there. I can go anywhere as long as I can ride—I like to think we'll end up back in Santa Cruz.
When and how did you get into bikes?
I was always a kid who loved riding and building jumps. I did a couple races in my teens but never got into it. I just wanted to work, I was a money hungry kid who wanted cool things like cars. When I was 21 a friend of mine I knew from the gym—I was a big old meathead, not fit at all, just super strong—he said, 'Hey man, I'm going to go to this place called Downieville, come ride some bikes.' So I ended up renting a bike and it was unreal. Big suspension, disc brakes, it was like a dirt bike. I had a blast and that next week bought a used downhill bike. After a few months the cocky young me entered this local race as high as I could, which was expert, and I won expert and took second overall. I was hooked. Then at Sea Otter 2002 I entered expert, won the downhill and bumped up to semi-pro. In 2003 I turned pro and hung on for the ride. I traveled to the NORBA's, which were like World Cups back then. I wish it was like that nowadays, where we had that premiere national series.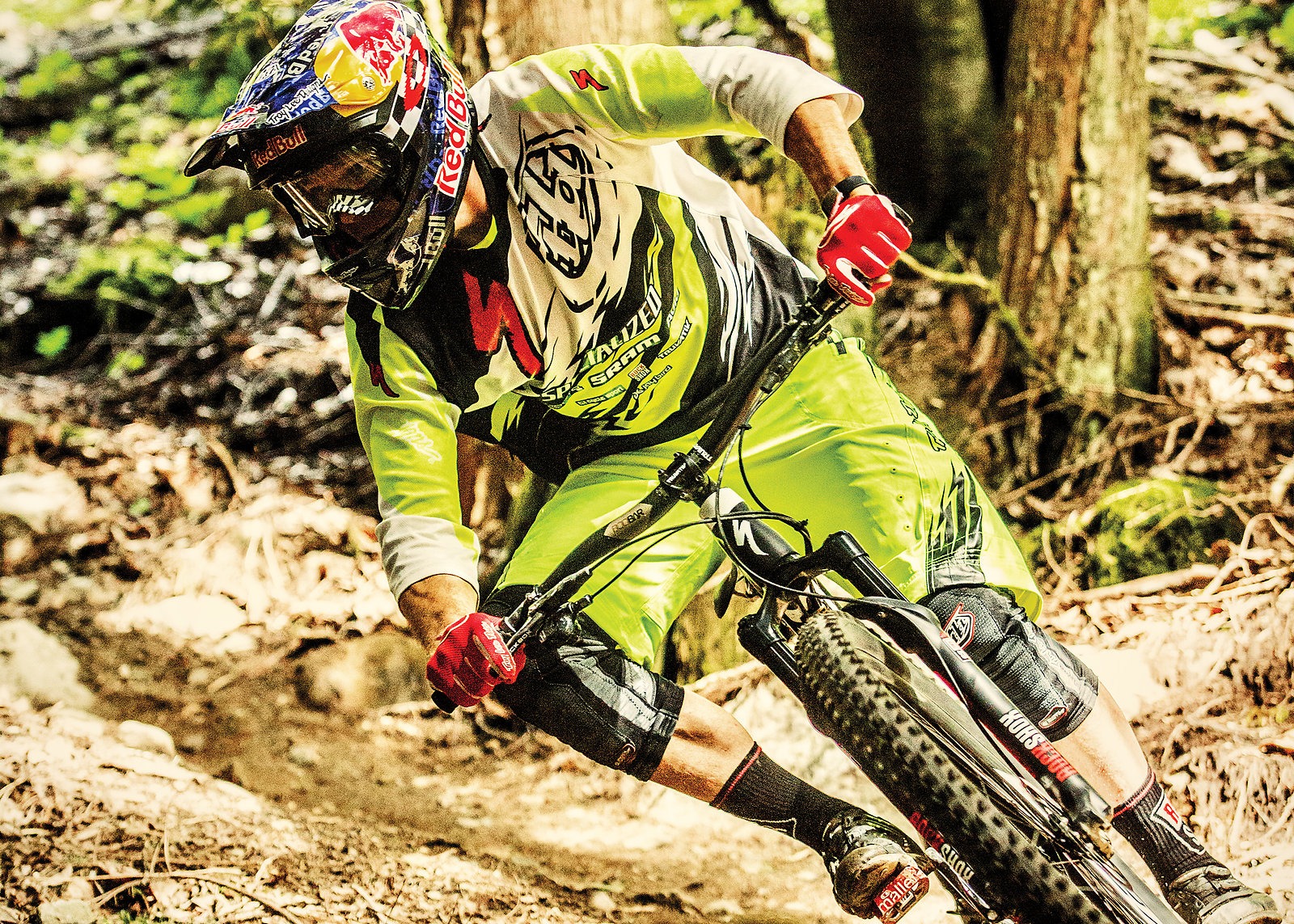 Was biking supporting you?
Absolutely not. I was getting some help, but racing is really expensive. I would race and work all summer, ring up a bunch of debt and pay it off during the winter. I had a good job as an electrician with my uncle's outfit and I always had a job waiting for me. I was grateful for that.
When did bikes become a real job?
Probably in 2011. By then I was doing better racing on all levels… getting that much more media. I'm not rich or anything, but now I don't have to work and I live a great lifestyle.
Do you feel like you're a bit of a late bloomer then?
I feel like a kid (laughs). I feel like it's the fountain of youth in a way. I'm the fittest I've ever been. I'm confident, I've been racing for a while. All those things throughout the years made me who I am today. I wouldn't change a thing. I had goals chasing World Cups and it always eluded me… I'm OK with that, I'm here now. I love it man.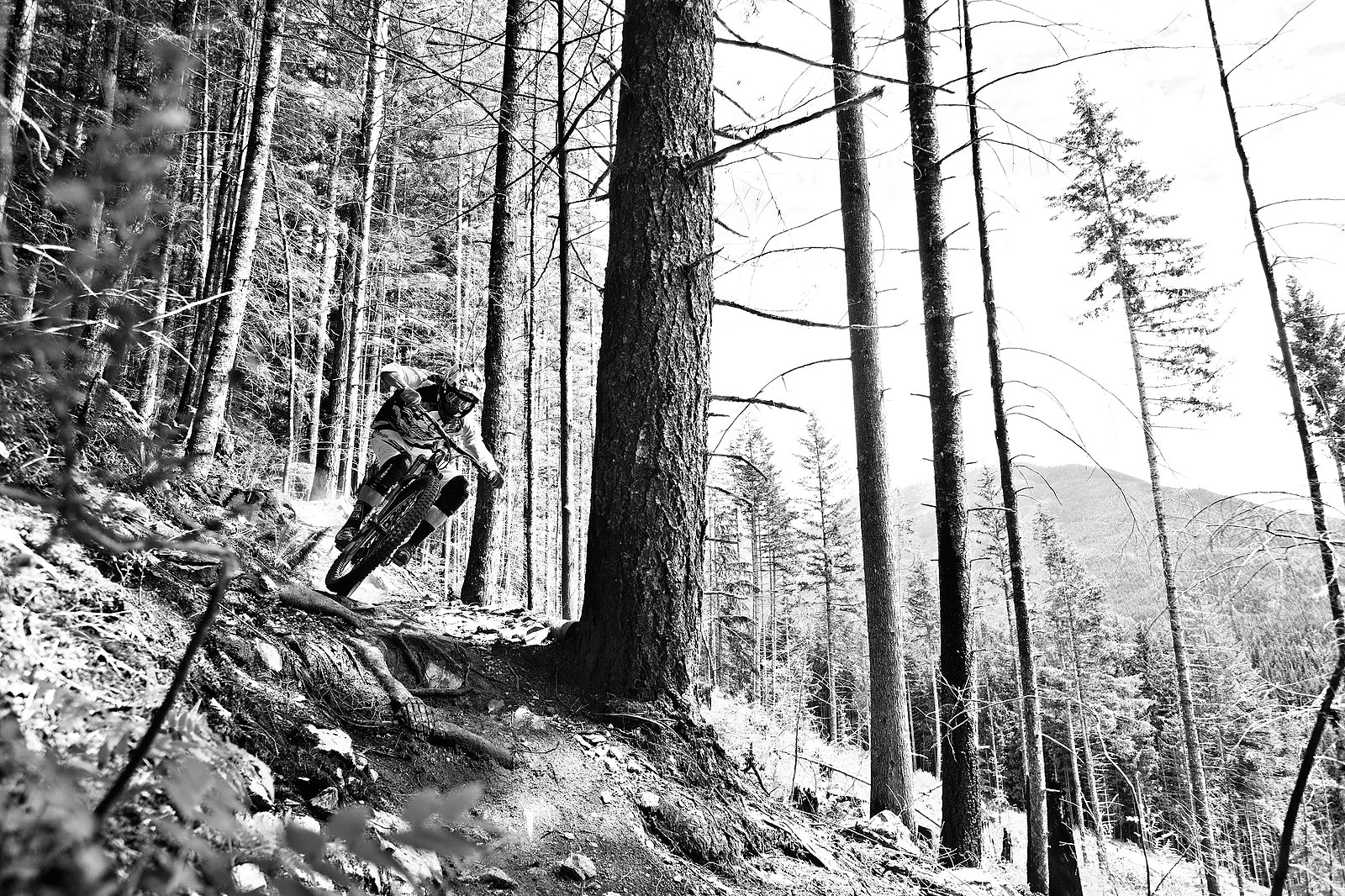 What was behind the switch to enduro?
In February 2012 I had a chat with Brandon Sloan, the Director of Mountain Biking at Specialized. He asked me about enduro. I had a full season racing downhill ahead, mainly focusing on North America, with a trip to the World Cup in South Africa. I would do a weekend racing downhill in Vermont, then fly back to Ashland [OR] for enduro, then downhill in New Hampshire… it was pretty full on. I did that all year, soaked it all in, learned as much as I could about enduros.
I progressively got better throughout the year, won some races on the North American tour. It was fresh, it was a different challenge, and I decided in the off season to focus fully on enduro. It is a challenging new format that makes sense. Its mountain biking at the core. It's what you and I do on the weekends, just rally trail bikes with our buddies. But we're getting to race it now.
What will it take to win at the next level?
This is new to me—the French, they've been doing it for eight or nine years. The Italians have been doing it five or six. I have a lot to learn about fitness, preparation, setup; in France it's a completely different setup with lift access and burly downhill tracks. Back in Bend [OR], I have thinner casing tires, a semi-slick rear, 120mm travel and a half-shell helmet. I'm bouncing all over the world. I'm fit, but compared to Jerome Clementz or Adam Craig… those guys are fit. I've got to bridge that gap.
You've got to have it all, depending on where you are and what you're racing, factors from DH skills to fitness to energy management, what stages to push it on, there is a lot more diversity to it. Most of all it's fun—these bikes we have are so much fun to ride. I'm here in the Whistler Bike Park right now on my Enduro 29.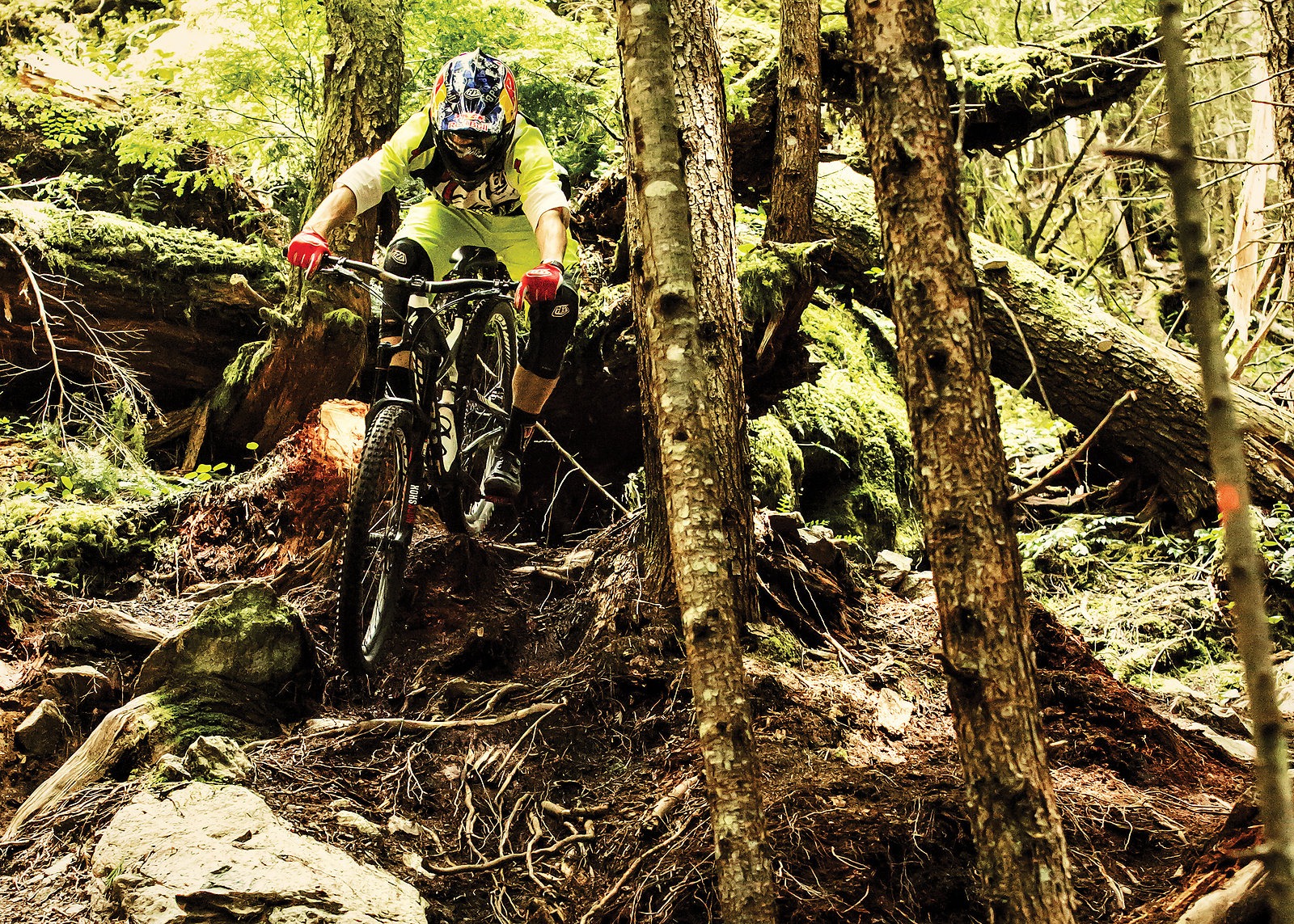 I hear you're into motocross?
I'm fully obsessed with moto. I'm like the fat football fan who orders three pizzas and beer on the weekend—minus the pizza and beer. I'll plan my weekend around it. I'll go out there with the boys and ride. I just love riding my bike. Whether its calling up the TLD boys to go to Santa Monica or Laguna, we'll go out for a Saturday ride. It's the best. That's why I got into mountain biking. Those moments of hanging with your buddies, riding for two or three hours, then eating burritos and drinking coffee afterward just totally wiped out and planning the next ride. That and hanging out with my lady and her massive seven-pound Chihuahua.
It took a while to get to where you are. Did you ever question whether you could make a career out of biking?
Definitely in the beginning. Trying to be positive and make it work—and just keep having fun on a bike. In 2006 I almost quit. I moved to Arizona. When you're taken away from everything, your core and your home, and you're away from all the things I took for granted, it put it in perspective. I moved back to California a year and a half later. It made me realize what I truly love, which is cycling. How I really took for granted just riding weekdays and eating burritos with my buddies. Double days of bikes and moto on the weekends.
Going to Arizona made me realize that. It was a struggle at the time, I hit a low and thought about just saying screw it, I was done with mountain biking. But it motivated me more and made me really appreciate what I had.
From that point on I've never taken anything for granted. All these people that helped me out and got me to where I am today, they've always supported me and been there and I've really appreciated that. Whatever it is I'm always grateful—we're just riding bikes. Life is great and I'm just trying to live in the moment and enjoy it all.