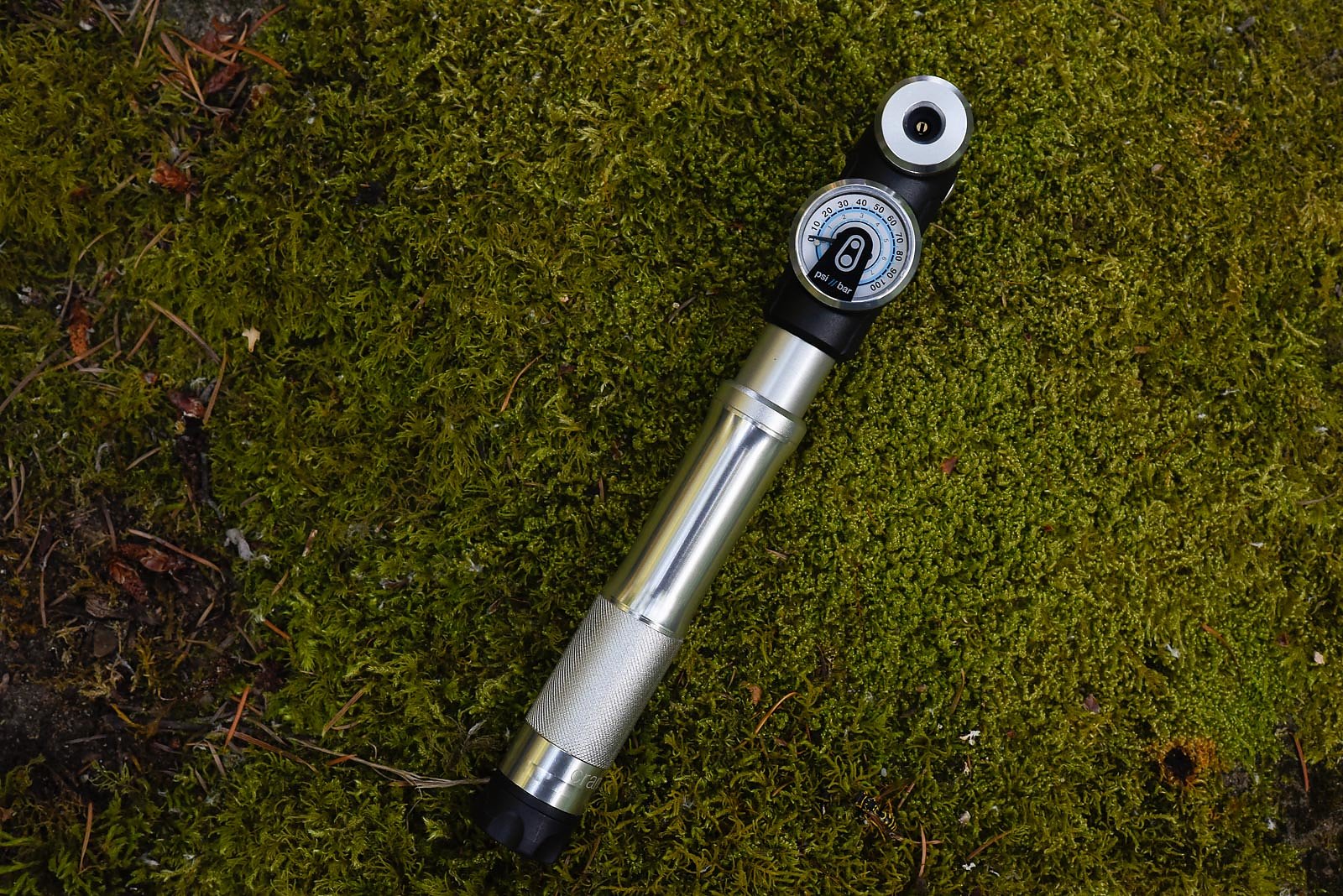 Crankbrothers Sterling SG // Accessory Review
A hand pump is one of those tools I always carry but hope to never use.
While fixing a flat trailside is almost always better than a walk down, using a lame hand pump can sometimes prove to be an even more miserable experience. Crankbrothers is hoping to change that with their line of Sterling hand pumps.
The Crankbrothers Sterling SG pump is part of their line of dual piston hand pumps. The Sterling comes in four configurations; long and short stroke and with or without a gauge. I've been using the Sterling SG pump, which features a short stroke and pressure gauge. The Sterling family of pumps all feature "smart head" technology that automatically adjust to either Schrader or Presta valves. They also incorporate machined aluminum for the body of the pump for solid feel and reliability. One of the more notable features of the Sterling hand pumps is the air switch located on the bottom of the pump. A quick adjustment lets you switch between high volume and high pressure air settings, one for 0-40 psi and one for 40-100+ psi. This feature hopes to make refilling more efficient and reduce arm pump for the user. Outfitted with our new pump, I set out on the trails to find out what it's really all about.
My first impressions when I received the Sterling SG was its size and build quality. I was excited to find a hand pump that had both a dial and, at only 19.8 cm in length, would still fit in my hip pack. The metal body has a knurled grip and slight contour on the upper end, making for a solid and comfortable feel.
Using the pump is an incredibly easy experience. The smart head automatically adjusts to the valve type, and the locking mechanism on the head provides a firm grip and excellent tactile feedback so you can feel confident that it is properly attached. I really appreciated the psi gauge, which seems to be rare on compact pumps but necessary for dialing in your air pressure. The gauge was consistent with out shop floor pump, and the head was large enough for me to be able to firmly grip it when pumping air.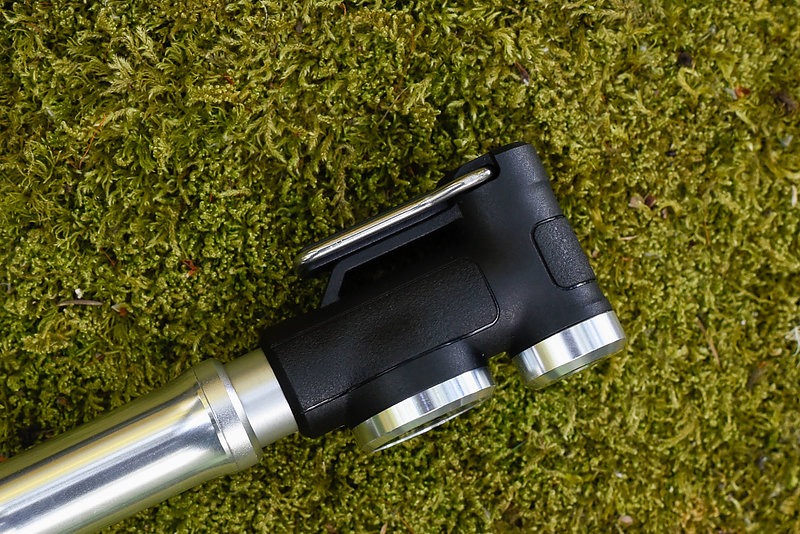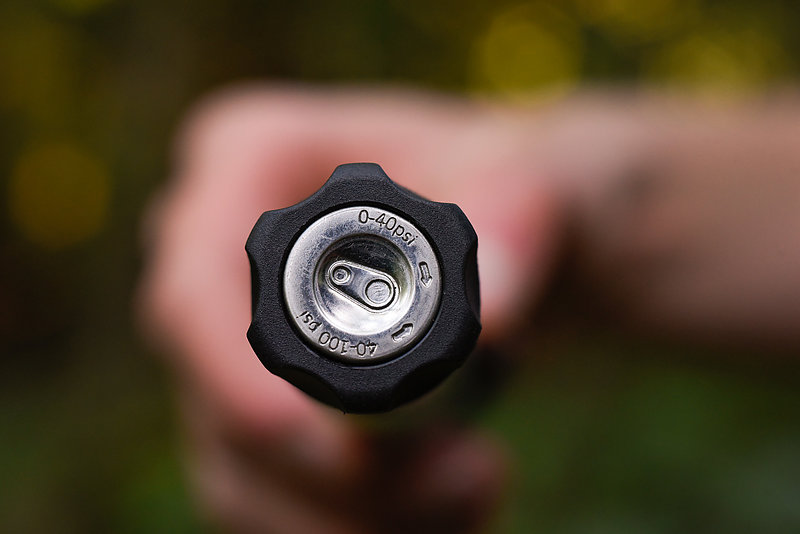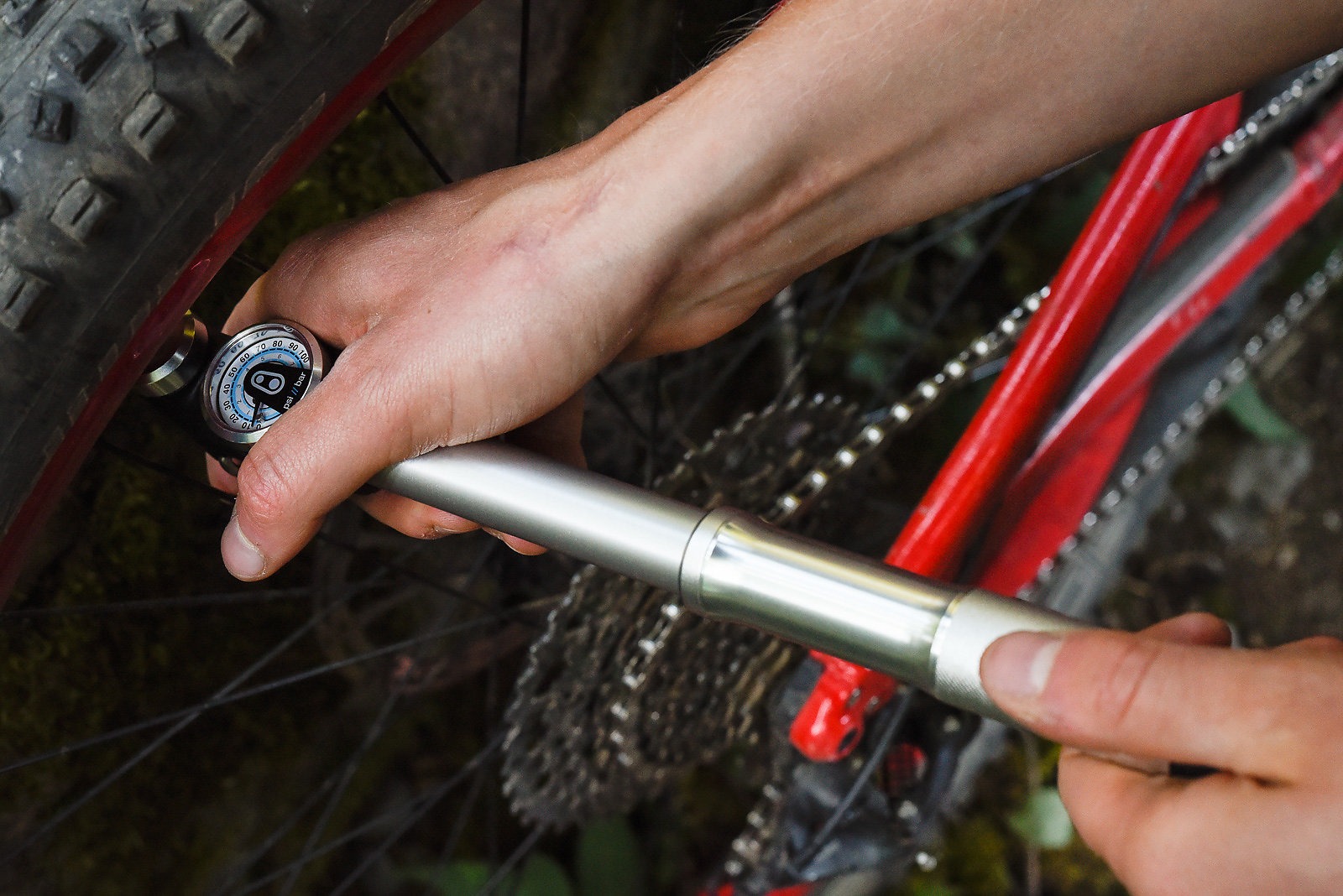 Being that I primarily used the pump for my mountain biking endeavors, I didn't have a lot of excuses to utilize the air switch on the pump since the high volume setting is best through 40 psi, a pressure that greatly exceeds what I run my bike tires at. However, it was convenient to be able to use the hand pump when going for a road ride or just topping off my bar bike before an evening cruise. The air switch definitely made a difference when pumping to higher psi's but it still required a decent amount of power at the top end and going over 100 psi would take some work. So, if you're a true roadie or want a road pump that will do more than just get your high psi tires home, you may want to find a road specific pump, but for my needs it worked great and was adequate on more than just my mountain whip.
Crankbrothers does also make a water bottle cage mount ($6) that is compatible with all of the pumps from both their Sterling and Gem line of hand pumps. The cage mount tucks the pump under your water bottle for easy storage and access, perfect for minimalist riders. I, however, just opted to throw it in my hip pack and keep it off the bike since the pump itself is small and light.
Overall I found that Crankbrothers pretty much checked all the boxes on this one. It is compact and fits in my small hip pack, yet still provides a pressure gauge and works well at high volume. It has a quality build that has shown almost no signs of abuse after about a month of use and it weighs in at only 141 grams. The smart head and air pressure switch made pumping about as easy as one can reasonably expect with a compact hand pump. At $44.99 for the Sterling SG, it may not be the cheapest option out there, but you are getting a lot for the money. Using a hand pump in a pinch is rarely enjoyable, but if I'm stranded trailside with the Sterling SG pump, I wont be too bummed.
MSRP: $44.99
See more at www.crankbrothers.com