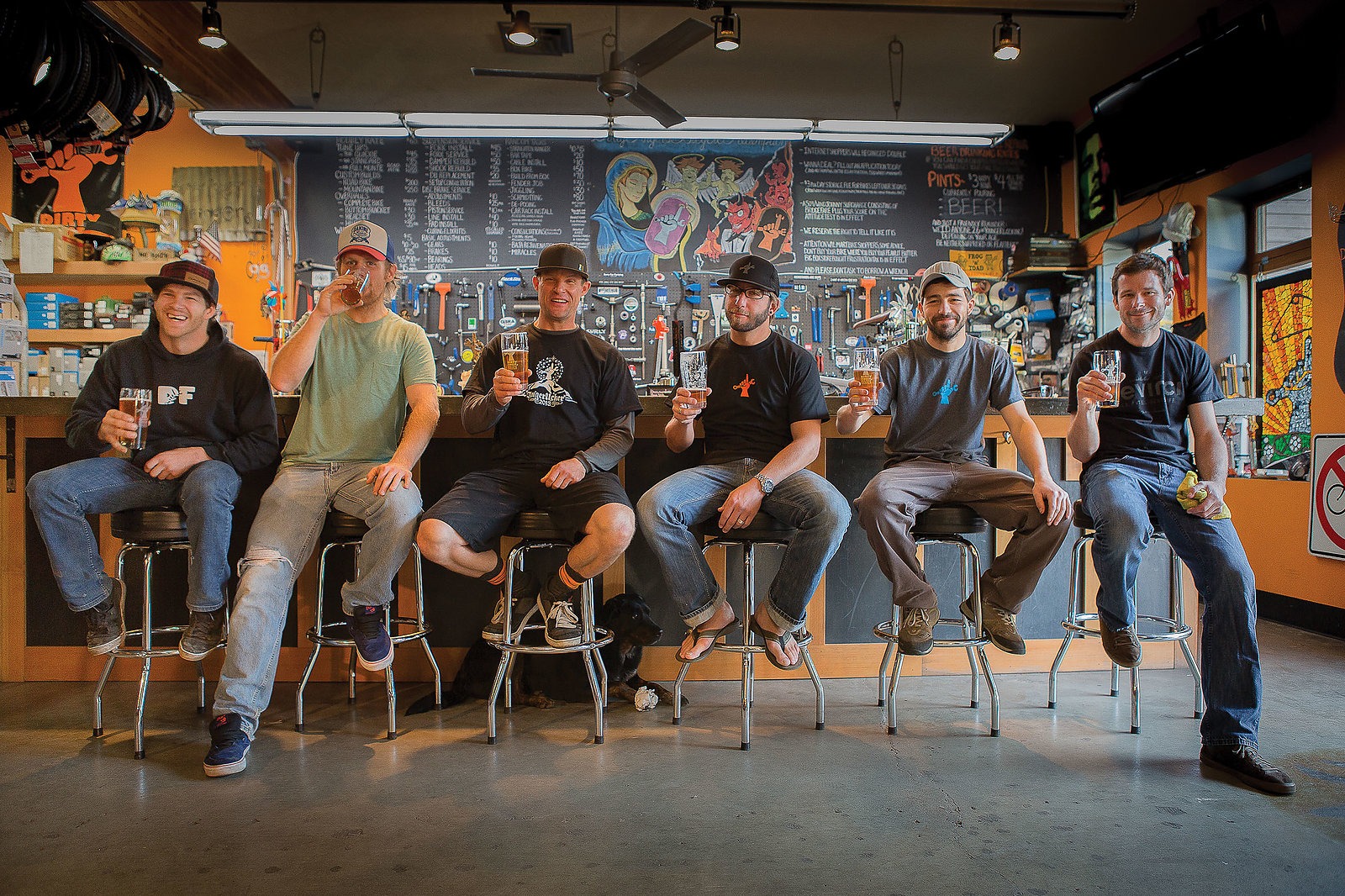 The Aura of Competence
Oversized packages and pedal-philes at Dirty Fingers bikeshop.
The leisure suits, wigs and neon tights would attract praise at a disco or Halloween costume party, but in the lumberyard parking lot a few miles outside of Hood River, OR at 8 a.m., they're conspicuously out of place. Add an assortment of high-end mountain bikes, vehicles ranging from early '80s Subarus to hopped-up 4x4 vans, a tent geared up with coffee and Cliff Bars, and a 40-foot-high log pile, and they seem downright absurd.
Then a man in his early 40s, armed with a clipboard and sporting a hoody emblazoned with an orange hand gripping a wrench, stands up on the cooler and ushers in the strangely attired crowd. This is the Ingerucker, an annual race-ish event now in its third year. He gives a short course description and wishes the 45 racers luck. "Yea, though you are about to ride through the valley of the shadow of death you shall fear no disco," he finishes.
Next he will drop off the competitors, set up a race-side party tent (complete with a smoke machine, stereo and disco ball), and serve tequila shots and hot dogs to the half-finished racers. For some, this would be a once-a-year event; for the now-devil-suit-clad organizer, it's just one of many he oversees each year. This is Mitchell Buck, founder of Hood River's Dirty Fingers Bike Shop, master of the wrench and purveyor of the unconventional.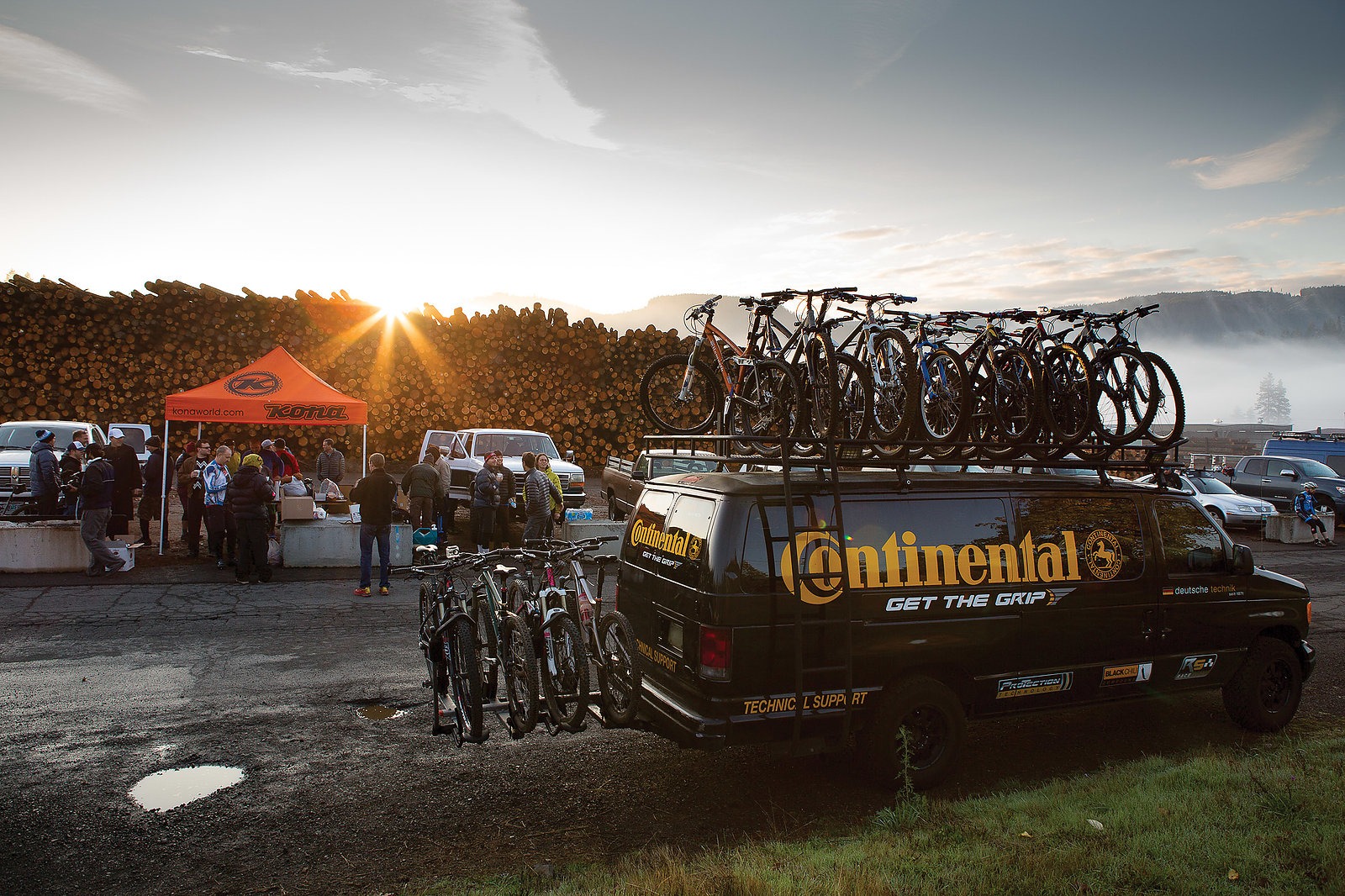 While there's no neon or disco ball in Dirty Fingers, it's immediately obvious that it's a different sort of place. Ancient bikes and parts hang from the ceiling, including an original Klein Mantra, and stained-glass friezes fill the windows. Stickers and posters ("MY OTHER BIKE IS YOUR MOM") crowd amongst Colorado ski maps.
However, it's the giant blackboard, huge wall of tools and massive bar that dominate the room. Stools and a few taps accompany the warm wood, while chalk writing declares bike services ("JIGGLING: $30; SCHMIDTTING: $80; FIXING HOME MECHANIC MISHAPS: HOURLY RATE + SHAMING") and tunes ("THE FULL MONTE: $150; DEPOOING: NOT GONNA DO IT"). Two bike stands sit below, where a tech plays both bartender and wrench jockey…and psychologist, it appears. "CONSULTATIONS (CYCLING or PERSONAL): HOURLY RATES," the board offers.
Down a wide hallway at the other end of the building is 10-Speed Coffee, a café that hums with conversation and the turning of the in-house roaster. The two businesses have been intertwined since Mitchell started frequenting the café's original location. This is Dirty Fingers 6.0, and this as good as a bike shop gets.
Mitchell's path to Dirty Fingers began with a messy relationship. Originally from Washington, DC and northern Virginia, in 1990 the 18-year-old Mitchell and a few buddies headed west in a '90s Civic to Tahoe, CA for a season of snowboard-bumming. At this point, Mitchell didn't ride mountain bikes. In fact, when a friend took him on his first ride in the mountains around Tahoe, Mitchell "almost died, and had to walk my bike down." Misery or not, he was intrigued, and when he moved to Santa Barbara, CA the next year he bought a bike and started riding.
"It was frustrating, but kind of picked my brain a bit," he says. "Then down in southern California I really fell in love with it. There I am, bombing down fire roads in sweatpants and no helmet on a hard tail—early '90s style. Life just began drifting towards that."
On his way back to the East Coast, Mitchell visited some friends in Steamboat Springs, CO for a week…and stayed for 12 years. His dive into the bike world began with a retail job at Sore Saddle Cyclery, the famous domed shop and birthplace of Moots Cycles (he needed the discount for parts). He soon started wrenching, and in a few years he was service manager. He was also the last employee out the door when the state tax collectors shut the place down.
Brock Webster owned another shop in town, and Mitchell got him talking to MTB Hall of Famer and building-owner Kent Ericksen and Orange Peel Bicycle Service was opened in April, 2005. Mitchell worked for Webster for a year before he received a prophetic phone call from an ex-girlfriend that would end in heartbreak—and unknowingly lead to Dirty Finger.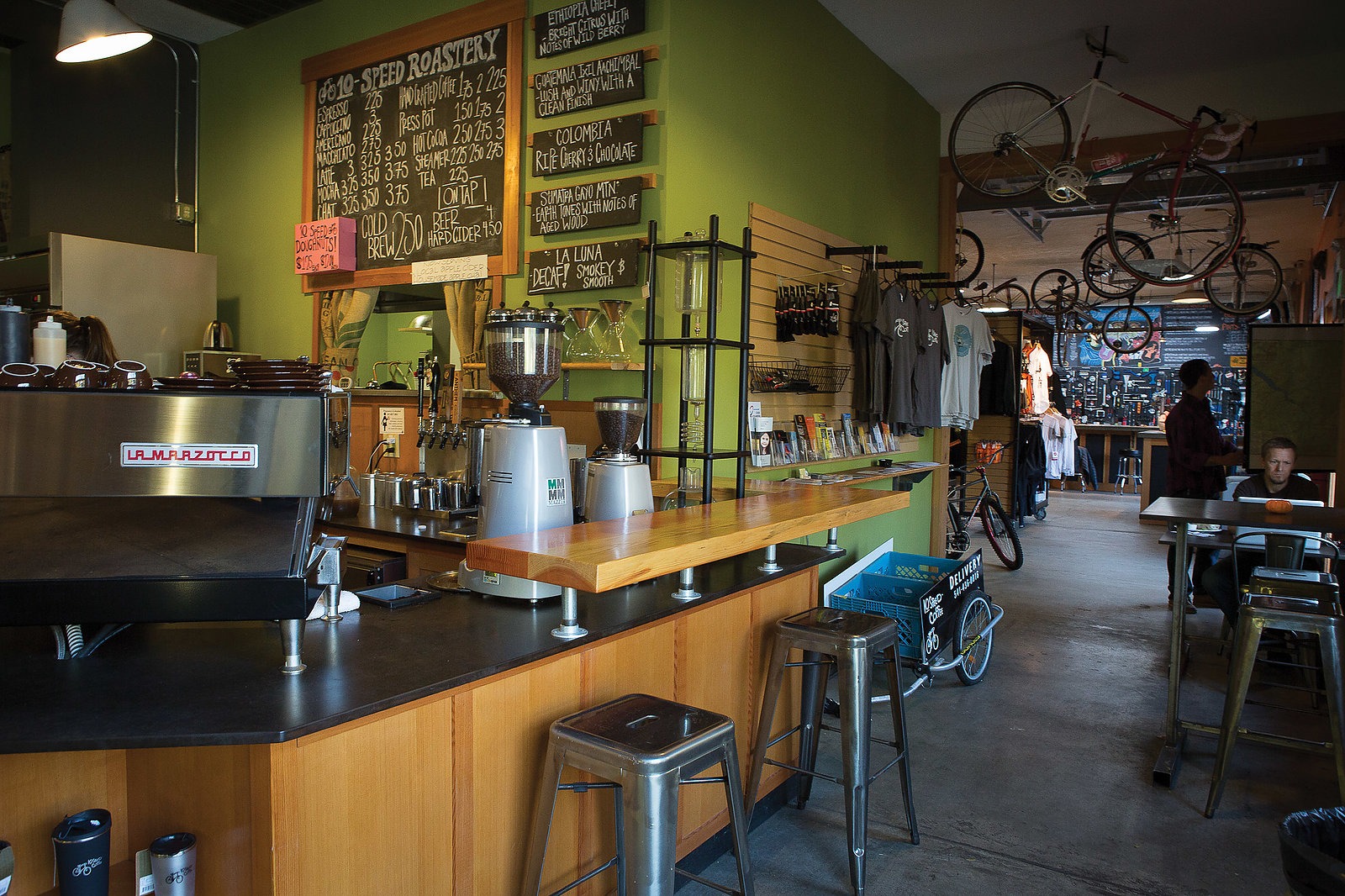 "It was December, and she called me and asked if I had ever heard of this place in Oregon called Hood River," Mitchell remembers. "I had always wanted to ride there, so I sent some resumes and came out for some interviews. A month later, here I was."
On February 1st, 2006, Mitchell drove into Hood River and new job at a bike shop in town. The surrounding trails were incredible; the next 14 months were not.
On February 1st, 2006, Mitchell drove into Hood River and new job at a bike shop in town. The surrounding trails were incredible; the next 14 months were not. His relationship fell apart and he struggled to get along with his boss. Salvation arrived via snow in 2007—in the form of Bob Olsen, owner of Mt. Hood Alpine Racing Center, a double-wide ski shop 16 miles up the road towards Mt. Hood.
"I was working on Bob's bike one day," remembers Mitchell, "and he says, 'You do good work. Ever think about doing your own thing?' and he offered to rent me his shop during the summer. I checked my bank account—I had $1,489 dollars to my name. So I said, 'Sure. Why not?'"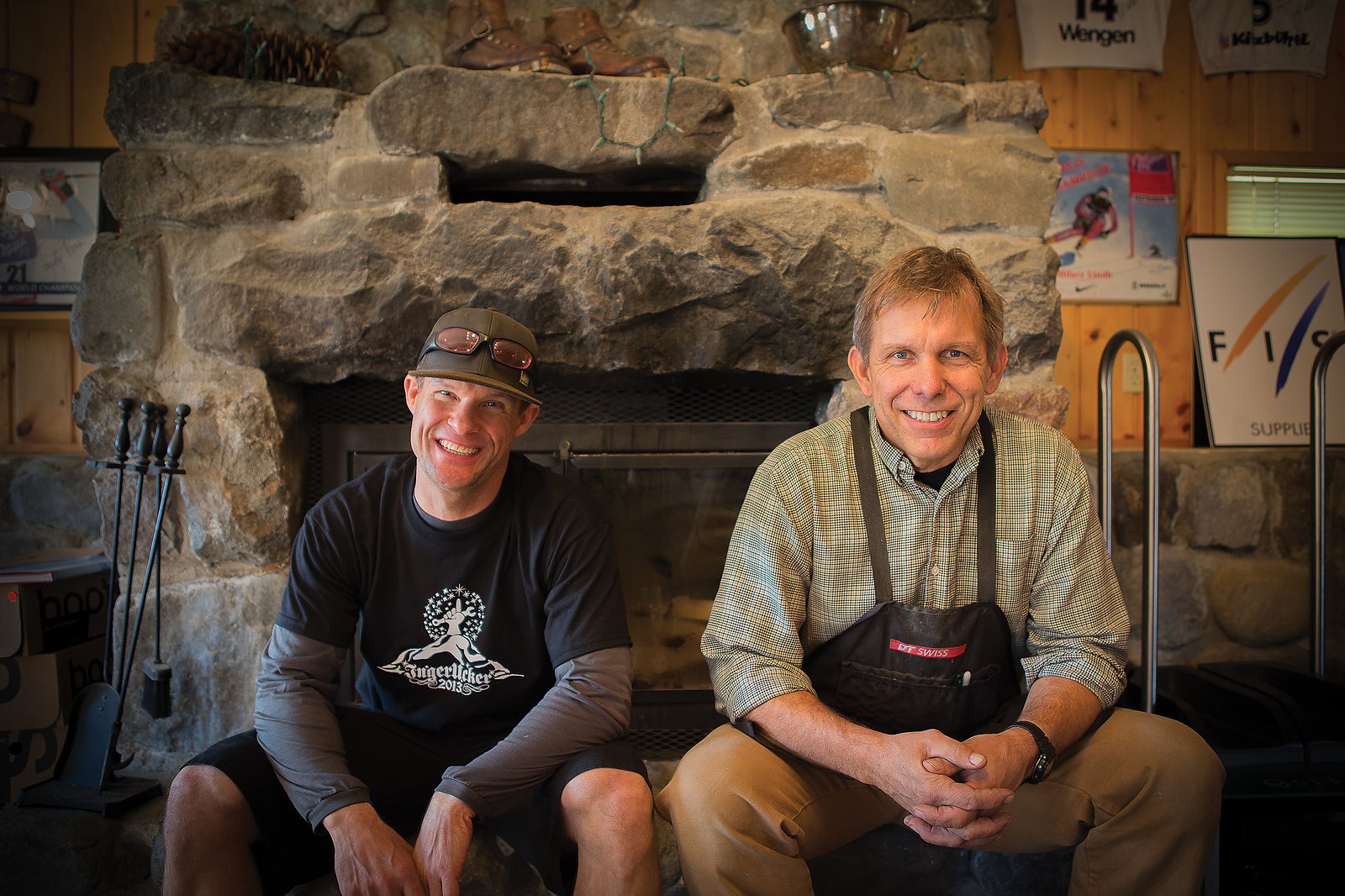 Mitchell went all-in on the decision, telling his boss he was leaving to start his own shop. The response was not positive, but with the typical sardonic humor Mitchell found motivation in their disapproval
Olsen's shop became Dirty Fingers 1.0 (although it was called "Dirty Dog" at the time). He bought two cases of tubes (one road and one mountain) and started tuning friend's bikes. He pasted car windows with coupons, picked up and dropped off customer's bikes in his '75 Ford pickup (called American Thunder), and often rode the 32-mile roundtrip to the shop to save money. Still, when first month's rent was due he was broke. Then a local couple, disappointed with a car rack they had recently purchased at a different shop, came in and bought a Yakima rack from Mitchell at full retail. That $565 paid rent.
Fall came, and when Olsen's double-wide morphed back to ski shop Mitchell moved into Dirty Fingers 2.0, a "crappy little house, with a crappy little shed" in town. Soon a bike-adorned café up the street caught his eye: 10-Speed Coffee, owned by Bryan McGeeney. Amongst Mitchell's caffeine-assisted existential ponderings, he and Bryan got to know each other, and soon Bryan suggested he move into the vacant retail space behind the café. Mitchell was game; however, there were a few empty months till the space opened. His girlfriend at the time provided her garage…and her 4-year-old daughter provided the shop's now infamous title.
"It was originally going to be Pedal-phile, but I got told at a board meeting I couldn't do that," Mitchell says. "We had other ideas—'Chain Stroker' and 'Spoke and Nipple,' were two. Then, after a long day of work I was sitting in 10-Speed with my girlfriend and her daughter. I heard an 'Ewww,' and I look up and she says, 'You have dirty fingers.' And that just fit."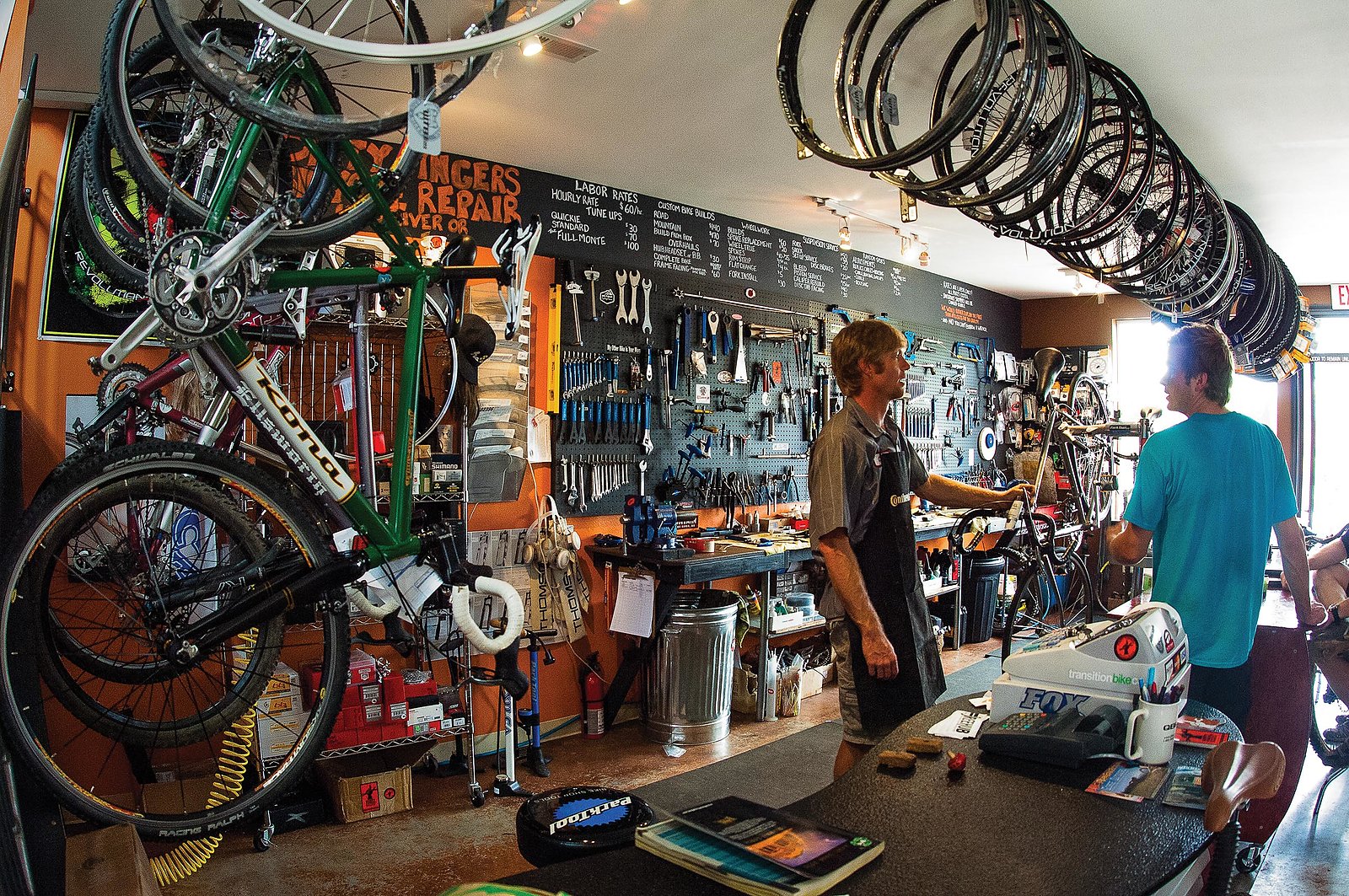 With a new name, new logo (inspired by a sketch his friend Craig Spaeth made on a napkin) and a new deal with Transition Bikes for frames, he finally moved into the new space in 2008. It was sparse: repair bikes on the wall; one work bench; a product stand built out of used wood and outfitted with two tires, two pairs of gloves and two pumps; and a couch and a chalkboard. But he was officially a bike retailer.
A year later, the art gallery in the building's front space opened, and at the advice of the former tenant Mitchell moved in and expanded to two works stands, a bigger wall of tools, a gifted, 14-foot bar, and his first employee in three-and-a-half years. It was worth celebrating.
"One night I'm driving back from the grocery store and see all the shop lights on," Mitchell says. "I pull in and open the door and it's all my boys with pints in hand. I asked, 'What the hell is this?' and they said, 'Shut the hell up and go upstairs.' It was dark except for one light on this refrigerator…with a keg inside, and on the front there's a label that says, 'Happy first year anniversary of not going out of business!'"
From there, things took off. Mitchell signed on larger clients and started selling complete bikes, and the bar became a popular spot to drink a pint. With both businesses thriving, Bryan made a proposal: combine forces and move into a new building together. And with that, Dirty Fingers 6.0 was born.
Mitchell doesn't do things like most other shops. The same humor and hope that carried him through versions 1.0 through 5.0 pervades everything: like when friend and owner of the local UPS store ordered a seatpost and found it engraved with "Oversized Package," which Mitchell then put on the shop's bib shorts. While it has earned him the ire of some citizens, the support Dirty Fingers has received proves his unique style is working—and attests to the shop's reputation for excellence.
"I like to have fun," Mitchell says, "and a bike shop should be fun. I'm sure some people in town want to kick me in the nuts because of what we do. But that's fine, and that's how we're going to run things—with a sense of humor. At the same time we are all about service and being nice to everybody. You may see potty words on the board or folks drinking beer on a Saturday morning, but you will receive the best service. I call it 'the aura of competence.'"
Watching Mitchell's cast of techs, that competence is obvious. Above everything else, his customers' loyalty has been earned by doing a damn good job. Dirty Fingers is constantly expanding—they're usually in the midst of multiple custom builds—and though he still operates the business on a bank account it has moved past simply covering bills. Dirty Fingers has even inspired a Twilight Zone-esque copycat in Idaho, with a suspiciously similar logo, name, shop setup and website—including, for a while, identical employee bios.
"You need experienced guys that do good work or you're done," he says. "It's all about the work, especially in a small town. There are maybe seven or eight guys around here that have: A.) qualified experience; and B.) are stupid enough to still be wrenching at their age. I think I have every one of those."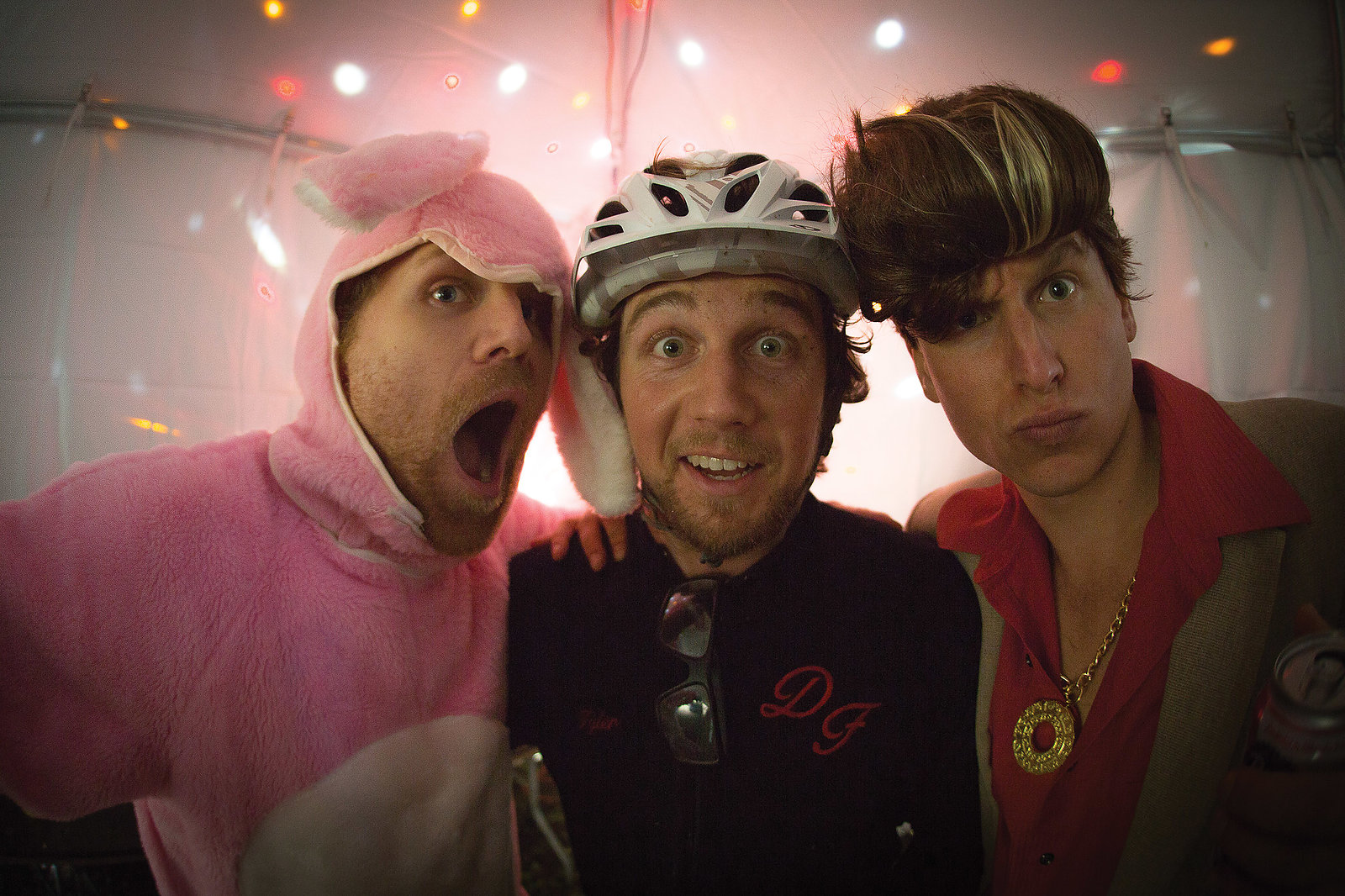 It is almost inevitable that Mitchell would become unofficial-bike-event-coordinator for the town. When he's not directing festivities, he's planning or dreaming up others. The proceeds usually go to charities or bike organizations, including a "Booby Ride" for breast cancer and jambalaya feed to get the shop through the mid-winter months. To Mitchell this is all just paying back a favor, and—seven years and six versions deep—he has no desire to see anything change.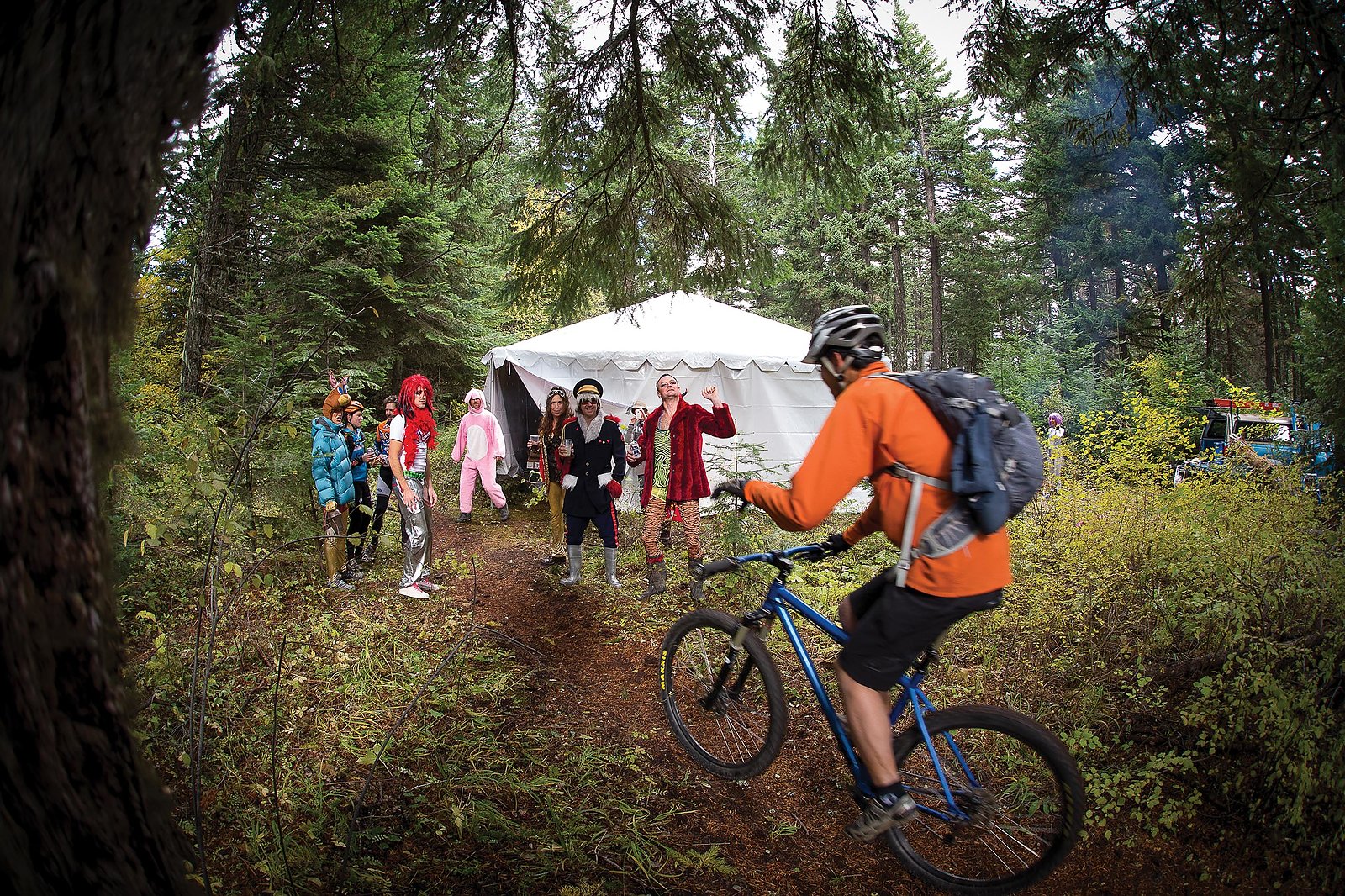 "It always comes back to community," he says. "There are so many instances where people have come together and got it done for us," says Mitchell, "None of us really have any money, but everyone steps in and that's because they love us and love what we do. I like to ride bikes, I like to fix bikes and I like to drink beer, so five years from now I want to be right here, doing that every day."
When the first racers arrive, the revelers include two rabbits (one with impressively sized, anatomically correct genitalia) and a 6-foot-3, fur-coat-clad cross-dresser. Beer, hot dogs and tequila disappear faster than the winner's time. Most competitors—many who are on bikes they bought at Dirty Fingers—stay for a few songs and drinks before riding the 13 remaining miles to the Saw Tooth Roadhouse for an after party. Race times do matter. Good times matter much more.
Red Bull Rampage is that evening, and despite being technically closed, Dirty Fingers hosts a crowd of 20-some people to watch the event on the shop's big screen, slinging IPAs (with an I.O.U. price tag) all the while. Neither the Ingerbrucker, the after party or the Rampage viewing is a financial boon for Mitchell. But that's not what Dirty Fingers is about.
"You can't just do one thing and call it good," Mitchell says. "It's ongoing, and you better have the energy and enjoy it because it comes back a hundred times over. Today I lost money, but it's about taking a long term view—some January night, one of those guys will come in and say, 'Do the full tune,' and it will come back. It's not easy, and you may not make the money today, but you're going to impact lives and those people will come back for more."